Maré's Open-Air Museum is a project that promises to bring a new museological perspective to the favelas of Maré, in Rio's North Zone. A historical tour, sites of memory, and urban art are just a few features of the project, which will resemble an outdoor gallery in the favela—or, in the language of social museology, a territorial museum that takes visitors on a journey through the community.
The project is an initiative of the Maré Center for Memory and Identity (NUMIM)—part of Redes da Maré (Maré Development Networks NGO), an organization that has been working to preserve the memory and history of Maré's favelas since 2007—in partnership with Azulejaria and the Itáu Cultural Institute. Neighbor to the award-winning Maré Museum—founded in 2006 and, in a huge victory, granted ownership of the building it occupies just a few weeks ago—the two initiatives are increasingly putting Maré on the map when it comes to social museology. Today, Rio has over a dozen community museums.
Thus far, the first steps for Maré's Open-Air Museum have included a talk on memory and ancestry featuring activists and researchers such as Mãe Celina de Xangô, Keyna Eleison Ailton Krenak, and Paulo Knauss, which took place at the Maré Arts Center (CAM) in February; and a field lesson, guided by the team, along the route of the Maré Open-Air Museum in March.  
By the end of the year, the project aims to set up five sites of memory in Parque União, Nova Holanda, Baixa do Sapateiro, and Vila do Pinheiro—four of the favelas that make up Complexo da Maré. Depending on access to funding, new sites will be added later. Edson Diniz—a historian, director of Redes da Maré, and head coordinator of NUMIM—explains that the sites of memory will be placed in locations that have been specially chosen because of their significance to the favela: "We're going to have artwork on tiles to mark specific historical routes. We're going to invite artists from Maré and beyond to come and create works of art that help retell these stories. The historic streets of Maré will act as pathways connecting these sites."
The sites chosen for this phase of the project are the Parque União Plaza, the Maré Women's Center, the Nova Holanda Plaza, Plaza 18, and the Maré Ecological Park.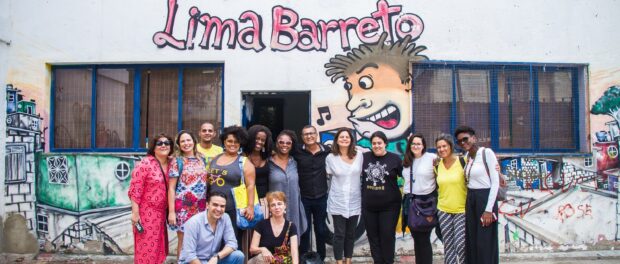 Tereza Onã, a researcher and one of the coordinators of the Maré Open-Air Museum, says that the proposed ideas have been well received by residents. Between May 13-19, coinciding with National Museum Week, the project organized meetings with local groups and organizations, including schools and residents' associations. "Project coordinators and local residents responded really well to the idea of learning about and contributing to new space for collective memory in Maré. All of the institutions willingly offered us spaces to act as focal points for the 'collection' of memories, allowing the exhibits to reflect the culture of Maré and its residents."
Maré's Open-Air Museum was inspired by ethical tourism and social museology projects such as Memories of Cerro Corá and the Favela Museum (MUF), located in favelas in Rio's South Zone, as well as the urban art gallery at the Cardine Cultural Center in Lisbon's Padre Cruz neighborhood.
"When I learned about the MUF, I was amazed by the idea of a living territorial museum—of connecting with a museum where nature [and the community's evolution] is part of the exhibit," Onã recalls enthusiastically. "I've also visited the community museum in Cerro Corá. The work that they've done there, commemorating the residents, is fascinating. I really admire Ricardo Rodrigues. This was yet another favela museum that inspired us."
Onã explains that she visits various favelas on the weekends and has high hopes for Maré's Open-Air Museum. "We're talking about an area with 140,000 people, spread across 17 communities, where art and culture are expressions of community," she asserts. "I think that memory and affect play an important role in sustainable development. I truly believe in this project as a means of boosting self-worth and dialogue with the city of Rio de Janeiro and with the world. Being able to take part in the creation of a social museum that combines art, culture, memory, and identity together with residents of Maré offers us a glimpse of transformation."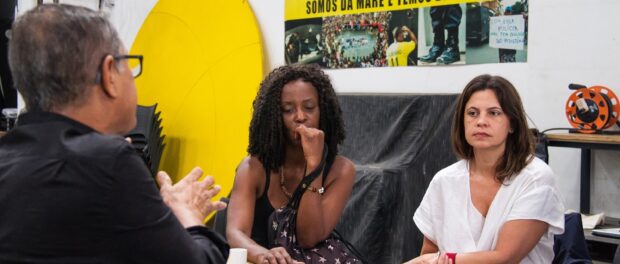 Diniz recounts that Redes da Maré also tried out the concept of a journey with the Favela Food Festival back in 2015. "The Favela Food Festival worked similarly in that people wandered around the favela, in well-known spots where there were bars and restaurants. It was great. People walked around Maré discovering food, which is what we want to happen again—only this time, people will be wandering around discovering history."
Maré 's Open-Air Museum is the result of twelve years of work by NUMIM dedicated to preserving the favela's memory and history. "Our work used to revolve more around research and the production of knowledge," says Diniz, whose series of books Mapping the Stories of Maré featured studies on the "Memory and Identity of Residents of Nova Holanda" in 2012, and on the "Memory and Identity of Residents of Morro do Timbau and Parque Proletário da Maré" in 2014.
NUMIM's collection of resident testimonies has been digitalized and the material is expected to become available next year. Diniz continues, "The idea is to give people an access portal, which will be publicized—with families' permission, of course." In addition to the online portal and physical journey, NUMIM is planning to create a documentation center that will be open for researchers from Maré and elsewhere to make appointments, carry out research, and come together. "We don't want it all to be closed off—we want people to be able to come and find information."
Long before the start of his professional relationship with the history of Maré, Diniz details his arrival in the favela of Nova Holanda when he was only six months old. "I was born in Paraíba [State], in a small city called Serra Branca. A lot of people in Maré have come from there. I was part of that wave of migration. My father came here in the 1970s when I was six months old," he says. "I stayed here, got married, and lived here for forty years. I left after that. But I still go to Maré every day. My family still lives in Maré and I've maintained many connections with it in my life. I've been through everything that residents are currently facing. I lived there for a long time, so it's part of my identity and I have a strong emotional connection with it. Today, my work is closely tied to my experience as a resident of Maré and the decision to work with memory and history is closely tied to my journey and the memories that I have. This work—my career, my activism, and my personal life—are all connected."
As Diniz recalls, "Everything that happens in Maré affects the city." The main access routes to downtown Rio—the Linha Amarela, Linha Vermelha, and Avenida Brasil highways—all go through Maré and are used by around a million people each day, in addition to the 140,000 who live in Complexo da Maré.
"So it's not just about preserving memory within the community. In addition to being a process oriented towards the community, it's also about promoting a dialogue with the city," says Diniz. "Maré is a place of memory, history, and identity. We are going to enshrine this in the community."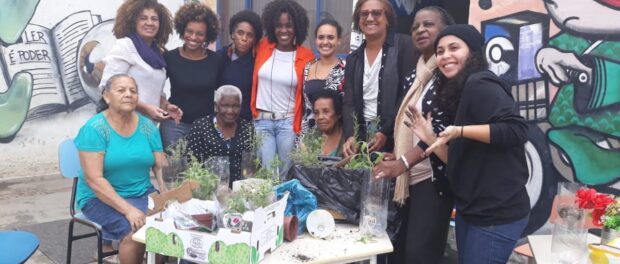 Over the next six months, Maré's Open-Air Museum will undertake a number of activities, including azulejo tile workshops for children and conversation circles with Maré's griots—a group composed of women from the favela, led by Onã. There are already plans to start making guidebooks. The organizers hope to begin scheduling visits in January of next year.
Miriane Peregrino is a researcher, community journalist, and teacher with a master's degree in literature from the State University of Rio de Janeiro (UERJ). In 2013, she created the Literatura Comunica! ("Literature Speaks!") literacy project, which is active in schools, community libraries, and cultural centers. She moved to Rio de Janeiro from the interior of Rio state, where she was born, and currently lives in Vila do Pinheiro, Maré.