On Saturday, June 29, Verdejar, a socio-environmental organization located along the edge of the Complexo do Alemão favelas in Rio de Janeiro's North Zone, held an event to celebrate the environment in and of the Serra da Misericórdia (the largest patch of remaining forest in Rio's highly populated post-industrial North Zone) with food, music, short films, and games designed to engage the senses. The day's festivities showcased the results of Verdejar's most recent phase of green work which began in 2014.
Some of the day's festivities took place at the Luiz Poeta Cultural Center in Engenho da Rainha, named after the late Luiz 'Poeta' Euz, Verdejar's founder. Poeta began planting trees in the 1980s and eventually reforested the surrounding area, ultimately founding Verdejar (literally, becoming green), in 1997. Since then, the group has dedicated itself to keeping the Serra da Misericórdia forested, raising ecological awareness among community members and fighting for strengthened environmental protections from the City.
The Serra da Misericórdia spans 27 neighborhoods in the North Zone and thanks to Verdejar's efforts, was once designated to become a public urban park with hiking trails, courtyards, and bike paths for environmental education. Rio's City Government abandoned the project in 2014, as then-Mayor Eduardo Paes, the very person who had signed off on the project four years prior, scrapped plans and pulled away millions in investment. All that is left of what would have become the Leopoldina urban park is a lone bike park spanning 2.5 acres of the area.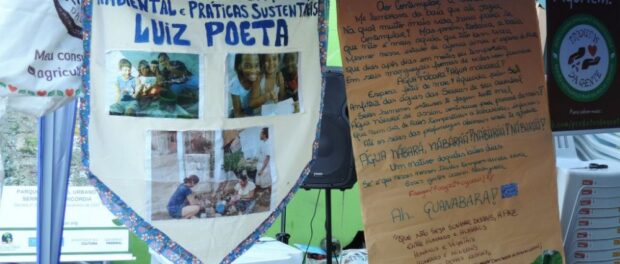 The Serra's designation as an Area of Environmental Protection and Urban Recuperation (APARU) in 2000 does not preclude private quarry companies from operating in the region, and event organizers report that dynamite is often detonated less than 1,000 meters away from residents. The explosions have created dust clouds covering several neighborhoods, leading to allergies and respiratory problems within the communities. The destruction of springs and other bodies of water has also spawned a large heat island.
It was in this context of environmental degradation that, since 2014, Verdejar has sought to focus on youth participation and education in preserving the memory of the territory, showcasing photos and videos of ongoing projects. Photos taken for the exhibition 'Olhares da Misericórdia' a few years prior were shown as well as two short films by students, 'Verdejantes' and 'Caixa Limpa,' produced with the support of Cineserra and CIEP Federico Fellini Educational Center.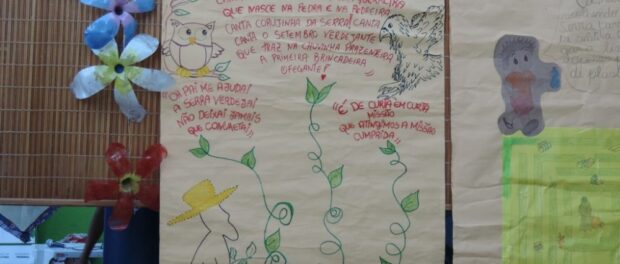 Activities took place outdoors, featuring tents dedicated to environmental awareness. One tent taught participants to fashion flowers and other decorations out of plastic bottles (above). Another (below) guided blindfolded participants on a barefoot walk over leaves and soil before having them sit to soak their feet in pools of water, all the while being fanned by a large palm leaf. By exposing participants to their natural surroundings and engaging them with the environment, event organizers hoped to rebuild a sense of belonging among the local community.
A professor from Verdejar's Environmental Theater and Memory course ran another area, showing participants how to create small bottle necklaces with bits of rock, earth, and plant inside. For the professor, the necklaces helped keep wearers cognizant of the environment around them, "carrying a little bit of earth with you at all times."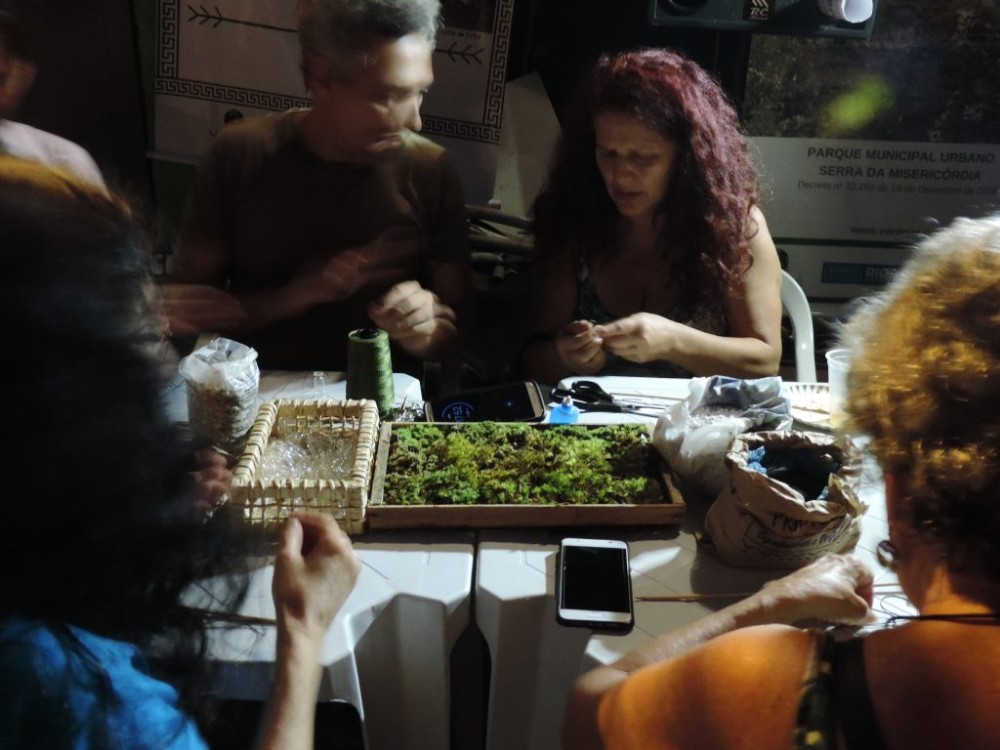 The day's food and beverages, meanwhile, were produced locally. Event organizers served up a meatless menu, featuring banana bread, mango chutney and salada maluca (crazy salad, not unlike cole slaw), all spiced with a sense of environmental and cultural importance.
Cariocas were not the only ones present at this event, either—Susana Soledad Alegria Sepulveda, a Chilean tapestry artist who moved to Engenho da Rainha a few years ago, arrived in search of ideas for her own environmental projects. Sepulveda, who has lived and worked in Rio's artistic community for several years, is currently working on a tapestry depicting the history of the Rocinha favela, located in the city's South Zone.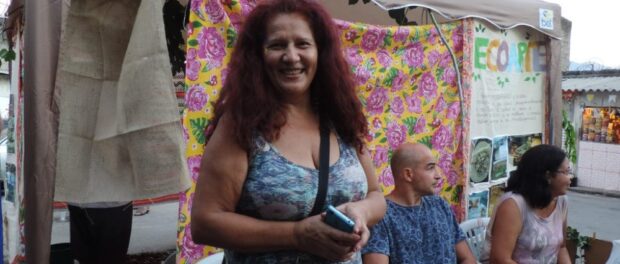 Against a national backdrop of deforestation in the Amazon, recurring mine disasters, and an unrelenting trend of environmental disasters across the city of Rio de Janeiro, events like this one offer hope. Verdejar has stayed busy since the City's abandonment of the Misericórdia project in 2014, and it shows. The legacy of Luiz Poeta lives on in Rio, encouraging all of us to move with the choreography of our natural environment in a positive way.