Let's start this story a week before the Rio 2016 Olympics.
July 27, 2016: Tokyo-based anti-Olympics activist Misako Ichimura arrives in the Cidade Maravilhosa. Her 14-day visit is packed with the meetings, public presentations, and protests in the "Exclusion Games" week of action, plus trips around the city to see areas impacted by the Games. Documenting her trip in an illustrated zine, Ichimura recounts the advice she received from anti-eviction leaders Maria Penha and Inalva Mendes Brito of Vila Autódromo, learning about military occupations and favela media from Gizele Martins in Maré, and drawing inspiration from the resistance tactics she witnesses across the city. On a trip to Copacabana beach, Ichimura sees protest signs with the words "Don't kill black people from the favelas" placed alongside sand sculptures with the Olympic logo. Ichimura writes in her zine: "Setting an anti-Olympics monument and signs right next to the Olympic logo, it's magnificent! […] Yes!! Tokyo can also do this!"
Fast forward exactly three years.
July 27, 2019: On the ninth floor of the Central Library at Tokyo's Sophia University, Ichimura and fellow anti-Olympics organizers from the groups Hangorin no Kai and Okotowalink are deep in discussion with visiting allies from Rio, Pyeongchang, Paris, and Los Angeles. It is the final day of a transnational anti-Olympics summit—the first of its kind anywhere in the world. Anne Orchier of NOlympics LA emphasizes that the participating groups must identify how their analyses and principles overlap in order to understand the opportunities for collective organizing moving forward. She notes that all the groups name the same ideological forces behind the "symptom" of the Olympics: capitalism, neoliberalism, nationalism. All parties reject proposals for reform the Olympics, refusing to negotiate with the International Olympic Committee or local Olympics organizing committees. Hangorin no Kai's Tetsuo Ogawa and NOlympics LA's Jonny Coleman move to the front of the room to read a joint statement, concluding in no uncertain terms:
"We demand an end to the International Olympic Committee. Until the corrupt forces that drive these parasitic events relinquish control, we oppose the Olympic Games in any and all locations."
Historically, the global elites who have organized the Olympic Games have held many advantages over their critics. One advantage has been the resources—namely money and structural capacity—to travel, allow them to form transnational relationships and move knowledge around the globe. Beyond the structures in place for the International Olympic Committee (IOC) and organizing committees from former Olympic cities to share information with aspiring hosts, an industry of consulting and PR companies, security firms, media behemoths, and other corporate sponsors also follows the Games from place to place and from year to year. Resistance to the Olympics, in contrast, has remained local. Moreover, anti-Olympics groups have tended to demobilize once the circus leaves town, with participants instead turning their attention to the steady stream of urgent issues facing their city in the wake of Olympic destruction.
But things have begun to change. Now, the stories, strategies, and agents of resistance are traveling too.
Thanks to digital media, communities resisting the Olympics are connecting more often and more easily than ever before. As with Ichimura's trip to Rio in 2016, international critics were present at Vancouver 2010, London 2012 and Pyeongchang 2018. But this summer's transnational protest in Tokyo raised the bar for global anti-Olympics organizing. In addition to the Tokyo-based hosts and NOlympics LA, the event hosted representatives from NON aux JO2024 à Paris, the Anti Pyeongchang Olympic Alliance, and Rio's Popular Committee on the World Cup and Olympics.
As NOlympics LA wrote in the midst of its fundraiser to send members to Japan: "The Olympics are a global project spearheaded and funded by transnational actors that hop from city to city and country to country without consequences or accountability. To fight the Olympics in LA, we need to be armed with the knowledge and allies to fight the Olympics globally." More than just an occasion for participants to learn from one another, the week-long exchange was explicitly framed as an opportunity to build allies, to hone a united global critique of the Olympics and the forces driving it—in short, to build a movement.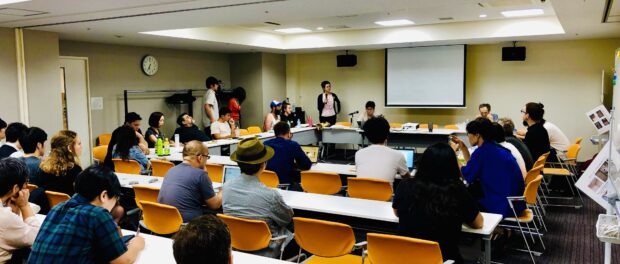 A Week of Action
While the week culminated in a high-visibility protest through the dense streets of Tokyo's Shinjuku district, equally important events took place throughout the city. A press conference at the Foreign Correspondents' Club allowed Ichimura, Orchier, and Olympics scholar Jules Boykoff to lay out their critique of the Olympics the day before the IOC, Prime Minister Shinzo Abe, and the Tokyo Organizing Committee held their own glittery event for press. There was a bus tour of Tokyo's newly constructed sports venues and another to Fukushima; contrary to official legacy narratives, critics argue that reconstruction following the 2011 earthquake-tsunami-nuclear disaster in Fukushima has been slowed by the deployment of so many resources to Tokyo's Olympic construction sites. Three workshop sessions on housing struggles, environmental destruction, and media strategies offered a platform for representatives from participating cities to discuss the challenges they face and share their tactics for resistance. A series of academic presentations covered topics from celebration capitalism to the attack on public housing in Japan, the phenomenon of 'reluctant supporters' of the Olympics, and the relationship of critical feminist scholars with the Games. The final solidarity event on July 27 focused on movement-building going forward. All events were meticulously documented in participants' notes, photos, and social media posts, as well as footage recorded by NOlympics LA's film crew, supporting the goal of sharing lessons learned with communities back home and around the world.
Several cities' anti-Olympics groups had emerged from housing rights and anti-gentrification struggles. As such, for many participants, the "Homes not Games" housing workshop was particularly important. Aiming to encourage participation from as many people as possible, the facilitators broke the group of around 60 attendees into three sections, prompting them to share their understandings of the term "gentrification." The discussions that unfolded showed that in spite of specific differences in local policies and contexts, the similarities across cities are significant: governments are prioritizing capital-driven development over people's basic right to housing. Around the world, displacement is tied to policing and the criminalization of informal economies and informal housing solutions.
In discussing solutions, participants emphasized building power within local communities and centering on those who are most affected by Olympics-driven development. Whereas developers and governments sell a certain image of a "better life," several speakers commented, communities must construct their own collective vision of the future they want and proactively use that vision to ground their struggle. In Rio, the Vila Autódromo residents' Popular Plan provides a strong example of this strategy, forming a rebuttal to government claims that new public housing complexes offered a better life and that the removal of most of the community was the only viable option.
Throughout the week, some of the most meaningful connections arose in less structured contexts. The welcome picnic in Yoyogi Park, for instance, was a space for participants to meet—many for the first time—and have more informal conversations. Organizers from Pyeongchang and Los Angeles fell into a deep discussion on the merits of tenant unions. On the week's final evening, a handful of participants spontaneously broke into a new multilingual version of NOlympics LA's theme song. All week long, representatives from each city could be spotted with huge grins on their faces as they clutched newly acquired items from their transnational allies, from shirts and stickers to posters and zines. For all the importance of the analysis and debate, the moments of levity felt essential to forming the relationships that will sustain a movement in the future.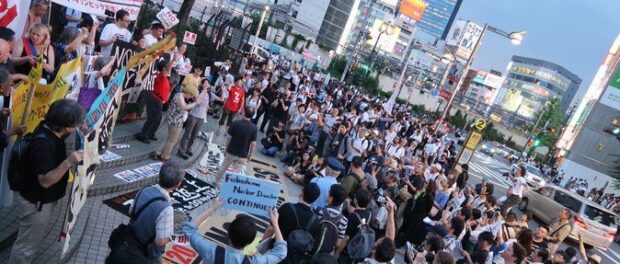 "From Rio to Skid Row, from Paris to Tokyo, We Say 'NO' to the Olympic Games"
July 27, 2019: At a soup kitchen in a concrete public lot in Tokyo, M (who has requested anonymity for this article) tells anti-Olympics organizers from Los Angeles her story. She tells them how she moved into a tent in a park when she could no longer pay the rent for her apartment; how the government evicted her from that park and then from a second park, pressuring her to move far outside the city. But around the time of her second eviction, she recalls, she heard Ichimura recount the story of Vila Autódromo. Inspired by their fight against all odds, M fought the government to let her move into a tent village in a third park, where she lives today. The LA organizers and Ichimura show M a solidarity video that Vila Autódromo residents have recently recorded for Tokyo residents facing displacement. On the spot, M records a video message in response. In the video, she says that with all the people cheering on those who are fighting against Tokyo's Olympics, she feels motivated to keep fighting; that seeing the video from Vila Autódromo reminds her that she has allies not just in Japan, but around the world.
In her video, M refers to allies "around the world." And when she does, she is talking about more than Rio, Pyeongchang, Paris, and Los Angeles. Participants at the Tokyo summit included an urbanist from Jakarta, which is considering a bid for the 2032 Games; an organizer from London's Counter Olympics Network whose visit to Tokyo overlapped with the summit by accident but who jumped right into the action; a critic of the 1998 Nagano winter Olympics who spoke at the environmental destruction workshop about deforestation and corruption; and a representative from Los Angeles who had participated in the 1968 student protests in Mexico City, where government forces massacred demonstrators just ten days before that year's Olympics. Another member of the LA contingent has already been displaced from his home near sports venues to make way for a mixed-use development including hotel rooms—hotel rooms that a city council member argued were necessary for the 2028 Olympics. It's clear the Olympics are creating a problem for themselves.
As they continue steamrolling across communities and cities around the world, they are producing an ever-growing group of people whose own experiences of the Games directly contradict the lofty messaging spouted by Olympic PR machinery.
The question counter-Olympics organizers now face: how to translate their collective critique and newly cemented bonds into a movement that effectively builds power across oceans, time zones, and languages. Coordinating a movement takes more than just a week, but the Tokyo summit made historic progress in building consensus, and participating groups have agreed to move forward together. On the eve of the various delegates' arrival in Tokyo, Ichimura reflected: "We often wonder if such a small group like [Hangorin no Kai] can do such a big thing" as fighting the Olympics. But, she added, "it's actually possible through collective power with others."
Saying 'no' to the Olympics, it turns out, is actually about saying 'yes' to imagining alternatives. Forming a movement to fight for those alternatives is about believing in a 'we' with the power to make them possible.
Cerianne Robertson is a participant in NOlympics LA and a PhD student in Communication at the University of Southern California. She was previously Editor of RioOnWatch.