On September 3, the State University of Rio de Janeiro (UERJ) hosted the "Education and Favelas" seminar, organized by UERJ's Education and City Research Nucleus (NUPEC), with support from the Metropolitan Ethnography Laboratory of the Federal University of Rio de Janeiro (LeMetro/IFCS-UFRJ), part of the Social Science and Education Research Group (GPSCE/UERJ), and the Institute for the Comparative Studies of Institutional Conflict Administration (InEAC/UFF). The goal of the seminar was to debate the challenges facing public education in the favelas and peripheries of the Rio de Janeiro Metropolitan Area.
Panel #1:
Urban and
Educational
Inequality in Favelas
The topic of the day's first panel was "Urban and Educational Inequality: The Case of Favelas." Coordinated by UERJ professor Neiva Vieira da Cunha, the panel featured four speakers: professor and researcher Marcelo Burgos of the Pontifical Catholic University of Rio de Janeiro (PUC-Rio), Ana Carolina Christovão (Metropolis Observatory/IPPUR–UFRJ), and professors Leticia de Luna Freire and Patrícia Elaine Pereira dos Santos (UERJ).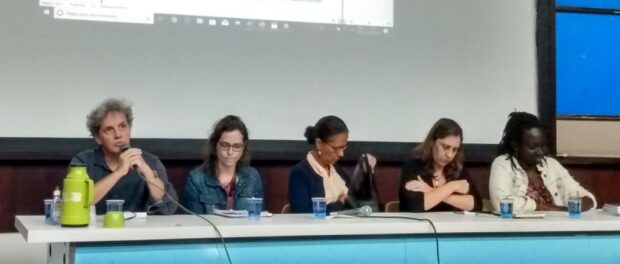 Opening the panel was Marcelo Burgos, who defended the notion that favelas must be a central theme in educational debates, since working in public schools based in favelas is distinctively different than working in schools in other territories. His research study, "School, Favela, and Protective Networks for Children's Rights," concluded that schools often face difficulties in addressing the effects of living in a favela. This results in work grounded in stereotypes and negative premises, such as the notion that children from favelas are violent and come from less "educationally-minded" families.
Burgos highlighted how schools and pedagogical teams tend to disregard the nuanced diversity of families in the favelas, given that peripheries and favelas contain middle-class families, they contain educated people fighting for their children's access to education, and they also contain less educated families nonetheless seeking quality schooling for their children. As Burgos sees it, the result of this school system that disregards these and other factors—instead falling back upon stereotypes—is that students from favelas and peripheries are held to lower standards, and teachers are less disposed to work in these spaces.
According to Burgos, this is not a question of school negligence, but of a need for more politicized discussions of territory. The lack of recognition of the specificities of favelas and peripheries is detrimental to the pedagogical process, generating vulnerability in schools that may lead to reduced attendance and, ultimately, a process of school dropouts. With this in mind, Burgos pointed to the case of Rocinha, in Rio's South Zone, where 18% of children do not attend school.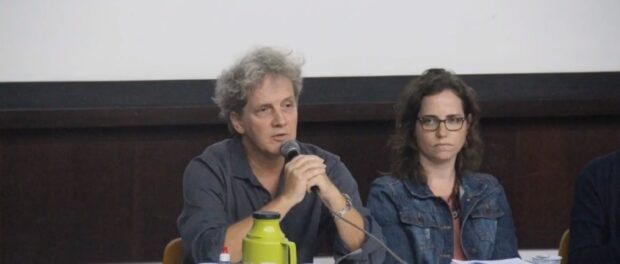 In his presentation, Burgos also brought up important considerations regarding the child protection network and its relation to schooling. Schools should be dedicated to protecting students, above all maintaining efficient dialogue with the Conselho Tutelar (Brazil's Child Protective Services), in compliance with the Child and Adolescent Statute (ECA). What happens in practice, however, is that schools are completely isolated. They represent, according to Burgos, a "vacant lot" in the protection system. For him, it is necessary to think of urban and educational policies that dialogue with families, respecting the efforts they make to ensure their children can study and get into college. "Not even on a soccer game day do people come together as much as they do for their children to go to school," he said.
Burgos closed out his discussion by arguing that Rio de Janeiro should innovate and create new forms of pedagogy—for, beyond their inherent potential, they would constitute a necessary measure in the face of the current deprivation of the right to education.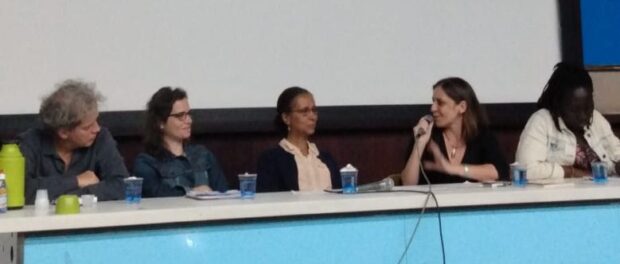 Leticia Freire, professor and researcher at UERJ, presented her research study, "Between Home and School: The Effects of Eviction on the Educational Experience of Children in the Metrô-Mangueira favela." Her research followed families in Metrô-Mangueira as they faced eviction, focusing on how this affected school performance and children's relationships with the territory they were forced to leave. Eviction and social conflict interrupted the relationships these children had fostered in school.
Beyond that, Freire discussed how educational policy rarely takes cities into account, nor do they consider the way that the relationship between space and school life is constructed for children. Drawing upon her research, she pointed to travel between home and school as the element that most produces children's relationships with the city, since, more often than not, the only contact that children have with urban space occurs as they see and perceive things on their way to and from school. In other words, Freire suggested that the city both shapes and drives childhood learning processes.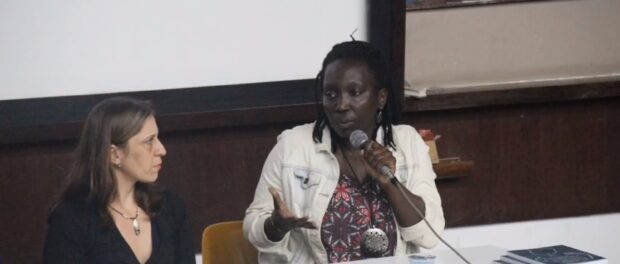 Patrícia Elaine Pereira dos Santos, also a professor and researcher at UERJ, presented her research, "The Racial Debate as a Methodology of Access for Peripheries Through Public School." From the start, she noted how the current moment demands the creation of new epistemologies for education, so that public education may gain new meaning and no longer be thought of as a "space of absence," without teachers, students, and investment. This new epistemology would overcome conceptions of school as a sexist and racist space, based on hegemonic knowledge with European origins—all of which no longer serves the needs of children in public schools, particularly in favelas and peripheries.
Ana Carolina Christovão, a researcher at the Metropolis Observatory, presented her study, "Neighborhood Matters: A Study on Educational Inequality in Morro do Cantagalo." Christovão concluded that it is no longer possible to expect students to arrive in class, sit in their chairs, and be ready to absorb information that frequently has little to do with their realities. "We must think about the real student," she said.
Following the talk, discussion was opened to the public, and one audience member asked about the use of language from the periphery. Professor Patrícia Elaine responded that Brazil has adopted the highest-brow version of the Portuguese language as its standard language, something that ends up restricting peripheral communities that do not typically adopt that norm.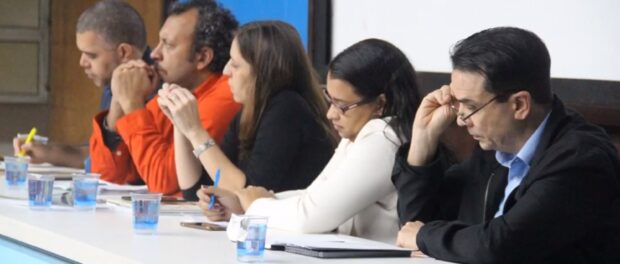 Panel #2:
Effects of Urban Violence on Favela Public Schools
The topic of the second panel was "The Effects of Urban Violence on Public Schools in Favelas." Coordinated by professor Letícia de Luna Freire, the panel featured four speakers: Edson Diniz of PUC-Rio and the Maré Development Networks NGO, Marcos Veríssimo of the Fluminense Federal University (UFF), Rosana Muniz (a Rio city public school teacher), and Eduardo Ribero (UERJ).
On the panel, Edson Diniz, Director of Maré Development Networks, began his presentation with an affirmation of the importance of the day's actions in the current political moment of attacks on universities. For Diniz, the topic of teacher training is rarely debated, even though professional teachers are generally trained to work in a reality that does not exist.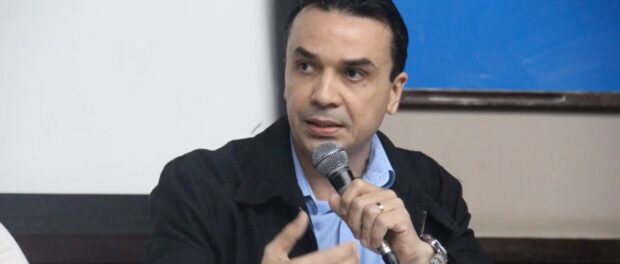 Presenting an overview of the educational reality in the North Zone favelas of Complexo da Maré, which include 46 public schools, Diniz explained the paradoxical nature of the numbers: while Maré contains the greatest number of schools for any grouping of favelas in Brazil, it also had, in 2017 alone, 84 instances of armed conflict, resulting in the loss of 35 school days for 16,000 students. With these data in mind, Diniz questioned how students and teachers could possibly be expected to return to classes as normal on the day after a police operation.
Diniz spoke to the necessity of schools both integrating themselves into communities and the surrounding territory and beginning to direct and question public security policy in the favelas. "My dream is an intercultural school, where all students' cultural manifestations are respected," he concluded.
Rounding out the panel was Rosana Muniz, a teacher in the Rio de Janeiro municipal network, based in the Complexo do Chapadão, in the city's North Zone. She noted that, above all, debates should direct their focus to the territory-school-family relationship. Both in her research study, "Narratives of Violence in the Daily Life of Schools of the Peripheries," and in her daily work as a teacher, Muniz monitors children's domestic routines. Worrisome, to her, is the way school is still strongly associated with "homework." "You have to do your homework! But in what home?" she asked.
The day's participants also recommended the mini-documentary Morri na Maré (I Died in Maré), by Maria Naudascher and Patrick Vanier.