This is the third article in a year-long partnership with the Behner Stiefel Center for Brazilian Studies at San Diego State University to produce a series of monthly favela-sourced human rights reporting from Rio de Janeiro on RioOnWatch.
Thousands flooded the steps of the Rio de Janeiro State Legislative Assembly (ALERJ) on Monday night, September 23, mourning the death of eight-year-old Ágatha Felix and protesting the security policy of Governor Wilson Witzel. Monday evening's act, organized by local student movements and the Parem de Nós Matar! (Stop Killing Us!) movement, marked the third consecutive day of protests since Felix's shooting on the night of September 20.
Felix, who passed Saturday morning, was riding a community transport van in her native favela of Fazendinha, located in the hills of Complexo do Alemão, in the city's North Zone. According to the van's driver and multiple witnesses, a police officer fired at a passing motorcycle, piercing the van's exterior and striking Felix in the back. Favela residents took to the streets in protest on Saturday, and again on Sunday as they proceeded to Inhaúma cemetery, carrying yellow balloons in homage.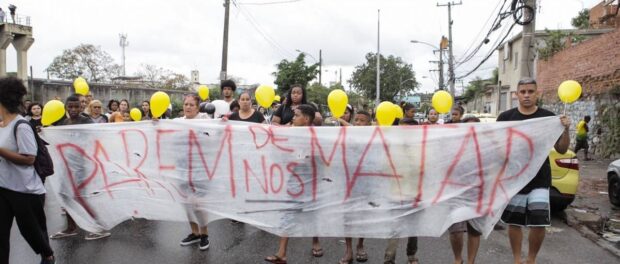 Felix's death makes her the fifth Rio child to be shot and killed by Rio police this year in alleged shootouts between police and drug traffickers.
Record-Level Police Violence
Under Governor Witzel, a former judge who rose to power on a campaign of hardline anti-crime rhetoric, Rio de Janeiro police violence has reached new records: police killed 1249 people in the first eight months of 2019, up 16% over the same period in 2018, and reaching an all-time high, according to the government's Institute of Public Security (ISP). So far this year, police are responsible for more than 30% of all homicides in the state, according to the Network of Public Security Observatories, a monitoring body.
For the death of Felix and the many other victims of police violence across Rio, Monday's protesters blamed Witzel. "The hands of the governor are covered in blood," yelled Walmyr Junior, a coordinator of the Enegrecer National Black Youth Collective and resident of the favelas of Complexo da Maré, in Rio's North Zone. Throughout the evening, protesters alternated chants, calling Witzel a murderer (Witzel Assassino) and calling for his ouster (Fora Witzel).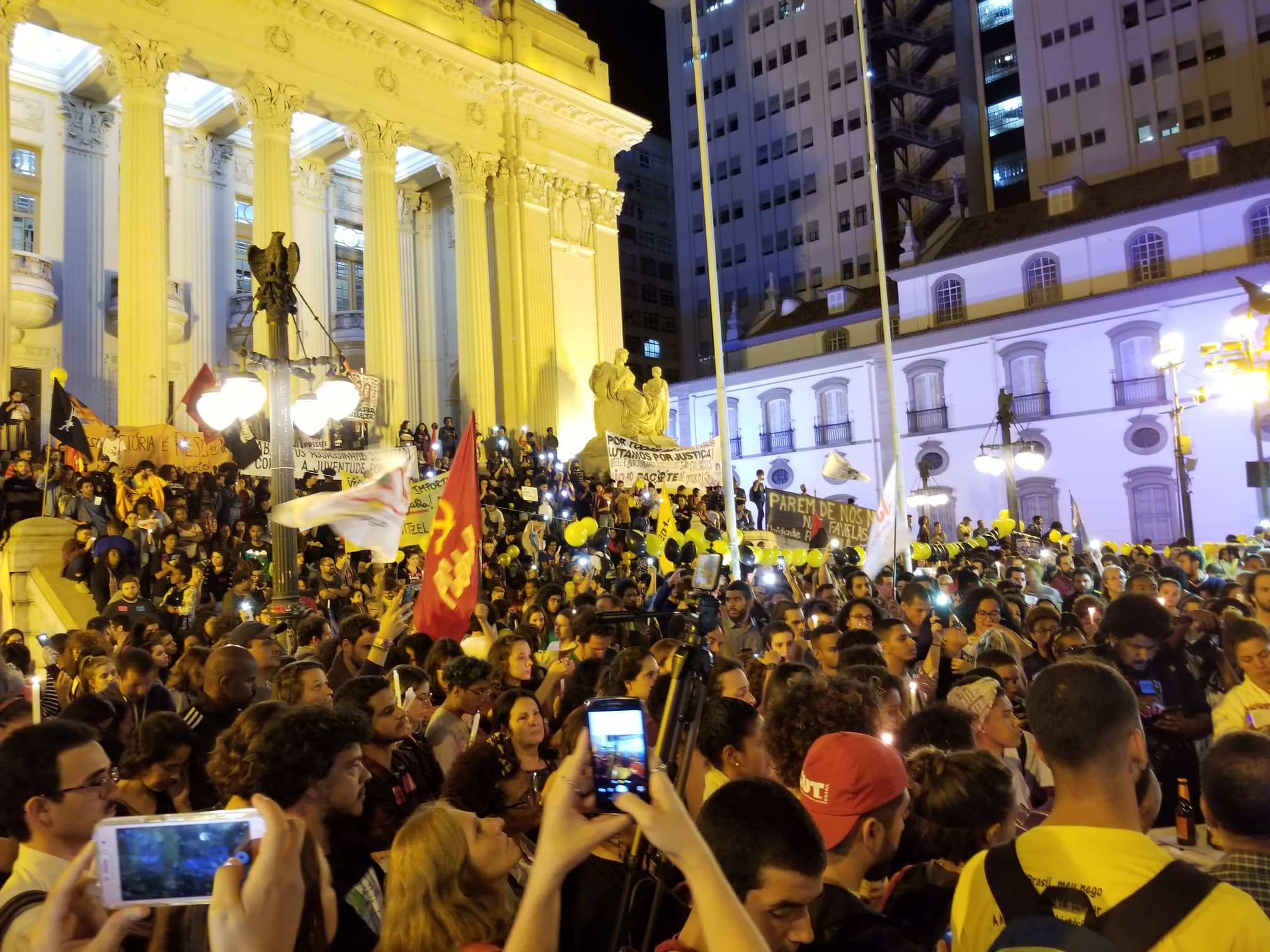 For Zen Ferreira, a journalist and resident of Vila Cruzeiro, located just north of the favelas of Complexo do Alemão, the governor has yet to accomplish anything positive for the favelas. "They just come in, shooting, with rifles and armored vehicles. Is that the education policy they want for the communities of Rio de Janeiro?" Even when residents and civil society step up, said Ferreira, the State interferes using violence. "We are doing our best to keep our kids from living this adversity, we're constantly implementing some kind of cultural activity. But then when we do, the armored cars show up in the early morning, shooting everywhere."
"This is one of the most genocidal governments we have ever seen," said Daniel Octaviano, a student at the Federal Fluminense University (UFF) and member of Enegrecer. "The black population is always the majority in these processes," he added. In September, the newspaper Extra found, via a Freedom of Information request, that the proportion of black and mixed-race people killed by the police has grown under Witzel: in the first four months of 2019, black and mixed-race people represented 78.4% of all victims killed by police in Rio—up from 71.5% for the same period in 2018.
Witzel Stays the Course
Witzel, who has said in multiple interviews that police need to "take down" anyone holding a rifle, and has instructed security forces to shoot criminals "in their little heads," has yet to budge. At a press conference Monday afternoon—the governor waited nearly three full days to issue a statement—Witzel lamented Felix's death, but blamed drug users and organized crime. He accused opposition parties of using the girl's death as a political platform, and maintained that the police were "on the right path." Speaking alongside Witzel, Civil Police Secretary Marcus Vinicius Braga said Felix's death had nothing to do with the state's security policy. Tuesday morning, reporters discovered the governor had altered a monthly bonus system for the police, removing incentives for those that contribute to reducing police lethality rates.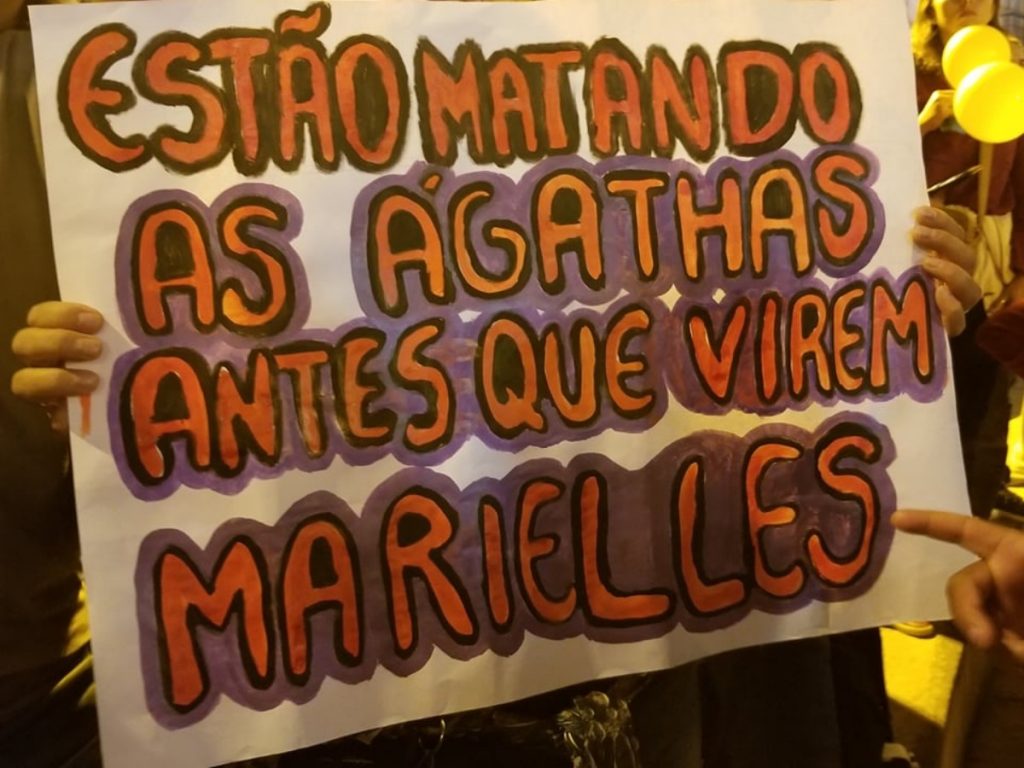 Speaking to RioOnWatch at Monday's protest, Dr. Jacqueline Muniz, an anthropologist and professor at UFF, described the governor's policy as one of fear-mongering and political electioneering. "These killings are all about publicity. When the police get killed, it becomes a political platform. When citizens are killed, it allows them to say that they need to kill even more, that they aren't repressing enough… They need to create this type of illusion, where repression is an end in and of itself." 
Witzel, said Muniz, is out of his league. "He can't control the Civil Police. He can't control the Military Police. He is deluded. He is a hostage to his own cabinet." Emphasizing the need for cohesion, Muniz concluded: "We need to return security forces to civilian control, and that's done through social mobilization and coming together as a society."
Antônio de Mello, a resident and long-time community leader from the South Zone favela of Rocinha, said that this was the main point of the evening's protest. The idea is to "take our feelings of anguish, of internal repulsion, and expand this to the rest of the population, with indignation," said Mello, better known as Xaolin da Rocinha. "With this indignation, we will organize and push the whole population to protest against this security policy."
Upcoming Events in Rio de Janeiro
9/27, 5pm: National Unified Protest for the Life and Memory of Our Children, Rio chapter, held at Complexo do Alemão's Grota area

9/27, 5:30pm: Protest for Àgatha, for the Right to Life, and Against Black Genocide, Praça dos Direitos Humanos in Nova Iguaçu

9/27, 6pm: Stop Killing Us Plenary Session, Faferj Headquarters

9/28, 3pm: March for Peace, Nossa Senhora da Penha Church

10/4, 11am: Public Hearing, Rio State Assembly