A Babilonia couple that now owns two houses in the increasingly pricey Zona Sul favela may end up owning nothing, and all because they tried to follow the city's ever changing rules.
In 2003, City authorities came up the Babilônia favela in Rio's South Zone and told Rosemeri Silva Santos, 37, and her then husband Tião, 48, that their house was in an Environmentally Protected Area (APA), that they and their four children would be evicted, the house demolished, and they'd be given compensation to find a new home. A year went by and nothing happened. With their small house damaged by heavy rains and having been warned that they would soon be required to vacate the property, they looked for alternatives within the community where Tião has lived since birth.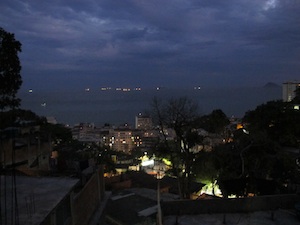 They found a plot of land just meters below, but within the community's formal and permitted borders. Rosemeri explains the process: "To get a piece of land in the community, you call the President of the Residents' Association who comes to see if it's safe and can be passed to you, which is what I did. The President spent a week with me examining the land. He said I could stay in the house at the top and build (below) so that it's all done correctly."
Committed to following the proper procedures, the couple got permission and the notarized document from the Residents Association, informed the army who has an observation post on the hill, and went to the city authorities regarding their case: "I went to them in 2005 to communicate that I'd already got a piece of land and that we're waiting for the compensation to be able to build the house further down, suggesting they give us building materials instead of cash. They gave me a process number, told us not to build and wait to be called."
Prohibited from doing necessary improvements on the condemned house because it was to be demolished and also from building the new house, the couple waited. And waited. Years passed. Every penny they saved they spent on building supplies–bricks, concrete, stones–which sit waiting in their old home and elsewhere in the community for the "go-ahead."
In 2009 the community received a UPP (Pacifying Police Unit). That same year the couple amicably divorced, deciding to share the yet-to-be-built property as part of their settlement. "We decided it'd belong to both of us: he'd have the downstairs part and I'd have the upstairs part. The kids can see their dad whenever they want. We have different work hours. Everyone would be together. There's no reason for us to be far away from each other."
As time passed, still no word from the authorities and seeing people in the community building all around them, they decided to start building the house. Tião, a builder by trade, was employed on many of his neighbors' building projects. He started putting up columns and built three walls before he was stopped as engineers from the city government came into the community and prohibited all construction.
With one property increasingly uninhabitable, and another property only partially built and still awaiting permission, in 2010 Rose and the four children, today aged between 12 and 18, moved out to a rented property in Pavuna in the far North Zone of Rio. "I had to get another job at the weekend to be able to pay rent," says Rose, who suffers from a herniated disk. "I had to rent somewhere to be able to put my kids in a safe house. The rent I was paying in Pavuna was R$600, but I could no longer afford that because I'm spending a lot on medicines. I've been staying with my mother [3 hours away] in Cabo Frio [a town up the coast from Rio de Janeiro] to not have to pay rent since April. The money I earn goes to medicines and I want to use any extra to build the house, except I'm not authorized."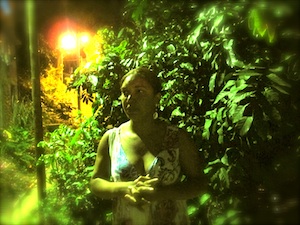 Last week, after nine years waiting, Tião and Rose were finally called in by city government. They were told they had two options: compensation for their house, which because of the size and unfinished condition they were told would be "very very low," or an apartment in a distant housing project in Bangu, 3 hours away by public transit. This for the widening of a walkway in front of five other homes. "I explained to her that neither of us wants an apartment. He was born and raised here and has lived here 48 years. And we have a piece of land to share between us [the equivalent of two homes, where both of us can live near our children]. But this property doesn't exist to them, even though I have the documents proving that I did everything right." The small public housing unit would only house Rose and her children–Tião would be left with nothing.
The patronizing words from the City worker echo in her ears: "We know what's best for you," she was repeatedly told, with no further explanation given.
Having abided by all requests and procedures, living in uncertainty for years, the family now find themselves faced with expulsion from their community as minimal compensation rules out the possibility of buying a property in the increasingly valued favela where houses go for over R$100,000. While apartment buildings are being built within the community to resettle 118 evicted families, Rose and Tião, and many others, haven't been given this opportunity.
Rose laments that their determination to do everything in line with the authorities' requests worked against them: "If we hadn't obeyed the rules, we'd have a house. But we always sought to follow the rules and do what the authorities requested. Don't build, wait and wait. I did everything within the law so that I wouldn't lose it." Had Tião built his own house while he was building many of his neighbors', the family would either be permitted to stay or would be compensated better.
She goes on, "I set out to do everything correctly, and it turned out bad for me. I did everything right so as to avoid that thing you see on television about people in favelas doing everything illegally, that they don't listen and don't understand. We did everything in an organized way, and it went against us."
"It's very difficult. There's no one to talk to. They call you in and tell you 'it's like this.' It's not right," she says, desperate frustration etched in her expression and voice. "Personally, I'm not seeing anything here that's getting in the city's way. On the contrary, if the city wants to work here they can resolve the issue of the forest and square and do work of much more benefit than ripping out people's homes and dumping them to live somewhere far away."
"The only thing I want is to build my house."