"I have one rule," says Felipe Paiva, as my calves start to feel the burn from ascending the streets of Vidigal, "to see the view point at the top of Vidigal, you can't drive, take a motor taxi, or a van, you have to walk!"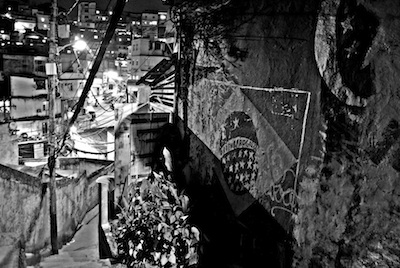 And it was worth the walk as we arrived at a platform high atop favela Vidigal, where there emerged a stunning view of the vibrant community and beyond it, Rio's South Zone, the white sand stretching from Leblon to Leme.
Felipe's pride and connection to his native neighborhood are apparent not just in his photographs but also in his fierce protection of the community and the commitment he has demonstrated throughout his 26 years to helping those who live there. 
There exists a stigma in Brazil and throughout the world, that people who live in favelas, or many low-income communities, are ignorant pawns. People like Felipe serve as a counter example. This 26 year old Vidigal native is accomplished, he is confident and opinionated, intelligent and creative, a stark contrast to the stereotype that exists in the minds of so many.
A political activist since the age of 8, a community leader, and an artist heading an inter-favela art and photography project, Felipe Paiva is the first subject of a series of articles we will feature on favela-based political advocates. On a muggy afternoon on Vidigal's lively streets, Felipe sat down to tell me a little about his life story and community involvement.
Q: What are some of your first experiences with politics and the democratic process? How did you become involved?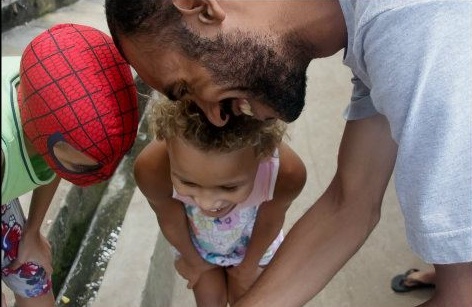 FP: I've always been interested in politics. I've worked with politics since I was 8 years old! My dad was involved with political and social movements, and I didn't have anyone to take care of me, he and my mother were already divorced, so I ended up going with him from one place to another, and I started getting interested in politics.
When I was a kid, during the elections there were a lot of people who didn't know the laws, and there still are. When people had trouble voting because of illiteracy and other difficulties, I would pretend I was their son, nephew, or grandson in the line to vote and I would enter the voting booth with them and select the candidate they wanted. I would ask them, 'Who do you want to vote for?' and help them vote. Or I would wait in line and inform people of things like, 'make sure you have your ID or another document to vote.'
Now I'm always involved with something. I used to be involved directly with a political party, but I left that party because I really only like social politics. Every time there is a meeting here in Vidigal, with any group that needs help, I'm there.
Q: Which activities have you been dedicated to recently?
FP: Right now, I've been dedicating my time to FavelArt&Foto, a photography group that I helped create in several favelas in Rio de Janeiro. We're a group of photographers from different favelas that go and photograph other favelas.
Besides FavelArt&Foto, I have a project in Parque Lage, a well-known art school. There I'm developing a project where I'm documenting my great aunt, who has never appeared in my pictures. But now I'm chasing her, I want her to be the main character of my work. Also, I'm working with more technical things, like video and audio. I want to discover who she is. The truth is, my work has ended up rescuing so many memories within my family. Through these photos, I now know my family.
Q: How did FavelArt&Foto start?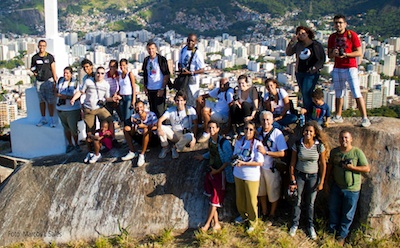 FP: When Rocinha and Vidigal were pacified, or even before really, one of my friends said to me, 'We have to create a photography group!' When we started to mobilize and create this project, the pacification process began and we realized now it would be even easier. Once the police entered Vidigal, we went out in the middle of the night and began photographing through the dawn and into the day alongside the reporters and police.
We did our own documentation to establish an image that was different from the one portrayed by the common media, since the mainstream media tends to alter things. By coincidence, others had done the same thing in Rocinha. Little did we know, they were part of a movement called Cidade Unida (United City). We all met up and decided to create a group.
All of this happened at the end of last year, November 2012. We met up with these two friends from Rocinha and began to really create our photography group. We started in Rocinha and then Vidigal, and after that in Chácara do Céu next door.
So, we have been a photography group for ten months now and we have groups ranging from 10 to 100 who go out and photograph events and neighborhoods.
Q: What's your greatest success?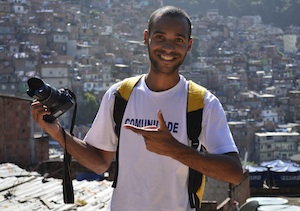 FP: It is everything I have achieved so far. I confess that I have worked with many important people here in Vidigal and in other parts of Rio. I know several famous artists, people with high positions in the government, but I haven't taken advantage of these connections. I'm really happy because I have lots of people coming to me for interviews and other things. I have accomplished a lot of great things, and I'm going to accomplish more.
Q: What do you think about Rio de Janeiro today and potential for progress?
FP: Right now, Brazil is in a really good position, both economically and culturally. The negative to this is that it's not distributed evenly. In Rio, the rich remain rich and the poor are at a standstill. Rio de Janeiro is advancing far too rapidly, in the sense that there are so many possibilities and opportunities, but they must progress over time so that everything can develop in sync. What happens is that areas of Rio grow so much that sometimes the residents in these places can't accompany this rhythm in equal form, and then the city turns into chaos – with transit, education, health care – effectively making Rio de Janeiro less than an ideal city.
Q: There is a stigma that community residents are ignorant. What would be your response to someone who though this?
FP: It's very simple. My response to people who say all this is that they should spend at least one day inside a favela. I wish at least one of those people were here in this exact moment to simply look around. If they just sat here and observed, they would first see the person working at the kiosk here at the entrance, then they would see that on the other side, there's a bar, and the other side there's a beauty salon, and the other side a pharmacy. Here, the people work, they are not "poor things," nor are they monsters, nor are they dumb. They know how to speak and have a conversation. The difference is that we are economically poorer than other parts of the city. We are excluded and rejected from the vision of the ideal city. Ignorant people are those who think we have nothing to offer the world. If we weren't here, the black favela residents, Rio de Janeiro as we know it, wouldn't function. It's the lower class that makes the city run, and we are very important for that.