For the original article in Portuguese by Gustavo Goulart, Rafael Galdo, and Rafael Nascimento de Souza published in Extra click here. This is our latest article on the new coronavirus as it impacts Rio de Janeiro's favelas.
Life has always been a struggle for Victor Fernando, 32, a moto-taxi driver. But he never imagined that he would have to leave for work in the morning without eating breakfast and, sometimes, only have one meal a day in order to save food for his 60-year-old father. Victor lives in Vidigal, in Rio de Janeiro's South Zone, and is one of the millions of Brazilians who have seen their incomes reduced or disappear completely due to the pandemic. Even though he hasn't stopped working, Victor's fridge is already lacking many essential foods; this is why he's anxiously waiting for food parcels to be delivered to the community.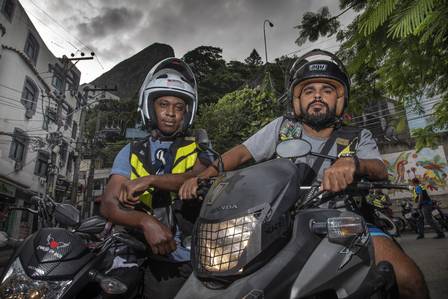 "We've had financial problems before, but we've never lived with food shortages. We've almost run out of rice and beans. And out of the little that we have left, I'd rather my father eat it. He's a bricklayer, he's out of work and he depends on me. Given his age, he needs to eat more than I do, and also to strengthen his immune system," says Victor. 
Passenger numbers at the moto-taxi stop where he works have dropped by around 90%. Out of the 250 moto-taxi drivers who work in the favela, around 100 have already stopped working, either out of fear of Covid-19 or because the money they would earn wouldn't cover the cost of gas. If before he earned up to R$2,000 (US$375) per month, now he doesn't manage more than R$700 (US$130). 
"Then I pay R$600 (US$115) in rent and child support for three children. I'm still working because otherwise, I'll go hungry. Even then I'm getting tired of eating sausages and eggs. I'm not ashamed to say that I'm struggling to eat well," says another moto-taxi driver, Maurício dos Santos Fernandes, 26. 
According to Moisés Alves, administrative director of the Vidigal Residents' Association, it's not just moto-taxi drivers that have been asking for help, but also Uber drivers, taxi drivers, street vendors who work on the beaches and lots of other workers, including those with higher incomes. On Sunday, the Association received 25 basic food parcels, which disappeared in minutes.
Vidigal is one of the favelas on the waiting list to get support from Ação da Cidadania, a traditional and highly respected Brazilian NGO with the mission to end hunger. Kiko Afonso, executive director of Ação da Cidadania, explains that during the pandemic, they've created a campaign that has already delivered 40 tons of food each week to around 4,000 vulnerable families in the state of Rio de Janeiro. In the last few weeks, requests for help have massively increased. 
"Our aim is to support 100,000 families, and this is why we're calling for donations from individuals and businesses," says Afonso. 
Searching for leftover food at the Food Distribution Centers (CEASA) 
The Data Favela Institute undertook a survey in favelas across Brazil. 78% of those interviewed reported knowing someone who has already seen a drop in their income due to the pandemic. And almost 9 in 10 respondents said they would find it difficult to buy food if they were ordered to stay home without earning money. 
The effects of the pandemic can be seen at the Food Distribution Center (CEASA) in Rio's North Zone, which is surrounded by 18 favelas, among which are Pedreira and Para Pedro. Every afternoon, a growing number of people come to collect leftover fruit and vegetables. This is food that is meant to be thrown away: items that couldn't even be used at the center's food bank, which delivers food to neighboring communities. 
"We don't have a way of counting how many people are coming and we can't prevent them from coming. That would be inhumane. In order to minimize risks to their health, we're cleaning the area on a daily basis, in addition to our weekly clean of the whole center," says Bruno Klein, superintendent of Supply at the Rio de Janeiro State Secretariat for Agriculture.
A mother stops eating to make sure her children don't go hungry
Talita Silva Gomes, 25, lives in the Três Fazendas area in Rocinha, in a house without doors or windows with her three children, aged 8, 7, and 6. Gomes is unemployed and her family is already going hungry. Due to coronavirus, she can no longer do any of the "odd jobs" that used to supplement the R$200 (US$38) she received from the Bolsa Família cash transfer program. On Wednesday, in her modest home, she only had a pot of beans which she divided into three portions for her children. She went hungry that day. The lack of food and fear of the virus have terrified the young mother.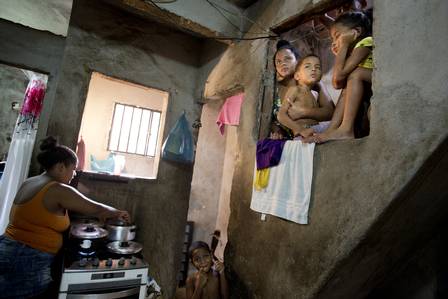 "All my children have poor immune systems and they have [chronic] bronchitis. My biggest fear is that something even worse happens and I end up losing one of them," says Gomes, sitting on the single bed where the whole family sleeps together.
She knows that malnutrition can endanger the children's lives if they get the virus. 
According to Data Favela, 47% of favela residents do self-employed work to survive. 
"We only buy the essential food–beans–and that's already running out. What used to help were the bits of work I did. Now there's no more work," she says, disheartened. 
Gomes' lifeline was her sister, Marla Silva Gomes, 25, a cleaner. Marla also lives in Rocinha and did cleaning every day for households in Leblon, a rich neighborhood in Rio's South Zone. But she was laid off two weeks ago by her employers, who were afraid of infection. Now, Marla also needs help. 
"We're struggling. Last week we didn't have anything to eat," says Marla. 
A growing waiting list for donations
The pandemic has increased waiting lists for getting donations. The São Martinho Foundation, which has offices in Lapa and Vicente de Carvalho, normally runs activities for vulnerable children and adolescents. But recently they have started a campaign to collect food and personal hygiene items. News of the campaign has been spreading by word of mouth in favelas and amongst the homeless occupying Rio's city center. In the last few weeks, requests for donations have increased by 300%. 
Heli Ferreira, 54, from Ilha de Paquetá, a small island an hour away from the city center, is a volunteer who distributes breakfasts to people living on the street. He's seen a 50% increase in the number of people asking for his food donations, in front of the Rio State Court Museum in the downtown Centro area. A video shared on Facebook shows an enormous queue on the sidewalk, and the people queuing don't fit the usual profile. 
Not the usual profile
"People who have never queued for food before are now in need. I noticed well-dressed people, with diplomas, in the queue. And many Nigerians and Indians. I used to hand out around 200 breakfasts. Now, it's around 400," says Ferreira, who collects money from shops, at parties, and from the salary that he earns as a cleaner and gardener for a house in Paquetá. "I have met people who never saw themselves living on the streets, who have families and houses, but they live far away and they're staying on the streets so they don't arrive late for work. It's heartbreaking", he says.
Even people who work with food are fearful of running out of food. Dona Maria Almeida, who lives in the Morro Azul favela in Rio's Flamengo neighborhood, delivers takeaway food around the Largo do Machado square. The menu varies, at R$10 (US$2) per meal. But her main customers are street vendors, who have now disappeared from the streets. Instead of 80 meals a day, she has been preparing 15 to 20.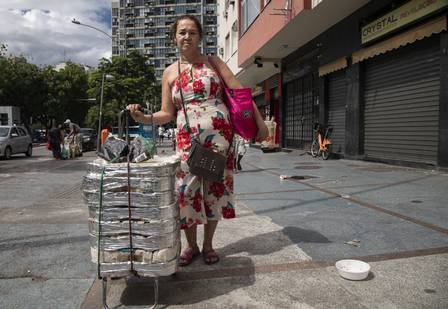 "The little I've managed to earn in the last few weeks is only enough to buy materials for more deliveries and will go towards paying rent. But I have children to raise and I'm scared that soon there'll be no food on the table," says Almeida.
---
Support our efforts to provide strategic assistance to Rio's favelas during the Covid-19 pandemic, including RioOnWatch's tireless, critical and cutting-edge hyperlocal journalism, online community organizing meetings and direct support to favelas: bit.ly/HelpFavelasFightCoronavirus.