This is our latest article on the new coronavirus as it impacts Rio de Janeiro's favelas.
One month after the first isolation measures were introduced in Brazil to contain the Covid-19 pandemic, the counter-narrative spread by President Bolsonaro denying the crisis and the perception by favela residents that this is just one more struggle amidst many is leading more and more of those most at risk to resume their normal lives. Nevertheless, data show that the crisis is real, and that physical isolation needs to be seriously implemented to avoid a catastrophic outcome, particularly in favelas.
As the pandemic begins its spread in Brazil, it is easy to imagine it will not impact oneself or one's community until it is too late, simply because none of us have ever lived through anything like this. In fact, the most similar experience in "recent" history was that of the 1918 Flu Pandemic, and how many of us were around to experience that?
Below we share current data to answer ten questions about why this virus is so dangerous, particularly in favelas, and why it is already more widespread than reported. We look at the mistaken idea that we must choose between the economy and lives, and how to prevent the worst case scenario. From individual cases to collective risks, from the current situation to the strategies we adopt, this article will attempt to make clear why half of the world is staying home, and why Brazil and its favelas should too.
---
1. What can happen to you if you get the virus?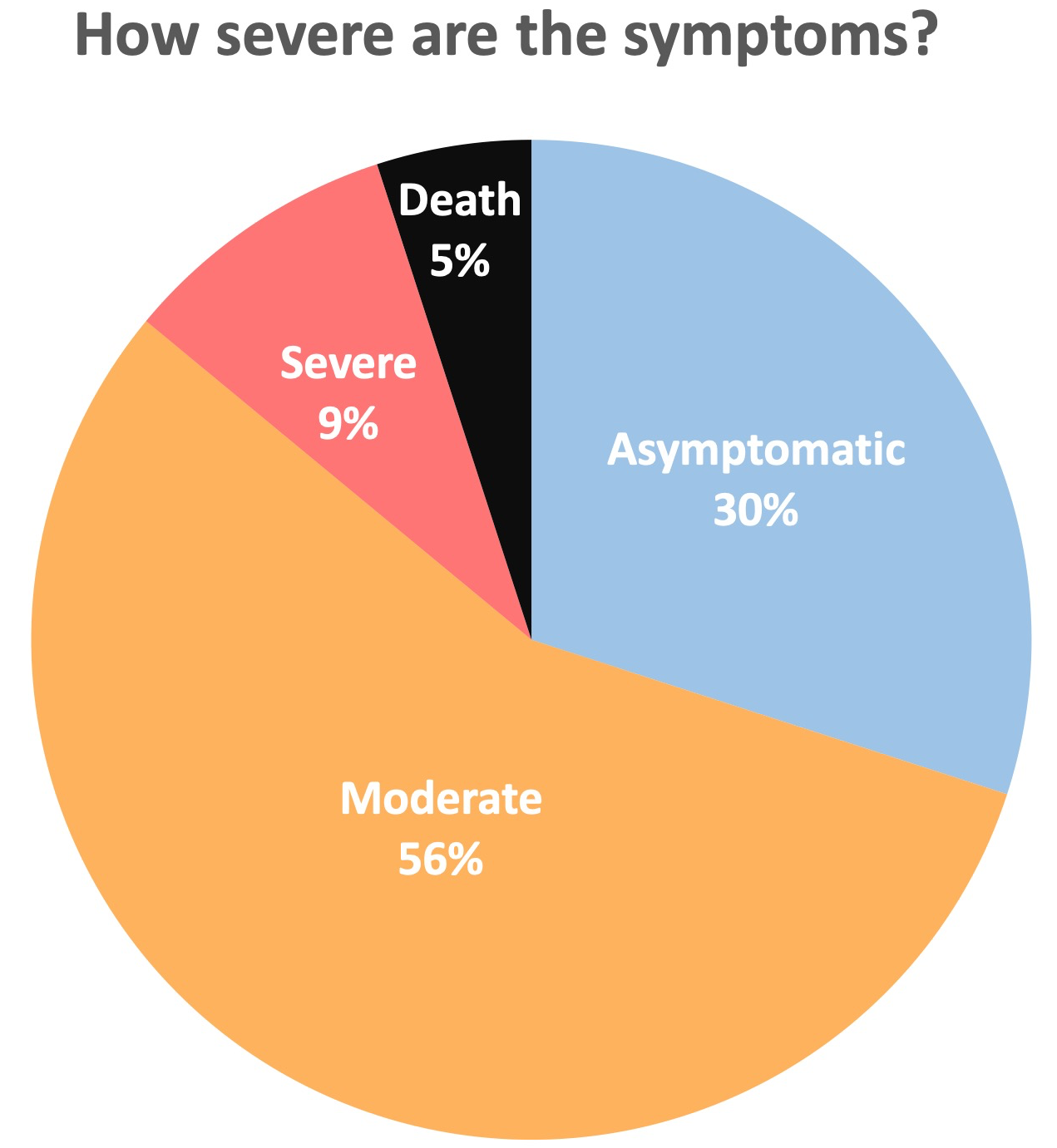 Most of those infected by the virus develop only mild or moderate symptoms (56%), or even none (30%), and are unaware they are ill. These people need to stay home and self-isolate, to avoid contaminating others who will develop severe symptoms. The fact so many people experience such light symptoms is one of the reasons the virus is so dangerous.
Because for the most severe cases (14%), with harsh symptoms like high fever, persistent chest pain and difficulty breathing, hospitalization is needed, often for up to a week or even more. In the worst cases of respiratory distress, mechanical ventilation is needed with around-the-clock adjustments and monitoring by a ready and qualified medical staff. For some 5-7% of people globally tested, the disease progresses to pneumonia or multi-organ failure leading to death.
---
2. Are you contagious? How many people might you transmit it to?
People infected by the virus are very contagious during the two first weeks, often without knowing it for those who are asymptomatic or in the 2-14 day incubation period. So many keep on with their lives while transmitting the virus to numerous other people, for whom the virus will be deadly in about 1 in 14 confirmed cases. So in communities where several generations share a home, young people who might think the virus is not a danger to them, and whom show no symptoms, may unknowingly contaminate their grandparents or other family members vulnerable to the disease who are likely to die, whether by the disease itself or inadequate medical treatment.

It is estimated that each person who has the virus passes it on to 2 or 3 people on average, but this number will be higher for those in close quarters. This is the transmission rate. It depends on the hygiene and physical isolation measures implemented and how much they are followed by the population. The transmission rate must be below 1 to slow down the spread of the virus. There are currently few places that have managed to reduce the transmission rate, which is why so much of the world is in quarantine.
---
3. Won't the virus stop by itself?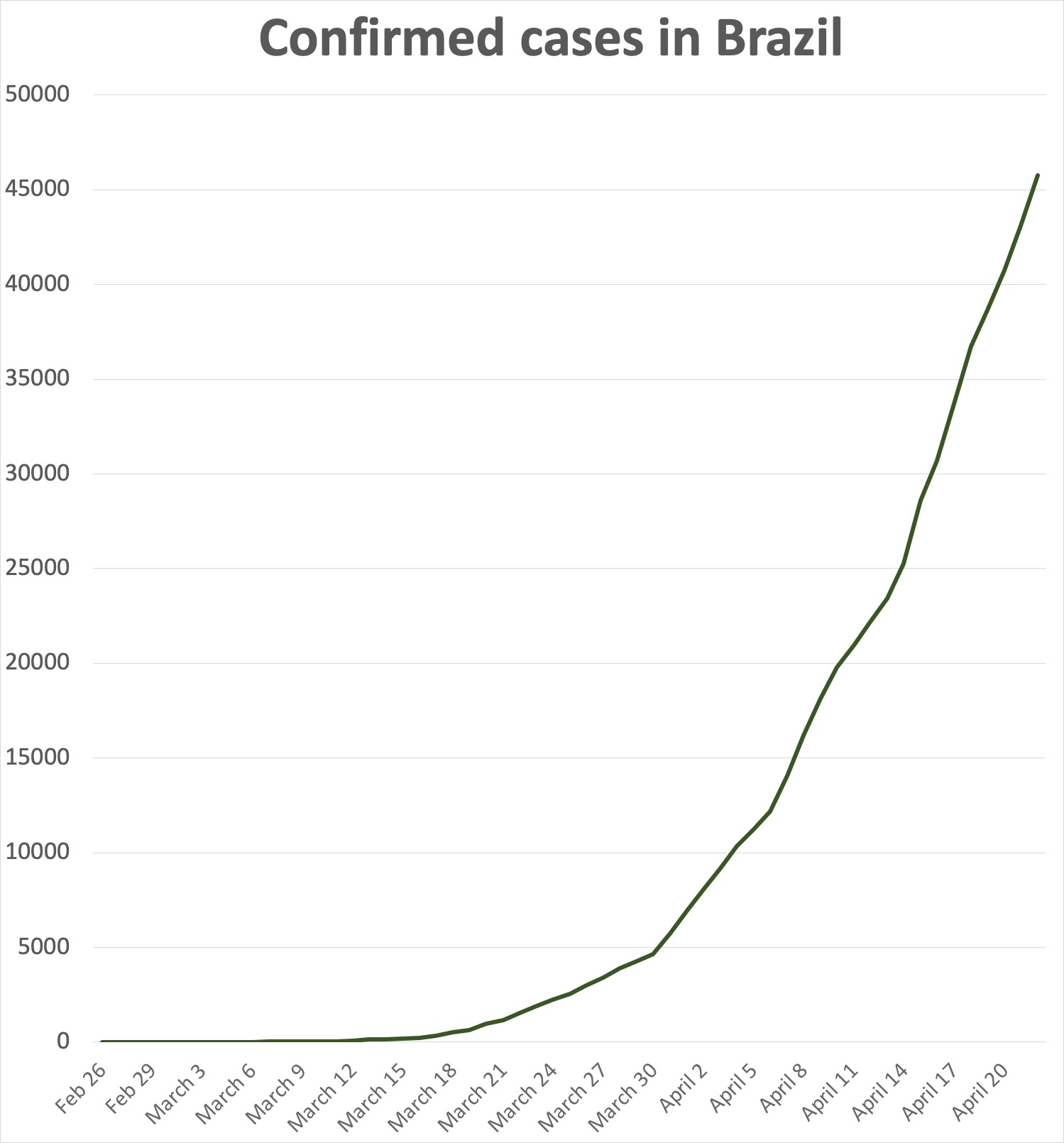 Infections have been growing exponentially, resulting in the pandemic before us. The number of confirmed cases in Brazil doubled in the last 10 days, with no sign of slowing down. And this is based on official, undercounted data. The virus won't stop by itself.
Compared to the rest of the world, Brazil is no better off. It may even be worse off, or setting itself up to be worse off. The number of confirmed cases per person is growing almost as quickly as it was in China in the beginning of the epidemic there. But after several months and many measures implemented, the Chinese authorities managed to stop it. Brazil has not and will not without a significant shift in policy.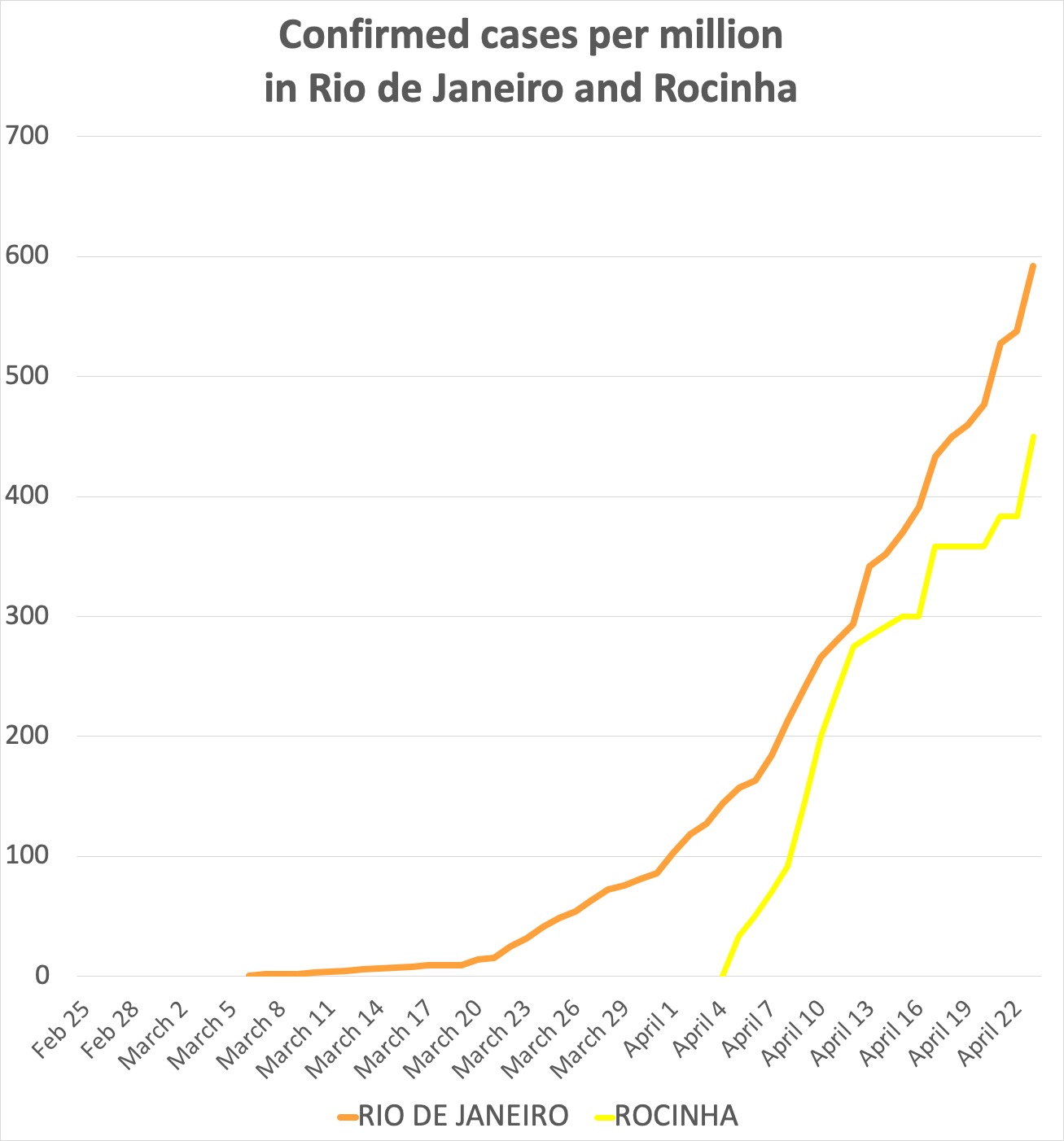 In Rio de Janeiro's favelas, cases were identified later than in the rest of the city, since the first cases were identified in wealthier residents who had traveled abroad. But since Covid-19 entered these underserved neighborhoods, cases have increased at a faster pace due to the conditions of many of these territories: high density, lack of sanitary conditions to apply hygiene measures, inability to forego work for many, and high levels of factors of comorbidity among the inhabitants, among other factors.
In Rocinha, the largest favela in Rio (also with the most testing and accuracy of findings) cases are already exploding with an increase of 483% in less than a week. A new outbreak of the virus has also occurred in the North Zone of the city.
---
4. Why are there already many more cases than we realize?
There is a significant difference between the daily diagnosed number of cases, and the true daily number of cases. It has been shown that people are diagnosed on average 12 days after being infected by the virus. This means that there are always many more people on any given day who have the virus than those who show symptoms, and certainly than get tested. The true daily number of coronavirus cases can only be determined by looking back and ensuring accurate data collection. In the graph below, the gray bars show what the authorities think they know, the daily official number of diagnoses, while the red bars show what is really happening.
This is also why it takes some time to see the effects of the measures and efforts implemented, and why removing those measures takes time.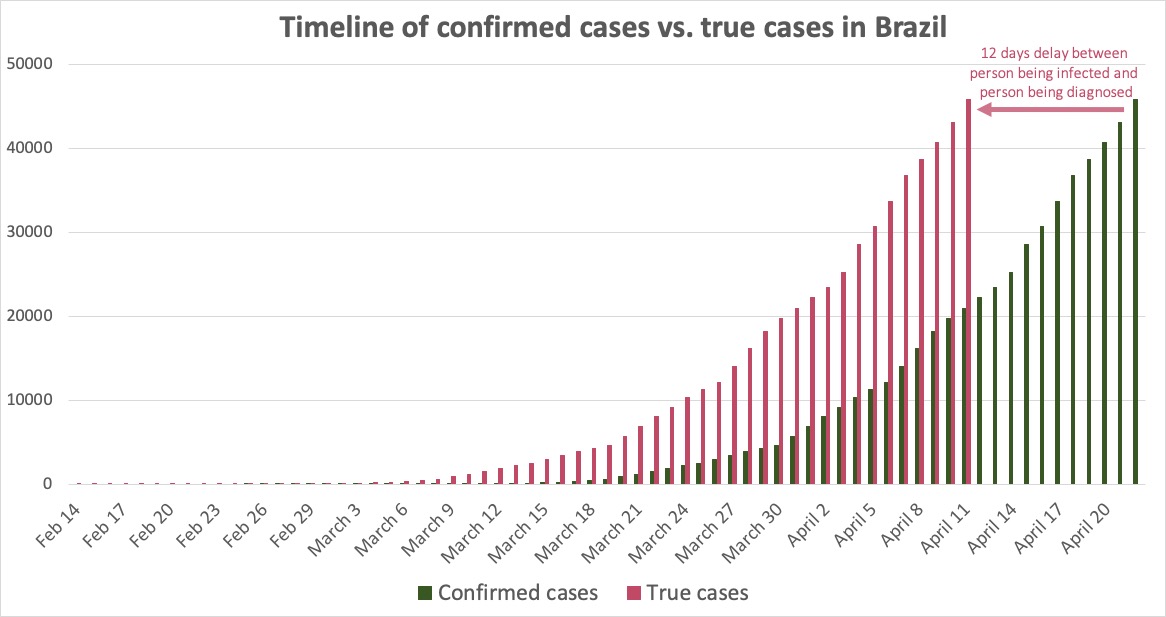 Test results also take several days to weeks to be released in different parts of the country, making the gap between confirmed cases and the reality even wider.
M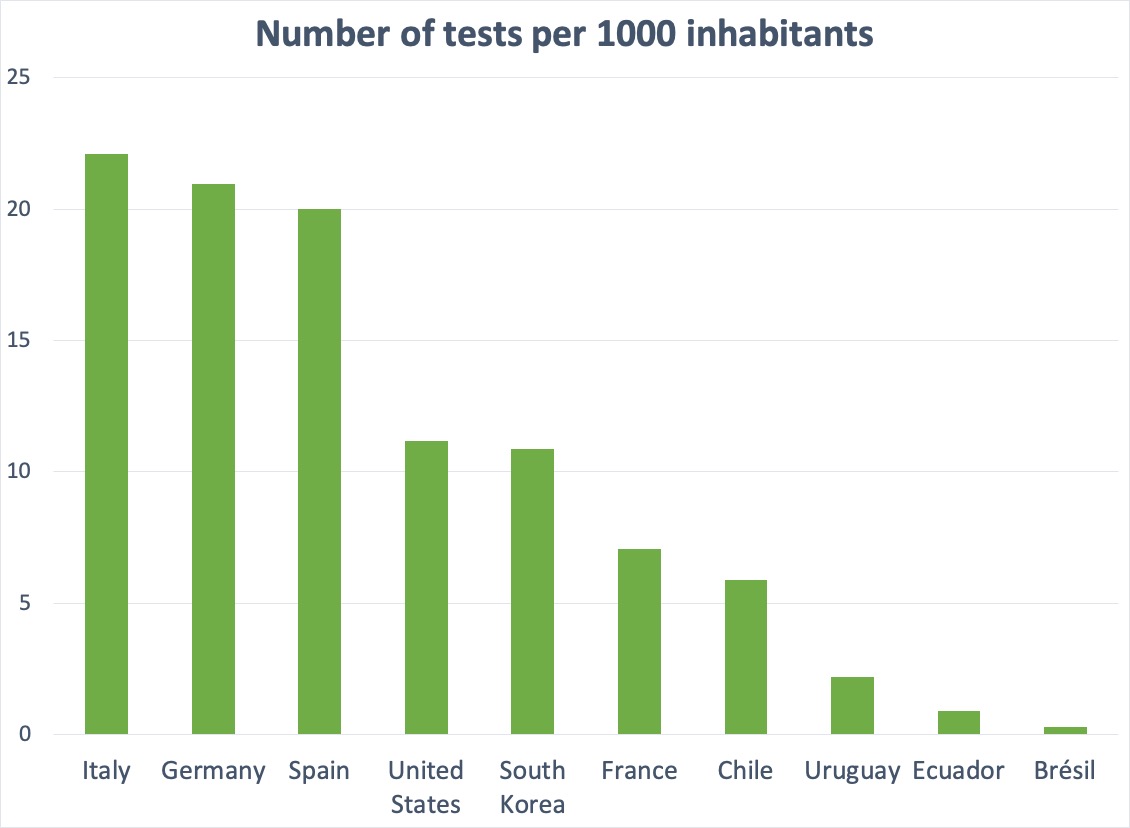 oreover, in Brazil another difficulty in determining the number of cases and deaths, is the inconsistency between data released by different levels of government. Data from the federal Ministry of Health, State Governor, Municipal Secretary, and local notary offices are often contradictory.
The number of cases are also heavily undercounted because many are never diagnosed or tested. Brazil is one of the countries that runs the least tests, and thus has a very poor count of confirmed cases. Last week, 127,000 suspected cases were waiting to be tested, and even suspected deaths are waiting to be investigated.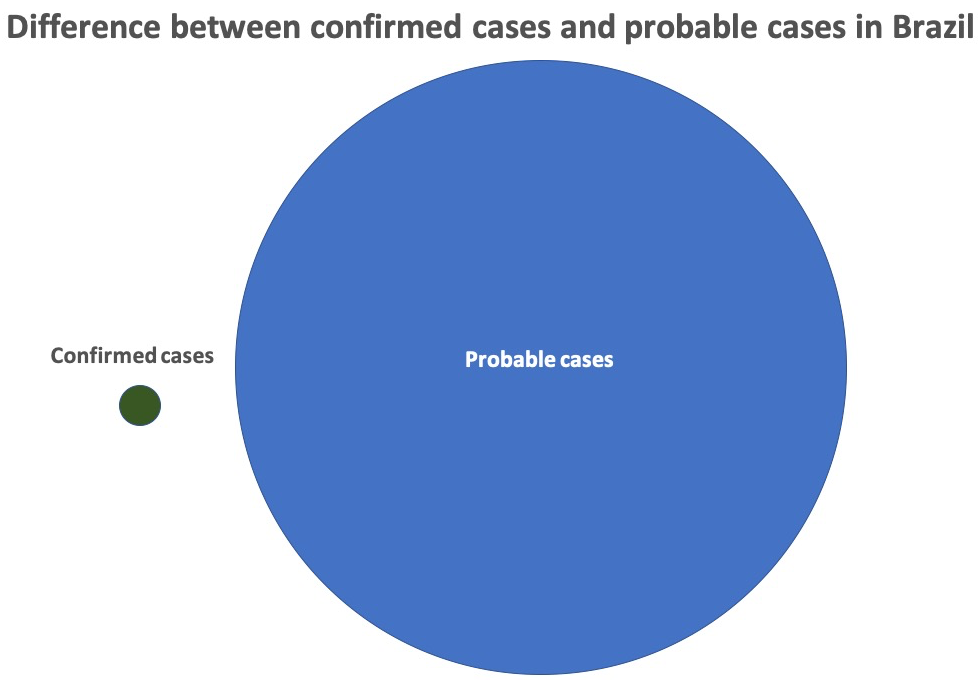 All in all, it is estimated that only 1% to 8% of coronavirus cases in Brazil are being officially reported. On April 11, the number of cases in Brazil was probably 15 times higher than official numbers, which means there were about 300,000 cases. About half a million people could be contaminated today in the country.
With such an erroneous evaluation of the scale and pace of the crisis, Brazil can not implement the right measures to save the population and prepare the economy for the next steps after quarantine.
---
5. Why is the underreporting of cases even worse in favelas?
According to the dashboard Covid-19 in Rio's favelas created by the favela media outlet Voz das Comunidades and based on data released by the City, there are now 147 confirmed cases in 12 favelas of the city and 20 deaths (April 24). But there are actually more favelas counting confirmed cases according to City data (e.g. Vigário Geral, Complexo Caju, Complexo do Lins, Parada de Lucas, and Complexo do Penha). And even more with suspected cases and deaths (e.g. Rio das Pedras, Complexo São Carlos, Complexo da Pedreira, Vilar Carioca) according to the media. When asking community leaders, the number escalates even further.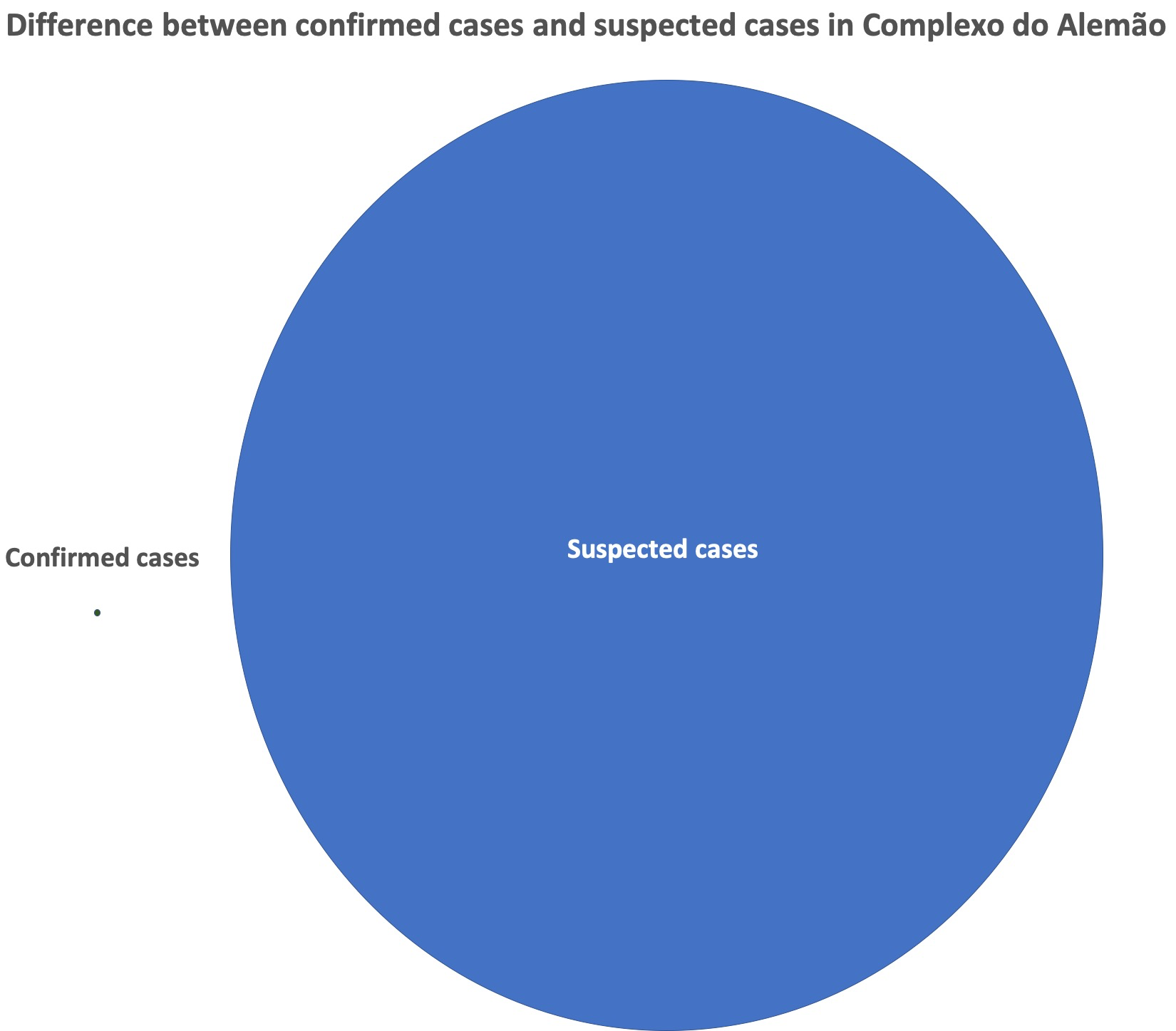 Rocinha appears to be the most impacted so far, with 54 confirmed cases so far. Nevertheless, the higher number of cases confirmed there might be linked to a testing campaign that happened there and not in other favelas.
Within each of them, the number of cases will be highly undercounted considering the lack of testing. In Complexo do Alemão, where four cases have been confirmed, the family clinic Zilda Arns identified 941 suspected cases, five suspected deaths and 37 people hospitalized for Covid-19-like symptoms (April 23).
Moreover the percentage of deaths in relation to the number of confirmed cases in Rio's favelas is almost twice that of the city as a whole, and up to 2.5 times greater in Complexo do Alemão, and 4.5 times in Complexo da Maré. This means that the number of cases is particularly underestimated in favelas, that health facilities are denying favela residents the same quality of treatment as the city at large, and/or that favela residents are more vulnerable and therefore likely to fall victim to the virus.

---
6. Why must we slow down the pandemic?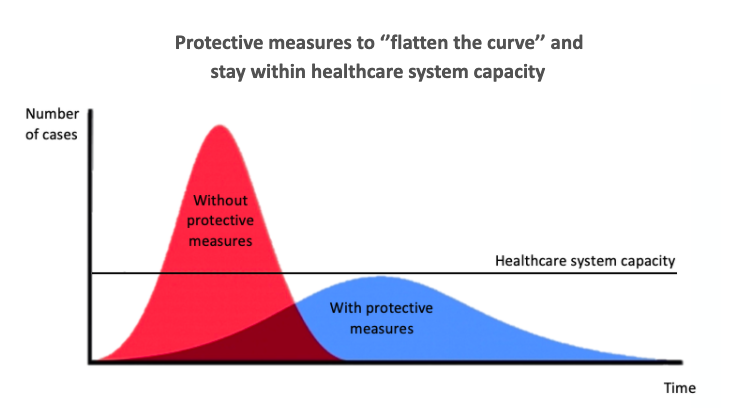 To avoid a massacre of Rio's urban poor, and further overwhelming an already chronically overwhelmed healthcare system, it is vital to avoid many simultaneous cases. Brazil today, with its 210 million inhabitants, has a total of 50,000 hospital beds. Of those, half are public and half private. But 170 million Brazilians depend on the public system, meaning half the beds are left to only 19% of the population. Since those most likely to be victims of Covid-19 are those also depending on this public health infrastructure, and since severe cases need respirators and 24-hour surveillance for days, as the capacities of hospitals are exceeded, many working class patients will not be treated and die. That is why the priority is to flatten the curve, in other words, implement measures to prevent a rapid rise in the number of cases.
Without intervention, Rio could experience 41 to 93 days without room in intensive care. The capacity of the municipal system has already been reached and hospitals might soon have to choose who to save.
---
7. Why is physical isolation needed?
To curb the proliferation of the virus, the most efficient protective measure is to avoid physical contact between people. When people do not interact with each other, the virus does not spread.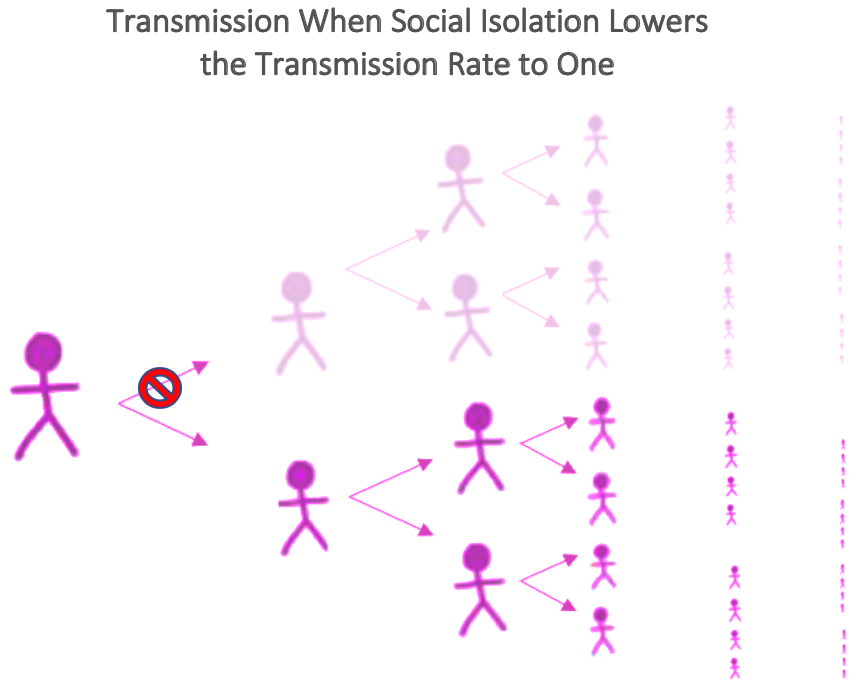 According to a study conducted by the Imperial College of London, supported by the World Health Organization, and which became a reference, a strict suppression strategy for the entire population is necessary to block the circulation of the virus and save lives.
Scientists have shown that in the absence of isolation strategies, Brazil could experience over 1.15 million deaths due to Covid-19. This number could be reduced to 44,200 through strict physical distancing measures.
A severe lockdown making it mandatory to stay at home, except for essential needs, is the most recommended strategy and has already worked in many countries if strictly implemented, in just a few weeks.
---
8. Are there solutions other than lockdown?
In favelas, there are a number of particular difficulties that residents experience in trying to realize physical isolation, like dense housing and community architecture, and the inability to forego work without experiencing hunger and more brutal outcomes.
When staying at home is truly not an option, it seems that at least wearing a mask is the most efficient means to reduce spread of the virus according to a simulator created by community group Favela Contra Corona (see below). It shows the effect of different measures that could be implemented in favelas like temporary transfer of favela residents to hotels, subsidies or basic income for the purchase of hygiene products, emergency sanitation structures, expansion of ICU availability and use of face protection masks. The tool shows the importance of combining these different measures to reinforce their efficiency.
Rio de Janeiro thus must implement full physical isolation, hygiene, mask use and all other necessary means to preventing the worst, including in its favelas..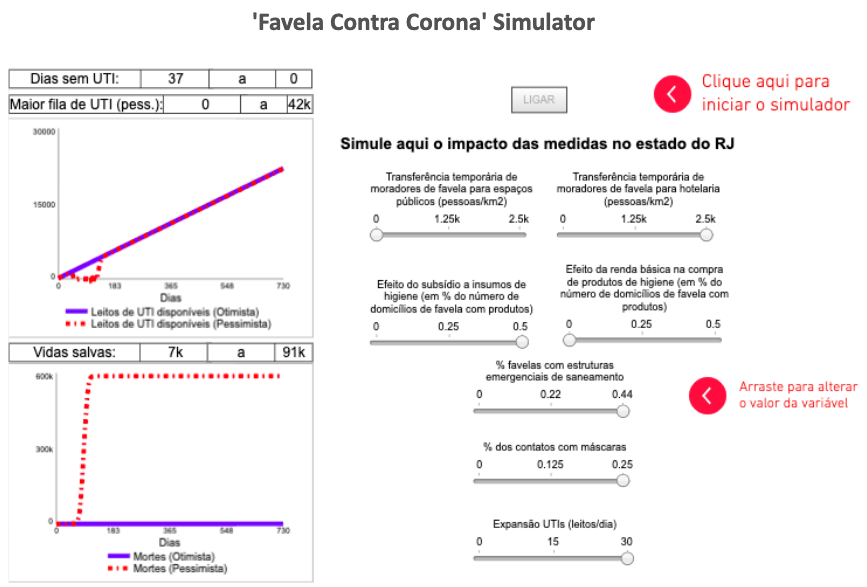 Alternative measures to general lockdown have proven efficient in some countries: in particular mass testing, contact tracing and targeted isolation. But these require a level of capacity and testing very distant from the Brazilian reality.
---
9. Isn't the economic collapse brought on by quarantine going to do more harm than the virus?
Short-lived, insufficient isolation measures due in part to not providing impacted workers with sufficient support and accurate information to stay home will only lengthen the health and economic fallout. Indeed, there is no way to save the economy until the pandemic is over, for various reasons including the fact that uncertainty is extended, and few things are more harmful to an economy than uncertainty.
That is what 32 prominent economists argued in a common letter: "Saving lives and saving the economy are not in conflict right now; we will hasten the return to robust economic activity by taking steps to stem the spread of the virus and save lives."
The most efficient way to minimize the severity of economic hardship—and lost lives—is to apply a severe lockdown first, a suppression strategy bringing infections to nearly zero, shut down the economy for a few weeks or months, and get back on the nation's feet as soon as possible.
A survey of leading economists from the Initiative on Global Markets Forum found the vast majority (80%) believe that abandoning the drastic lockdowns now would lead to "greater total economic damage." Meanwhile, none disagreed.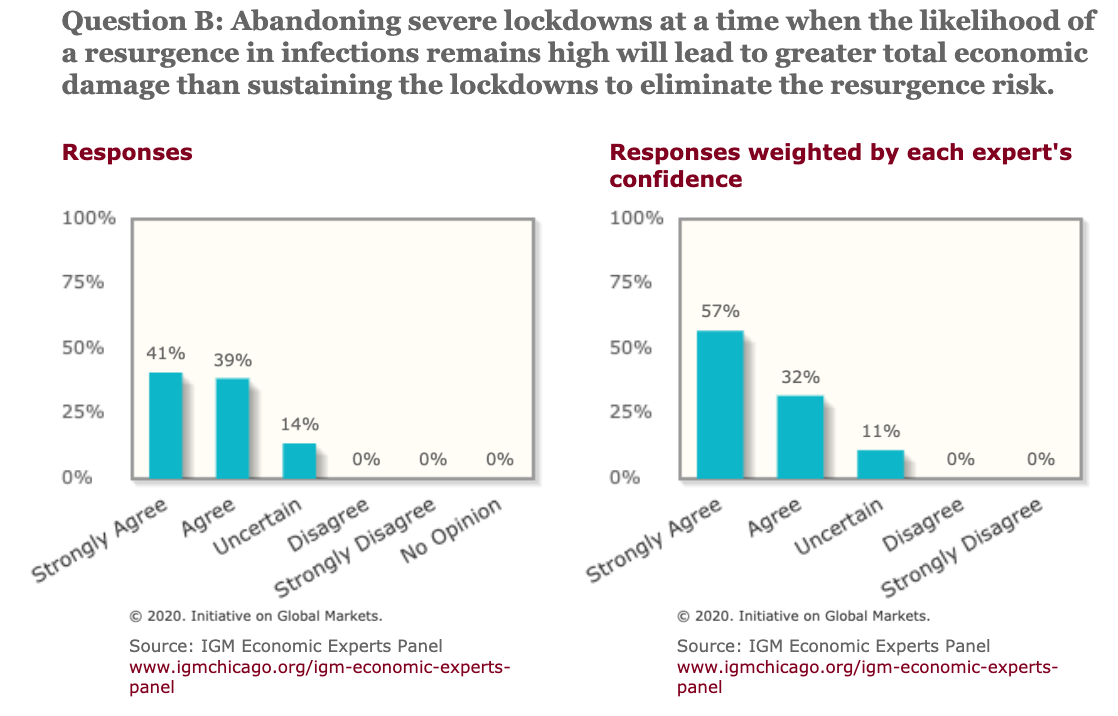 ---
10. What can I do to prevent it?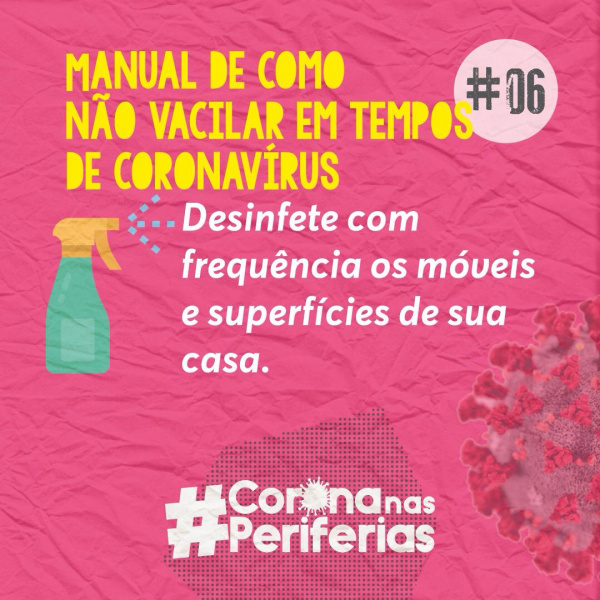 As an individual, the priority is to follow the recommendations of physical isolation to stop the spread of the virus. Many materials have been developed by favela groups to explain what residents must do to prevent the spread: go outside only for essential needs (e.g. grocery shopping) and with a mask, stay isolated from others in a separate part of your house if have symptoms, stay at least one meter away from others when you go out, wash hands frequently, do not touch one's face, be careful with any surfaces touched because the virus can survive on some for up to three days (one day on cardboard, three on metal and plastic, though with hot temperatures these will be lower).
Taking the measures to stop the proliferation of the virus seriously is vital to save lives, even more so in favelas. This is particularly the case if the lockdown in Brazil is not being encouraged by the federal government. For our survival, everyone must self-regulate and reduce physically proximate interactions as much as possible. Understanding why is primordial to raising collective awareness and saving lives.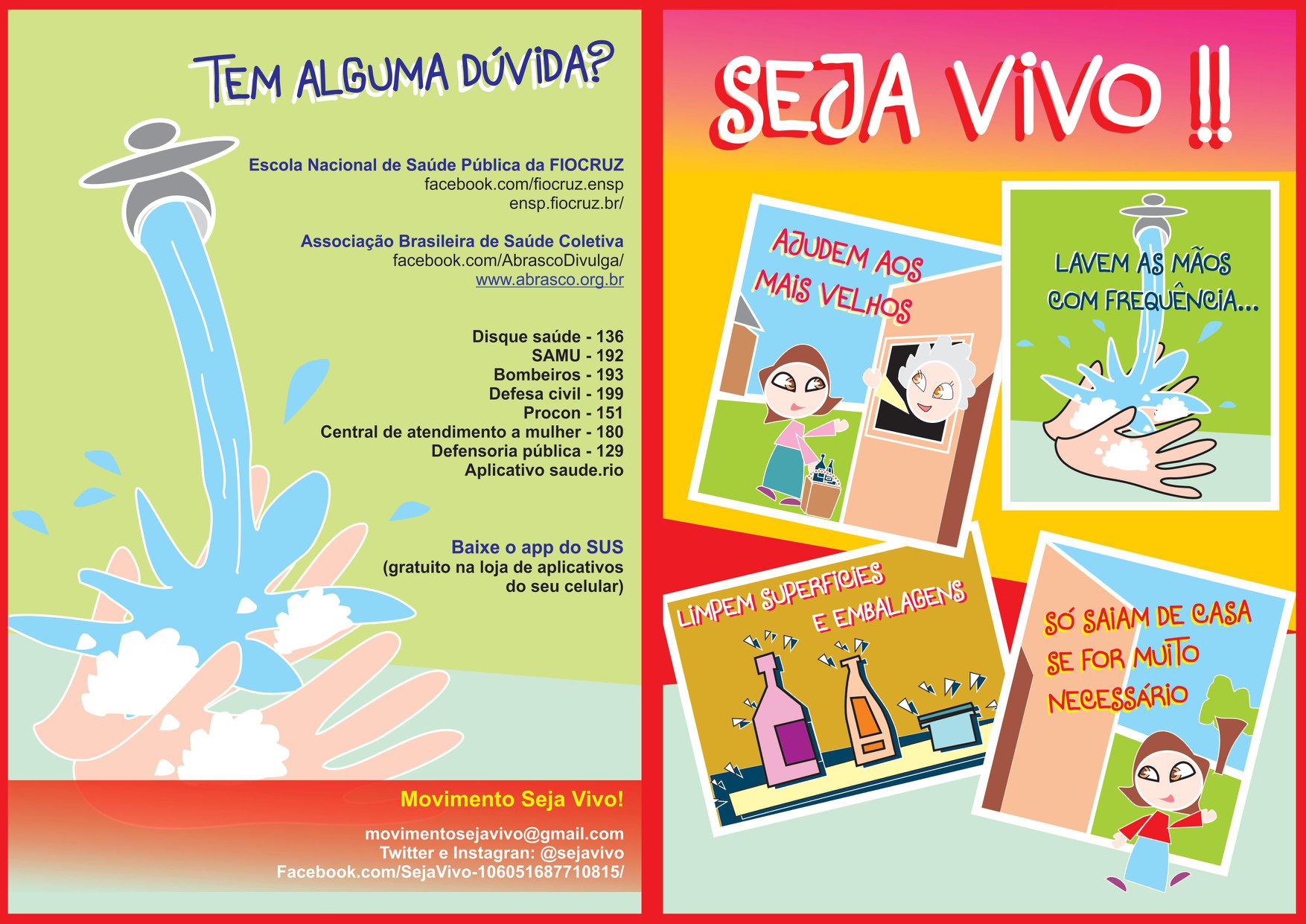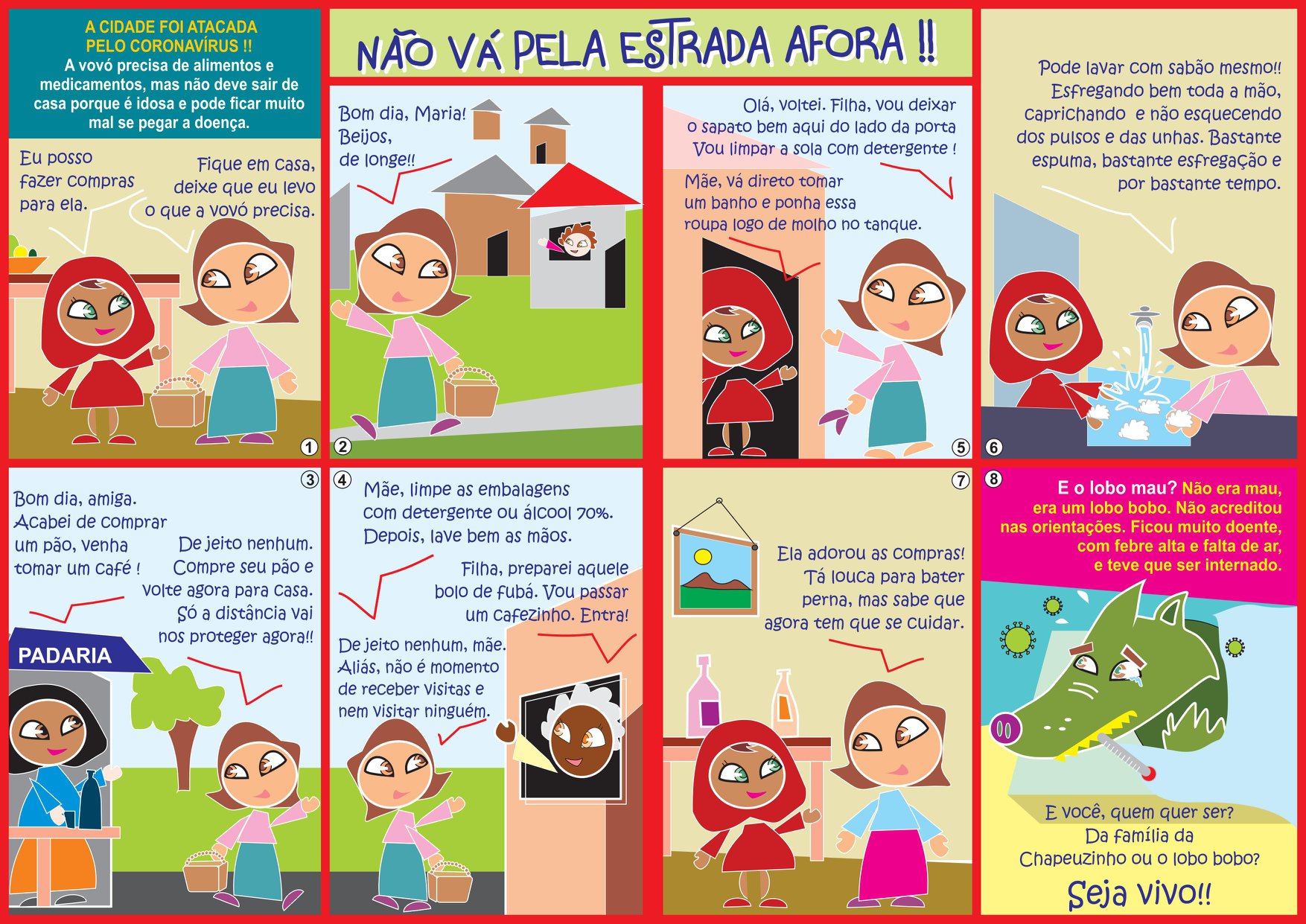 ---
Support our efforts to provide strategic assistance to Rio's favelas during the Covid-19 pandemic, including RioOnWatch's tireless, critical and cutting-edge hyperlocal journalism, online community organizing meetings and direct support to favelas by clicking here.