This is our latest article on Covid-19 and its impacts on favelas and in the series of Teach-Ins on Covid-19 in favelas.
On Brazil's Rural Workers' Day, May 25, Rio de Janeiro's Sustainable Favela Network (SFN)* Gardens and Reforestation Working Group held a live online teach-in event, "Nonpoisoned Food: Privilege or Right? Food Sovereignty in Favelas During the Pandemic." The event's six speakers, all involved in food sovereignty activism and initiatives in favelas and with movements of small farmers, spoke about the impact of the pandemic in favelas and how, in turn, it affects access to good, healthy food. In total, 110 people participated in the meeting via Zoom, with over 1000 tuning in on Facebook Live.
The special guests were: Regina Tchelly, founder of Favela Orgânica and resident of the favela of Babilônia, in Rio's South Zone; Susana Padrāo, nutritionist, president of the National Council for Food and Nutritional Security, and collaborator at the environmental education community space Espaço Formiga Verde, in the favela of Morro da Formiga in Rio's North Zone; Cristina Flores, a member of the Small Farmers' Movements in Rio de Janeiro; Fernanda Savicki, agronomist and researcher in public health at Fiocruz and vice-president of the Brazilian Agroecology Association, from Mato Grosso do Sul; Valdirene Militão, educator and researcher in the Economy of Popular Sectors at the Fiocruz's Mata Atlântica Campus in Jacarepaguá, in Rio's West Zone, originally from the favela of Maré, in the city's North Zone; and Luis Cassiano, whose green roof initiative, Teto Verde Favela, involves over fifty species on his rooftop in the North Zone favela of Parque Arará.
Regina Tchelly kicked off the roundtable emphasizing the value of self-compassion during these difficult times, encouraging each member of the virtual audience to give themselves a hug: "Not being able to hug, to look into people's eyes, is proving to be a big challenge," said Tchelly. "We work with the life cycle, taking care from the inside out."
The exchange was designed to address concerns over favela residents' access to sound nutrition during the pandemic. With the onset of government-mandated quarantine measures and looming national recession, many have found themselves out of work and struggling to put food on the table.
In the face of these issues, popular initiatives have encouraged the consumption of homegrown crops and the full use of food. Some have even brought agro-ecological foods to the populations of the favelas and urban peripheries. The evening's speakers discussed these movements in the context of food sovereignty, family farming, and rural-urban interconnectedness, all the while denouncing the agribusiness industry.
Access to Healthy Food Exacerbated by Pandemic and Bolsonaro
Susana Padrāo, president of the National Council for Food and Nutritional Security (CONSEA), spoke about how food security has been threatened since the start of Jair Bolsonaro's presidency in 2019, long before the coronavirus pandemic hit Brazil: "CONSEA is a the national council for food and nutrition security. It has existed since the beginning of 2003 [Lula] administration but was terminated on the first day of President Bolsonaro's government. We no longer have a CONSEA here that organizes food security actions in the country."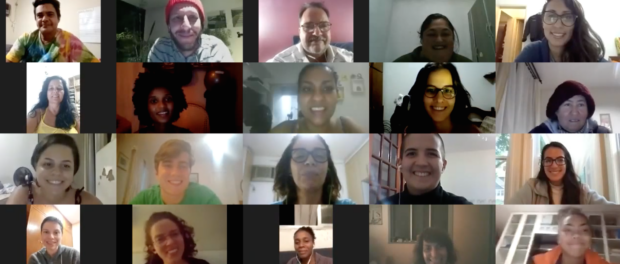 Cristina Flores added that Brazil has found itself on the brink of socio-economic crisis, with the "intensification of the class struggle, not only with Dilma's coup but with Bolsonaro's election, whose first measures were the termination of CONSEA and the withdrawal of funds from projects that brought healthy food to the lower classes."
Both Flores and Padrão noted that one way this healthy food had reached the lower classes was through schools and daycare centers. Flores added, however, that state and city governments had never managed to spend the requisite 30% of funds received for school and daycare center meals on items from family farms. This process "becomes even more difficult in this situation of isolation," said Padrão.
Combating the Harmful Effects of Agribusiness With Family Farms
Fernanda Savicki addressed another challenge to food sovereignty: "Ultra-processed consumption and ready-made foods, they are not real food. They are the fruits of the food and pharmaceutical agro-chemical industry."
"A kilogram of onions and garlic is more expensive than buying ready-made seasoning that's full of sodium and coloring. How can we talk about healthy consumption if the industry, agribusiness, produces cheaper products? Agribusiness can only produce cheaply because it has subsidies and many government tax benefits," said Flores.
To combat the harm of agribusiness, supporting family farming is essential and can even influence government policies, asserted Savicki: "What I put on my plate reflects the types of policies that I want the State to subsidize or strengthen. If I choose to buy food at the supermarket and not at the feira [open-air market], I am driving a certain type of consumer policy in Brazil. If I choose to buy at the feira food which comes from family farms, locally, without pesticides, agro-ecologically produced, respecting gender and generation issues, which is organized in a network, which has the possibility of bringing together different groups, this has an impact on policies."
In an effort to strengthen family farming and link the efforts of rural farmers to those of urban workers, Flores stated that the small farmers movement initiative, Movimento dos Pequenos Agricultores, in Rio started "a solidarity network that mobilizes these healthy foods produced by the rural and urban working classes for the favelas."
Leveraging Green Spaces and Community Organizing
In the face of job and income loss due to the pandemic, Luis Cassiano praises the idea of healthy food initiatives but laments that now, "People are in a race against hunger." Noting families' urgency in collecting the basic food baskets that local initiatives began distributing at the beginning of the pandemic, he added "it is very sad to see [people] like this."
Tchelly adds that while the food parcels may help favela residents in the short-term, "it's necessary to have continuity. I don't work to end hunger today; I work to give you the resources for you to continue having healthy food." Tchelly's initiative, Favela Orgânica, seeks to raise residents' awareness of each stage of the food cycle, thus creating a culture of the full utilization of food to combat hunger and waste.
Several of the speakers discussed the importance of autonomy and of community organizing, stating that residents of favelas must have the resources to continue providing healthy food for themselves, their families, and their communities. Speakers shared the concrete ways in which their initiatives—most of them active before the pandemic—dealt with the challenges of food justice.
Padrão agreed with Tchelly, saying that the question of autonomy was "very important, so people are able to produce and cook their own food. We encourage that. My job at Morro da Formiga is to make sure that agro-ecology can be spread and work as a feeding mechanism. Adequate and healthy food is a human right that must be met by the State. And everyone must have permanent access to food."
In line with Flores' and Padrāo's comments on agribusiness, Valdirene Militão showed the front of her shirt, which had written on it, "if it comes in a box, it's not real food."
"Although the biggest difficulty with urban agriculture is the land, we have a project in the field with our group that [works with] the leveraging of these territories. There were people with space that had enormous potential but had no idea that it was possible," she said.
Cassiano, who founded the green roof project Teto Verde in 2013, turning his own laje (cement rooftop) into a green oasis in the middle of the favela, said he began "because of the heat I felt inside the house. But now, I am more concerned with food crops than ornamentals. The roof is not big, but we do what we can to find space. Everyone who plants knows: every bit of space is important."
Tchelly ended the talk with a call to action, affirming that "the collective can make a difference. Never before have we needed to come together, to work together. Food is the only way to change."
Watch the teach-in here:
---
Support our efforts to provide strategic assistance to Rio's favelas during the Covid-19 pandemic, including RioOnWatch's tireless, critical and cutting-edge hyperlocal journalism, online community organizing meetings, and direct support to favelas by clicking here.