Hundreds of demonstrators gathered outside the office of Rio de Janeiro Governor Wilson Witzel on May 31, protesting the deaths of black and favela youth at the hands of the police. Holding signs reading "Black Lives Matter" in Portuguese and English, protesters demanded an end to violent police operations in the favelas.
"We, black women, black people from the favelas, we have roots in the building of this country, with our own hands," state legislative aid and trans rights activist Benny Briolly told the crowd outside Guanabara Palace. "We know that the blood that runs in the alleys, the blood that has stained the Brazilian State, is our blood."
"The life of my people matters," yelled Monica Cunha, whose son was killed by police in 2006. Cunha, the coordinator of the State Legislative Assembly's (Alerj) Human Rights Commission, said that the wave of police violence was unacceptable. "My people must continue to live. That's why we are here. That's the goal: black people alive."
Inspired in part by protests in response to the death of George Floyd, the act also followed a string of police killings over the last several weeks, including that of 14-year-old João Pedro Matos Pinto, killed on May 18. The black adolescent was inside a relative's home in the city of São Gonçalo when he was shot in the back by police. On May 30, a day before the march, police killed 23-year-old Matheus Oliveira. According to witnesses, Oliveira was shot in the head on the outskirts of the Borel favela, in Rio's North Zone.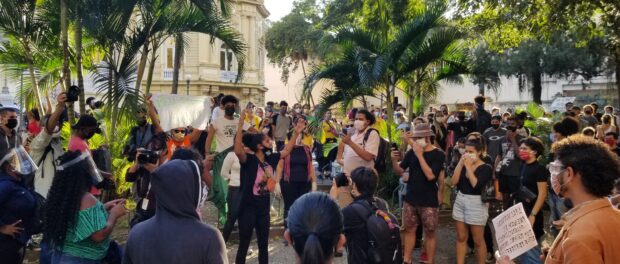 Rio's police violence, which reached all-time highs in 2019, has surged even higher during quarantine. According to Rio's state-run Public Security Institute (ISP), police killed 177 civilians in April 2020, a 43% increase over April 2019. Militarized police operations in the favelas, often accompanied by armored trucks and helicopters, have increased in both frequency and lethality in the same time frame, with a 27.9% increase in the number of operations in April 2020 in comparison to April 2019, and a 57.9% increase in the number of civilians killed during these operations, according to the Network of Security Observatories (ROS).  
The victims of this violence are overwhelmingly black. Of the 885 civilians killed by Rio police in the first semester of 2019, 80% were black or brown.
"Living in Brazil nowadays, as a black youth, it's a miracle that I'm still alive," said Pablo Fontes, a student from the South Zone favela of Santa Marta. "It's unbelievable that we are going through a global pandemic, where people don't have enough to eat, and are in need of basic things, and he [Witzel] continues to send the police into the favelas, even as organizations in the favela are working to guarantee the minimum for people that live there." 
According to the crossfire monitoring platform Fogo Cruzado, eight separate food parcel distribution campaigns were interrupted by shootouts between March 13 and May 22. All eight involved the presence of the police.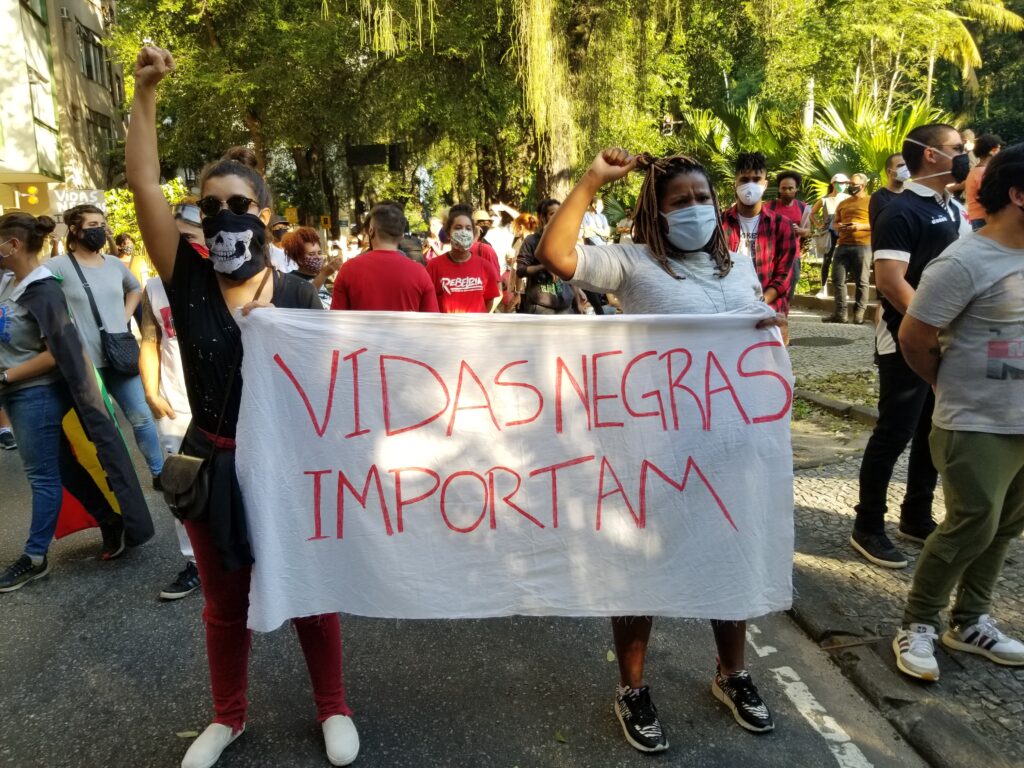 Protestors chanted "Não consigo respirar" ("I can't breathe," the three words uttered by both George Floyd and Eric Garner before their deaths) and "Vidas negras importam" ("black lives matter") as they marched, peacefully, away from the governor's office and down Paissandu Street. As the crowd gathered on the corner of Marques de Abrantes Street, organizers requested quiet. 
Organizer and PerifaConnection columnist Wesley Teixeira, seated on a friend's shoulders, announced the act's close promising it would be the first of many. "But it's important that we stay alive for this. We need to defend the lives of our people," said Teixeira. "The black youth speaking to you now, this is more than just one black youth. It's an entire nation. It's a whole people. It's thousands of activists from the favelas of Complexo do Alemão, from City of God, from Maré, from the Baixada Fluminense." He then told the crowd to disburse. 
Remaining protesters—many awaiting rides home to the city's peripheries—soon found themselves face-to-face with the police violence they had come to denounce. Riot police, facing a group of chanting protestors, fired rubber bullets and smoke bombs into the crowd. "They formed a line and we continued with our 'forced' idea of freedom of protest," protestor Andressa Oliveira told RioOnWatch over WhatsApp later that evening. "When they decided that they wouldn't tolerate it, they started firing the bombs. And I must repeat, the protestors were unarmed and presented no threat."
Organizers have scheduled national-level protests for Sunday, June 7, at 3pm.
---
Support our efforts to provide strategic assistance to Rio's favelas during the Covid-19 pandemic, including RioOnWatch's tireless, critical and cutting-edge hyperlocal journalism, online community organizing meetings, and direct support to favelas by clicking here.