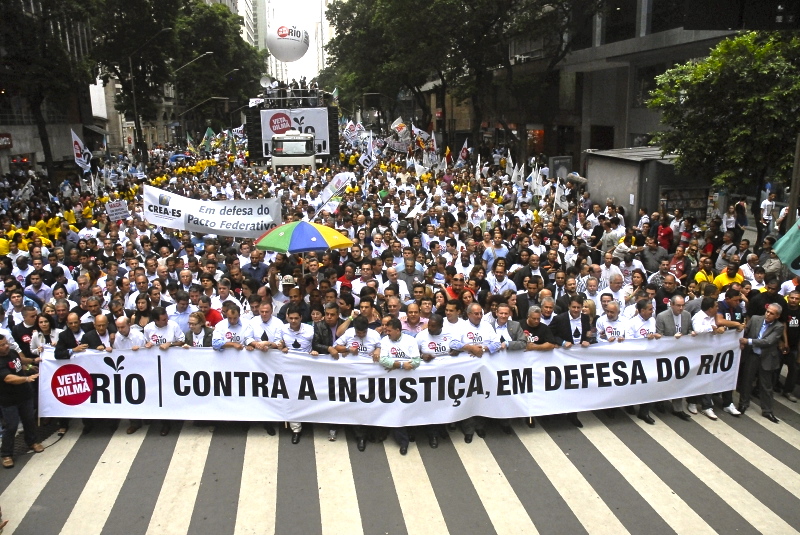 In a protest organized and funded by the Rio de Janeiro state government–with the right to take off from work to participate–held on Monday, November 26, up to 200,0000 people flooded the streets of downtown Rio to protest a bill that would partially redirect revenues from oil royalties away from the oil producing states of Rio de Janeiro, São Paulo, and Espirito Santo, to the other 23 states in Brazil. Already passed by national Congress earlier in November, the fate of the bill was decided by President Dilma Rousseff this past Friday, who gave the final "No," vetoing the proposed redistribution. The bill would have reduced the share of money collected by the oil producing states from 26% to 15-20% in 2013, and would have continued to diminish in years to come. Rio state politicians fiercely fought against this, arguing that the bill could reduce state coffers by R$3.4 billion (US$1.7 bn) in just the first year, and would seriously hinder Rio de Janeiro's preparation for the upcoming 2014 World Cup and 2016 Olympics.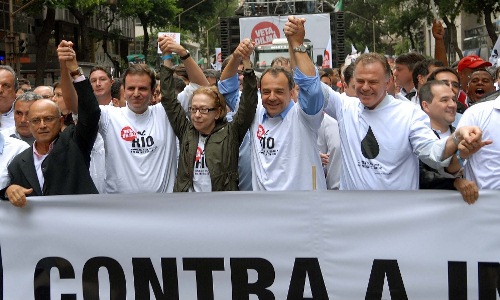 The state government called on citizens to demonstrate their support for protection of Rio's oil royalties in the protest that stretched along Avenida Rio Branco last Monday. Rio state's Governor, Sergio Cabral and Mayor Eduardo Paes spearheaded the event along with politicians from Espirito Santo and São Paulo. Both Cabral and Paes spoke of the dire consequences this bill would have had for Rio de Janeiro state, citing that the entire budget plan for the state would be sent awry if President Dilma Rousseff had approved the bill. Cabral and Paes argued that crucial programs like the security programs and pacification police, along with the education sector would be forced to endure major fiscal tightening. In their effort to fight against this bill, state politicians called on citizens by sponsoring the "Veta Dilma" protest last Monday. This protest, reportedly drawing crowds of 200,000 to the streets of downtown Rio was probably a critical factor in President Dilma Rousseff's decision.
Carioca pride was manifested to its fullest at the event, protestors sporting blue and white face paint (the colors of the Rio de Janeiro state flag) and expressing the importance of protecting Rio. Rosiete Marinho, a resident of Morro da Providência, told us, "We need to honor our state. Personally I'll be there the first, second, third and tenth time because I need to honor where I was born which is Rio de Janeiro."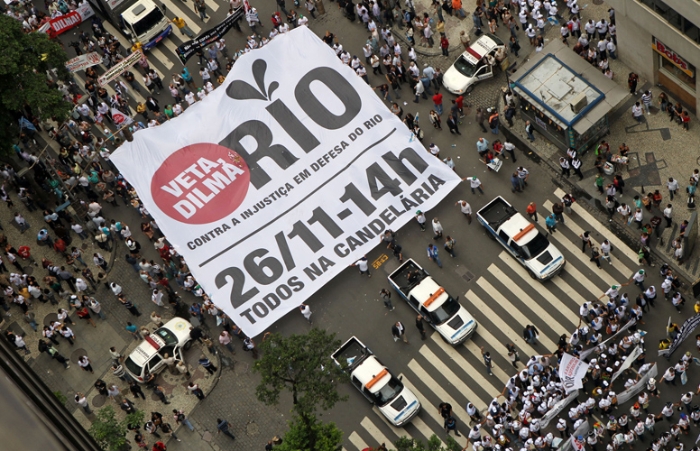 Furthermore, protecting Rio's oil money had particular value to Rio's community residents present at the protest, who expressed fear of what they may lose if the state were to see its budget slashed. The already volatile future of Rio's communities could be affected: budget cuts to social programs that many residents have grown to rely on, in sectors like health care, education, and security.
Although the protest drew impressive numbers, residents and analysts alike are somewhat skeptical about the state government's motives. Rosiete explained, "I was there as thousands were. I'm not honoring them (the politicians). They requested our presence so we honored them by going but in my thinking, it's our money that would be taken from Rio's public funds."
Rosiete expressed her frustration with the state government's support of citizens: "What we really need is support from the government, like we support them. You see a demonstration like yesterday, the people went to support them. Why when the people need support from this same government, this same municipal authority, they don't get it? It's cowardice. 200,000 filled the streets from Candelaria to Cinelândia, to support the government to not lose the money that isn't theirs; it's ours, for our improvement. The people were there in the rain. When we need this same government, they don't come."
The concept of a state-sponsored protest is somewhat paradoxical to begin with. And this movement is not just a protest sponsored by the state government, it is a protest sponsored by the state government targeting the national government, utilizing the masses to do so. Lots to chew on in a city where true popular uprisings and their causes are regularly disregarded.