Experts warn of risks as growth in demand boosts real estate values.
For original article in O Globo click here (or here for the full version).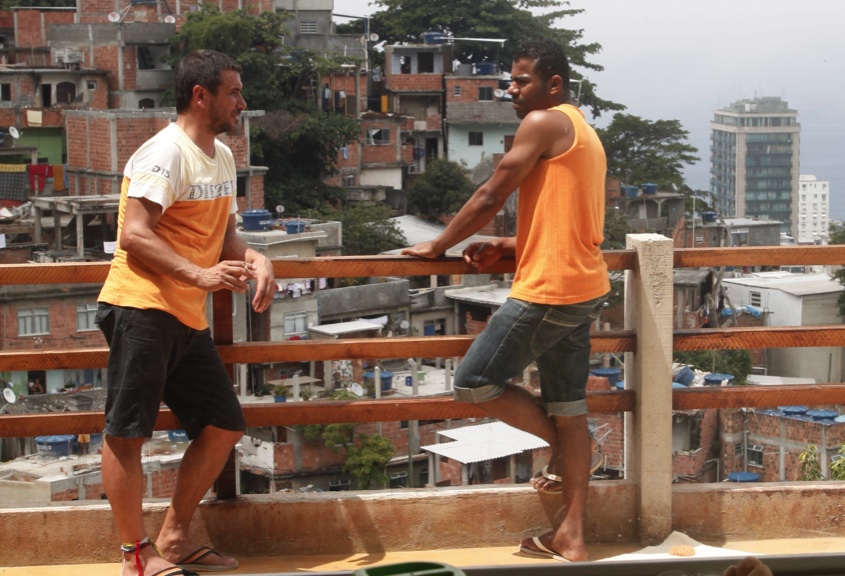 The sound of Portuguese spoken with an accent is just one of the undeniable signs that foreigners have arrived in the favela. And the "gringos" are here to stay. Hailing from many countries around the globe, these newcomers have passed up life on the "asphalt," as the formal areas of the city are known, in favor of settling in favelas. More affordable housing, along with improved safety following the establishment of Pacifying Police Units (UPP, by the Portuguese acronym), are leading a growing number of foreigners to seek housing in the favela. While the foreigners are successfully integrating into the fabric of the neighborhood, residents and experts warn that this trend, which is causing property values to soar, will take its toll on long-time residents.
Diego Baronio, 42, from Italy, is one of the foreigners who has chosen to settle in a favela. When on vacation in Rio two and a half years ago, he fell in love with the lifestyle of the city and began a relationship with Brazilian Alex Coutinho. After two weeks in Copacabana, he found more affordable accommodation in the Cantagalo favela, located between Copacabana and Ipanema. He later bought a house there right next to the UPP for R$60,000 (US$30,000), one room of which he rents out to foreign visitors for R$80/night.
"Living here is definitely very different than in Italy, but I prefer the culture, relationships with people and way of life here. I haven't had any trouble adapting and I've been welcomed by the other residents. I thought the favela would be a cheaper and happier place to live. And now that I've been here for a while, I really can't complain," says Baronio, who was a teacher in Italy and is now studying to be a tour guide in Rio.
Ondrej Kubala, 25, from Czechoslovakia, came to the favela of Rocinha with his Brazilian girlfriend of two years, who has family there. The couple met in Prague, where he worked in the financial sector and she was a waitress. Ondrej was tired of working in an office so the couple came to Brazil. After a failed business venture in Saquarema, they moved to a simple house in Rocinha. Initially Ondrej felt the weight of the cultural differences but he says he has now adapted to life in the favela.
"At first it was hard to get used to the lack of basic services and dirty conditions in the community, but when you want to save money you have to lower your expectations. Because I'm living in my girlfriend's house I don't pay rent and in the city below everything is very expensive. There are people renting apartments the size of a closet in the South Zone for R$2,000 (US$10,000). That's just too much, even for a posh neighborhood," says Ondrej, who is working in a luxury hotel in Gávea.
While the foreigners who have made their home in favelas feel welcomed, some long-time residents are skeptical of their new neighbors, particularly because their presence is causing the cost of living in the favela to rise.
"No one is mistreating the new arrivals, but it's clear that many residents are not feeling positive about them. Since the foreigners started coming rents have been going up for everyone here. Before, you could rent a basic house for R$600/month (US$300), at most. Now you'll pay up to R$1,500/month for it. This is affecting businesses in the community," states photographer Felipe Paiva, 27, who was born and raised in Vidigal.
Other favela communities have noticed prices rising. According to Tatiana Neres, of the Cantagalo Residents' Association, prior to the UPPs a basic house in the favela would rent for up to R$300/month (US$150) whereas it can go for up to R$700/month nowadays. Chilean Natalia Urbuna moved with her husband in 2009 to Santa Marta, which was the first favela to be pacified a year earlier. They were drawn to Santa Marta for the reasonable rents as compared to Botafogo, the neighborhood next to which Santa Marta is located.
"The increased demand in the community has driven property values up. A room in a shared house that used to rent for R$400/month (US$200) is now going for R$1,200. The foreigners don't feel these changes but the long-time residents are finding it difficult to stay here because of the inflated costs," says Natalie.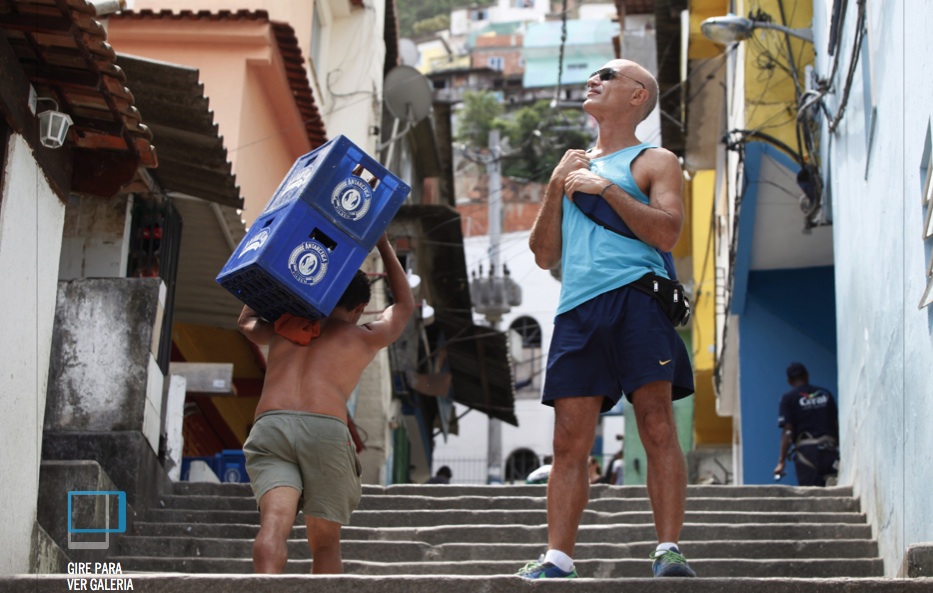 American Jake Cummings, a Harvard Graduate School of Design MA student, has been studying the phenomenon of foreigners' attraction to Rio's favelas and the impact of their presence on the cost of living in the community. The phenomenon, explains Cummings, is known as gentrification and can cause changes in the local culture.
"Pacification, along with access to other services in the communities, makes these places very attractive to many foreigners, including those looking for investment opportunities. This demand tends to lead to higher prices which squeeze out the original residents," states Cummings. "In Vidigal, for example, the funk dance party used to be the main attraction in the local nightlife. Nowadays, it's Alto Vidigal, which is owned by an Austrian and has a more international vibe."
The president of the Cantagalo Residents' Association, Luiz Bezerra do Nascimento, has noticed that foreigners have been seeking housing in his community in growing numbers since pacification, in December 2009.
"They often come to inquire about apartments for rent here at the association, but nowadays there isn't much available," Bezerra pointed out.
The soaring property values in pacified favelas has not gone unnoticed by the real estate sector. According to Lavor Luiz, a member of the Regional Council of Real Estate Agents of Rio de Janeiro (CRECI-RJ), many of these properties have seen a 40% increase in value following the establishment of the UPPs.
"This rise is happening all over Rio de Janeiro. Once these areas have a UPP and basic services, the values go up."
City planner and director of the NGO Catalytic Communities, Brazilian Theresa Williamson explains that she has been closely following the upswing in numbers of foreigners living in Rio's favelas.
"Foreigners, especially young students, feel drawn to the culture of the favela. The fact that Brazil's economic situation is improving while many other countries are in crisis also attracts people to our market. In addition, the high prices for housing in the city make the favelas that much more appealing."
Gentrification could exacerbate inequality
Gabriel Yampey, 54, from Argentina, has been in Rio since February and has been renting a room for R$520 on Rua Jupira, in Santa Marta. Tenants in the building, at the base of favela, hail from several countries. He notes that he opted to live in the favela not because of a fascination for the culture, but rather because of the favorable location.
"I came here because it's convenient. I feel neither prejudice nor any particular fascination that many foreigners have about the favela," explains Yampey, who is massage therapist and works at Botafogo Praia Shopping.
Rio's exclusive South Zone is not the only place where foreigners are settling. Across the city, Fei An Tjan, from Holland and of Chinese descent, is building a cultural center in Complexo do Alemão with his Colombian girlfriend, a Dutch friend and a Brazilian friend from the Complexo do Alemão. The building near the Itararé cable car station purchased by the group will house the Barraco 55 Cultural Center.
"We want to do things that are important for the community. Since we're not on the tourist itinerary, foreigners will come here out of a genuine interest in the community," asserts Fei, who has been living in Alemão for six months.
According to city planner Theresa Williamson, of CatComm, gentrification of Rio's favelas is worrisome and must be monitored carefully.
"Rio is a city with a great deal of inequality, which gentrification will only exacerbate. Some people will benefit from gentrification but the majority will not," states Williamson, who believes that it is important for residents to receive training on how to control the market and preserve their history and culture.
For the long version of the original article in Portuguese, click here.