"There is a pain that has not healed in the city of Rio de Janeiro, caused by the violence against democracy that affects so many. On the street named after deceased supreme Catholic leader Pope John Paul I, City Councilor Marielle Franco had her life brutally stolen from her people in the vile act executed with the express purpose of silencing her voice. If, at the time, investigators counted all the bullets that pierced the car driven by Anderson Gomes, who also had his life taken, it is impossible to count all of those impacted and that, united in their pain, have since joined voices in a single cry for justice asking: 'Who ordered her killing?'" — Hercules da Silva Xavier Ferreira
After three years, we still do not have an answer to this crime. Who ordered Marielle Franco's murder? And why? Unfortunately, the quote by Hercules da Silva Xavier Ferreira, that opens the entry "Mapping homages to Marielle Franco," in the Marielle Franco Dictionary of Favelas—an online platform that gives the public access to acquire and produce knowledge about favelas—continues to express a current sentiment. It is also a synthesis of the feeling that echoes throughout cities: Rio de Janeiro, São Paulo, Buenos Aires, Berlin, Lisbon, Paris, Florence, Amsterdam, Washington D.C., and many other places worldwide that have designated a tribute to this daughter of the Complexo da Maré favelas who dared to "not be interrupted" in her resistance and fight for the right to the favela.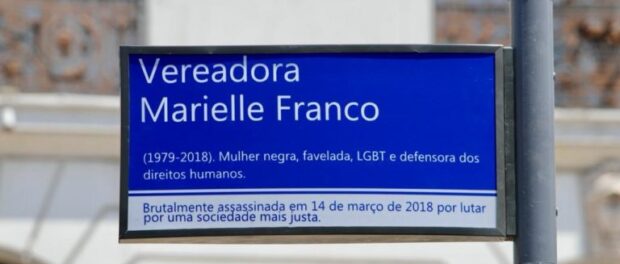 From Brazil to the United States, from Latin America to Europe, all scream together for justice. However, in Rio de Janeiro, the city where Marielle was born and raised, it took three years for the city to install a plaque in honor of the councilor. The sign was placed in Cinelândia, in front of the City Council building where she served, on the third anniversary of her death and reads: "Black woman, favela-born and raised, LGBT and human rights defender. Brutally murdered on March 14, 2018, for fighting for a more just society."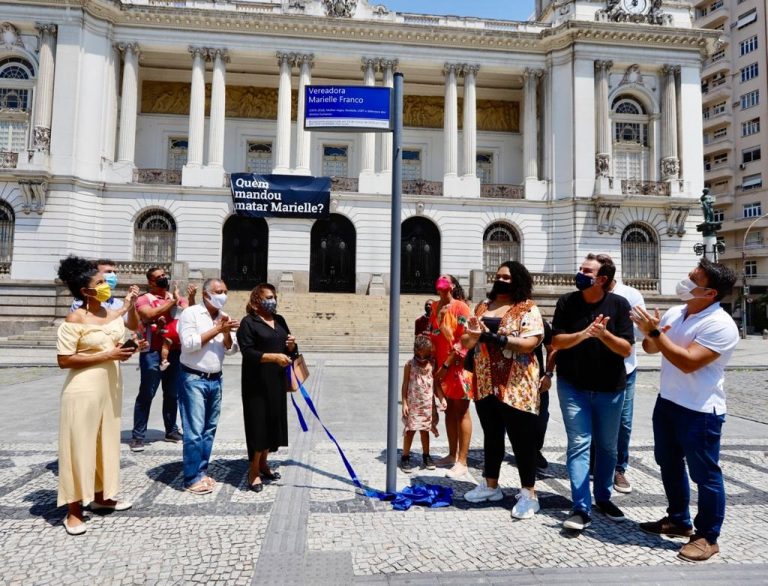 Present at the plaque's unveiling were family members of Marielle (her daughter, parents, and sister Anielle), along with Mayor Eduardo Paes and Federal Deputy Marcelo Freixo. Elsewhere in the world, the black, bisexual, human rights-defending child of Complexo da Maré has been widely celebrated since her death.
"I think all the tributes are incredible because they give us strength to continue this fight, and show that we are on the right side of history. It is a struggle for Marielle's memory, for justice, and for Brazilian democracy to be recognized not for impunity, but for being on the right side of history. It is a very important fight for me. The recognition of the [Marielle Franco] Institute and the tributes themselves give us strength and prove that this legacy is not ours alone; it is collective, and a giant like her," says Anielle Franco.
Marielle Franco and driver Anderson Gomes were shot to death on the night of March 14, 2018. Marielle was leaving a political event in the neighborhood of Lapa and was on her way home when she was murdered. Marielle's family believes the identity of those responsible may be revealed once the arrested defendants are tried. In the event that they are indeed convicted, a plea bargain may be made in exchange for a reduced sentence.
To date, in addition to society not knowing who ordered Marielle Franco's assassination, or why, those accused of carrying it out—retired military police officer Ronnie Lessa, and former military police officer Élcio Vieira de Queiroz—have still not been tried. Both are detained in the federal prison of Porto Velho (State of Rondônia) and will be tried by a jury, although the court date has not been set.
An investigative task force was launched on March 12, 2021 by the Prosecutors Office of Rio. The task force made a court agreement with Facebook to obtain data that will help identify the perpetrators of the crime. According to information provided by UOL, the task force met with representatives from the Marielle Franco Institute and Amnesty International on the progress of the ongoing investigation.
The street sign put up last month in honor of Marielle Franco was a symbolic act (the street was not actually renamed). To this day, not a single Rio de Janeiro street, square, or public space has been renamed in her honor. The plaque was placed in front of City Council, where Marielle worked—in the same place where seven months after her murder a similar one was violently destroyed after being put up and celebrated by activists.
The original symbolic sign was removed and broken by then candidates Rodrigo Amorim (a state deputy hopeful) and Daniel Oliveira (a federal deputy candidate), both from the Social Liberal Party (PSL). The two were seen days later at a political rally in the city of Petrópolis with the original sign broken in half. The scene was recorded and posted across social media.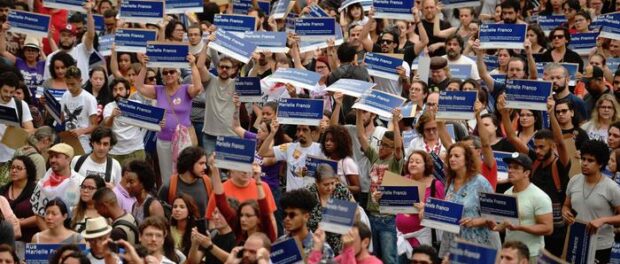 At the time, the candidates' act of destroying Marielle Franco's street sign caused protestors to take the streets. On October 14, 2018, in Cinelândia, Central Rio, protestors gathered to honor Marielle Franco and to demonstrate collective resistance while asking for justice. The protest also condemned the two candidates, Rodrigo Amorim and Daniel Oliveira, for destroying Marielle's sign.
The act was an initiative from satirical website Sensacionalista, which created a crowdfunding campaign to raise R$2,000 (US$360) to make 100 signs in honor of Marielle. "They tear one up, we make 100," stated Sensacionalista on a crowdfunding website, according to Carta Capital magazine.
Rodrigo Amorim, elected state deputy in 2018, framed and hung part of the broken sign in his office at the Rio de Janeiro Legislative Assembly as decoration. Daniel Silveira, currently also a deputy, was arrested during carnival after threatening Supreme Federal Court (STF) judges on social media.
Since then, the sign—which features elements of a tombstone, with Marielle's date of birth and death (by murder) and the crime scene's zip code—has become a symbol of the fight for justice. According to website Rua Marielle Franco, "More than 18,000 Marielle Franco street signs have been produced since they tried to destroy the tribute." The website provides the art to be downloaded to "take the signs everywhere and show that Mari is as big as the world!"
Today, "Marielle Franco Street" signs are inside homes all over the world in her honor. In addition to this, monuments, scholarships, and even beer gardens bear Marielle's name in honor of her legacy, from Europe to the United States and Latin America. However, in her own country, including in her own city of Rio de Janeiro, the Marielle Franco Street remains a dream of justice for her family, friends, and society looking to honor her name, history, and legacy in Brazil.
Marielle's funeral was held inside the City Council building to the applause and tears of thousands. The symbolic sign placed by the administration in Cinelândia is therefore a tribute in a spot treaded by Marielle many times, in life and in death.
Brazil: São Paulo
Located at the corner of Cardeal Arcoverde and Cristiano Viana streets, in Pinheiros, São Paulo, the Marielle Franco Staircase has been around since March 20, 2018. Built in 1972, and originally painted white, the place was a popular spot for graffiti artists. A battle of decades was "fought" between city government—that repainted everything white and then abandoned the staircase to its own fate—and graffiti artists and graffiti vandals.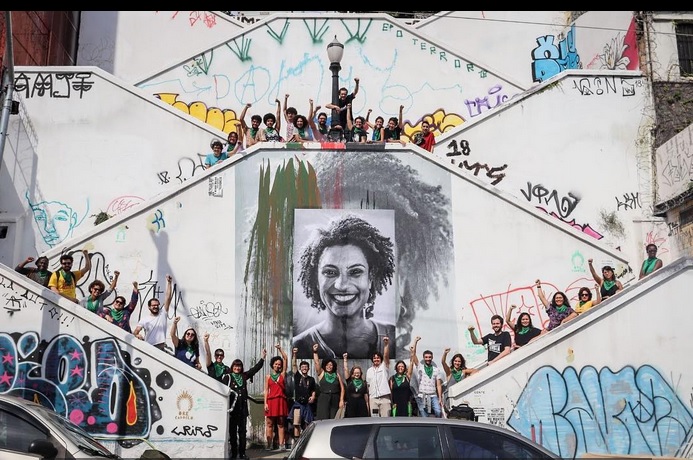 The battle ended, however, when the staircase was occupied by activists honoring Marielle Franco. From then on, a new struggle began between city officials and activists, and went on for months, since the tribute is not an official memorial to the councilor. Before the elections, Marielle's image was the target of depredation with red paint being thrown over the mural. But activists went back and placed another picture of a smiling Marielle on top of the vandalized one. The picture may be smaller, but Marielle is always smiling. In January 2019, City Hall returned to repaint everything white with the excuse that it would be making repairs to the staircase. The City, however, did not expect the opposition of Mr. Francisco—who occupies the abandoned space below the staircase. As documented by news portal UOL, he prevented city workers from painting over the councilor's photo.
France: Garden and Bus Stop
In 2019, the French capital dedicated a garden in honor of Marielle Franco and invited her parents and daughter to the opening ceremony. The hanging garden is located next to Gare de l'Est, one of Paris's main metro stations. It is 2,600m2 and boasts approximately 70 trees, most of which yield fruit—a symbol of Marielle Franco's legacy as a fruit of resistance.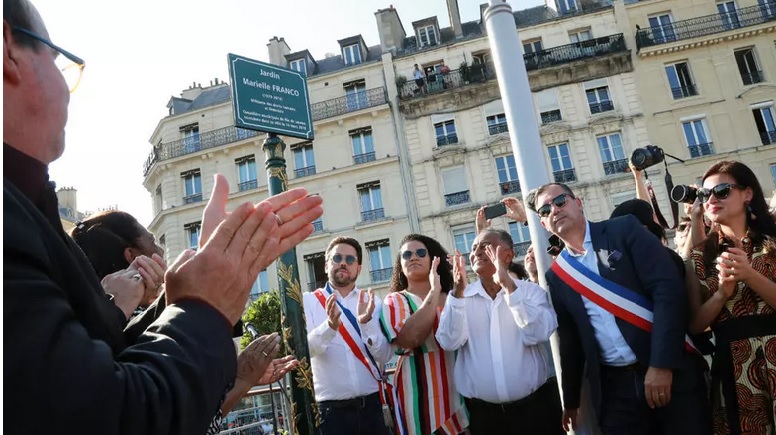 The Parisian administration saw the initiative as "the capital's engagement in the defense of human rights around the world, and also of politicians in danger," according to a statement released a day before the garden's inauguration ceremony.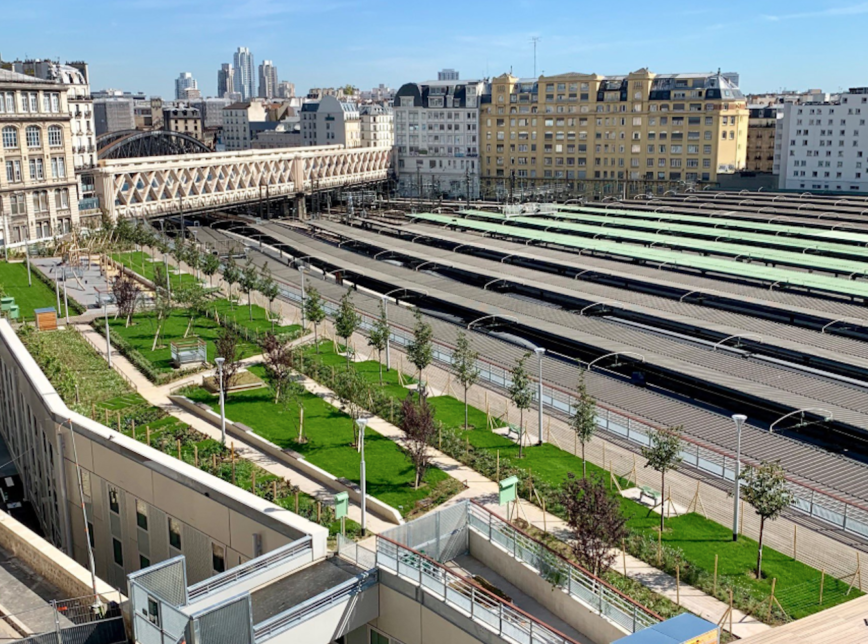 In the city of Grenoble, in southeast France, Marielle was remembered through the official renaming of a bus stop. The city's initiative was "to honor strong characters in history." Grenoble has been known over the last few years to pursue efforts in bringing equality between men and women. Several streets, town squares, and facilities have been renamed with feminine names to make women more visible in the public space.
Marielle's name was selected by suggestion of the visitors of the "Femmes à l'Honneur" (Women in Highlight) exhibition of 2018. Marielle was chosen for fulfilling all the requirements of "exemplarity of life, the universality of the message transmitted throughout her journey, and coherence with her territory and local roots."
Portugal: Marielle Franco Street and Mural in Monsanto Panoramic
Also in 2019, the Lisbon city council passed a proposal to name a street in the Portuguese capital after councilor and activist Marielle Franco. At the time of the approval, the councilors highlighted the activist's work: "Marielle Franco was committed to the fight for human rights, especially in defense of the rights of black women, favela and periphery residents, and in denouncing police violence," said the statement released by councilor Manuel Grilo's office.
Despite being presented by the Council's leftist parties, the proposal was accepted unanimously among councilors. A municipal commission will propose and select which street will be named after Marielle.
Marielle Franco had already been honored by Portuguese artist Vhils at the Panorâmico de Monsanto, in 2018. This tribute is part of Amnesty International's Brave Walls project. On a wall just over three meters tall, Vhils made a high relief portrait of the councilor using only white paint. Vhils is known among Rio de Janeiro residents who frequent Brazil's first favela, Morro da Providência, where he spent some time in 2012. At the time, he partnered with local photographer Mauricio Hora to make a series of striking high relief portraits of people removed from their homes by the City, and carved, then painted their images on the walls of demolished houses.
"With this piece, in Portugal, we wanted to give the greatest possible visibility to the Marielle Franco case—not only to celebrate her life, which is extremely inspiring, and to continue the fight for her causes, but also to ensure that justice is found for her murder. It is the expression of art, peacefully and audibly, demanding justice and human rights," says Pedro Neto, executive director of Amnesty International Portugal.
Florence, Italy: Oblate Library Terrace
In 2019, the city of Florence, Italy approved to name the terrace of Oblate Library in honor of Marielle. "From the terrace, a magnificent view of Brunelleschi's Dome will allow Marielle's memory to be preserved, while promoting continuous reflection on the themes of integration and fundamental human rights," said councilor Luca Milani.
After the city's approval and a specific resolution passed by municipal committees, the terrace's process of officially receiving Marielle's name was started.
Netherlands: Museum Façade
In the Dutch capital, the graffiti piece painted on the façade of the Stedelijk Museum, one of Europe's most important cultural spaces, was done in remembrance of Marielle's name and history. "A year without answers" is the message Rio de Janeiro artist Panmela Castro recorded in Amsterdam. She was selected to create her art at the Mama Cash feminist festival.
The piece, painted during International Women's Day in 2019, recalled the first anniversary of the councilor's murder. The graffiti mural displayed two feminine characters united by their eyes and hair, within the concept of "sorority," to represent the union of women through pain and mutual suffering due to sexism and racism.
United States: Scholarship
In Washington, D.C., one of the country's most prestigious universities, Johns Hopkins University, created the "Marielle Franco Fellowship Fund" in Marielle Franco's honor. The scholarship is intended for students who wish to develop research related to social justice and human rights in Latin America and is part of Johns Hopkins's School of Advanced International Studies' Latin American Studies Program (LASP).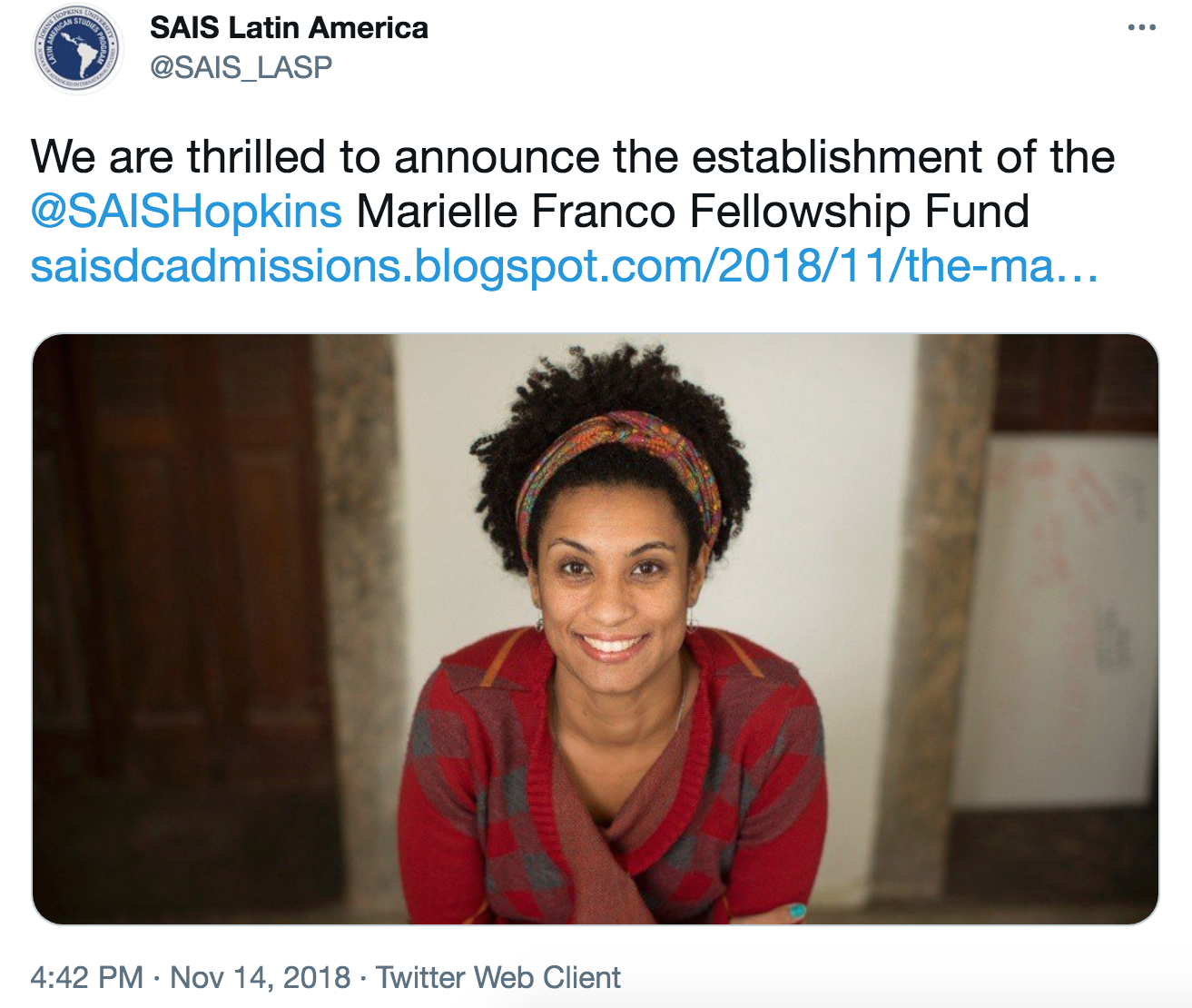 According to the university, the scholarship will be awarded annually to support master's students committed to advancing social justice, equality, and broader political representation. Candidates should also have Latin America as their focus of study.
Germany: The Marielle Franco Mural, Berlin
Even during the pandemic, Marielle continues to make herself present around the world, as shown by the mural honoring her life and inaugurated on March 8, 2021, International Women's Day, in the German capital. The mural is about 100m2 and located on the side of a building in Berlin's Kreuzberg district.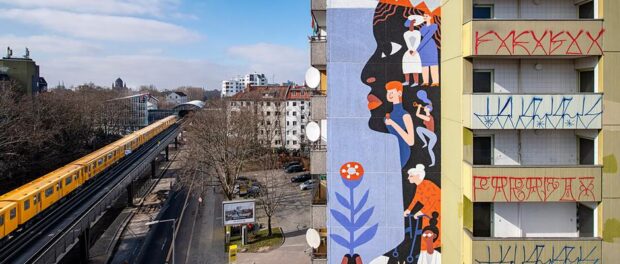 Created by Russian artist Katerina Voronina with support from Amnesty International and the Urban Nation Museum for Urban Contemporary Art, the work is part of the "Brave Walls" series, which seeks to call attention to the need to protect human rights activists. Brave Walls has already carried out similar interventions in more than 20 countries, including the above-mentioned mural honoring Marielle in Lisbon. "Marielle Franco impressed me deeply. She was a strong and courageous woman who fought structures of power with no hesitation, and unfortunately lost her life as a result of this," said the artist to the DW portal.
Argentina: Metro Station
A plaque honoring Marielle was inaugurated at the Rio de Janeiro subway station in the Caballito neighborhood in Buenos Aires. The councilor's name was also given to the station, now called Rio de Janeiro-Marielle Franco.
Authorization for the tribute was given on March 12 by the Argentinian capital's city parliament. The name change was proposed by deputy Maria Bielli on behalf of the Coletivo Passarinho (Bird Collective)—a group of Brazilians living in Buenos Aires.
"In Argentina, Marielle is praised in a transversal way: for the defense of black people, favela residents, women, and human rights. Here, due to the military dictatorship [1976-1983], a murder that may be related to the State is very striking," says Renata Benitez, member of the Bird Collective, to the newspaper Folha de São Paulo.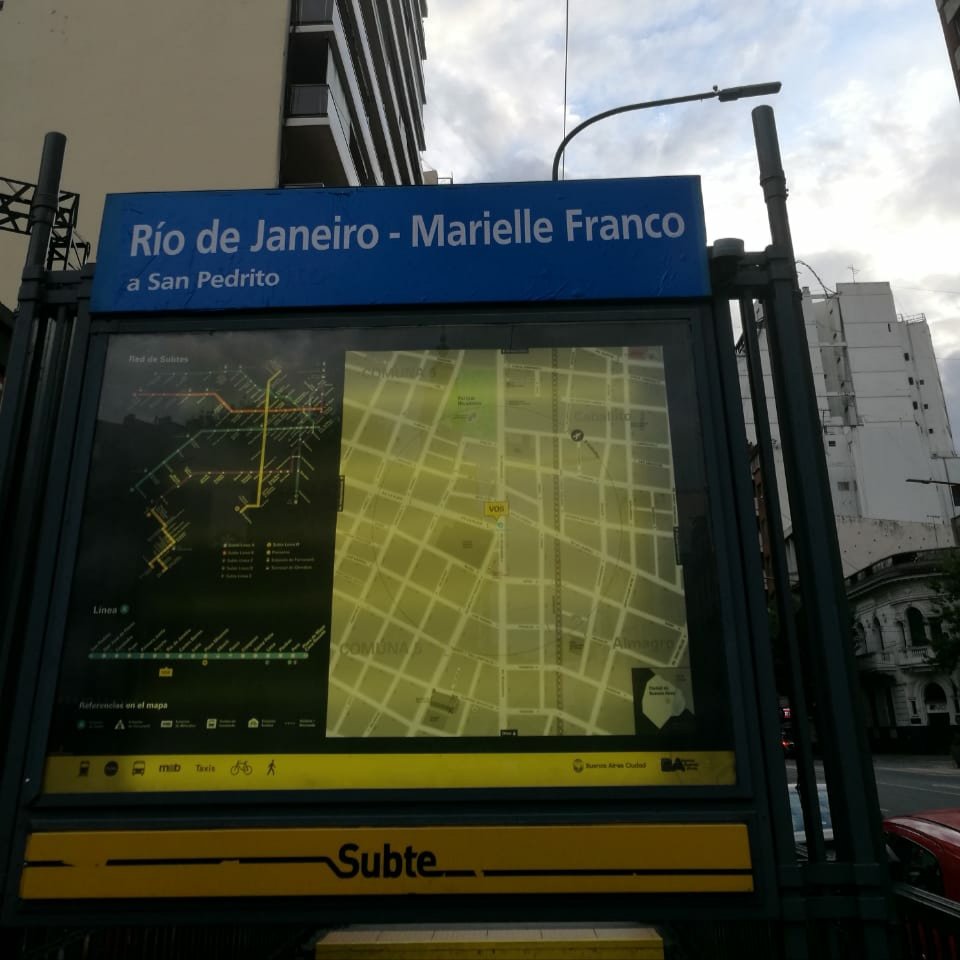 ---
Support RioOnWatch's tireless, critical and cutting-edge hyperlocal journalism, online community organizing meetings, and direct support to favelas by clicking here.