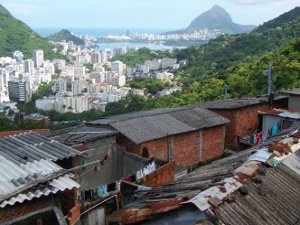 Here we are more than two years on from the implementation of the UPP (Police Pacification Unit) in Santa Marta, Botafogo, Rio de Janeiro's South Zone. What has improved? Here I present the perspective of those who live there.
We're already well into 2011, but almost nothing has got better for the community in the morro (hill) of Santa Marta. Yes, there have been a few improvements here and there, as there always have been and always will be. But I mean revolutionary changes, that would enable people to live equal lives, with better health, decent housing, quality food. Achieving these things will involve going way beyond the mere implementation of the UPP.
I say beyond the UPP, because I remember all the media stories which welcomed this revolution called UPP. They made even the police officers themselves believe that they were revolutionaries. One day I talked with one of them and he told me that he was working to bring improvements to the Santa Marta favela. I then asked him if he could take a look at all the leaks in the roof of my house, but he chose not to respond.
However, I want to leave the subject of the UPP aside and talk about our lives today in Santa Marta. It will be a struggle for all the people who live here now to keep doing so once the area becomes subject to real estate speculation. We can already see around us another Santa Marta coming into existence, home to middle-class students and foreigners, where locals fight for the right to pay $350 to rent a two square meter shack. I see new trendy bars run by entrepreneurs making it more and more difficult for local businesses to survive, forcing them to lay off workers and raise their prices.
Where's the improvement that they spoke of on TV Globo and in other media? Crews from TV Globo stayed here for thirty days and nights in order to cover all the improvements going on. But they never let us speak for ourselves.
Now, there is one improvement that I do recognize: the number of weapons in the hands of civilians has fallen, we don't hear guns going off left, right and centre, and the number of deaths from lethal weapons has gone down. This is fantastic but no more than we deserve; in fact at the end of the day it's our right, given that in Brazil we're not supposed to be living in a war zone. However, we all know who puts these weapons in the hands of drug traffickers in the first place, and let's just say that it's no-one who lives round here.
I've been doing a little research into the cost of living and have found how much it cost us workers and favela dwellers in the Zone Sul for four basic items. For rent (R$350 per month), breakfast (R$3.50 per day, totaling R$105 in 30 days), lunch (R$7 per day, total of 210 in 30 days), dinner (R$7 per day, total of 210 in 30 days), we need to pay a total of 875.00 reals. But the minimum wage is only R$530, and I haven't even included the price of milk, cooking gas, medicines, clothes, electricity bill, cable TV etc..
I wonder if we'll still be here in Santa Marta when the Olympics arrives. Today we have a higher cost of living than ever before. Our electric bill demands seemingly random amounts of money; last month I paid R$50, with no-one at home as we are out at work all day. This month I paid R$45, but I understand that some residents are paying R$80, R$100. Whatever happened to the proposal for subsidies for energy consumers with lower incomes?
Subtly, without all the locals noticing, our favela is being "sanitized". The media brainwashes the workers with the slogan 'model favela' and we in turn have to give our thanks to the holy governor Sérgio Cabral of Rio de Janeiro. President Lula came to Santa Marta in September 2010 and proclaimed that we must leave the ugly name favela to history. But nobody mentions the inhabitants of the top of the hill of Santa Marta, which has not seen the slightest sign of urbanization. This whole transition has benefited someone, of course: those in the fortified enclaves of the rich. They are living lives of pure contentment, what with the constant increases in the value of their property, from R$150,000 to R$300,000 and R$400,000 etc..
Today we can no longer host baile funk parties in our community, but the samba schools from other areas have their events here. The UPP also hosts parties, and nobody bats an eyelid.
So I make a call to all workers who want to remain in favelas, especially in the South Zone. It's time for us to get organised, because before we know it evictions will be underway and our history will become nothing more than pages in a book for sociologists and researchers who do not live in favelas.
MC Fiell runs Visão da Favela, a hip hop and film collective from Santa Marta. Among their best known achievements is the Cartilha Popular Santa Marta, a booklet that teaches the local population about what the police can and can't do in their community, and also their own rights and obligations towards the UPP officers.