For the original article by Ricardo Carvalho in Portuguese in Estado de São Paulo click here. 
Two unfinished buildings in a housing complex by the Minha Casa Minha Vida program in Niterói (Rio's sister city across the bay), have serious structural problems and need to be demolished and rebuilt. This was confirmed last Thursday, March 21st, by the Caixa Econômica Federal bank.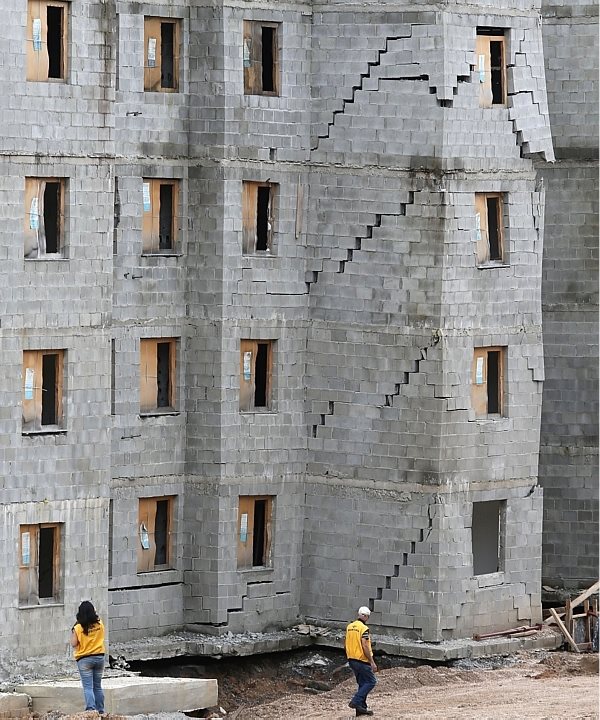 On Wednesday, March 20, the TV program RJTV on Globo's network, showed images of the condemned buildings with huge cracks and distorted walls.
The Zilda Arns II housing complex, with nine blocks and 371 housing units, is intended to house homeless people and those living in risk areas of the city, according to the Niterói city government. Among these are survivors of the landslides in Morro do Bumba in 2010. These families have been sheltered at the 3rd Infantry Battalion in São Gonçalo, a neighboring city, for more than two years awaiting the works' completion.
Each of the two condemned buildings comprise 40 housing units. The total contracted value for the Zilda Arns II enterprise is almost R$21.9 million (US$11 million). Nearly R$19 million has already been spent and 88.68% of the works had been deemed concluded.
Caixa Econônica, which is overseeing the venture's funds, says they still don't have a due date for the reconstruction of the two blocks. The bank's press office affirms they are awaiting technical reports to find out whether the remaining seven Zilda Arns II blocks are safe. The deadline for the delivery of the Zilda Arns I complex, composed of 83 apartments, remains April of this year.