Vale Encantado, a tranquil favela located in the heart of the Tijuca Forest, has developed a creative solution to ensure the historic community's future development in light of limited public investments: residents are working to create a model of sustainability for favelas across Rio and beyond.
Vale Encantado has been a model in sustainability for many years, and their efforts are always expanding. The community grows much of their own food, and has installed solar panels in one home with the hopes of expanding the project throughout the community. The Vale Encantado Cooperative, headed by Otávio Barros, runs an eco-tourism business, taking advantage of their unique location amidst the beautiful scenery of the Tijuca Forest.
In addition to their long-standing sustainable features, Vale Encantado has several new initiatives to further develop their community as a model in living in harmony with the natural environment.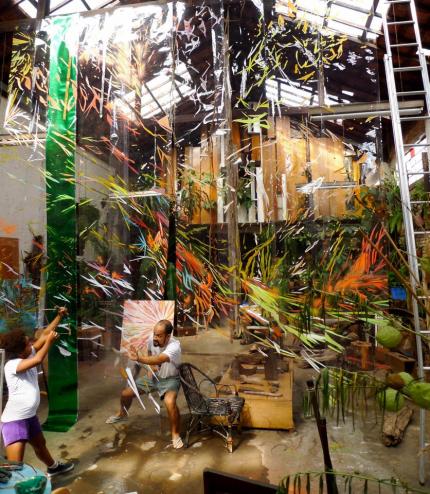 One recent sustainability initiative includes rooftop gardens made with recycled materials left over from other construction projects.
Another initiative is the community's annual Festival Encantado, a music, food and fashion festival which started in 2012 and this year was headlined by internationally famous Brazilian soul and rap singer Criolo. The festival, which helps raise awareness of Vale Encantado's initiatives, is decorated with recycled materials and uses collective transportation for guests to arrive at the festival, reducing its carbon footprint.
The community is also developing ways to recycle glass, preventing large quantities of glass from being thrown away by turning "scrap" glass into products such as jewelry and dishware that can be sold. Not only good for the environment, this initiative would also create fair job opportunities for community residents.
Future projects include the construction of a headquarters for the association of residents, with plans to construct the building largely using recycled materials.
For many years, as part of their work to become a sustainable model, Vale Encantado has been working to find a way to improve their sewage system by using eco-friendly techniques. Like many favelas, Vale Encantado lacks a formal sanitation system, which has been cited as one of the community's most pressing problems. In 2009, the community started looking into implementing a biodigester, which captures the gas generated from sewage and food waste and turns it into usable energy, which would help filter and clean wastewater and sewage before it drains into the nearby Lagoa da Tijuca.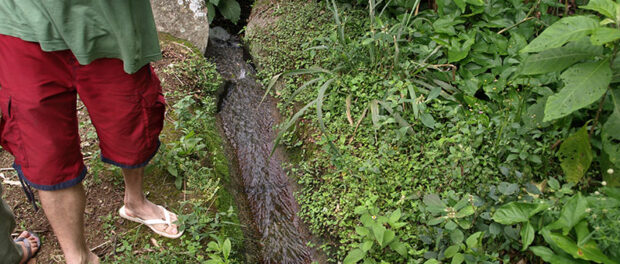 In 2011, with the support of the NGO Instituto Ventura, EcoFocus, an environmental consulting firm, conducted a study looking at ways to address the community's sanitation needs. Their recommendations also included implementing a biodigestor to naturally deal with sewage and food waste in Vale Encantado.
"My idea was always to have Vale Encantado as a model that could be replicated in other areas or regions," states Otávio. Although the community has wanted to improve their sewerage system and build a biodigester for several years, lack of financial resources has been the major barrier.
This month, the community received some exciting news about the possibility of implementing a biodigester in Vale Encantado. Solar Cities Solutions, a U.S. NGO focusing on sustainable infrastructure solutions, came to Rio de Janeiro with plans to implement biodigesters in communities in Rio de Janeiro and ideally throughout Brazil.
"I think this initiative will bring more tourists to the Valley, and I will be able to offer the possibility to tourists of swimming in the waterfall in the valley, which is impossible today [given the current amount of untreated sewage draining into the water bodies]."
While the community has an ethical interest in being sustainable, Otávio hopes that serving as a model of sustainability will have the added benefit of combating the threats of removal that have been made against communities in the the Alto de Boa Vista area of the Tijuca Forest for years.