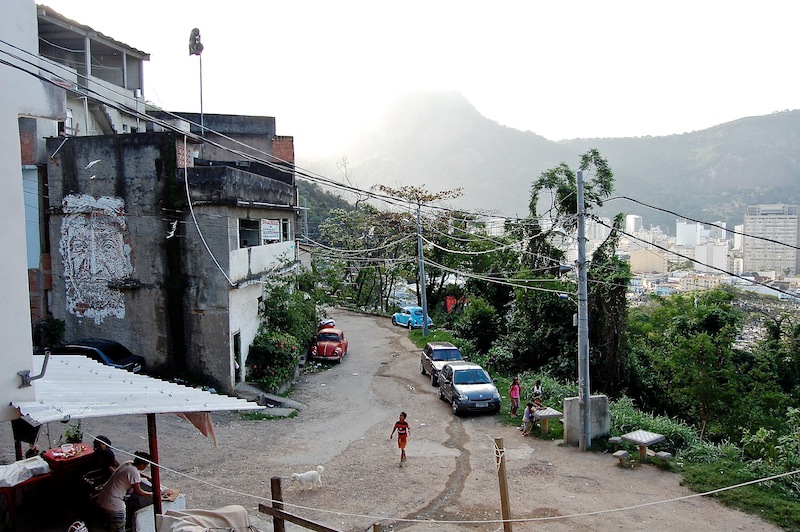 In late August, Rio de Janeiro Mayor Eduardo Paes met with residents of Estradinha—a contested section of the Tabajaras favela that overlooks the São João Batista cemetery in Botafogo, South Zone—promising them permanence after three and a half years of community-led resistance to eviction. A document presented to the Mayor on the night of the announcement tells the history of Estradinha and its resistance efforts, calling for a public decree that recognizes the community's right to housing, for the rapid removal of the rubble left after 250 homes were destroyed in 2010, and public works such as street lights to ensure security and basic sanitation.
Though the visits from the Mayor in Estradinha, and also Vila Autódromo, confirm such resistance efforts are being recognized by city officials, they have also led to calls for continued community vigilance as government discourse shifts. Many will continue fighting until public works are installed and the attempts at removal completely stopped.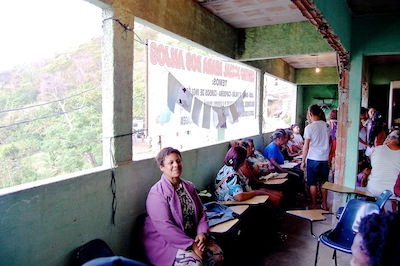 First settled in 1952 by employees of the cemetery, Estradinha has experienced a wide range of government policies toward favelas. In 1987, after verification conditions were viable for construction on the hill, Mayor Saturnino Braga allowed an additional 42 families to settle in Estradinha, giving construction kits to those that did not have resources to build their homes. "From that point on," community leaders wrote in their declaration to the Mayor, "the City government helped us build our homes, constructed retaining walls and urbanization projects, making it possible for us to live and grow with difficulties, but safely, until 2010."
The heavy rains that brought tragedy to many living on the hillsides of Rio de Janeiro in April of 2010 did not greatly affect Estradinha. However, the City government took action to completely remove the community, announcing that it was a risk area and used the danger present in other areas to convince many residents to leave their homes.
"People who were panicked, hopeless, and fearful of losing their lives sold their houses to the government," says Fatima Amorim, community leader and Vice President of the Residents Association who also participates in the broader city-wide Favela Não Se Cala movement.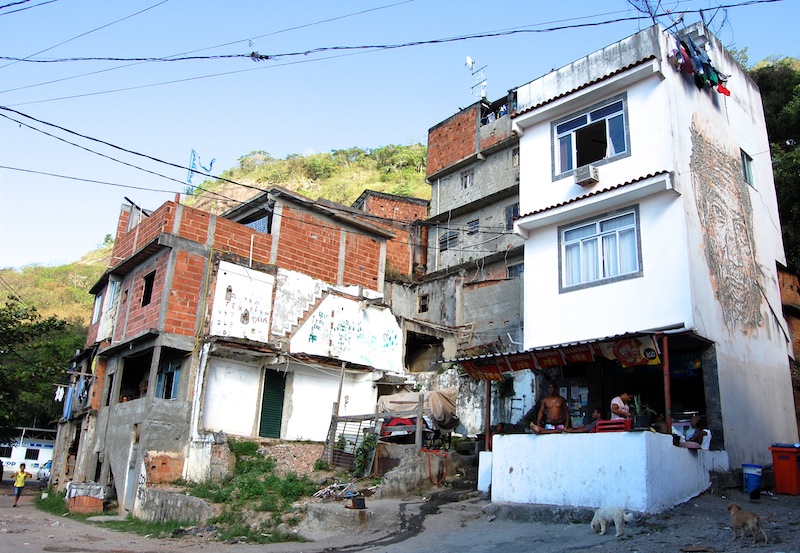 According to Mauricio Campos, an engineer and member of the independent technical team that has been giving technical support to Estradinha since 2010, the City government attained and destroyed many homes by approaching and making offers to individuals in a completely unregulated and irregular process. In his report on the situation, he writes: "The City government is making direct acquisitions of homes in the communities, many times at a high cost, and demolishing houses that do not have a single risk of imminent accident, either due to the structural conditions of the homes or the conditions of the hills. These unnecessary demolitions also pose the threat of upsetting the structure of neighboring houses and causing the buildup of trash and debris."
In 2010 the City government demolished 250 of the community's 350 homes, leaving 100 families who have been resisting eviction ever since on the grounds that there is neither a technical or legal basis for eviction. Rubble from the demolished houses has been left in the community, causing a host of problems, especially in public health and security. "For a long time we lived amidst the rubble," Amorim said, "with many snakes, centipedes, rats, and snails. I saw the suffering of my community and I still cannot say that it is relieved."
It was upon seeing the hopelessness and suffering of her fellow residents at a community meeting after the removals began that Fatima Amorim, known to many as Irmã Fatima (Sister Fatima), began organizing the community resistance effort. She took the microphone at a community meeting and called residents to action, convincing them that both individual and united action can have broad consequences. The story she told that evening of a hummingbird working to put out a fire became a symbol of the community's resistance. Irmã Fatima also conducted individual and group meetings, aiming to show "that one person alone might not win a war, but he makes a difference, and putting our strength together, without a doubt, we make a great army."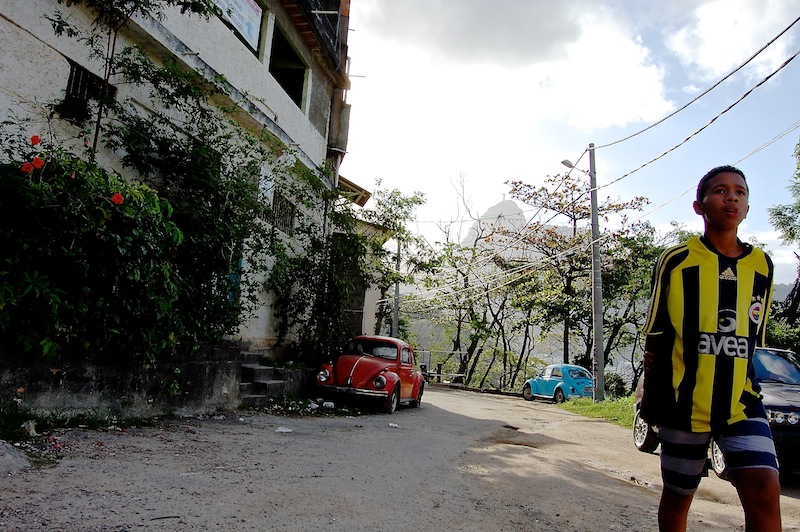 Estradinha residents have utilized diverse tactics to support their resistance efforts, forming a coalition with lawyers, architects, engineers, and students and working with the Rio Public Defender's Office to halt removals and achieve a court ruling that the City pay a fine of R$50,000 per day that rubble is left in Estradinha. The process of removing the debris has only just started this month, three and a half years after this judicial ruling, and so far City authorities have paid none of the fines.
Beginning in 2010, the technical team that has been supporting resistance efforts across Rio released a number of independent reports on the conditions in Estradinha and other threatened favelas, disproving arguments that Estradinha is a high risk area and equipping residents with evidence and awareness of their rights to prepare for negotiations with City government.
"The City uses technical discourse to legitimate what they already do," says Marcos Azevedo, member of the technical team. Mauricio Campos, also a member, adds that the technical team "tried to respond to the alarmist discourse of the City government at that time, which was pressuring the residents to negotiate and sell their homes. We helped support the community so they could continue resisting."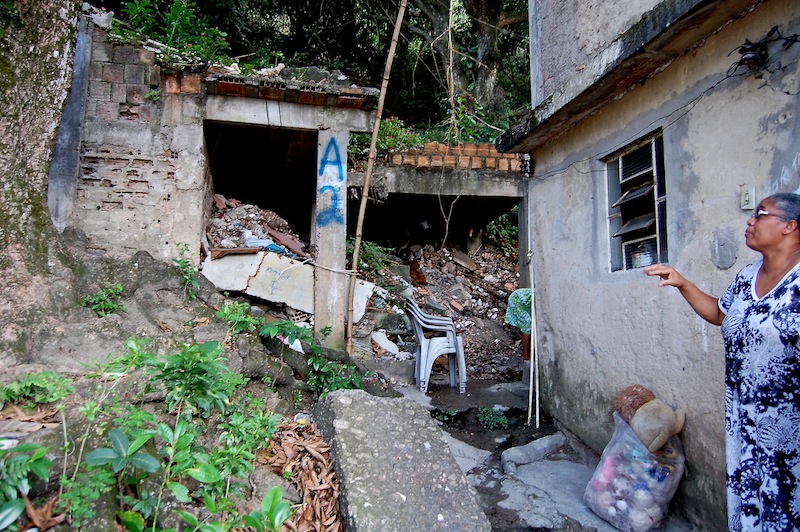 Together with community leaders, the technical team has designed an upgrading project for Estradinha that puts empty spaces to good use. It emphasizes the construction of a football field, as the Pacifying Police Unit (UPP) headquarters was installed on the only space that children had to play. Though Morar Carioca upgrades have been promised to the Tabajaras favela, Estradinha was left out of the plans.
In January 2013, the Mayor tried to open negotiations with Estradinha to move everyone to public housing units in Triagem, in Rio's North Zone. Irmã Fatima explains: "No one accepted the negotiation and we continued to resist. We went to the streets, we raised our flags, we shouted, demanding our rights."
Considering the possibility that the recent meetings could be just another tactic for the Mayor to gain access to their valuable land, Irmã Fatima, also an artist whose work was featured in last year's Favela Design exhibition, spoke of the recent negotiations as only a partial victory: "We are going to wait to see his position, to see if he is going to make good on his promises, and if he doesn't we'll go back to the streets."
Since the Mayor's announcement in August, the residents' commission, technical team and City officials have met to discuss the terms of the promise to remain. On Monday September 30, engineers from the City government geologic monitoring unit, Geo-Rio, presented the results of a recent feasibility study on Estradinha. They agreed to build retaining walls to protect the parts of the community they had previously intended to remove, but insisted that another area presented insurmountable risks and they would have to remove ten houses there.
Irmã Fatima interprets this an overt attempt by City officials to shrink the community, but feels confident that the technical team will prove the City authorities have no basis for carrying out these removals.
Given the uncertainty around the terms of the mayor's promise, those fighting for Estradinha remain cautious. Irmã Fatima says: "We are going to wait to see how the authorities will position themselves, to see if they will follow through on their word so that we can really say that we won a victory. I consider it a partial victory." As such, she continues to fight, explaining, "as long as one house is at risk of removal, the entire community is at risk."