Sunday, Oct. 6, 2013, 9am–Four years to the month after they discovered their community was a target for eviction in name of the 2016 Rio Olympics, a coalition of residents of Vila Autódromo walked to Riocentro, Rio's convention center, to gain entry to negotiations Mayor Eduardo Paes was having with a subset of their neighbors, invited by letter to attend the closed-door meeting. Supported by city planners who helped them develop their Popular Plan, social movements and citizen media, residents stormed Riocentro and forced their way through three barred entry points to gain access. At least three residents and one activist were hurt in the process. Once inside, it was clear the bulk of residents that had been invited were the subset interested in being rehoused and leaving the community, leading to significant questions about the Mayor's tactics following eight weeks of negotiations with the Neighborhood Association and planners meant to secure the community's permanence, promised by the Mayor on August 9th and following city-wide protests including an important one organized by Vila Autódromo less than two weeks before. Inside, the Mayor promised them a mix-and-match offer of apartments in the new Parque Carioca public housing complex and market-rate compensation for their homes, though details on what this means were not provided. 
A number of serious questions arose. Why was the community at large–especially the majority dedicated to it–not invited to the most important meeting thus far determining their future? Why were the media barred access? What will happen with the areas this subset of residents are relocated out of as the bulk of their neighbors choose to stay? Will they be demolished leaving those who want to stay amid the rubble until they give up and leave as happened in Favela do Metrô? Given the city's recent track record on evictions, and since this was a closed-door meeting where even media were denied entry the intentions behind it are abysmally questionable.
Only 150 Families Will Remain
According to calculations by two groups of university planners who developed the community's Popular Plan through a series of meetings with community members, the Mayor now wants to remove from half to two-thirds of the community, potentially leaving only 150 families in the central chunk of the community (white outline on the map), at lower elevation than surrounding areas, with roads being built on all sides, some at head-height. As a result planners believe they would be prone to flooding and thus subsequent removal.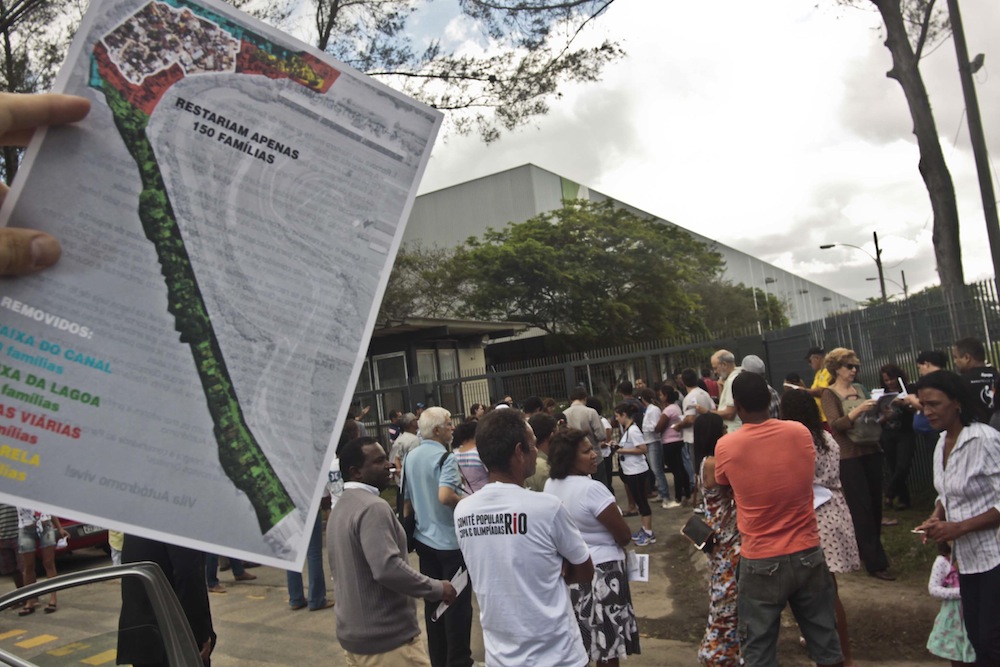 Left Out
The Mayor sent invitations only to a subset of community members, leaving everyone wondering why those. Though he later told residents he only invited people in areas where "road works were needed," not all community members in these areas actually received letters. Other residents who wanted to know what was being offered were barred from entering.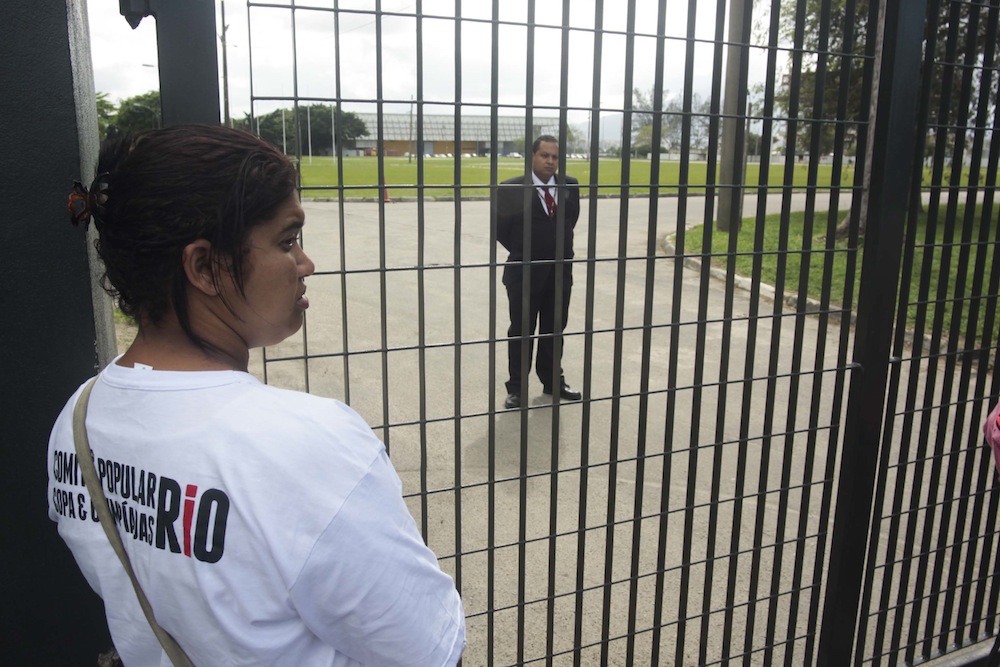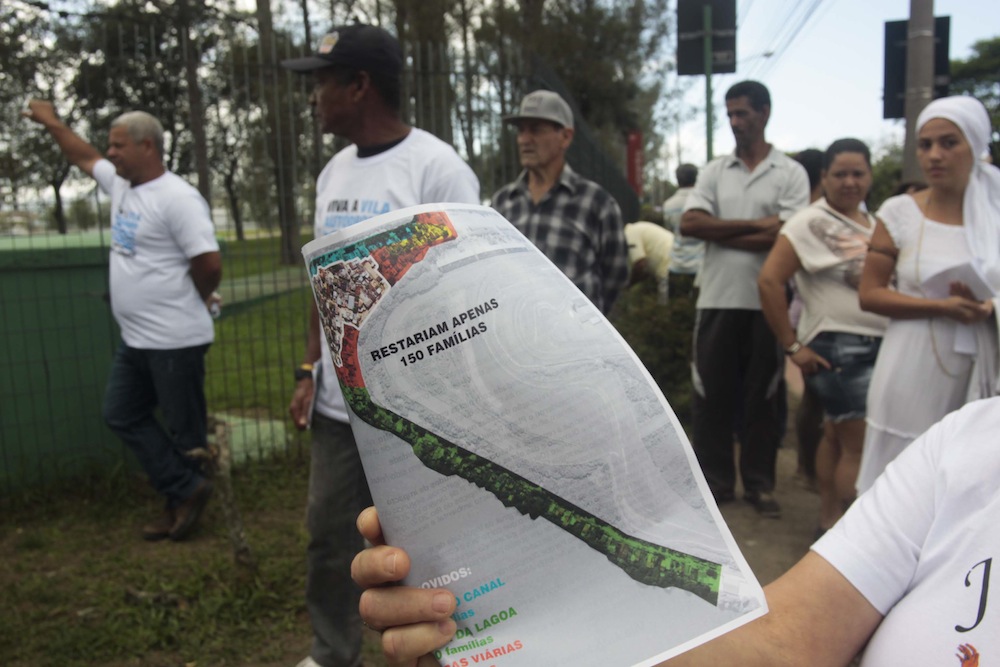 Forcing Entry
Residents and supporters finally took an opportunity when the gate was opened to storm onto the Riocentro grounds.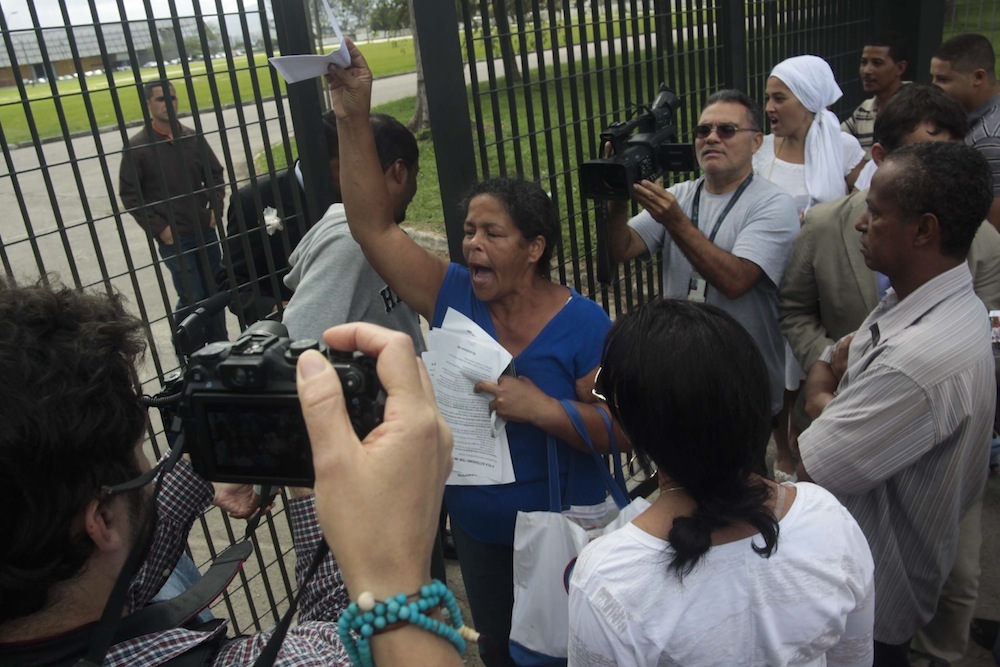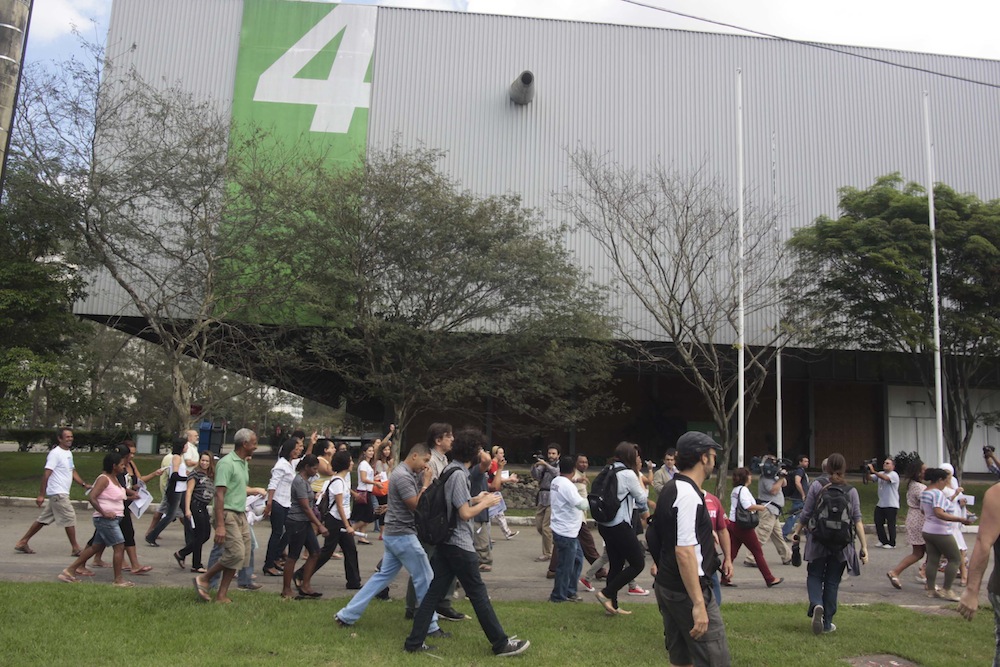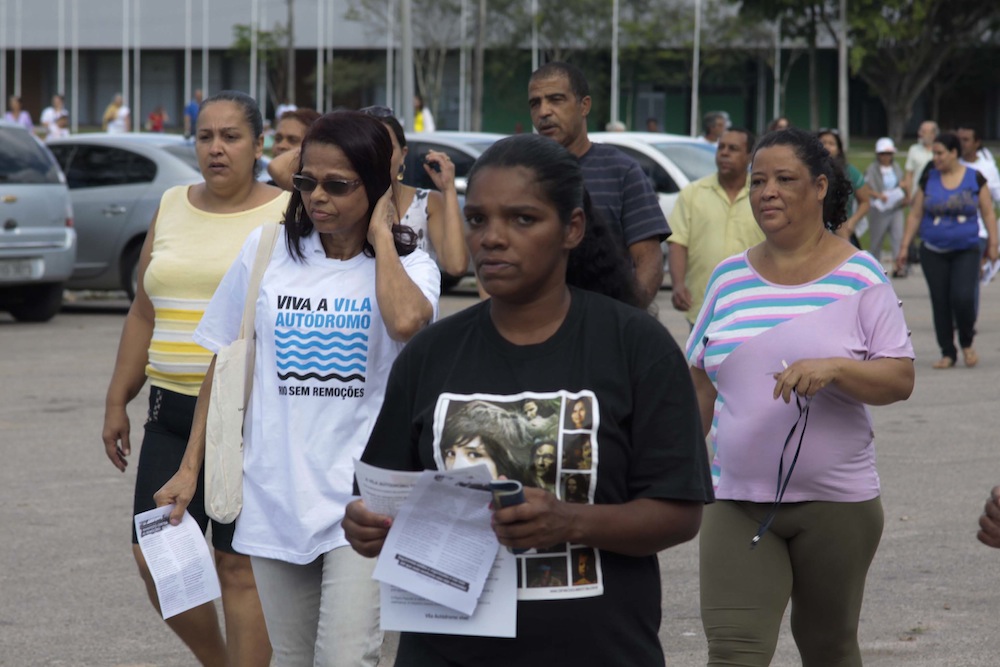 Barred Again
Once on the grounds, uninvited residents, supporters and the press were barred entry to the building where the Mayor was addressing invited residents. Here a resident shows her invitation letter and the guard lets her in, while her neighbors are denied.

Crossing the "Moat"
It quickly became clear officials would not allow residents access to the building. Some realized the building could be entered by crossing the pool surrounding it, so residents and activists hiked up their skirts and trousers and made their way through the "moat."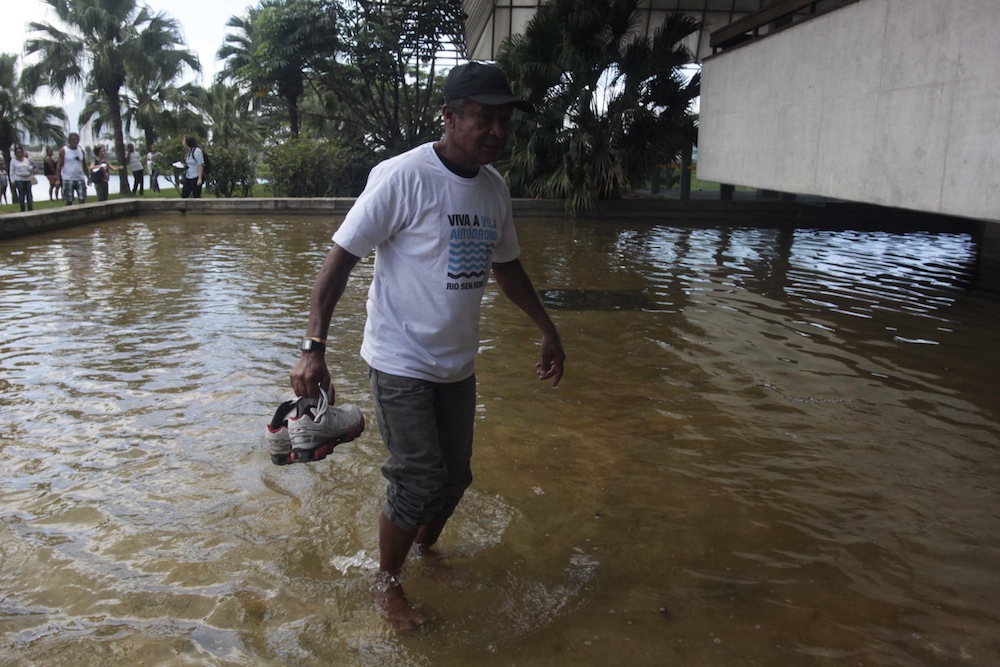 Conflicts & Casualties
Once inside the building, residents climbed up the stairs to the room where the Mayor was holding the closed-door meeting with their neighbors. At this point a group of security guards clashed with residents and three were hurt in the process. Meanwhile inside the Mayor was saying, "The worst thing that could happen would be for us to live in a state of war."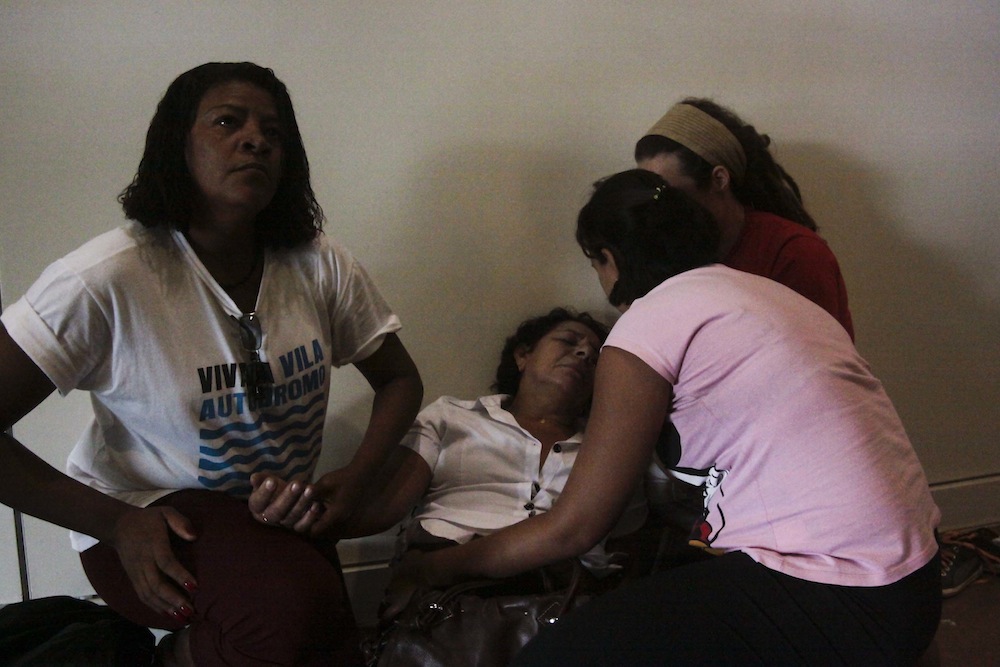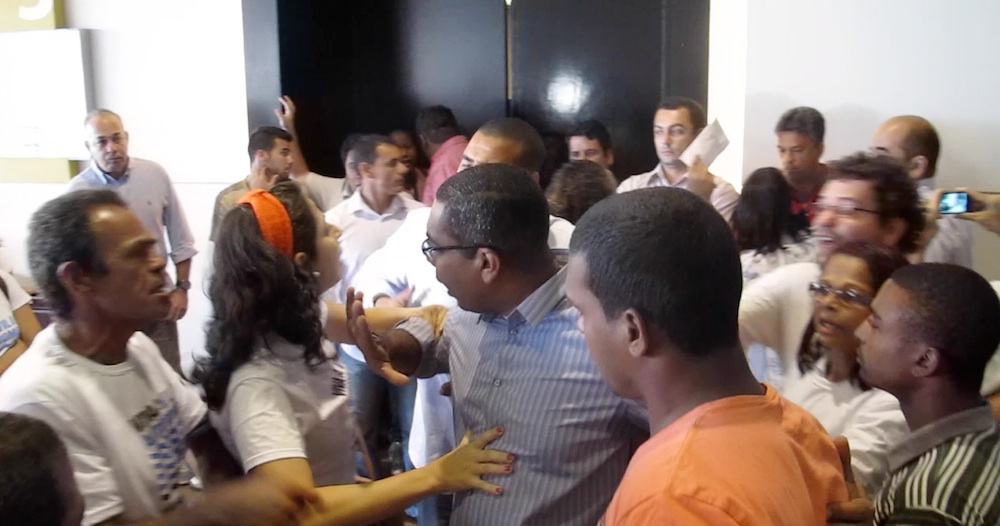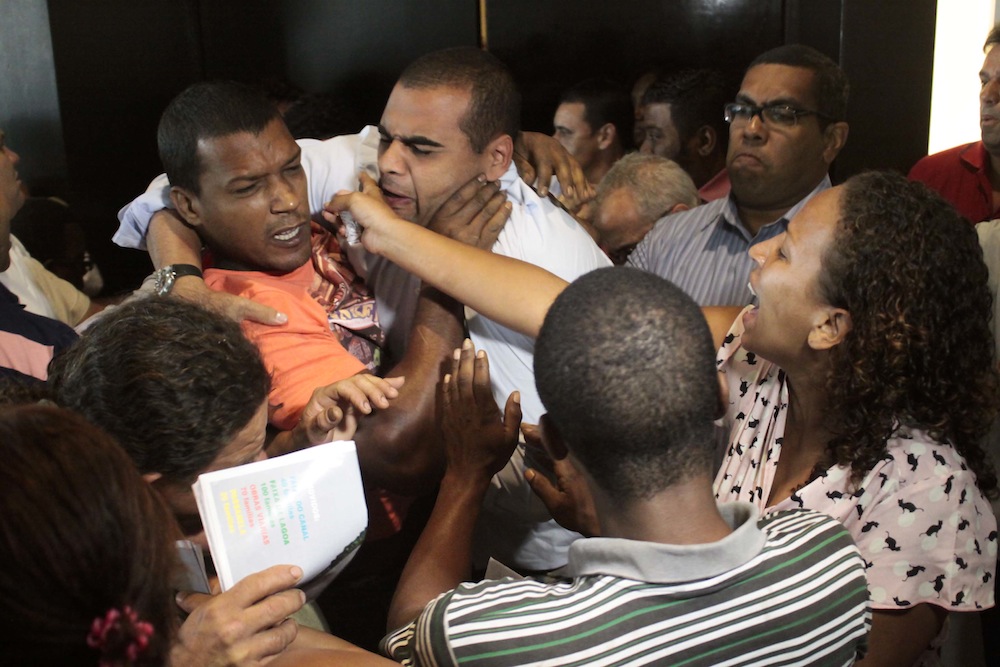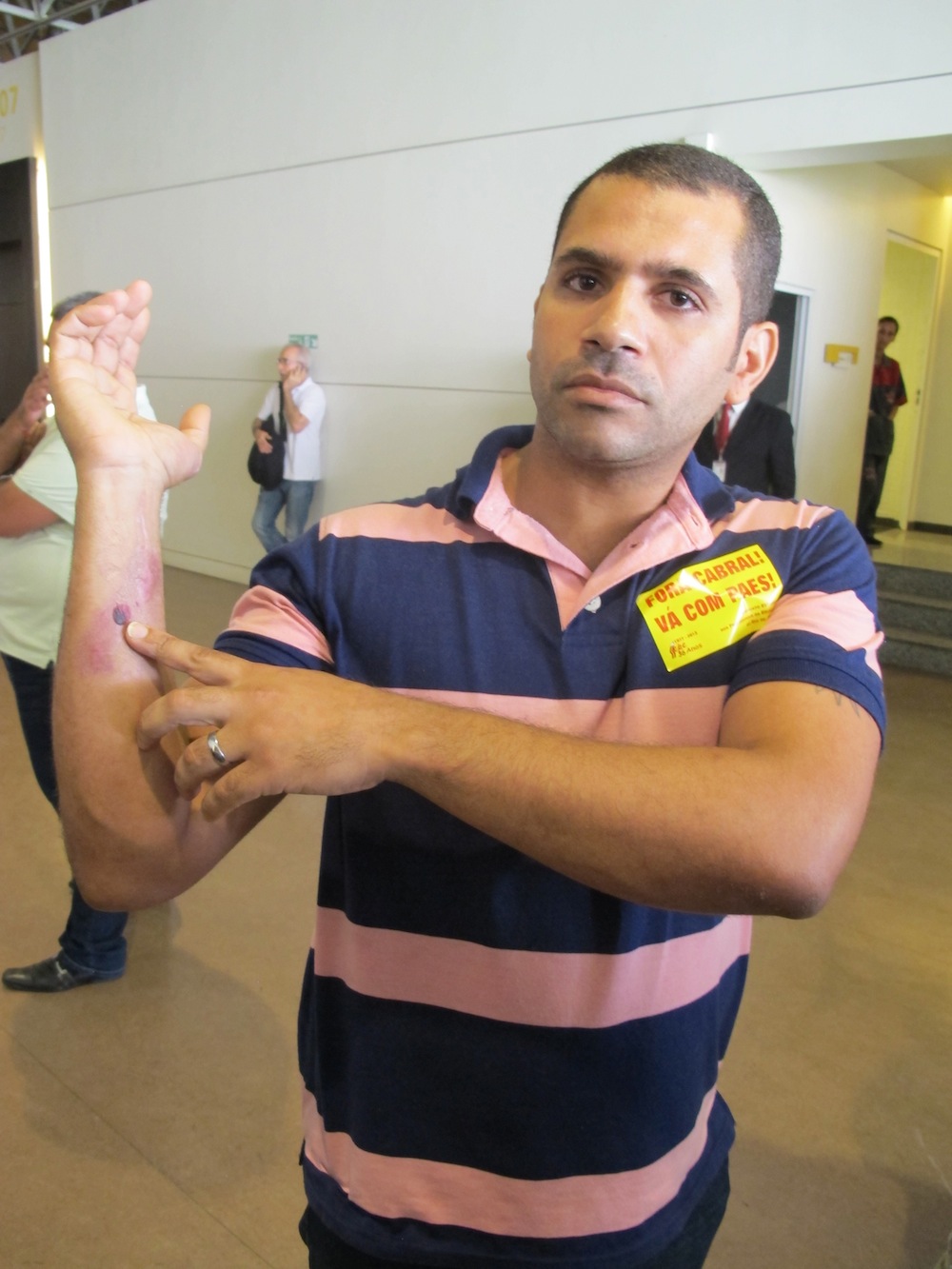 Access!
Thanks to sheer determination and convincing arguments, the Mayor's representatives finally allowed all Vila Autódromo community residents access to the meeting, over one hour after it had begun, at 10:30am.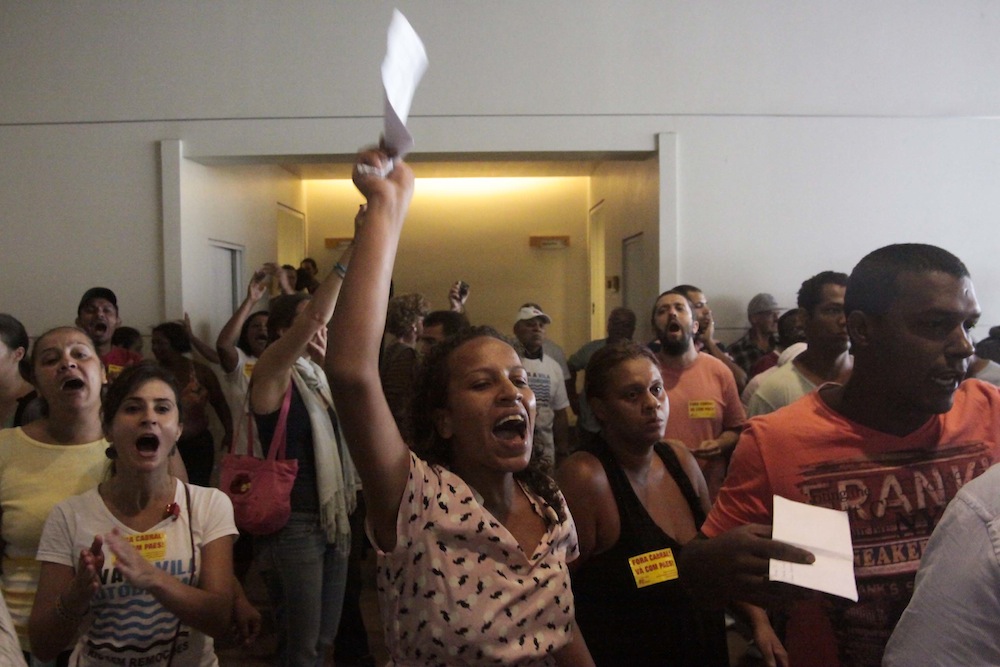 Inside the Meeting
Finally inside, residents resisting eviction joined those considering relocation for a large conference with the Mayor. It was reported that only Globo, Brazil's largest media producer, was allowed access. Outside, the BBC, O Dia, and a range of alternative media producers awaited and continued being denied entry. Only one of the university planners involved in the development of the Popular Plan was permitted entry. Reports came from residents as they left the meeting over subsequent hours that those who signed up to speak at the microphone were not always permitted: those with invitations were given priority and were all permitted to speak, whereas only some of those who had not received invitations who signed up were permitted to take the microphone. On his way out we also met an executive from Direcional Engenharia, one of the construction companies operating inside the Olympic Park, who had been invited by the Mayor to participate.
Many assume it is the fact the removal of Vila Autódromo is stopped in the courts that has led the Mayor to "change posture" and "negotiate." That due to the impending "Olympic countdown" the developers of the future Olympic Park are pressuring the Mayor, since their investment in the site is contingent on "cleaning" the area to turn it into a luxury private development following the 2016 Games.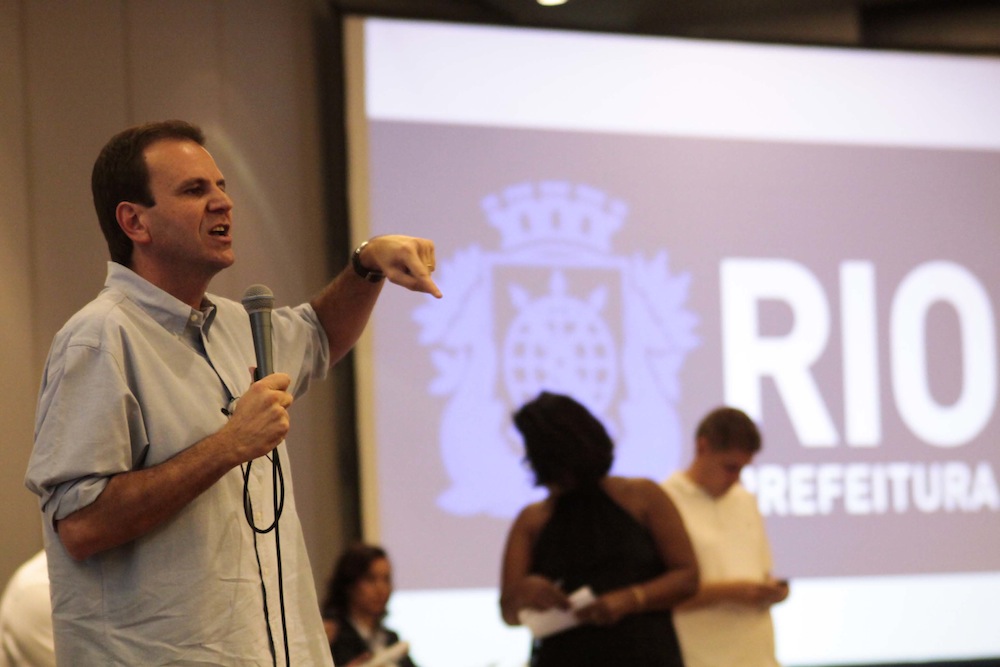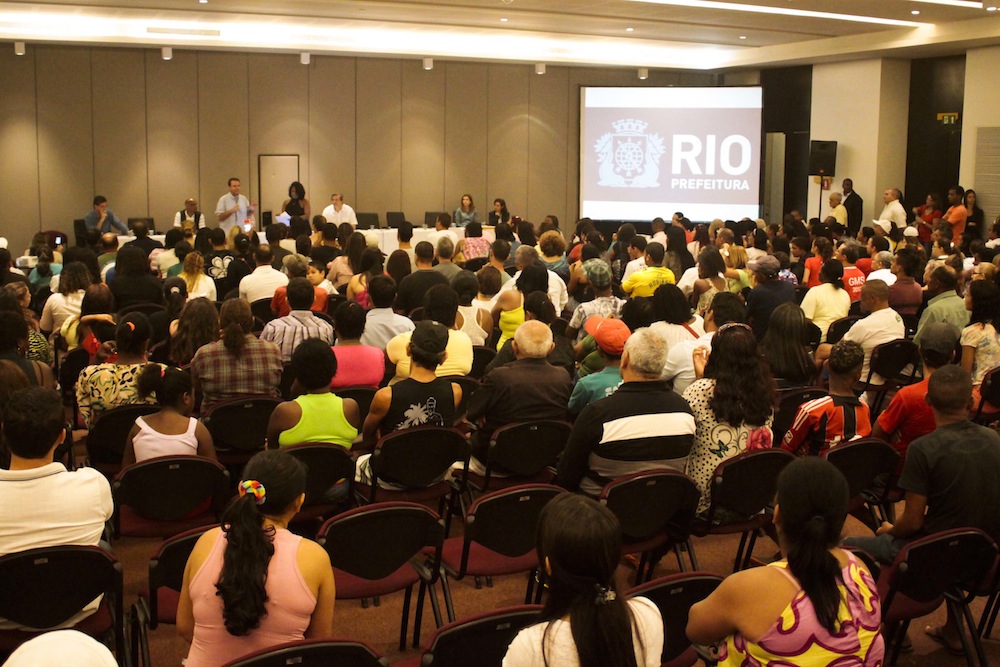 Change of Plans
During his long discourse highlighting plans for rehousing the community's residents in the Parque Carioca public housing compound, located 1km away on a site deemed at risk by municipal authorities themselves, Mayor Paes made several announcements breaking with previous statements and with standard protocol. According to reports from participants, he announced that owners of multiple properties would be compensated with several properties, which conflicts with the standard contracts for public housing under the Minha Casa Minha Vida federal housing program. He also stated that residents would be able to sell their properties right away, as opposed to standard Minha Casa Minha Vida contracts that require some 9 years on site before sale is an option. He stated that renters would be given apartments, something he had denied in the past. Yet as they left residents also told us the Mayor said those occupying the largest and most consolidated houses in Vila Autódromo, those along the lagoon towards the old air field, would get zero compensation. Finally, we heard reports that the Mayor offered a mix-and-match approach to residents: if their homes were valued at more than the R$275,000 40-square-meter 2-bedroom apartments being offered, they could opt for financial compensation "at market rates" or some mix thereof.
The offer of market rate (up to R$8000 per square meter in the area where Vila Autódromo is located) compensation for favela relocation implies a dramatic change with regard to the City's prior policy of compensating simply for building material values. This also opens a powerful precedent for future favelas facing relocation and is yet another victory of Vila Autódromo's ongoing struggle against eviction. Though it may not feel that way to the majority of residents, who simply wish their community would be upgraded, and not removed. In fact, some residents committed to staying left frustrated after asking the Mayor whether he would upgrade their community, bringing in the missing services called for in the Popular Plan. His response to this question from several residents? That they can make their way to the City's local office at Av. Ayrton Senna, 2001 in Barra da Tijuca (tel 3325-3204), and sign up for relocation or compensation.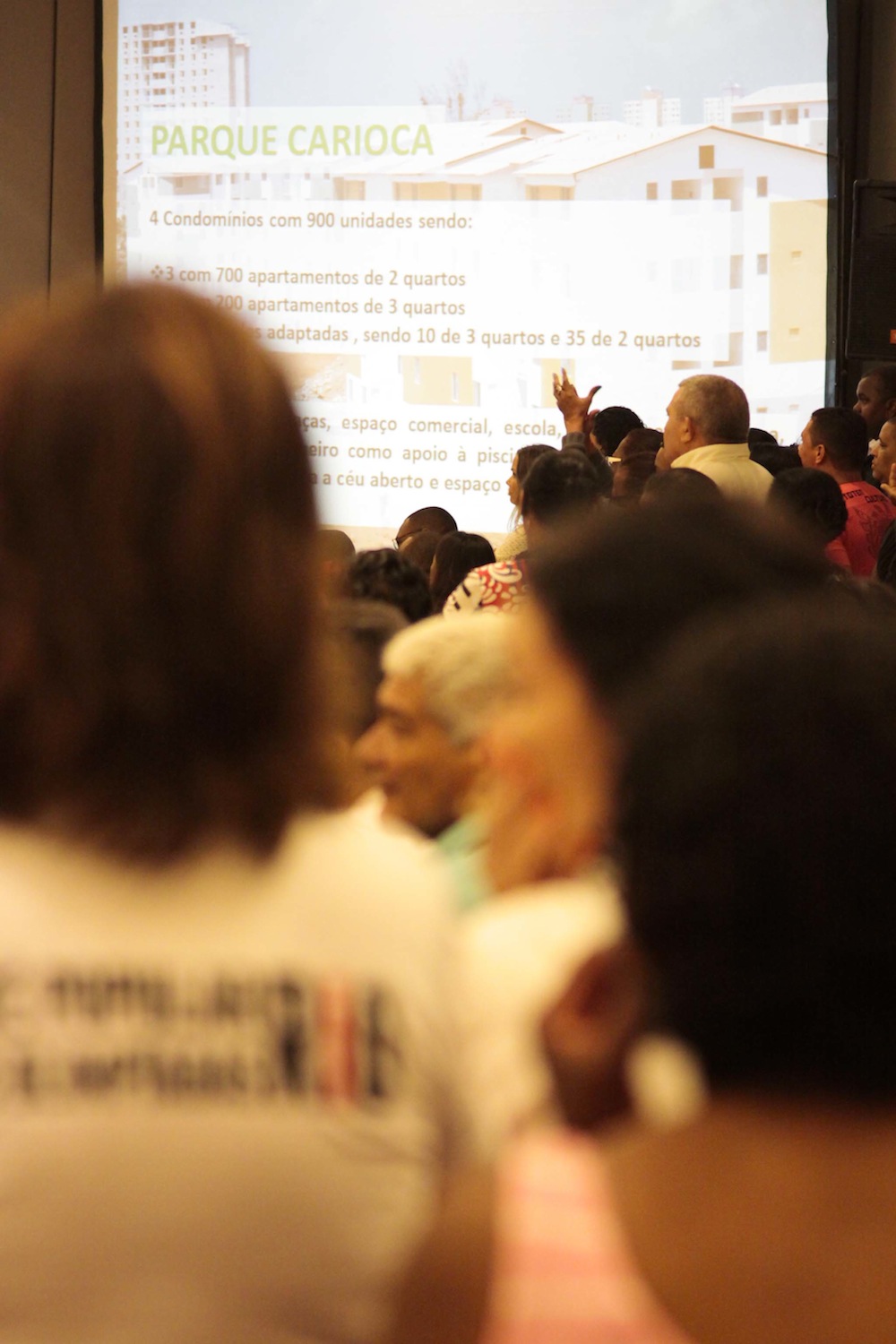 Thanks to Ariel Subira for sharing his photographs with us.
Click for full slideshow or watch below: