Early Tuesday morning, January  8, representatives from the City arrived unannounced at Favela do Metrô-Mangueira to demolish homes, causing panic and despair amongst the hundreds of people currently living in the locale. Around twelve homes were demolished, some with the occupants' belongings still inside.
Outraged, local residents held a demonstration on the main road in the afternoon and evening, closing Rua Radial Oeste, the main road which passes Metrô-Mangueira and the nearby Maracanã stadium, for several hours. Violence broke out between police and protesters, with police firing rubber bullets, pepper spray, tear gas and flash bombs and some protesters throwing rocks and bottles. In the midst of the tumult, one military police officer pointed a gun at the head of a local youngster.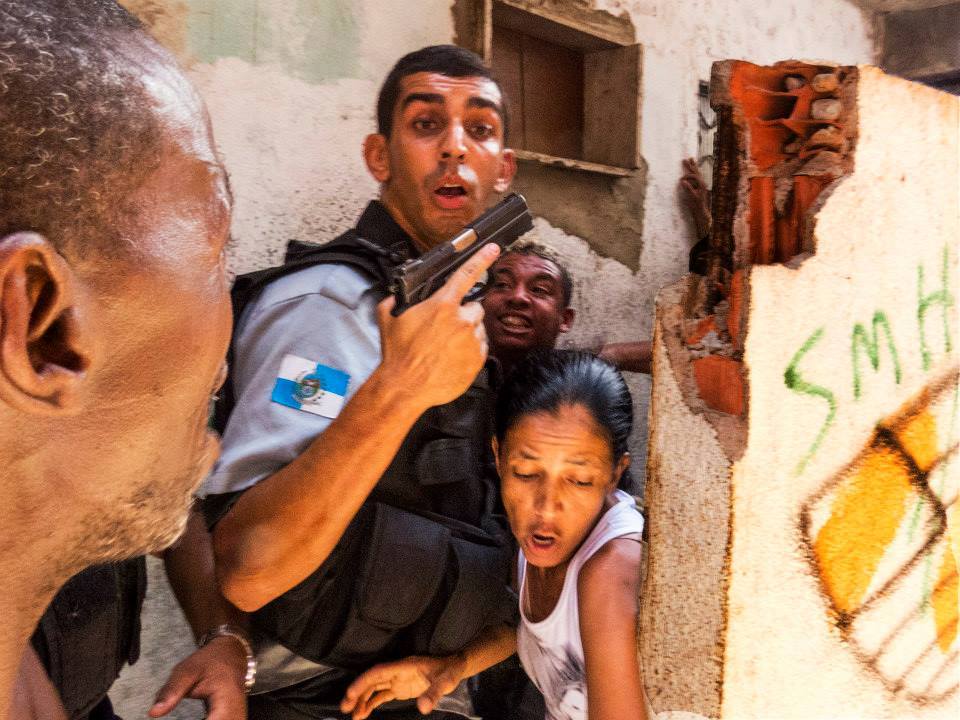 "It was a war scene," explained Marilene, a young mother who has been living in an abandoned house in Metrô for around a year and a half. "Police fired tear gas everywhere. Children were being sick. It was terrible." Like most of those currently living in Metrô, Marilene occupies a house that was vacated during a long, drawn-out eviction process that began in November 2010.
Favela do Metrô-Mangueira was founded by workers from the Northeast of Brazil employed in the construction of the Maracanã metro station 35 years ago. In 2010 the 700 families who'd built and developed the favela learned their community was under threat of eviction and on November 4, 2010 a demolition crew arrived and 107 of the more vulnerable families were taken to replacement housing in a Minha Casa Minha Vida condominium 70km away in Cosmos, West Zone. The remaining families resisted and eventually, after over two years of living amidst the rubble and experiencing high rates of burglary and squalor resulting from the initial evictions, were relocated to better quality apartments in neighboring Mangueira and Triagem. However after all those families left by early last year, the land and many of the structures remained abandoned and City plans for the area were still undecided and undisclosed. As a result, over the past several years, hundreds of some of Rio's most vulnerable, poor families have come to occupy the vacated houses.
The current situation is a direct result of the City's gross negligence and mismanagement. Having evicted long-time residents to public housing units without any public consultation over the use of land–required by local legislation–the City left the land and houses to be occupied by those in most desperate need of public housing. Public housing is in theory specifically destined for the poorest and most in need, and not workers with consolidated homes as was the case of former Metrô residents. And now, the extremely vulnerable families currently living in Metrô seem set to receive nothing.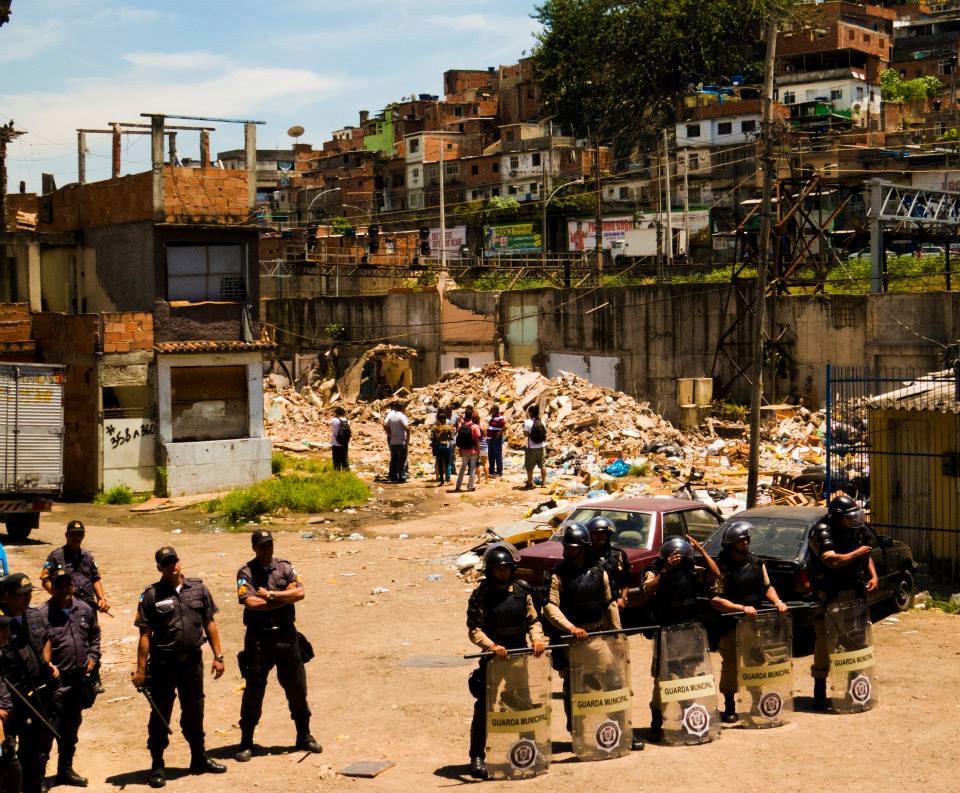 On Tuesday, as some occupants' houses were demolished, all current residents were told they needed to be out by Friday with no alternative accommodation or solution offered. Yet all those RioOnWatch spoke to affirm that Mayor Eduardo Paes personally promised that no one would be left homeless in a meeting held in the community church a few months ago.
But the confusion and despair continued yesterday for residents who have little and nowhere to go. Dona Valeria, a recyclable material picker and mother of eight children between the ages of 4 and 20 who has lived with her family in Metrô for almost three years says, "To look for a place to live you need to have something and what do I have? Nothing." She goes on: "Everyone needs to have their own corner. I don't know where I'll go if I leave here. If I had somewhere else to go I'd already have left."
Some residents report that social workers yesterday encouraged those receiving the Bolsa Família stipend to go and register for a Minha Casa Minha Vida apartment, but as residents point out, this could take years to process.
Located right next to the Maracanã stadium where this year's World Cup final will take place, the original reason for the removal of Metrô-Mangueira was believed to be for a parking lot for the tournament. Only in September last year was it confirmed by municipal decree that the land is destined for an automotive complex with 96 commercial units and a park with cycle path, skate ramp, gym for the elderly, playground and 400 trees. The project will cost R$30.5 million. Even so, there are rumors of it being used for a shopping center or other such facility, showing how problematic and unclear municipal communications with the public have been.
But right now, hundreds of vulnerable Rio residents, many of whom came from the streets or shelters to occupy houses in Metrô-Mangueira, are potentially facing another brutal, violent episode as military police shock troops are currently in the local. A volunteer lawyer from the Institute of Human Rights Defenders was present on Wednesday registering residents to prepare a collective security injunction to question the legality of this eviction. She explains: "The courts should be aware of this because these are human lives being put at stake. There are children, elderly, pregnant women who don't have anywhere to go… There were negotiations in which the mayor committed to give assistance to these people and this agreement is not being honored. It's important not to leave these people to one side, without help."