Hundreds of people from the Landless Workers Movement (MTST) celebrated Black Awareness Day in the very wealthy neighborhood of Leblon. Along with celebrating Afro-Brazilian culture, the event sought to challenge city boundaries that marginalize Afro-Brazilians to the peripheries of Rio de Janeiro.
The families who took part in the event came from São Gonçalo, where the MTST has recently struck a deal with the city government after a 12 day-long occupation of an empty, unused lot in the neighborhood of Santa Luzia. The occupation, named after Afro-Brazilian leader Zumbi dos Palmares, was comprised of 700 families and demanded public housing. The city of São Gonçalo has promised to build Minha Casa Minha Vida housing complexes to serve over 1,000 people in need of a home in the area.
On November 20, Black Awareness Day in Brazil, families of the Zumbi dos Palmares occupation got onto a bus to Leblon, an affluent beachfront neighborhood in the South Zone of Rio. Around 700 families squeezed into ten buses, with many people sitting on the floor, singing MTST's anthem, "MTST A Luta É Pra Valer" (MTST Our Fight is to Win).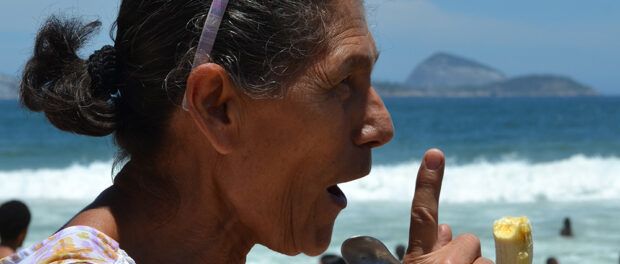 According to Eny Rodrigues, people who were at the beach got scared when the families came out of the buses and started singing loudly and playing music.
"We came here because this is the place that accepts us the least, you see?" she said. "Here we are nobody, here we are nothing. When we got here, you had to see what happened, people started running and we were singing, lifting up our clothes. [They said:] 'How awful! They're dirty!' But that's not true. We are not worse than them, we are the same. Everyone feels pain, everyone is the same so why do they do this to us?"
The alleged reaction of those at the beach epitomizes the veiled racism that lingers in Brazilian society. Still according to Eny, their occupation was named after Zumbi dos Palmares exactly to follow his legacy of struggle, in a society where it is "the black people that are abandoned, with no roof to live under. You can look at most of us here–the majority is black, and why? Because everyone attacks the black person."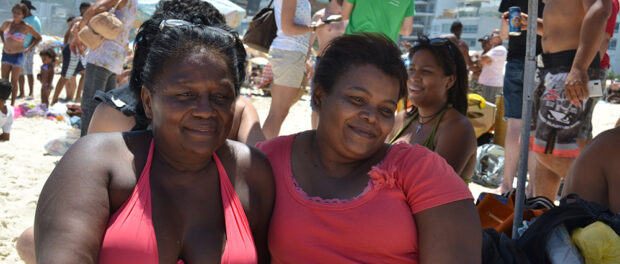 Following the maroon society's leader tradition of seeking justice through direct action, the occupation is part of a broader movement that demands popular urban reforms. The people who were part of the occupation described how they built makeshift shacks with plastic canvases and lived in the pouring rain and the scalding sun for 12 days to get a house through the federal program Minha Casa Minha Vida. Many of them have paid rent all their lives which makes social mobility difficult as housing prices soar.
"Paying rent is hard for me, I have two daughters, two granddaughters," said Laura Silvia Barros, who was promised an apartment after taking part in the occupation. "It's hard to to pay R$500 (US$198) of rent when you get R$1,000 (US$393) a month and I have to work Saturday and Sunday so I can buy everything properly, so I can pay for education for [my daughter]. I have to work from Monday to Monday."
Barros, along with 1,000 other people, has been promised an apartment through the federal MCMV program after the Zumbi dos Palmares occupation deal. Lucineide Maria de Souza, another Zumbi dos Palmares occupier, said the 12 days spent living in tents taught them "to fight."
"United we will win," added Barros, while De Souza nodded, "No one will ever hear a lone voice, but a group screaming will be heard. That's it. No one is alone."