Increasing numbers of people leaving Africa, and particularly Angolans, are choosing Brazil over traditional destinations in Europe and North America.
Around noon on Saturdays, a small group of African immigrants gather at the parks in Flamengo to play soccer and have a churrasco. Almost all of the young men who show up are from Angola, but some in the group are from Ivory Coast, Cameroon, and Guinea Bissau and the conversations switch between Portuguese and French. Most have lived in Brazil for a number of years, and can now comfortably call Rio home. Though most live farther north in the Complexo da Maré, the parks in Flamengo make a good rendezvous point for a weekend soccer game.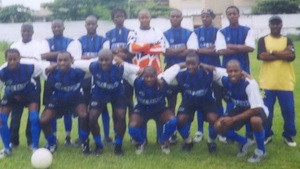 These young men are part of a growing African Diaspora that is increasingly choosing destinations in Latin America rather than conventional immigrant destinations in Europe. In an August 2011 report by the United Nations High Commission on Refugees, it was found that Brazil is currently hosting 4,400 refugees, asylum-seekers, and stateless persons. Sixty-four percent of these asylum seekers in Brazil are from countries in Africa, and forty percent of those are from Angola alone (approximately 1,125 Angolan persons).
The reasons for Brazil's growing importance as a magnet for African immigration are varied, one reason being that destinations in Europe are quickly losing appeal. For immigrants from Angola and other former Portuguese colonies (Guinea Bissau, Mozambique, Cape Verde, and São Tomé and Principe), Portugal has been the conventional choice for those fleeing poverty or civil strife. But Portugal's economy is struggling, to say the least, and there are few jobs for immigrants. In fact, growing numbers of Portuguese citizens are also migrating to Brazil because of its huge, rapidly growing economy.
In addition, Europe is growing increasingly xenophobic, and many immigrants find that the European dream is not worth the trouble. Meanwhile, the Brazilian political climate is not particularly anti-immigration and there are relatively low requirements for both political amnesty and for regular work and student visas.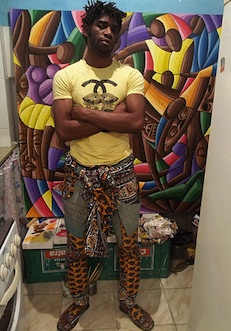 Angolan-born artist and fashion designer, Fabricio Dom, was granted political amnesty in Brazil, and found the entire process of appealing and being granted the visa surprisingly easy. Dom comes from a family that has traditionally supported UNITA (the National Union for the Total Independence of Angola), the opposition movement to the ruling MPLA party (Popular Movement for the Liberation of Angola), and he fled in 1999 during the last flare-up of violence in Angola's decades-long civil war between the two sides. But even though he himself was not singled out by the MPLA and had not suffered any abuses of his human rights, Dom was given a visa and is allowed to stay in Brazil indefinitely.
Refugees and asylum-seekers, though, only make up a small portion of the African Diaspora community in Brazil. According to Leandro de Almeida, the Vice-Consul and Community Liaison at the Angolan consulate in Rio de Janeiro, most Angolan citizens in the country are on student or work visas. This is in evidence among the soccer players in Flamengo, who are mostly students.
One graduate student at the State University of Rio de Janeiro (UERJ), Bernardo Manuel, 30, is part of the growing Angolan community in Rio. With a grant from the Brazilian government specifically reserved for African students, Manuel is able to live in Brazil and study international relations. Manuel has been living and working in Brazil for many years now, and hopes one day to return to his family in Luanda, the capital of Angola.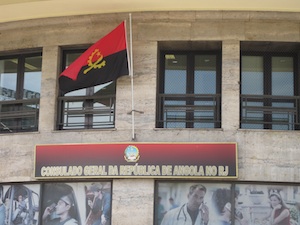 Almeida, of the Angolan Consulate General, reported that many people who come as students use the opportunity to work as well, but finding employment is usually the greatest challenge for Angolans living in Brazil.
This was confirmed by Fabricio Dom, who said that many of his peers have not been as fortunate as he in finding a livelihood in Brazil. Dom, who knows immigrants from various African counties living in Rio de Janeiro, reported that many Africans who make it to Brazil remain unemployed and live in poverty. Many African immigrants live in favelas, like the Complexo da Maré, and the pressures to join the drug traffic are great.
This is especially true for people who come illegally, or who do not come from Portuguese speaking countries. Without disclosing their identity, Dom told the story of a friend who fled the Democratic Republic of Congo by hiding in a shipping container without knowing the duration or destination of the journey. When the container was opened at the port in Rio de Janeiro, he escaped into the slums of the city and remains completely without documentation. He is now learning Portuguese and working odd jobs in the informal sector, living in conditions of poverty.
Dom feels able to adapt to Brazilian society because he is Angolan and so speaks Portuguese. He feels that there seems to be a general cultural and historical knowledge about Angola among Brazilians. His friends from Nigeria and the Democratic Republic of Congo have not been treated with the same fraternity and consequently face more prejudice as immigrants and have had more trouble finding work.
The cultural ties between Brazil and Angola go back to the very beginning of the trans-Atlantic slave trade and Portuguese colonial expansion. It is estimated that almost forty percent of all slaves brought to the Americas stayed in Brazil, and almost forty percent of all slaves who crossed the Atlantic were from what is now Angola. Centuries of slavery and genocide have disrupted the language, religion, and customs of this Diaspora, but much of the fabric of traditional Brazilian society is of Angolan origin.
Brazil's trademark music is the Samba, but its origin lies in the rhythms of Angolan Semba. The combination martial art and dance performance Capoeira was developed by Angolan slaves as a means to entertain and to resist Portuguese cultural hegemony. But some historians insist that Capoeira can actually be traced back to Angola itself, and was not started among slaves.
This shared heritage does play a role in how Brazilians welcome Angolans to the country, and in how Angolans are received in Brazil. One soccer player and graduate student, Abel, 27, said that he felt the strong connection, and said that it did make a difference in his experience and identity as an Angolan living in Brazil.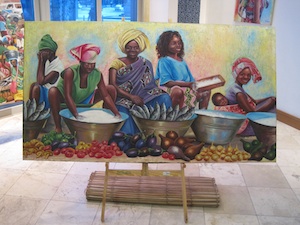 Another young Angolan man wearing a USA soccer jersey spoke about the likeness in Afro-Brazilian facial features. "It's not just that they are black, but they look Angolan, they look like family!" For these men, it was a welcoming feeling to arrive in Brazil and recognize subtle things like gestures and facial expressions that remind them of family members back home.
Fabricio Dom is proud to share African culture and his own Angolan culture with Brazilians, and has shown his work across Africa, Latin America, and Europe. His art and design display a mix of the traditional and the modern Africa, an Africa that is both proud of its heritage but is also creative and outward-looking. The modern Africa he portrays is no longer limited by the bonds to Europe left over by colonialism. He shows how Africans are now finding creative ways to adapt to the globalized world.