For more than 50 years, Bar Caldo Cana has been a successful business in Riachuelo Square in the neighborhood of Cascadura, in Rio's North Zone. André Silva dos Santos has worked there for seven years as the owner and 48 years before that under the mentorship of his father. The bar is his life's work and the only means of financial support for his family.
In August 2014, Cascadura suffered major transportation changes that jeopardized his business. The City launched several bus lines passing through Recreio, Jacarepaguá, Madureira and some West Zone neighborhoods through the TransCarioca Bus Rapid Transit (BRT) line.
The Municipal Transportation Secretariat launched the BRT lines in 2012 to replace certain customary bus routes with traffic-free journeys intended to increase capacity while dramatically reducing travel times. The BRT lines constitute the main means through which the city aims to reach its goal of increasing total trips taken on high-capacity public transportation from the current rate of 18% to 60% by 2016, and they have been heavily marketed as part of the 2016 Olympic legacy.
But the legacy has yet to reach neighborhoods like Cascadura, which instead has lost most of its customary bus lines to the South Zone, Central Rio and Barra da Tijuca. Vans providing transportation throughout the community were also eliminated and train lines were reduced.
It is widely reported by residents of traditionally underserved areas across the city that to build demand for the BRT, the City cut customary routes residents depended on and which were often favorable to the BRT.
"Cascadura is abandoned, the square has become a drug addict hub," Dos Santos said. "There used to always be movement and people [here], I used to open at 4am and now I'm opening at 6am. My sales have gone down by 90%."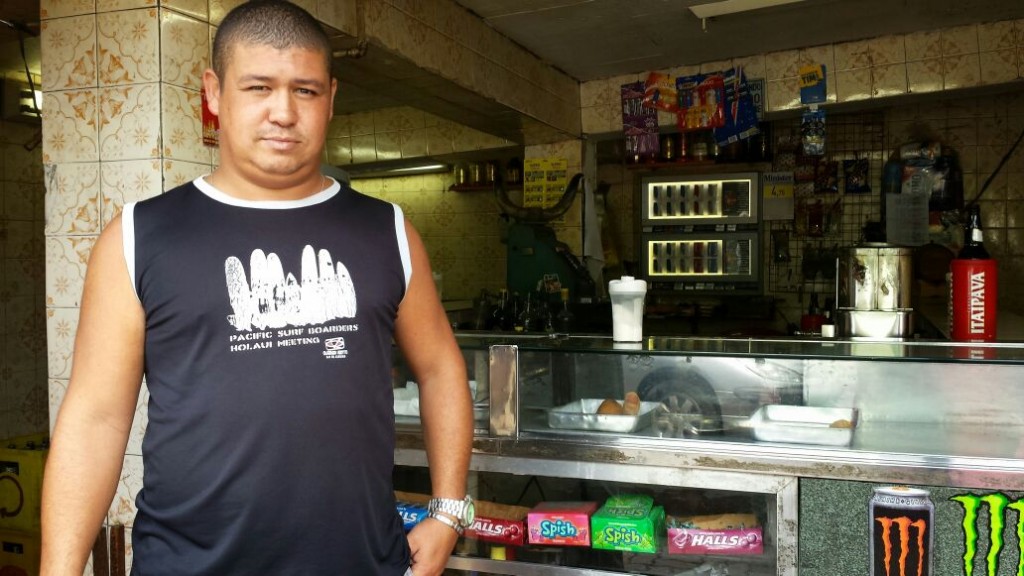 Before the implementation of the TransCarioca BRT line, Cascadura's business center was located in Riachuelo Square, a bus station that provided transportation for thousands of neighborhood residents. The buses journeyed to locations such as Rio's South Zone and central areas. According to José Fernando Silva, social educator in Cascadura, the bus station provided customers to hundreds of businesses in the area including bars, restaurants, and street vendor stands. Now, the square is dead.
"Following the implementation of the BRT in Cascadura, there was a socio-economic decline, the bars shut down, the street vendors closed shop," Silva said.
Eduardo Torres was forced to close his bar of almost 10 years and leave Cascadura in debt and anger. According to him, the Prefeitura shut down the vans collective that provided transportation to and from several communities in Cascadura and brought business to the square. Then it took away the buses and now, some trains don't even stop in Cascadura anymore. Certain train lines that used to stop in the neighborhood now pass through, and residents have to take two trains just to get to the next station over.
"Not one person from local government has come here to give us some satisfaction," he said. " We don't have any projects here, everyone is closing their shops, and today is my last day here."
Geraldo da Cunha Lucas has worked as a street vendor in the square for 6 years to support his wife and children.
"In my case, I made more or less R$300 to R$350 (US$100 to US$115) every day," he said. Now he makes around R$80 to R$90 (US$26 to US$30). "It's not just me, but all of the street vendors here."
Creuza José Correia, a street vendor who has worked in the square for 40 years, said not only is she losing clients, but as a resident of Cascadura she sees neighbors and friends who work outside of the area struggle to get to work. Now the nearest bus that takes anyone to the South Zone is in Madureira, over four miles away, she said.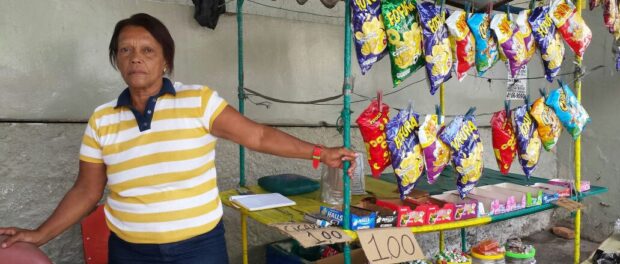 "We're very sad because we've worked here for a long time and [the elimination of the bus lines] has disturbed our work…We lost our clients," she said. "Cascadura is done…It totally affected the financial life of all of us here. I depend on this business."
There are bus cards such as the Bilhete Único Carioca that allow commuters to make up to three transfers between buses, including the BRT, in two and a half hours for the price of only one ride. However, those without the cards now pay for three or four rides to get to work, since the BRT requires switching at stations and the use of more buses, whereas previously one or two buses from Praça Riachuelo could provide the same service.
Silva said: "There was no planning or warning of the removal of the buses or even our alternative transportation (vans that go to and from communities in Cascadura). The population was not consulted. They didn't think of the impact it would have on our urban mobility."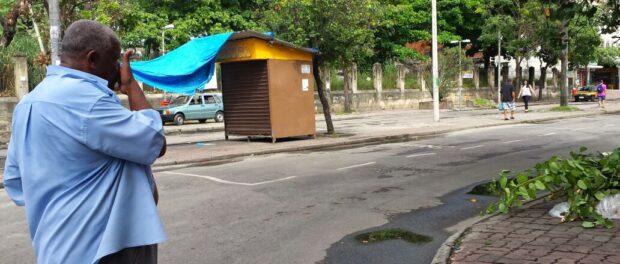 The skeleton of a burnt car and garbage on the pavement are now the landscape of the square. A few buses remain and take residents to the West Zone, but the buzz of movement has completely disappeared.
Miguel Silva de Moura, president of the Luiz Carlos Prestes Neighborhood Association in Cascadura, said transportation is one of the many neighborhood problems Rio's mayor has ignored.
"He doesn't give credibility to the neighborhood association," he said. "He makes decisions without hearing the residents."