Five Years After Tragedy: Rain, Memories and Fear in Morro do Bumba, Niterói
For the original in Portuguese with video, by Gustavo Maia, published in UOL Notícias, click here.
It rained for a few hours on the morning of Tuesday April 7. While looking at the cloudy sky from her porch in Morro do Bumba, located in Niterói, in the Rio de Janeiro metropolitan region, housewife Laís Jussara Barreto, 35, said: "It was just like this on the day everything fell."
Laís was referring to the events of April 7, 2010, exactly five years ago, when the community experienced what she described as scenes from a "horror film." On the anniversary of the tragedy, the housewife and her family relived the fear that reappears whenever it rains, ever since a landslide on the hill killed 48 people and left thousands without homes.
Like Laís' family, about another 30 families still live in Bumba, even though the City of Niterói has banned living in all houses in the area due to the risk of new landslides. Surveyed by UOL, the remaining residents are unanimous in explaining why, despite fear of the disaster repeating itself, they decided to stay.
"With the US$130 (R$400) they give us in social rent support, we can't afford a rental. The prices have increased a lot since that disaster happened," explained the housewife. Currently, the State Department of Social Welfare and Human Rights pays said amount to (at least) 2,300 families. "We are waiting for action on their part to determine what they will do for all of us," said Laís.
Most of the residents affected by the landslide five years ago are still waiting for the housing that authorities promised at the time. To date, 240 families have been given apartments in housing projects.
Meanwhile, Laís' husband Venícius Silva, who works as a doorman, is constantly apprehensive when it rains. "I'm calling my wife all the time from work," he said. Their eldest daughter, Larissa, 18, lives with her husband and four-year-old daughter in a house closer to the part of the hill where the most land slid in 2010. The property belongs to her mother-in-law, who moved away.
"When it rains, we come to sleep here in my mother's house," explained Larissa, who only managed to fall asleep after 4am on Tuesday morning. "When we are caught off guard by the rain at home, we can't sleep and have to be alert to rush out of the house," added Laís, who lives with her other two children, aged 13 and 7.
The UOL report requested an interview with the mayor of Niterói or the Municipal Secretary for Civil Defense on the morning of Monday, April 6, but the request was ignored for two days by the press office of the city government, which merely sent a note: "Unfortunately, there are families who insist on staying on site, contrary to Civil Defense guidelines."
According to the statement, many municipal agencies are working to demolish houses in at-risk areas and provide social support for the resettlement of families.
No alternative to risk
Losângela Carvalho, 53, did not live in the community in 2010 and only knew of the landslide in Morro do Bumba from television. While watching images of dozens of bodies rescued out of the mud, she could not imagine that, years later, she would also be affected by the tragedy.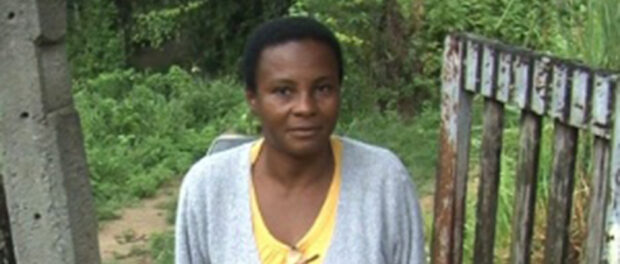 Three years ago, recounted the housewife, her ex-husband was about to lose his job. "Because we lived in a rental in [neighboring municipality] São Gonçalo, he was afraid of not being able to pay rent and leaving us to live on the street," said Losângela, who is unable to work, having to care for her 31 year-old daughter who suffers from schizophrenia.
"A friend of his who had this house was leaving and selling it for US$1,000 (R$3,000). The opportunity presented itself and he bought it. We just found out the house was declared unsafe and closed when we were already living here," she said. Advised by the City about the risk of the hillside behind her house collapsing and encouraged to leave their only property, she does not know what to do. "I'm not afraid. I'm in the hands of God," she said. Having arrived in the community after the landslide, she does not receive social welfare for rent.
A few yards from what is now a big valley created by the landslide, mechanic Nilton Santos, 40, lives with his father, who is in a wheelchair, his wife and three children. Born and raised in Bumba, at the time of the 2010 tragedy he lived in Cabo Frio, a city in the state's Lake Region. "As soon as I found out, I came to get my father here in Bumba and took him to Cabo Frio with us," he said.
They decided to return about three years ago, lacking the means to continue paying rent. "People are returning here because they have nowhere to go, no options."
The president of the Bumba Victims' Association, Francisco de Souza, summarized the residents' complaints: "Since 2010, rent in Niterói has increased by 50%, and the amount of social rent has not been adjusted. With R$400, people can only afford to live on the hill. People leave one at-risk area just to go to another. We are left to our own devices."
Inaudible sirens
A siren warning system was installed last year by the City of Niterói in 25 communities in areas at risk of landslides, but the residents of Bumba hardly hear the Civil Defense Department's system. "Down below [the hill] I've heard it, but from up here, never," said Laís.
Another complaint is that the siren can be "random" and can be triggered on both rainy and sunny days.
According to the Civil Defense Department, the sirens are tested in the communities on the 10th of each month, at 10am, except on days when it rains, to avoid confusion. Every day, the department also tests the sirens without sound emission. "On March 7, the siren was activated in the Bumba community and the evacuation went smoothly with no complaints," reported the City in a statement.