This is the second letter sent by Heloisa Helena Costa Berto and published on RioOnWatch. Read her first letter, published on September 17, 2015, here.
I have spent the past month in a state of shock, crying and feeling as if I have been living out of reality.
On January 11 at 9:15am, I received a call. When I answered the phone I recognized the voice of Mrs. R, a lady that lived in my back patio area for a year. She said she'd been informed at the Sub-Mayor's office that I owed her R$55,000 and that I would have to pay her that amount no matter what. She added that they knew my address and the places I visited and she would send family members to come and kill me. I asked her "what family members?" She responded by saying that I already knew what her family was involved with.
I began to shake and cry, because Mrs. R always spoke about her family that was part of the militia. She ended the phone call by saying she would go back to the Sub-Mayor's office. When I calmed down, I tried to call Mrs. Marli Peçanha, an employee of the Sub-Mayor's office. I called several times but no one answered.
I did what I thought would be best and called the Public Defenders Office, and then went to the city center to meet with Dr. João and Dr. Adriana. I had to know what I could do because I never imagined I'd be in such a situation. Even though they already knew many of the facts, I told the story from the beginning.
I preside over a spiritual center, the House of Nanã, and have been fighting for two years over the negotiation and relocation of my house. I fight so that the rights of the residents of Vila Autódromo who wish to stay are respected. This fight of mine has resulted in many confrontations with the Rio de Janeiro Sub-Mayor's office. I have been humiliated, mistreated, and suffered religious prejudices many times. I have come to the point of experiencing a nervous breakdown while visiting the Sub-Mayor's office after many humiliations by Municipal Attorney Marcelo Marques. I became depressed, bedridden and my chronic pains worsened.
Despite all these problems, my desire for justice increased and I visited Brasília with the help of Brother Davi Raimundo. There, I participated in a meeting with Mrs. Ritalzsak, rapporteur for the UN, as well as a meeting with the Senate and Senator Paulo Pain, the Tribunal Magistrate for the State of Rio de Janeiro Paulo Sergio Rangel, and others. While participating in a public hearing with the Senate Human Rights Commission, presided over by Senator Cristovam Buarque, I gave my speech on defense of resettlement and permanent residence in Vila Autódromo. In recognition of the fight we represented, I received the Pedro Ernesto Award, the most important honor given by the Rio de Janeiro House of Representatives, as well as the Dandara medal, given by the Rio de Janeiro Legislative Assembly.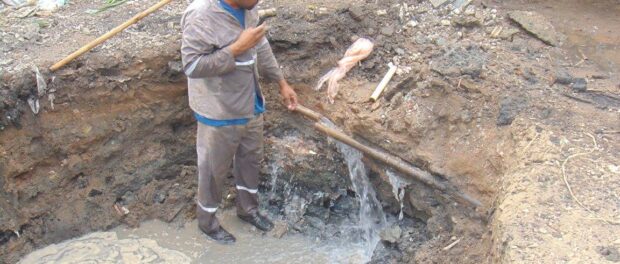 The fight has always been hard for those in Vila Autódromo. We have suffered constant daily pressures, frequently are left without electricity and water, the garbage service has been suspended, and the telephone lines practically never function. This also includes Internet and cable TV services: the companies suspended the service even though customers were up to date with payments. The mail service does not function normally either. Many services have been suspended because companies have been informed that there are no longer people living in the area. We live surrounded by craters that are flooded with rainwater and have became breeding holes for mosquitos. This along with the clearing of the area all around the lagoon and removal of the community's trees has left the community infested with mosquitos. We spent 40 years working to reforest the area; we planted rare trees like Ipês and Pau-Brasil. Now all of Vila Autódromo's trees have been removed and have turned to dust.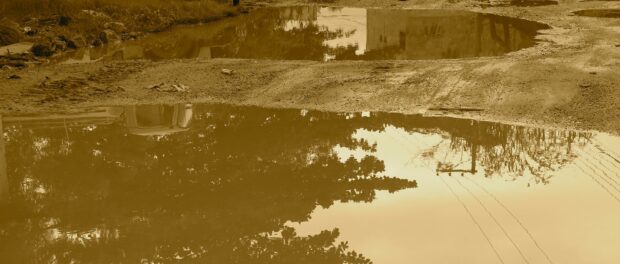 The people that stay in Vila Autódromo and continue to defend the principle of unity among residents, defending one another as a family, are few because the mental wherewithal necessary to endure all the humiliation we suffer everyday is immense.
I met Mr. M, husband of Mrs. R, through a neighbor. Mr. M was having some troubles at the time because he and his family's job was to look after the house of his employer in Vila Autódromo, and his employer was negotiating with the City. Even though his family had been living in Vila Autódromo for a long time, they were left with nowhere to go. Mr. M received money from his boss to buy construction materials.
He asked that I let him build a small one-room house in my yard. Mr. M never gave me any money, instead there was the exchange of favors. I gave him the space and he did some building work for me. I didn't know at the time that his wife had dangerous relatives.
I remember the day Mrs. R's family was evicted from their boss' house. It was a Sunday morning. Mrs. R came to me crying and I received her with complete affection. I always tried to negotiate with the City and I still try to, because my main interest has always been to be resettled, which is a right I have according to the law.
Every time I went to the Sub-Mayor's office in Barra da Tijuca to demand my rights I did so both for her and my daughter. I still have a copy of the letter where I requested such an agreement. In short, I asked for my own resettlement, an apartment for my daughter because she used to have a place independent from my own house, and an apartment for Mrs. R because she had nowhere to live.
When the specialist showed up at my house she evaluated my home, the spiritual center, my daughter's studio and the other studio apartments. According to the information that I got, they would get either the value stipulated with this evaluation or an apartment from the City. Mrs. R continuously said that she needed a place to live and her priority would be an apartment.
I decided to accept the agreement, although I did not agree with it, because my house was located near the lagoon, and because the evaluation was done in relation to the property and not the land, and according to the law I can be resettled in a social area in case I am removed from the edge of the lagoon.
I was then put under pressure to leave, before even receiving anything, and before Mrs. R received her apartment. I have messages from Mrs. Peçanha pressuring me to leave my house before the payment and before Mrs. R getting her apartment. I said very clearly through messages that I would only leave together with Mrs. R. Only then did Mrs. Peçanha make an appointment with Mrs. R. in order to choose the apartment.
Immediately after this, Mrs. R heard there were people receiving both apartments and financial compensation. On the day Mrs. Peçanha agreed to hand over the key of the apartment to Mrs. R, she refused and said she would only leave with both an apartment and money.
I said I could fight for a roof for her, but that she would have to fight for the money by herself. This is when she went to the Sub-Mayor's office where they told her I had received her money. She called me on the same day with this information. I explained to her that that would have been impossible because all payments were made through addressed bank checks.
I called the City government and talked to an employee called Mrs. T. She told me that since I was defending Mrs. R, this amount was mine to pay out. Later, Mrs. R sent me a message asking for R$5,000. This is when I stopped answering her messages.
The next day, a neighbor called and urged me to come home because Mrs. R was moving out and the bulldozers were demolishing the back of my house. When I arrived, Mrs. R had already moved out and one of the walls of my spiritual center was already down. They said it was an accident.
From this moment on, my children and I have been taking turns day and night to watch over the house, because we are now afraid of a sudden demolition. This has already happened to three neighbors of ours. The wall that was demolished has not been rebuilt. At the moment my house is unsuitable for housing: due to the City's work, many walls in my house have cracks, there are leaks in all rooms, mold all over the house, doors that do not close, the kitchen ceiling is falling, and flooding has resulted from the landfilling of the street, putting my house on a lower level to the rest of the street.
I was scared to go back home due to the death threat. I prohibited my kids from going there too.
The next day I got messages from Mrs. Peçanha citing Mrs R's relatives, but I was unable to talk to Mrs. Peçanha. Later I received messages saying that Mrs. R had invaded my house with her family and that they would only leave after they received the money. I talked to the public defenders. My house had been invaded and the City said they would demolish Mrs. R's part of the property. I was scared they would demolish everything. The public defender said that would not happen, that he had talked to the city's general attorney and that Sub-Mayor Alex Costa would pay me on Thursday, January 14. He told me to wait for a notice from the Sub-Mayor's office.
On January 14, my house was surrounded by armed municipal guards, police cars, Sub-Mayor Alex Costa, Mrs. Peçanha, Mrs. R, and bulldozers.
During the action, my son went over to my house. He received advice from Mr. M who said he should watch out for Mrs. R's family, because they are very dangerous. Mrs. R and Marli Peçanha went together to the Sub-Mayor's office. During the ride, Mrs. R posted a message on the community's group with information on the negotiations on both my house and my neighbor's including my neighbor's full name and the details of the negotiations with the City which she didn't know about. This was all written in perfect Portuguese, with perfect punctuation, even though she is illiterate.
I know we must be responsible for our actions. We must accept the consequences of the acts we carry out. Money is a factor that blinds people and tears families apart, and even more so companions in the struggle. This is the reason for mentioning the above, the pressure we live with in Vila Autódromo. We're always led to distrust our neighbors since the Sub-Mayor's office works to undermine our trust. A betrayal is then the cause for many arguments and separations. The strongest recognize these tricks and distance themselves from (the corrupting influences of money). The weakest fall into the trap, and eventually what comes around goes around. Mrs. R can't read or write. Her values are materialistic. She tries to affirm herself in life through the number of expensive objects she has so she can feel superior in a way. I don't deny her mistake of ambition, after all she was paid by the City and betrayed the person who took her in. But it's visible, from my point of view, that she was used as a pawn to keep me away from the house. As soon as I became terrified I didn't go to Vila Autódromo, I didn't complain further, and this lowered by value because (they assumed) in the despair of being threatened I'd accept any value to leave and stop fighting.
The Autódromo Road I used to use was blocked off. My house was surrounded and then incorporated into the Olympic Park.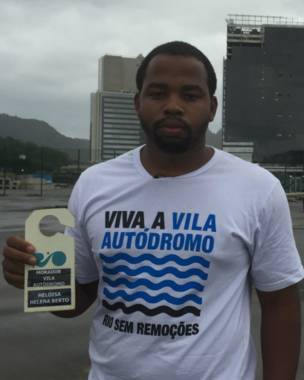 I can't have visitors to my house. I can't practice my religion. The mail service doesn't have access to my house. To access my house you have to have a pass. Only my son and I have the right to enter. I have animals at the house that aren't being fed properly because of the access difficulties. I have problems walking but on Autódromo Road I managed to walk. Now I have to enter through the Olympic Park and it's 5km to my house from the entrance to the Park.
I kept quiet for two weeks; I was scared. It was my youngest daughter's graduation and my only thought was that I wanted to see her graduate. I wanted everything to be beautiful and for nothing to spoil her special moment. I fought hard for her to be able to study and graduate from a good university.
But since my community always gives me strength to speak, a cry for freedom came from me. I told the community that I was being threatened. They gave me strength and I started to fight again.
On January 27 we organized a march. We closed the main street and marched chanting phrases of struggle and courage. We went from the community to the entrance of the Olympic Park. On arriving at the entrance I invited everyone to go and visit my house and in front of everyone, the press, representatives from NGOs, they said I couldn't take anyone to my house.
Peacefully, but with force and persistence, Vila Autódromo has insisted. I read the fifth article of the Brazilian Constitution which says they are obstructing my right to come and go, obstructing me from practicing my religion because my house is a religious site. There were police around. I asked them to interfere because the security guards were committing a constitutional offence. They told me to go to the police station if I was feeling offended. The allegation was that I didn't know if the house was mine.
We continued together in front of the security cabin for a few more hours. We decided not to go to the station because we'd done this the previous week and the results weren't satisfactory since the chief officer is a relative of Mrs. Peçanha.
After some time we heard the cabin supervisor pass on the response given by Sub-Mayor Alex Costa in reference to my request to receive visitors to my home. He told us that no one could enter and that whoever wanted to visit should first register with the City.
Mrs. Marcia Lemos' house is in the same situation as mine and she solicited entrance a month ago and still hasn't received authorization.
On February 2, I was once again at the Sub-Mayor's office. I was called there that same day not long after the march. I arrived at 7pm. The proposal was that I would receive my check, go straight home where a moving truck would be waiting and that same night the house would be demolished. I didn't accept. I have commitments with my saints and respect for them. I would never abandon my saints and the people who trust in me on the eve of Carnival, at night, in the streets. I suggested another date that wasn't well received and with this I felt more vulnerable.
On February 4 I went to the State Legislative Assembly's Human Rights Commission. I denounced the death threat and told them how I was feeling. I was advised to remain at home and not go out in the streets or leave the city. The concern is real and it's worrying that I'm not the only one being threatened in the community. I also reported slander because City agents spread throughout the community that last November I received R$2 million and now in February received another R$490,000.
For two years, I have not been living, I have been fighting. My body has been taken over by chronic pains as a result of the surgery, eight screws, two plates, lack of treatment due to lack of time or emotional stress.
But even worse than that is my departure: I love my community. I feel empty on the inside, deprived, invaded, violated. They have taken away my reason to live: being able to practice my religion. What I wished for was just to continue in my home with my animals and my plants, keep on helping people who would come to me with their problems, worship my saints with my faith.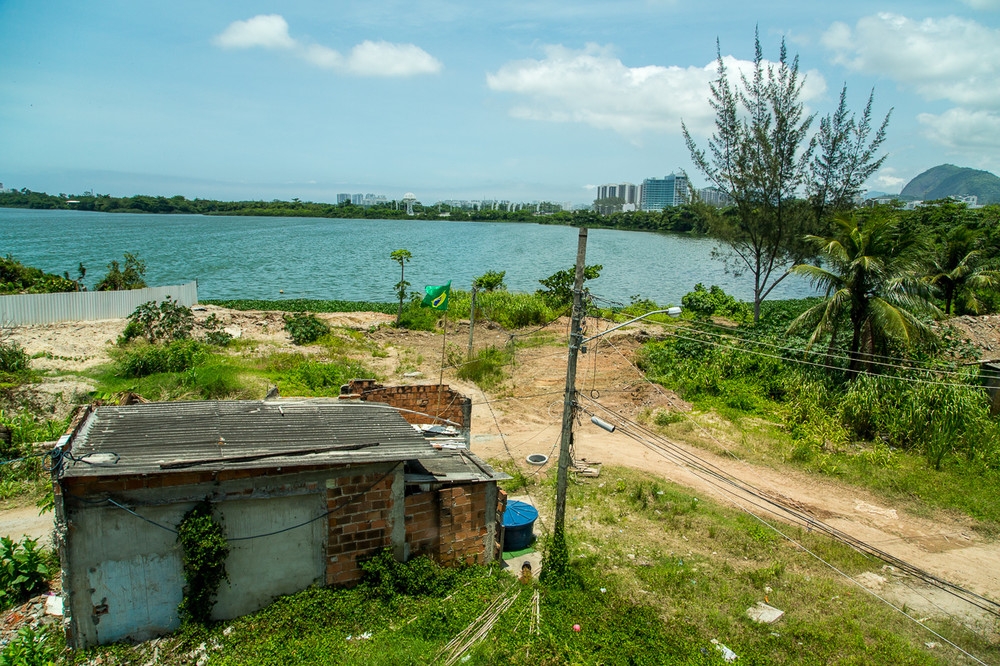 Now I only want justice. I want the people of my Vila Autódromo to have their right to housing secured with dignity, with upgrading. That is the reason I have fought and I will continue to fight, for the warrior people of Vila Autódromo whose only wish is to get their homes back.
Some names have been substituted for letters for reasons of security. 
– Heloisa Helena Costa Berto/Luizinha de Nanã