On May 31, engineering students from Columbia University and COPPE UFRJ (Instituto Alberto Luiz Coimbra de Pós-Graduação e Pesquisa de Engenharia) presented design prototypes from the COPPE-Columbia Open Innovation Day Design Challenge at the Federal University of Rio de Janeiro's (UFRJ) Ilha do Fundão campus. Throughout the day, 16 teams of Columbia and UFRJ students at all levels presented their projects to faculty of Columbia and COPPE in the hopes of finding "angel investors" to support wide development of their prototypes.
The Design Challenge, launched in December 2015, aimed to "engage students in proposing innovative solutions to the multi-faceted urban problems in a way that can inform policy changes," according to the event announcement. The challenge was divided into two design categories—"Urban Water" and "Sensing the City"—and included projects that have significant potential impact for Rio's favelas, from landslide sensors to iPhone-based Zika blood testing.
Many projects focused on localized sewage treatment systems, due to the fact that only 35% of the sewage in Rio de Janeiro is actually treated by the government. This percentage, cited from Instituto Trata Brasil by one of the teams presenting, is lower than some other estimates because it does not count sewage that feeds into plants which are not functioning, whereas other estimates often include all parts of the city that are hooked up to sewage plants–working or not—as "treated" sewage.
Another prevalent theme was Zika identification, prevention and treatment, since Zika is a highly-publicized public health issue. Zika disproportionately affects communities with weak sanitation infrastructure and low-quality public health systems; although sanitation is substandard across the city, decades of government negligence has left Rio's favelas at particular risk compared to other parts of the city.
This article highlights three projects of particular relevance to the city's favelas—one from a favela itself, and two focused on Zika prevention and identification.
Vale Encantado Biosystem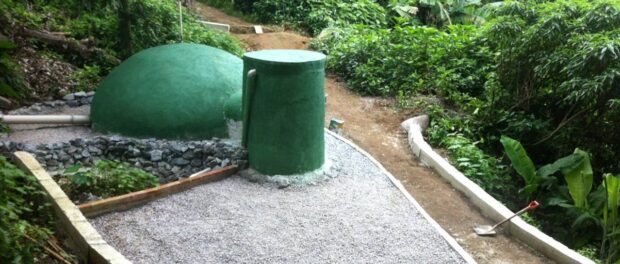 Leonardo Adler and Tito Cals, UFRJ graduate students in sanitation engineering, represented the team responsible for building a sewage treatment project in Vale Encantado, a small community in the Tijuca Forest in Rio, in collaboration with PUC-Rio, FAPERJ, Viva Rio, and Re.coli. The project is an integrated biosystem composed of a biodigester which collects and biologically treats raw sewage from homes, and a constructed wetland to treat the liquid waste through plant roots. The biosystem also produces a biogas byproduct that will be used in the kitchen of one house.
Currently the biosystem is connected to five of 27 houses in the community, and residents are looking for funding to connect the remaining 22 homes, complete the constructed wetland, and expand the biosystem local sewage treatment model to more communities. The biosystem was built by local employees the team hired and trained who are now capable of working with them on any future projects. Leo calls this collaboration an example of sociologist Boaventura de Sousa Santos' concept of an "ecology of knowledge," in which "the traditional knowledge of people who grew up in these communities is just as important as the academic knowledge that [formal academics] provide for them." Leo says "this is the only way to succeed in solving the sanitation problem in isolated communities." On Wednesday, June 1, Leo and Tito took the entire COPPE-Columbia group to visit Vale Encantado, see the biosystem, and have lunch at the Vale Encantado Cooperative restaurant.
Zika Zoom: an app for identifying Zika-carrying mosquito breeding grounds
A team of Columbia Engineering masters students are in the process of creating Zika Zoom, an app for precisely locating aedes aegypti mosquito breeding grounds. The app uses an algorithm to process images from CCTV, drones, thermal imaging cameras, and even crowd-sourced photos to detect if the location captured in the image is likely to contain a breeding ground. At this time, in its beta testing version, the app is sensitive to the differences between images of a stream, a puddle, and a coffee cup, with only the puddle being a likely breeding-ground. If a breeding ground is detected, the program "can alert the authorities to what the exact location is in terms of coordinates," says Palash Matey, one of the creators of Zika Zoom. Eventually, the team hopes to have a strong enough algorithm and enough crowd-sourced photos to map the breeding-grounds onto a map of Rio and create Zika-free routes for residents. The next steps for Zika Zoom are to improve and release the app as well as creating an incentive for residents to send pictures, such as a game or a reward.
If you would like to participate in the testing phase of Zika Zoom by sending photos of your community for the app to detect breeding grounds, contact Palash at pm2824@columbia.edu for more information.
iPhone-Based Zika Test Kit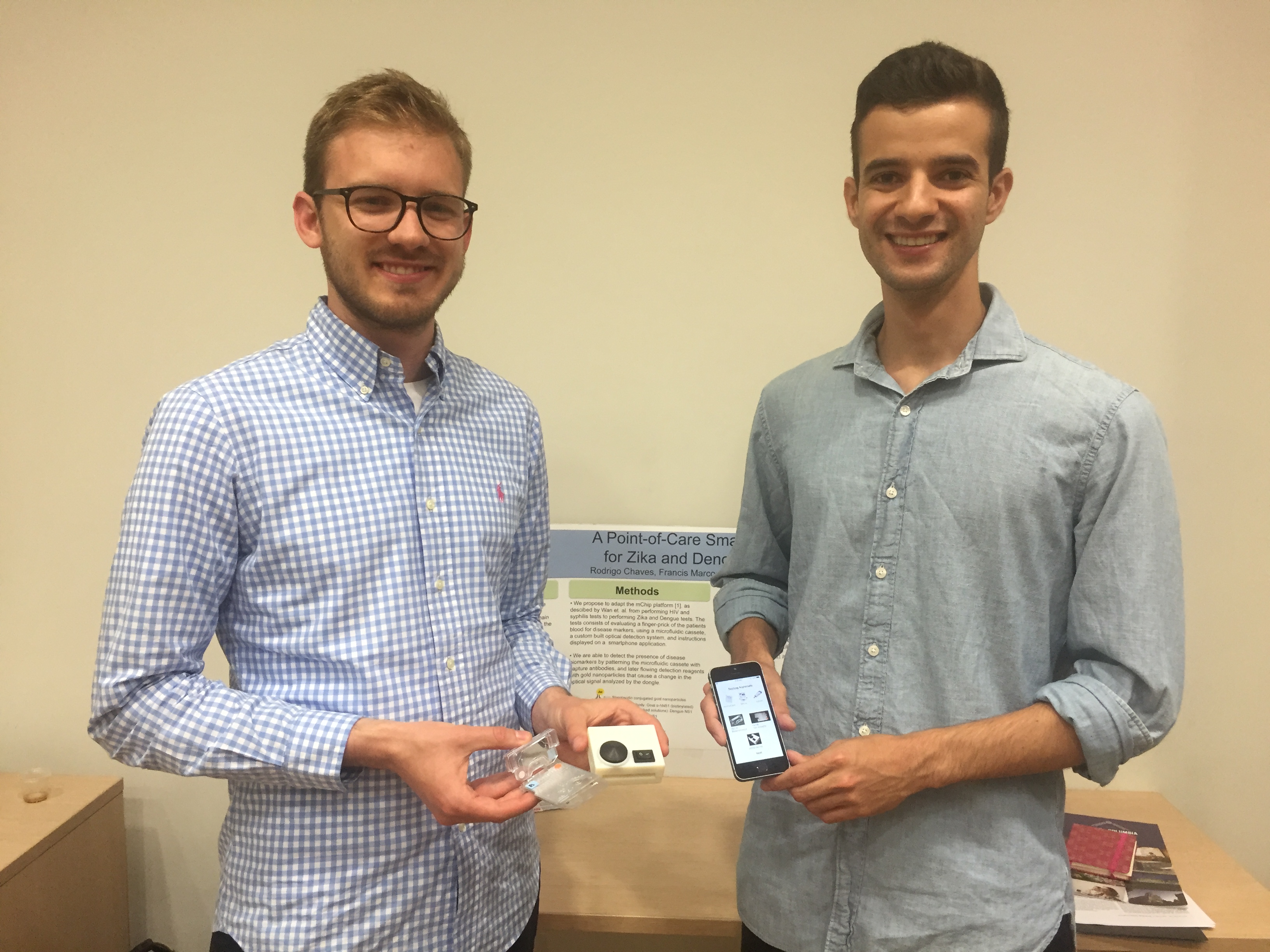 Francis Marcogliese and Rodrigo Chaves, a team of Columbia freshmen, are developing a Zika serological test—an easy, portable, iPhone-based testing device capable of detecting up to three diseases simultaneously without the need for trained staff or drawing blood. The device only requires a prick of a finger (similar to a diabetes test), a battery, and an iPhone. The test takes fifteen minutes to process and the device can run up to 20 times on one battery. Rodrigo, originally from Florianópolis, heard about Zika on the news and was inspired to participate in the challenge. "We need something that is portable, that can really increase access of the population for testing."
The model was field-tested last summer in Rwanda for HIV and syphilis with great results. The next steps for developing a test applicable for Brazil would be to get clinical samples of the Zika virus to develop the actual Zika test, with the hopes the device can one day be used to simultaneously test for Zika, dengue and chikungunya, the three most prominent mosquito-borne illnesses in the region.