In a public hearing on Friday July 22, residents of Trindade, a small beachside community in the municipality of Paraty in southern Rio de Janeiro State, demanded justice for the killing of 23-year-old Jaison Caique Sampaio, and secured an agreement with the mayor of Paraty to dispossess land held by a company that locals hold responsible for his death.
On June 2, Jaison was shot dead in his home by two off-duty police officers. The officers were allegedly moonlighting as security guards for the real estate company Trindade Desenvolvimento Territorial (TDT), which has long been locked in a land dispute with residents of Trindade.
The public hearing was organized by the Human Rights Commission of the Rio de Janeiro State Legislative Assembly (Alerj) to discuss problems faced by the Trindade community in the wake of Jaison's death. The event was chaired by Marcelo Freixo, the head of the committee, and was attended by many residents of Trindade, alongside several politicians and representatives of government organs, including the Civil Police and the Public Defenders Office.
Trindade is historically comprised of traditional fishermen, or caiçaras, descended from Portuguese colonists, indigenous peoples, and enslaved Africans, who lived off artisanal fishing and subsistence agriculture. Today Trindade, with its five beaches, is a tourism hotspot. TDT and its parent companies have had a presence in Trindade for decades, although in recent times tension between their security agents and residents has been mounting, culminating in the shooting of Jaison in June.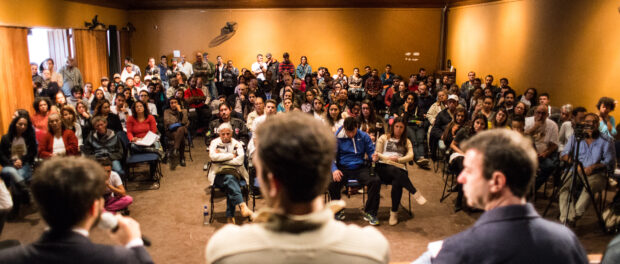 At the packed public hearing in Casa da Cultura in Paraty, Davi Paiva, a member of Trindade's Neighborhood Association, indicated that the killing was related to a land dispute. Jaison was "living in a very dubious border zone between the company's area and the community's area," he said. "His family had been threatened for a long time."
The detective in charge of the case, Flávio Narcizo, who also spoke at the public hearing, indicated that the two police officers "acted as representatives of TDT." However, he noted that from a legal standpoint, it is hard to link them to the company because they were not contracted formally.
After the killing, the community expelled all of TDT's representatives from Trindade, knocked down the company's fences, set fire to the security guards' accommodation and occupied an area that had been designated a Zone for Community, Sport and Leisure Use by a 2011 municipal law but was still being occupied by the company, according to residents.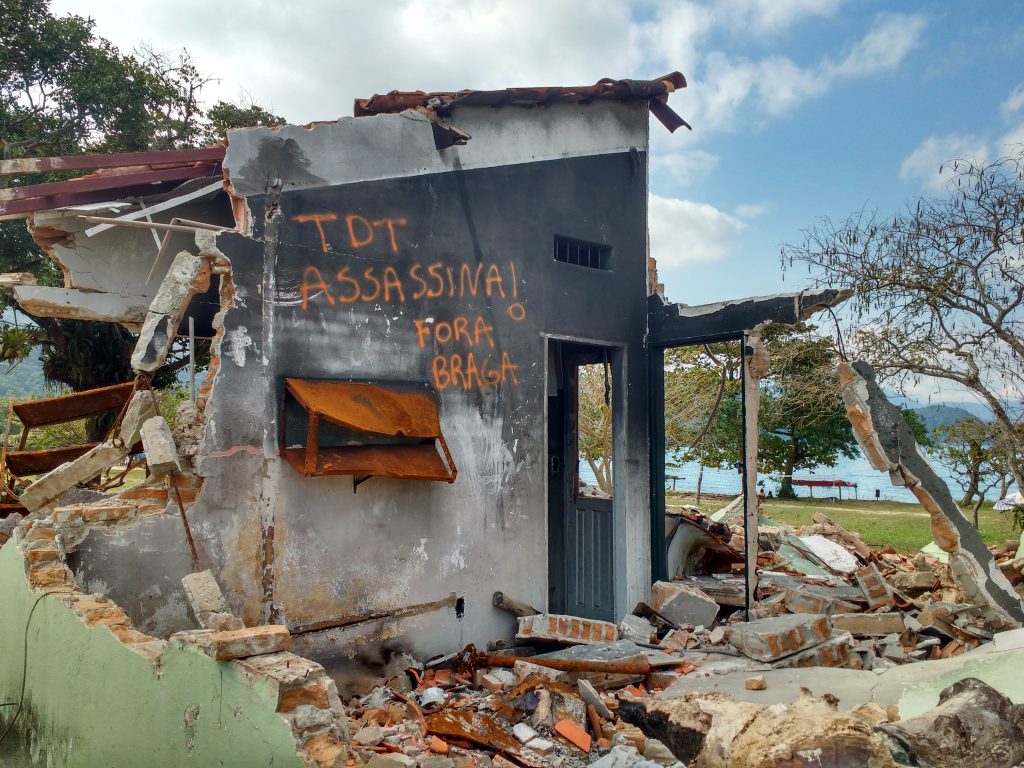 At the emotionally-charged hearing, the Trindade Neighborhood Association submitted a petition signed by more than a thousand people, demanding the dispossession of TDT's land that was part of the zone for community use. The mayor of Paraty, Carlos José Gama Miranda (known as Casé), promised to fulfill the community's request. "I vow to… make a decree of public utility so that we carry out a legal dispossession and then yes, this area will be of collective use for the community and the public," said Casé.
Residents also demanded that those responsible for the killing be brought to justice. "I came here today to ask for justice and also for what my son fought for, which was the right to the land," said Dona Maria do Socorro, Jaison's mother.
Socorro also spoke movingly about the suffering caused by his death: "The pain, I know, will never go away. I felt like I had no arms and no legs, but thinking about everything else that I have, I thought I may have no arms but at least my legs need to stay standing, because if I fall, my children will fall. If I cry, they will feel the pain. So I need to move forward even if it means dragging [my legs]."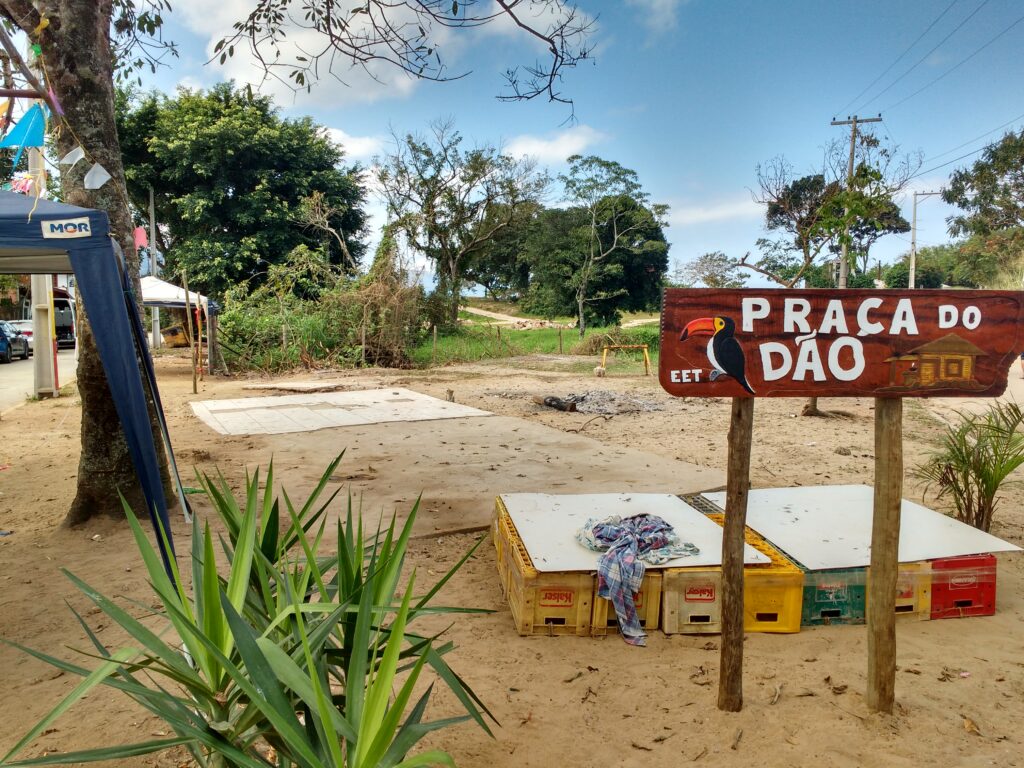 Residents framed the murder within the history of Trindade's long and bloody land dispute. In the mid-1970s violence erupted between the caiçaras and jagunços, hired thugs allegedly sent by developers in an attempt to intimidate residents into leaving their land, with tactics including beatings and the rape of a school teacher. A complex chain of land acquisition eventually resulted in a fragile settlement between the remaining caiçara families and the landowner at the time in 1982. To this day, the company, now called TDT, still owns and administers the land surrounding the Trindade community, although concrete development plans are unclear.
"In 1982, when an agreement was reached with Trindade Desenvolvimento Territorial… we thought that our problems were over," said Paiva. However, "since 1982, we have had Trindade with fences, we have had Trindade surrounded by armed security guards."
"We used to live from fishing, from agriculture, from subsistence," said Robson Dias, a resident of Trindade. "With the arrival of TDT, it removed us from our territory… We lost our rights to work and with all this we lost a part of our culture."
Community members at the public hearing also raised concerns about environmental restrictions in the area, including upcoming changes to regulations of the Environmentally Protected Area (APA) of Cairuçu, which covers Trindade.
Boasting idyllic beaches surrounded by native Atlantic forest, the coastal area surrounding Paraty, known as the Costa Verde ("Green Coast"), has become a playground for Brazil's rich and famous and an attraction for tourists. However, it is also notorious for violent territorial conflicts. Mayor Casé, who last year survived an assassination attempt allegedly related to a land dispute, compared the region to the "wild west" and asked national politicians at the public hearing to help raise awareness about the violence in the region.
"It is a cruelty what is happening to the communities in Paraty, whether they are quilombo, indigenous or fishing communities… We can't be silent about this," said Casé.