When Rafaela Silva threw her hands into the air to celebrate her victory in the Olympic gold-medal match of women's judo, residents, athletes and coaches throughout Rio's favelas celebrated with her.
Much has already been written about 24-year-old Rafaela and what her victory represents for Brazil, the city of Rio, and female athletes across the country. Her high-profile achievement has opened a dialogue about how Rafaela's identity–as a black woman born and raised in City of God, one of the city's most well-known favelas–defies Brazil's historic power structures, especially important in the light of the racist attacks directed against her on social media after she was disqualified from the 2012 London Games. Rafaela's decision to publicly disclose her relationship with her girlfriend just days after her victory added another level of identity politics to what was already a significant accomplishment in raising the profile of underrepresented and marginalized groups in Brazil.
But, while Rafaela received the most media attention, she wasn't the only athlete from Rio's favelas competing in these Olympics. The hometown team included a number of athletes across a diverse range of sports who have lived and trained in favelas.
The Olympics and previous mega-events have had catastrophic effects for many favela residents, from forced evictions to reduced access to transportation and deadly police violence. Yet the opportunity to represent their communities in front of a national audience as well as millions of viewers around the world, provided a chance for Rio's athletes to showcase another example of positive value coming from favelas and their residents.
Patrick Borges and Michel Lourenço – Boxing
Patrick and Michel grew up in Vidigal in the South Zone, where they began their training at the community's Instituto Todos na Luta (All in the Fight Institute) boxing gym–Michel at 10 years old and Patrick at age 13. Their trainer, the founder of Todos na Luta, Raff Giglio, describes the two young athletes as a positive example for youth in their community.
"I've seen so many comments on Facebook in the last few days, everyone saying, 'you are the pride of the community,'" he says, smiling. "Everyone here says they are a source of pride for our community. They're an example that it's possible to make it."
Raff, 51, a former boxer himself, began training children and youth in Vidigal in 1993, when he moved his boxing gym to the bottom of the hill and provided additional boxing classes, free of charge, to youth from the community who could not afford to pay for instruction. Though Todos na Luta only formally registered as an NGO six years ago, Raff and other instructors have been providing this training for more than two decades.
The primary goal of the organization, Raff says, is to encourage positive youth development. Life skills come first, athletic skills second.
"I think developing good human beings is even more important than being a gold medalist," he says. "This is very important. And if someone also has talent, then they can become a [professional] athlete."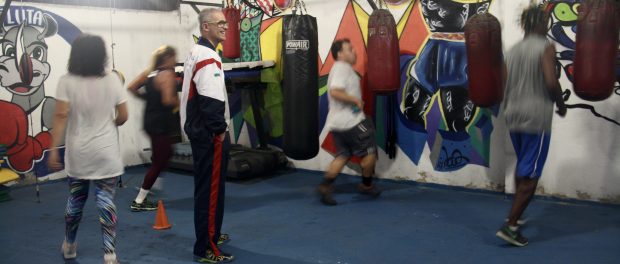 When he and other trainers do spot promising talent, like Patrick and Michel, they enter them in a special training program to prepare them for competition at the highest national and international levels.
As teenagers, Patrick and Michel watched the success of Esquiva Falcão, a middleweight boxer from Espírito Santo state who trained at Todos na Luta from 2007-2008, before joining the Brazilian national team. In 2012, Esquiva won the silver medal at the London Olympics, inspiring his younger friends to aim for the winner's podium in their home city.
In the 2016 Olympics, Michel, now 25, reached the quarterfinal bout in his weight class–just one step away from at least a bronze medal–before being eliminated by the eventual gold-medal winner, Julio César La Cruz, from Cuba. Patrick, 23, who ranked eighth in the world in his weight class, lost his first match to Colombian Yuberjen Martínez, who went on to win the silver medal.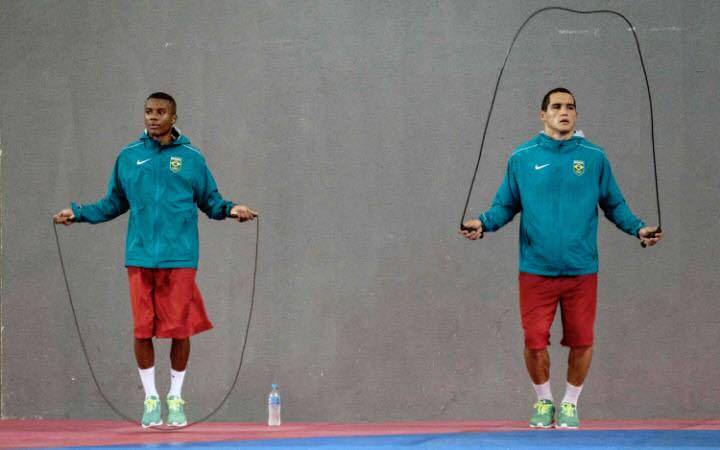 Still, Raff says, though neither boxer won an Olympic medal, their achievements are worth celebrating.
"I feel compensated, I feel rewarded," he says. "My reward came when I saw our athletes, who came here as children and today are men, Olympic athletes, participating in the Olympics. Regardless of medals, just the fact of being there, an athlete reaching that level, for me that is already compensation enough."
During their Olympic bouts, Raff says, the whole community threw a party and gathered to watch them fight. Both boxers now live in São Paulo, where they train with the Brazilian national team, but often return to Vidigal to visit family, friends, and their former gym.
"They have homes, family, everything here," says Raff. "When they have a free weekend, or holidays, they come to Vidigal and stay here, they come to train at the academy. Their home is Vidigal. They live in São Paulo because that's their workplace, that's where their office is. Their home is here."
According to Raff, the athletes are already beginning to prepare for the 2020 Olympics in Tokyo. This time, he expects both of them to bring medals home to Vidigal.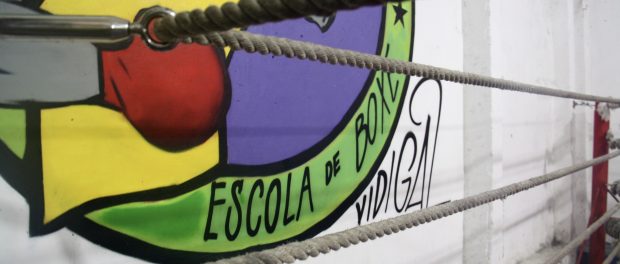 Ygor Coelho and Lohaynny Vicente – Badminton
Ygor Coelho de Oliveira's father, Sebastião Oliveira, founded the Miratus Badminton Association in the Chacrinha favela, located in Jacarepaguá in Rio's West Zone, in 1998. Miratus has received plenty of attention during this Olympic season from outlets including CNN and the New York Times, and as one of the five organizations with a feature film in the Reimagine Rio Film Festival. Sebastião instructs 200 players between the ages of 4 and 20 through an innovative training regime that combines badminton with samba–adding a unique Rio twist to the traditional practice of jumping rope. According to Sebastião, the children found jump rope boring, but samba has managed to hold the attention of more than 3,000 students over the school's 18 years of existence, and the technique has already produced two Olympic athletes.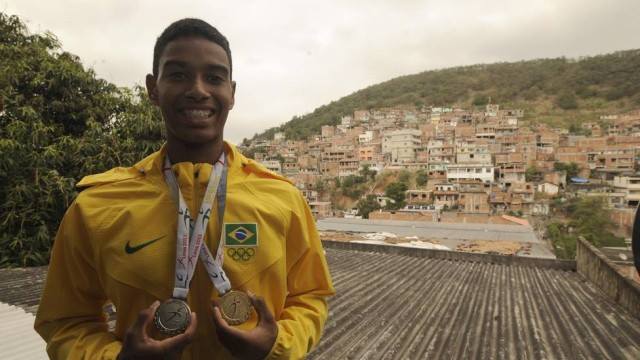 19-year-old Ygor was the first man to represent Brazil in Olympic singles badminton. He is already a six-time champion in the Pan American junior boys singles, and has won the Pan American championship in mixed doubles four times playing with his Olympic counterpart, 20-year-old Lohaynny Vicente.
Lohaynny, the top-ranked Brazilian female badminton player, is also a graduate of Miratus. She won silver and bronze medals in the 2015 Pan American Games–the silver came playing with her older sister, Luana, who has been her doubles partner since the two began training at Miratus. The Vicente sisters joined the school when they moved to Chacrinha in 2002, leaving the Complexo do Chapadão in the North Zone following the death of their father, who was involved in drug trafficking.
Though neither of the Miratus grads took home a medal at the Rio Olympics, they still enjoyed deafening support from their hometown fans. At Ygor's final Olympic match, which he lost to 14th-ranked German Marc Zwiebler, the standing-room crowd cheered and chanted his name for several minutes after the match ended.
Lohyanny was eliminated in the early rounds of the competition, but said she was proud to be the first Brazilian woman to represent her country in Olympic badminton, and hoped to inspire other children from favelas to believe in their athletic dreams.
"It's good for people to see that, independent of social class, people can achieve what they want," she told Globo in an interview following the match.
Miratus–along with its famous alumni–is featured in Bad & the Birdieman, one of the five documentary films recently premiered at Reimagine Rio.
Giovanna Pedroso – Diving
One of the lesser-known local athletes in the Rio Games, 17-year-old Giovanna Pedroso grew up in the Chácara do Céu favela in the South Zone. Giovanna began training in gymnastics when she was four years old, but switched to diving when she was ten after participating in "Diving for the Future," a program sponsored by Brazil's Sports Ministry and the Brazilian Confederation of Aquatic Sports, which offers public school students the opportunity to practice diving.
In the years since, Giovanna has risen to represent Brazil on the world stage, winning the country's first-ever silver medal in the synchronized 10-meter platform event at last year's Pan American Games in Toronto. She and her teammate, Ingrid de Oliveira, finished eighth in the 10-meter platform competition in Rio and have decided not to compete together anymore following a personal disagreement, but there will likely be many more opportunities for her to continue diving for Brazil in the future.