The Pereira da Silva favela sits between the Laranjeiras and Santa Teresa neighborhoods in Rio de Janeiro's South Zone. Entering the community, there are small wooden signs with encouraging words–"Think about the things that make you happy" and "Don't give up!"–by Project Morrinho, a miniature model of Rio's favelas built by a group of young Pereira da Silva residents that grew to international fame. The community of 8,000 residents has not received a Pacifying Police Unit (UPP), but has experienced military intervention in the past. Though the small community is in a prominent South Zone location, residents feel they're overlooked by government projects and most improvements are carried out by the community itself.
RioOnWatch sat down to speak with Jorge Luiz de Barros dos Santos, who has served as Pereira da Silva Neighborhood Association president since November 2015, to learn about Pereira da Silva, his life story and leadership role, and his hopes for the community. 
RioOnWatch: How long have you lived in Pereira da Silva?
Jorge: I was born in Laranjeiras, then came straight to Pereira da Silva. I lived in Sepetiba for a short time then came back.
RioOnWatch: What are your earliest memories of the community?
Jorge: We had the freedom to play, go out running, play soccer until ten at night, fly kites.
I have some memories that are more negative as well. There was a time when it was very dangerous here and there were lots of shootings.
RioOnWatch: What are the biggest changes the community has undergone since then?
Jorge: Eight or ten years back this was considered a risk area. Today you almost never see shootings here. Today there are more resources, the residents have more work.
Now we have concrete paths, basic sanitation is better. The Comlurb (Municipal Urban Cleaning and Waste Collection Company) works better. Before when it rained, everything would fall. The community has been upgraded. Now there are containment walls to protect ravines that are at risk of collapsing. There are almost no houses in areas of risk.
There are times when the government doesn't help. But there are others who end up helping. Do you know the soccer champion Bebeto? He is a state representative and helps us here. He helped us build a daycare and has supported us on several other projects.
RioOnWatch: What changes have you made as president? What would you like to accomplish moving forward?
Jorge: I installed a gym for the senior citizens at the bottom of the hill. We also have a gym now for children with jiu jitsu, boxing and muay thai classes. We are preparing now the first cultural center and we plan to have English, Spanish and dance classes that will help get kids off the street and give them a goal.
We fill the holes that appear when pipes burst. We recently installed a channel which redirects the rain water from the community so it doesn't go into peoples' homes. We are working with Comlurb in the community to get rid of trash and with [state water utility] CEDAE to fix broken pipes. We are going to build a fence so as the community grows it doesn't expand into the environmental protection area.
Now we are starting a recycling process, on our own. There are takers of recycled material we might distribute to in order to generate internships for the community, as well as basic awareness and maybe even material that could be used for maintenance. There will be two community street sweepers picking up plastic bottles and used cooking oil. The oil can be used to make soap and things like that. The project will provide courses to the youth from the community.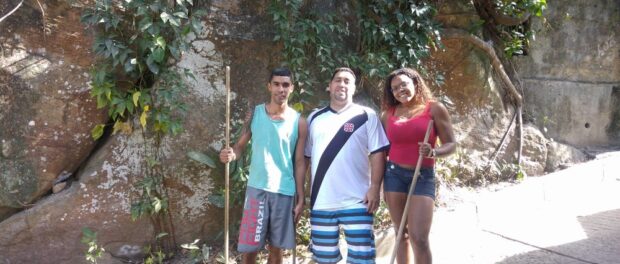 RioOnWatch: What is your role as the neighborhood association president?
Jorge: My duty is to ensure that the community evolves by providing maintenance, repairs, classes and everything that brings improvements to the community. To represent the community in the best way possible. To make my community a model community.
The president's job is 24 hours a day. Something might happen at the break of dawn. A pipe breaks and you have to go help out. There is no break.
We have community meetings and hold mutirões [collective action] to clear trash from the hillside. We are part of a Community Union of about twenty communities throughout Rio who meet to talk about electricity, Comlurb, Cedae, and what can be done to improve our communities. The electricity company, Light, is what gives us the biggest headache. They still haven't come to fix fallen posts that we've had here for some time. Some residents are taking legal action against Light because they are paying exorbitant amounts for energy they don't use. This is what we talk about in the community meetings. Other than that people talk a lot about politics. At that point I run away. I had a boss who taught me that to get stuff done you don't need to suck up to politicians.
We have meetings with public agencies to talk about our demands. They don't always make the changes [we ask for]. They look for contexts with a greater incentive to act that will bring more visibility for them, such as areas at great risk or pacified areas. Here you won't find either of the two, so it won't give them publicity.

RioOnWatch: How have the residents received your work?
Jorge: We publish our projects on the community Facebook page. The residents are grateful that we are fighting for something that will benefit them. Despite this there are some who complain, everyone complains about change. "What are you doing that for?" but afterwards say "Damn, that turned out well!" It's always like that.
RioOnWatch: Why did you run for president?
Jorge: The last president had to step down because of her son's poor health. We didn't have a president for a year, so the community was left a bit neglected until they held a new election. Some residents invited me to support them in running for president, but they later said, "the people here really like you. Why don't you run for president?" I said I would only run if my vice-president Paola Victor ran with me. Paola is young and well-respected and likes to do good work. So we ran and it was the greatest voter turnout we've ever had in the community. The people here liked us. 
The community agreed that instead of a four year term, we would change the presidency to two years to give an opportunity for the president to really improve the community, or to replace them with someone who really wants to do something, sooner rather than later. It was an agreement between the parties for the benefit of the community.
RioOnWatch: What is your ideal for the community? What do you hope to see for the community ten years from now?
Jorge: My dream is to complete the community sports center. I would like to see the community more relaxed, more activities for the community, fewer houses in areas of risk, fewer people in need, to be able to go help out.
RioOnWatch: Do you plan to run for president again?
Jorge: I won't run for the presidency again. I only became president to do the things I thought we could fix, and to give opportunity for others to come after me and make things even better.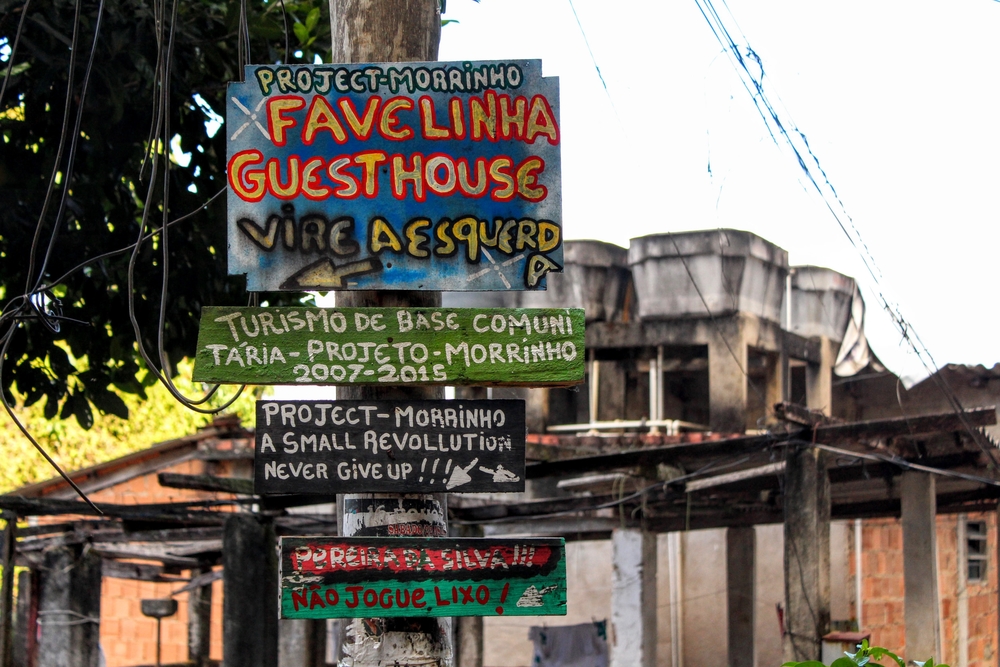 RioOnWatch: What have been the greatest challenges you've faced as president of Pereira da Silva? The greatest rewards?
Jorge: The greatest challenge are the residents, because you have to convince them you will do your best. The greatest reward is when everything is ready. When you see the things you planned out realized, that people liked your work. When the children say, "Cool, it came out great." That is the greatest reward. It's not about money because we don't receive any.
RioOnWatch: What is government intervention in the community like?
Jorge: Because we are not considered a risk area, and we are not a pacified favela, the authorities don't want to come in to fix things or do maintenance, because of the [lack of] visibility. So we depend on ourselves to make the improvements with the support of friends who come to help.
RioOnWatch: Have the 2016 Olympics had any impact on your community? Do you think the Games will leave a legacy?
Jorge: Impact here in the community? None. No benefits. Legacy? Maybe there will be one. Depends on the political will to leave a lasting legacy. But that depends on them, to come together with the communities instead of closing themselves up and being the only ones to benefit. But if they leave it only to the high executive power, nothing will happen. The communities will [continue] to be abandoned.