Boca de Favela (Favela Mouthpiece) is a Facebook page that complicates common stereotypes about favelas, aiming to go beyond clichés and social stigmas by sharing real life stories. The creators, Mayara Ximenes, 24 and Jeandson Moreno, 23, are themselves from the favelas of Engenho da Rainha and Muzema respectively. Mayara and Jeandson plan the content of the page and capture moments in favela residents' lives in a similar style to Humans of New York, telling their stories in the caption. These stories capture the diversity of favela residents and show that favelas are culturally vibrant communities.
Describing why they started the page, Mayara Ximenes says: "The idea of the page came up when we began feeling bothered by the way the media portrays favela territories and those who live in them. Narratives about these spaces always come loaded with clichés related to criminalization, violence, hypersexualization, etc. And we, who live in favelas, know that favelas are a lot more than that, we know how much power and strength exists in these spaces."
Started in May 2016 and already counting over 16,000 followers, Boca de Favela also shares news about favelas in the city of Rio, focusing on community groups, initiatives and solutions. The combination of community action and storytelling showcases the strength, creativity, wit and resilience of favela residents as well as their ability to constantly reinvent themselves. As the creators of the page describe, Boca de Favela uses personal narratives to weave a story, a history.
Below are a few of the posts featured on Boca de Favela. 
Mirna Moreira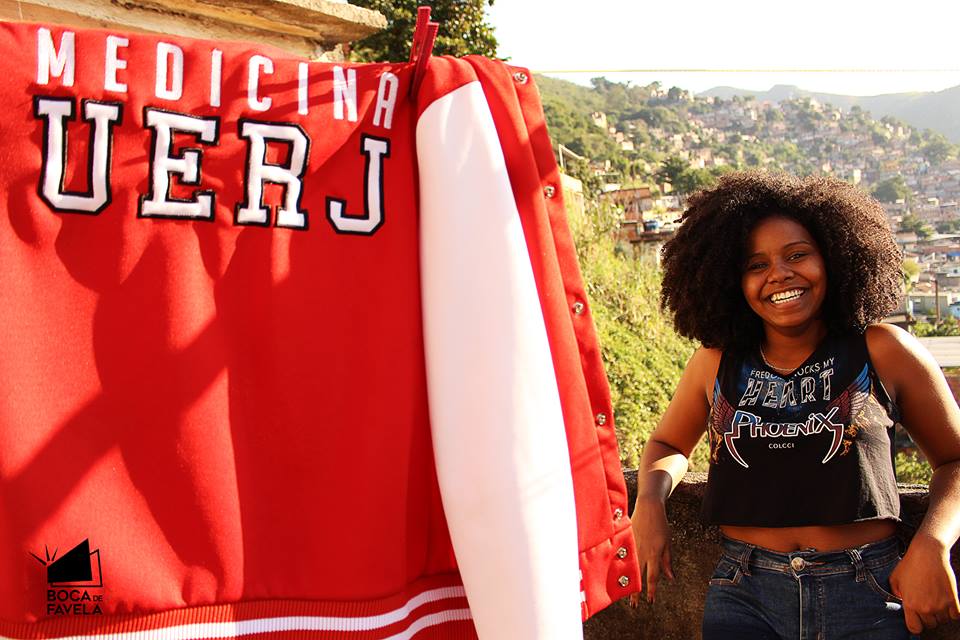 "I remember when they used to ask me about what I wanted to study and I used to say medicine, there were some people who would stop and say: 'oh, but do you really want to study that? You don't look like a doctor.' One time in prep class for the entrance exam, a teacher asked us to write on a topic that I can't remember, but I remember that he said: 'look around and tell me how many black students are in this classroom.' That moment, all eyes in the classroom turned to me.

The best thing I did was to embrace my look as a black woman before entering the university space. I understand that it is very important for me to be there because of representation, which should also extend to spaces outside academia. When I wore my white coat and  represented UERJ (Rio de Janiero State University) going up to the Morro dos Macacos favela, as I did for an initiative on teenage sexuality in a public school, the black girls in that school asked to take pictures with me, praising my afro hair and in a certain way seeing me as a reference, I only became more certain of this.

On the day of that initiative in the school, I went back on the same bus as one student and when I got off at the same point as her here in Complexo do Lins, she asked: 'What are you doing here?' She didn't expect me to get off here in the favela. I cried a lot; it left a strong mark on me because I never had a physical representative, someone I could look up to in this professional field, a black woman doctor. You know?

For that reason, primarily in academic spaces, I make it a point of saying that I am from the Complexo do Lins. This place is part of my identity. I know where I come from, who helped me get here, and it wasn't any institutional doctor, it was my mom who worked as a cleaner for many years, my dad who worked as a bricklayer and always prioritized my studies. I know the black men and women who built the base so that I am here today."

– Mirna Moreira from Complexo do Lins, North Zone
Nélio Fernando
"Theater is powerful, that's why it's not everywhere.

I came to Rio to continue working with art. I got involved with a theater group here in the City of God, and I have been living here for ten years now. Those who come here from somewhere else have to gain the confidence of those who lives here. The people here have already been very exploited, they are already wary, and we need to show that the projects we bring are serious and have continuity. We arrive with a proposal, and the favela as well has its own proposal. One time a colleague said that she would bring culture to this place, and I contested because the favela has culture. What we need is dialogue, we need to exchange experiences and with these exchanges as a starting point, we discover other possibilities of construction.

Here exists interesting work with theater, such as the group Os Arteiros, which has already become a reference. In addition, City of God has incredible artistic diversity; it has funk, samba, black music, MCs, passinho, and rock happens here too; the City of God rock ball is already in its 17th edition, and I have been participating as a performer in this festival for 15 editions now."

– Nélio Fernando from City of God, West Zone
Cheyenne
"People get here and ask: 'oh, is the mechanic here?'

I've suffered a lot of prejudice being a woman working in mechanics. Today I suffer less, but I still get it. It's a really sexist area of work. There's are customers that when they see me ask: 'are you going to do the repairs? Are you sure you know how to do it?' But lots of people give praise too. I prefer to hold onto the compliments.

I learned how to fix bikes from an uncle who also worked his whole life doing this. My knowledge is entirely based on practical experience. I've never done a theory course. I've worked in bicycle repair shops in Leblon, Copacabana and Barra and eventually decided to set up my own shop. I've had this place here in Muzema for three years.

I live here with my girlfriend and our adopted daughter. Those who know us know the love we have for her. It was our dream to have a child. I always say that I adopted because a couple within the so-called 'normal' standards didn't want the child, right?"

– Cheyenne from Muzema, West Zone
João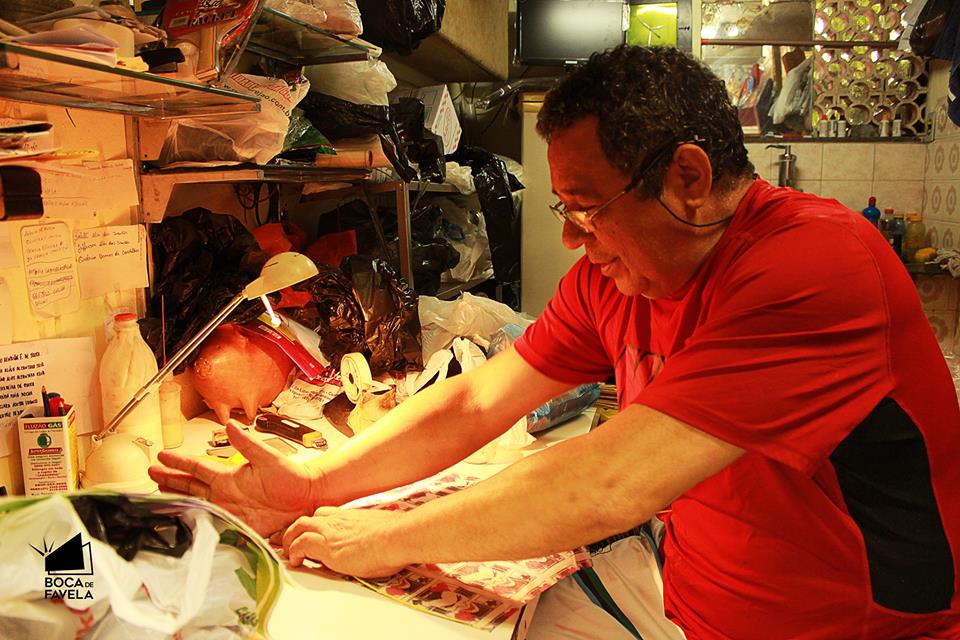 "I'm known as João of the Kites. I make a living from kites!

I came to Rocinha from Ceará when I was two years old. I've lived here for 58 years. I came from Ceará on the back of a truck. At that time there wasn't transport, just lorries. When I was ten I was already working on vegetable stalls in Boiadeiro at the bottom part of the hill. After I worked in a used furniture store, and when I came of age working in a restaurant, but I didn't really like being a chef. I became a pharmacist! I worked in that profession for over 30 years.

After being unemployed for a time I started to make kites at home to sell. I've had little shops in different parts of Rocinha. I've always loved flying kites, but in my time we flew kites from the ground or the roof. We didn't have a roof terrace yet, it was just a shack. You could count on your hand the houses with terraces. In my childhood I was beaten a lot because of kites. My dad hit me a lot. This year it'll be two years since he died, and he told me he regretted beating me because of this. Today when I pass in the street everyone calls out to me. I'm known as João of the Kites. I live from kites!"

– João from Rocinha, South Zone
For more stories from Rio's favelas, follow the Boca de Favela Facebook page.
https://www.facebook.com/BocaDFavela/photos/a.499506703575901.1073741828.499501920243046/519406771585894/?type=3&theater