On June 23, the Largo do Cruzeiro square in Providencia in central Rio de Janeiro hosted the Festival Subindo a Ladeira (Climbing the Hill Festival), with groups from inside and outside the favela taking part. The festival took place over the course of a day and included theater and other performances, hip hop, capoeira, a cinema club and environment action. The square in front of the Nossa Senhora da Penha church was occupied by groups such as Bando Teatro Favela (theater), Núcleo da Providência da Capoeira Ventre Livre (capoeira), Efeito Urbano (dance), Horta Inteligente (urban gardening and environmental education), and Cine Providência (cinema), among others.
"The festival came about after we did a skills course organized by Favela Criativa (Creative Favela)," said Mônica Saturnino, 41, one of the event organizers. Another organizer Cíntia Sant'Anna, 30, explained that she and Mônica have been holding workshops in the favela for five years, but it was only last year that the Bando Teatro Favela theater group was formed, putting on a play called "Entre Becos e Vielas" ("Between the Alleys and Narrow Streets"). The play formed part of this year's festival. Mônica and Cíntia took part in the street theater group Grupo de Teatro Tá na Rua, directed by Amir Haddad: the group perform in Lapa, downtown Rio. The two women spoke about how this experience gave them the desire to occupy the Providência square and have more direct contact with residents. "One of our objectives was to occupy this space, so we occupied the square," said Sant'Anna.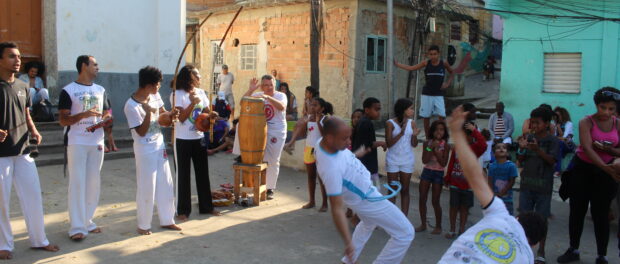 At around 1pm there was a capoeira circle with lots of children from Providência taking part, organized by resident and capoeira teacher, Rogério Silva, 35. "It's incredible for me to participate in this circle because I started playing capoeira here in 1996, when I was 16 years old. And now I'm here with the capoeira master, Mestre Batata. It's very satisfying to see these kids playing today, getting to know capoeira," he said. The capoeira group Núcleo Providência do Centro Cultural de Capoeira Ventre Livre has existed in Providência for more than 20 years.
Juliana Melo, 27, director and actor from the dance group Efeito Urbano, also praised the festival's initiative. "It's through combining our strengths that we manage to achieve things," she said. Efeito Urbano was created in 2011 and is composed of young Providência residents. They hold free workshops every Wednesday evening from 6-8pm. Mixing hip hop, performance skills and theater, the group will premiere their first performance, "Funk – Força Urbana Nacional Carioca" (Funk – Rio's National Urban Force), on September 18, at the Arena Dicró in Penha.
"I think art is a weapon that works for good. I carry my dance as if it were a weapon for good," said Juliana, who started to dance in 2002. "I say to [the kids] that dance is a way for us to work on concepts such as respect, ending discrimination and breaking taboos. Art is a kind of magic. We are a little bit of light in Providência, in the region, sharing our knowledge and bringing people to the stage."
Providência resident Maria Lúcia, 50, watched all the festival's shows. She works as a general assistant at the Fluminense Federal University (UFF), crossing the Guanabara Bay every day to work Monday to Friday, and relaxes at the weekend by being at home with her husband and meeting her neighbors in the square. "I really liked the hip hop and capoeira," she said. "I wish we always had this kind of thing happening in the favela: it animates people."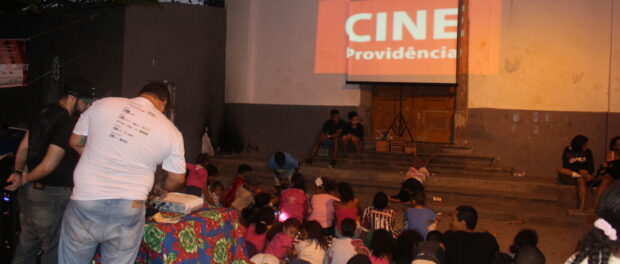 The last event on the festival program was a screening of ten short films about Providência and the surrounding Port Region of Rio. The films were launched at the latest editions of the 72 Hours cinema festival: an event where filmmakers submit films they've made in less than 72 hours. Alexandre Lourenço, 37, from Cidade Nova, was the curator of the screening and the films shown covered issues such as gentrification, racism, religion and childhood in favelas. Cine Providencia was founded in 2014 and Alexandre has been working in the community for the last two years. "We have an archive of 120 short films made in the Port Region alone," he said. "We are a mobile organization and we do exchanges with other communities in Rio, such as City of God."
The short film Olhares da Providência (Providência Viewpoints), produced by Alexandre Lourenço, was created for the 72 Hours festival this year. "It was great, we had to write and produce the whole thing in three days and it was all done here in Providência," he said. The film screening moved a lot of the residents in the audience who in many cases could recognize either themselves on the screen, or their neighbors or places in the film that were used for different scenes. At one point lots of children in the audience shouted out "It's Vera!" when they saw an image of Providência resident Vera Lúcia Ferreira, 48, on the screen.
"I actually didn't see myself on the screen because at that moment I was serving someone," said Vera Lúcia, who lives and has a bar in front of the church square. "Ever since I was born my mother always worked serving people. I've been in this house for 28 years. After my mother died I took over this bar myself." Vera Lúcia said she liked the festival and hoped to see more activities like it in the favela.
Cíntia and Mônica are preparing a new performance, this time about women. "We know that the favela is a feminine place. The whole world is," said Cíntia. "I got into theater as a way to improve my self confidence and the idea is that through theater we can show people that there are other possibilities, other options. Theater showed me other options; it showed me that I had choices," she said. "I often talk with people who say, 'but everyone can make their own choices…' I don't believe it. Here there's often one option that holds sway, when you need money and someone offers you R$100 to do something, you know? We want to show that there are other options out there. And we give what we know how to give: theater!"
As well as organizing the festival and being founding members of the theater group Bando Teatro Favela, Cíntia Sant'Anna and Mônica Saturnino have also created a cultural organization called Associação Cultural Colombina, which they run from Cíntia's home in Providência.