Anyone walking around Maré's Olympic Village in the morning already knows who trains there: Edivandro Rosa, 38, who made the space a stepping stone in learning how to live with blindness. A resident of Vila do Pinheiro in Complexo da Maré, he already lived in a house on stilts and on Rua do Canal. When he was little, he helped his mother pay the bills by collecting cans. "I did that to survive. Sometimes we didn't have beans, we didn't have rice. But my mother was a fighter and that's why we never went to bed hungry," he asserts.
At 20 years old, he discovered the glaucoma, a lesion in his ocular nerve. Even with treatment, at 33 years old he completely lost his vision and started to see the world in another way. He was depressed for two years: "Since then I've been through a lot, but I managed to come out on top." To understand and to accept the future from then on was a huge challenge. But his life changed.
He got to know the Jaqueline Terto Project in 2013 and since then has learned to practice sports. He wakes up at 4am and walks close to 1 km on his own until he reaches the Olympic Village in Maré. "My daily training is preparation for classes. My day-to-day life is pure athletics."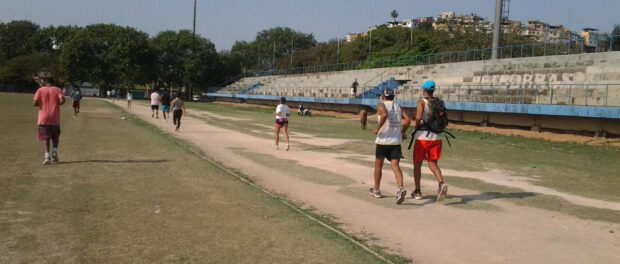 To get quality training, he receives assistance from the project, which is composed of professionals from different areas: yoga, capoeira, hydro-capoeira and hydrotherapy. Other aid is the social benefits from the Rio de Janeiro government, which helps maintain his house.
Edivandro is single, and that's why he has more free time to dedicate to the profession. His mother, who lives with him and who he calls a warrior, accompanies him, even from afar, at all his competitions. The lack of eyesight doesn't stop him from doing anything. "I only get sad about the things I don't do," he says.
The greatest joys in the athlete's life are his victories. He already participated in countless marathons, he collects medals and has two trophies on his shelf. One of them he got recently, after coming in second place at the 2016 International Ultramarathon of Angels. The 235 kilometer race took place in the city of Passa Quatro, going up and down the mountains of Minas Gerais state. The athletes passed through five territories, one of them being the city of São Lourenço. Edivandro was joined by four athletes without a disability and showed there are no limitations: he did 26 hours of the race.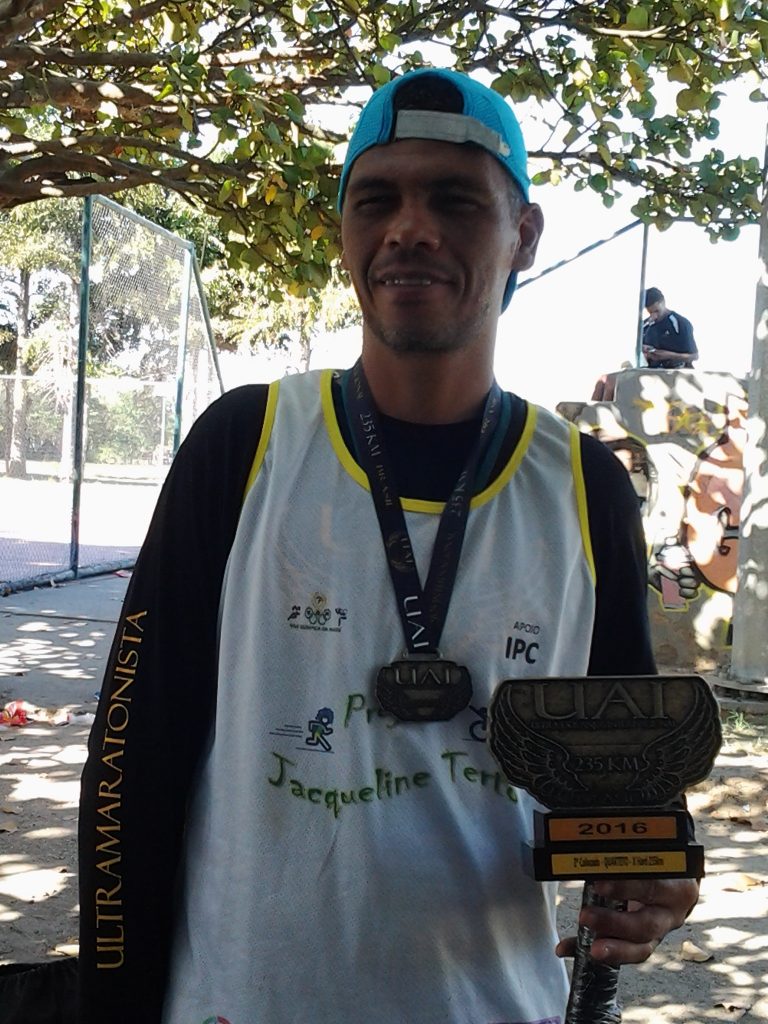 "For having done this race, I can say that I won. My biggest dream is to be recognized internationally. But I think I'm close. This race will bring me lots of good things still," he says, with a smile on his face.