On Niemeyer Avenue at the entrance of Vidigal, in the community's Human Rights Plaza and at its first kombi and moto-taxi stop, there's a colorful graffiti wall portraying the community's history in a sort of territorial museum. Above it, green plant tops peek over the roof to provide a fitting natural frame for the artwork, at the first public transport stop in Rio covered in medicinal herbs where, according to its creator Guto Graciano, "the harmony of the space promotes for the people an open-air gallery of ecological art."
The Organic Medicinal Roof and Living Gallery have been installations in Vidigal since 2014, when the local government of Rio de Janeiro's South Zone granted the Vidigal Neighborhood Association permission to use the public land for community purposes. The project is carried out by a collective of residents focused on "architecture, agriculture, and art," that among other roles, gardens, creates artwork, hosts community events, and promotes nutrition. Two main artistic curators lead daily operations and strategizing for future growth.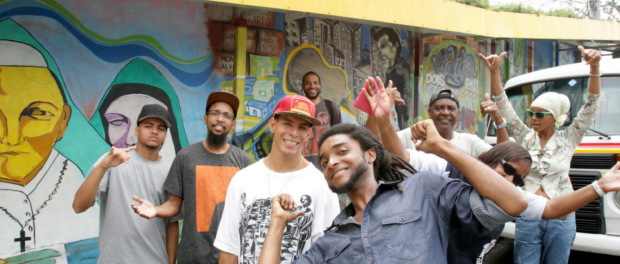 Carlos Augusto Graciano, known to friends as Guto, is a 34-year-old urbanist and resident of Vidigal. He is the architect of the project, using his technical knowledge to transform the rooftop and visualize how residents will interact with the space. Guto's role as the project's architect is complemented by his collaborative partner Graça dos Prazeres, 43, also a resident of Vidigal. Graça brings her skills as a chef with a specialty in health and organic nutrition.
The project is financially supported entirely by local residents and by donations of human capital from the artistic coalition involved in the work. Local businesses, van owners, and the Vidigal Residents Association lend support so all residents of Vidigal will benefit from the project. All of the plants in the garden except one variety–dragon fruit–are native and thus sourced locally without cost.
According to Graça, the project is unprecedented in Rio de Janeiro as the only community garden that is both medicinal and self-sustaining. In the garden, collaborators grow herbs and plants such as boldo, two varieties of spiderwort, dragon fruit, and cactus. Throughout the process, the rooftop space is used to educate the public about gardening and sustainable practices.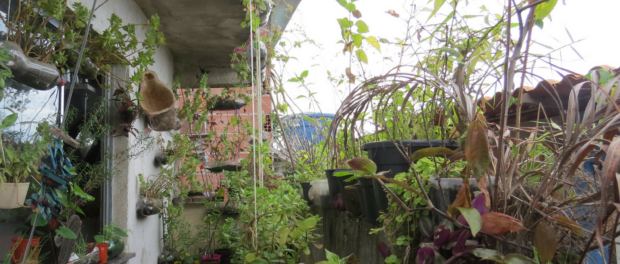 Graça wants to help "break the paradigm in Brazil" whereby part of the population avoids healthy, fresh food due to lack of access and cost. Green juice, she says chuckling, is not just for Giselle Bündchen or Beyoncé. She wishes more Brazilians would open their mind to new foods and new lifestyles, especially home gardens and the medicinal benefits of herbs. As an activist and proponent of alternative health care, trained in popular health education at Fiocruz, and volunteering when necessary at the Dr. Rodolpho Perissé medical post in the community, Graça has encountered many people suffering ailments that may be helped by lifestyle changes such as increased consumption of fruits and vegetables.
Graça sees the organic rooftop garden as an important tool in the process of community education, and since the garden's inception, she recounts that many of her neighbors have begun growing backyard or windowsill greens of their own.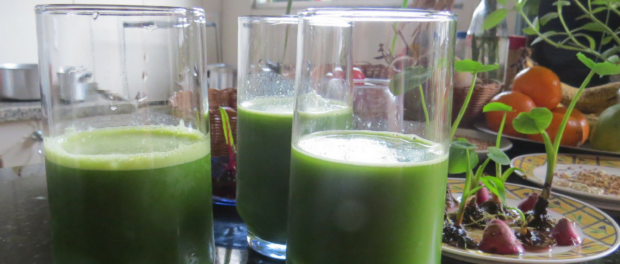 As an architect, Guto believes his role goes beyond solving physical challenges. He says architects can design spaces that promote social equality. Architecture typically imposes an elite or dominant narrative. Guto sees the art mural and living roof as an act of community resistance against this narrative. By designing, building, and maintaining a space that is run collectively, the project is a mark of resilience in Vidigal.
Meanwhile, the art mural can be updated, as long as it doesn't deviate from its intended focus, to depict local history. Scenes painted contemplate the living monuments of Vidigal as forming part of the city's heritage.
As residents and community leaders, Graça and Guto are very aware of gentrification and favela tourism in Vidigal, acknowledging the multi-faceted nature of these issues. On one hand, Graça notes, the influx of middle class residents has brought a greater intellectual diversity and artistic richness. However, she knows many residents of Vidigal who were not able to afford the steep rise in rent and everyday goods and had to relocate to distant neighborhoods. In the context of how these changes are happening within Vidigal, Guto and Graça see community initiatives like their organic medicinal roof and art gallery as essential to cultural preservation and celebration.
Several local media outlets have recognized the work of Guto, Graça, and the entire collective. Guto explains that "the great differential of the works of the Organic Medicinal Roof and Living Gallery is that they are the first living monuments in Rio de Janeiro, maybe in Brazil, and they are the first works where the constructive elements of the monument are the artistic abilities (talent) of the people involved, where mutual work sought the reconciliation of intuitive and technical knowledge, making it possible for ego to subside and instead give way to experimentation."
Last year, when Vidigal celebrated its 75th anniversary, the space was declared a "mark of resilience" of Vidigal's 75 years. Shortly after, Municipal Bill nº 1583/2015 declared the organic medicinal roof an urban cultural heritage site of immaterial nature in Rio de Janeiro, a decision that is still pending in the City Council, with a favorable opinion. Meanwhile, on August 8 of this year, the day when the medicinal roof celebrated its first two years, it became part of the commemorative agenda of Rio's City Council, on the map as Living Monuments of Vidigal as Heritage of Rio.
Guto and Graça wish to thank all those involved in various aspects of the project:
– Agriculture (medicinal garden): Graça dos Prazeres (chef of organic cuisine) / J.P. OLIVER (environmental manager) / Tiago Oliveira (biologist)
– Education (local literature): Professor Barbara Nascimento /supporters: Professor Paulo Cypa and Journalist Dan Delmiro
– Vidigal anthem (art): MCs: Flip / MK / TG / VINCI / TOM / Composers: Marquinho do 14 and Marcão
– Graffiti "Urban Art" (art): LUIZ SK / Vinicius revolução / MAlac Abreu/ Sonia Magalhaes / AfroGrafiteiras
– The community street-sweepers of Vidigal
– Vidigal public schools: Municipal School Almirante Tamandaré and Municipal City School Djalma Maranhão
– Vidigal Residents Association (AMVV) and leaders (opinion formers) in Vidigal
– Van owners
– Sympathetic businesses and residents of Vidigal