Celebrating literature from Rio de Janeiro's favela communities, the annual Literary Festival of the Urban Periphery, or FLUPP, returned for its fifth edition this month. This year's event took place from November 8 to 13 in City of God, bringing together acclaimed authors, musicians, filmmakers and artists from across Brazil and the world to give workshops, lectures and roundtable discussions in the community. The festival also held its third international slam poetry contest, as well as a free book fair.
Brazilian authors Julio Ludemir and Écio Salles founded the festival in 2012. The name FLUPP refers to Festa Literária das UPPs, or Literary Festival of the Pacifying Police Units. While the idea was first conceived as a space to foster creativity and showcase favela-based literature in communities experiencing the police pacification program, the founders have since extended the festival to other favelas that have not received UPPs. The name of the festival is also a twist on FLIP, the annual and internationally renowned literary festival in Paraty in Rio de Janeiro State.
The idea of the 'periphery' in this festival extends beyond the geographical sense to include communities and identities that are marginalized in society. The themes of the activities varied from racism, homophobia and sexism, and legacies of colonialism, to self-empowerment and self-determination.
Besides this annual event, the festival includes two other elements that take place throughout the year. First is FLUPP Pensa, or FLUPP Thinks, a six-month program leading up to the festival, in which seasoned writers visit public schools to provide workshops for favela youth. The second is FLUPP Parque, or FLUPP Park, a writing contest for young authors. The festival also honors an author every year, this year paying homage to Caiu Fernando Abreu, a Brazilian author from Rio Grande do Sul who died of AIDS 20 years ago.
Each year the festival takes place in a different favela. Past editions were hosted in Morro dos Prazeres, Vigário Geral, Mangueira and Chapéu Mangueira. This year's festival in City of God coincided with the community's 50th anniversary.
A new, exciting component was added to the program this year: the first ever Comics Award Competition, where the accounts of older favela residents referred to as "founding residents" were written in comic form. The winner of this contest will have their work published and will be awarded tickets to the 2017 Angouleme International Comics Festival in France.
More than 100 authors and artists representing over 20 countries attended FLUPP this year, including Akwaeke Emezi of Nigeria, Haroldo Costa of Brazil, Guy Deslauriers of Martinique, Antônio Paciencia of Angola, Nadifa Mohamed of Somalia/UK, and BNegão of Brazil, to name a few. Activities included film screenings, a theater performance by Vidigal-based group Nós do Morro (We of the Hill), and roundtable discussions including the following themes: Literary Nomadism, What Stories Do We Tell About Ourselves?, Being Trans and Creative, Militancy is a Women's Movement, and Quilombo Literature. One panel entitled The Aesthetic of Occupations featured Maria da Penha from Vila Autódromo and Diana Bogado from the Evictions Museum.
Other activities included storytelling for children and painting workshops. The finalists for this year's Rio Poetry Slam were Edmee DiosaLoca of Mexico, Mel Duarte of São Paulo, Brazil, Chris Tse of Canada and Sergio Garau of Italy.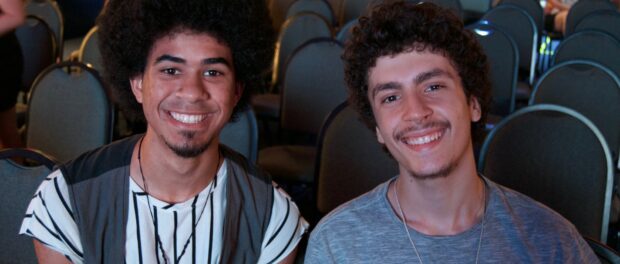 For participants Matheus, 19, and Daniel, 17, FLUPP is an exciting occasion to develop their writing skills, produce new work, and meet new people of all ages and from all around the city. Daniel is from Freguesia in the West Zone. He was first introduced to FLUPP in 2014 as a result of workshops that were provided at his high school. He then met Matheus this year at CEFET, a federal technical school, where the two are enrolled in a course. When Daniel first read Matheus' poetry he immediately encouraged him to participate in the FLUPP workshops happening every month for young writers throughout the city.
Matheus is a resident of Complexo da Maré in the North Zone, and his first FLUPP event was a workshop in Vila Autódromo in June. Seeing the resistance movement in Vila Autodromó awakened his interest in the project and inspired him to continue. Through FLUPP, Matheus has been able to discover parts of the greater metropolitan region and other favela communities that he had never had the chance to get to know before, such as São Gonçalo, Vila Kennedy, and now City of God.
The idea of the festival is to recognize and validate cultural production in spaces that often get ignored by society and especially the world of the arts. As Matheus explains, FLUPP "reveals that even though this place has limited access, it already has culture. It's just not revealed, this is exactly what happens with those who participate in the training program. For example, I wrote, but I never considered myself a poet. But once I started to see that this belonged to me too, I realized that here too we have culture. What FLUPP proposes for the region is exactly what it proposes for the young writers and participants of the project."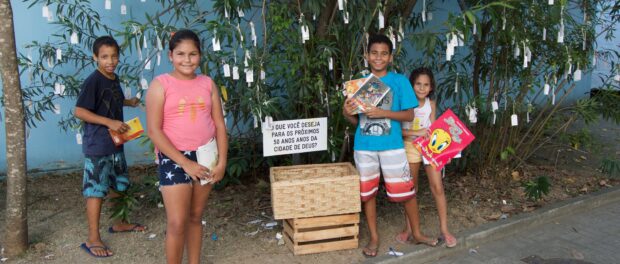 These two young participants are more than just audience members at this festival: they are also creators, artists and writers of the FLUPP program, and feel a real involvement in the project: "I was supposed to arrive early today, but I only got here at around 3pm, due to shootings in Maré. It wasn't the first time and unfortunately it won't be the last, but I was getting ready, afraid, sitting on the floor, waiting for the shootings to pass, and to be here now, smiling, giving this interview; there is nothing to describe this, it's immeasurable, you can only feel it."
Daniel agrees, saying that "[FLUPP] is a rejuvenation of hope. It is guidance for mobilization, a renewal of the spirit… It isn't a literary 'fair', it's a literary fest!"
Matheus and Daniel both expressed joy at seeing younger children around them excited about getting free books. Even children who couldn't read yet were eager to start, saying, "I want to, and I can!"
To view the full program and video footage of the event, check out the FLUPP Facebook page and official website.