RioOnWatch was the first news site to report on the brutal Favela do Metrô eviction back in November 2010. A year and a half later we revisit the scene to see how residents have faired. Slideshow is also available.
*************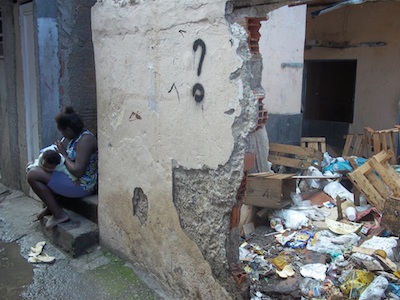 Two years on from the first announcements that their houses would be cleared to make way for World Cup 2014 developments, residents of Favela do Metrô are still living through the brutal, drawn out destruction of their community.
A stone's throw from the world famous Maracanã stadium, Favela do Metrô was founded 33 years ago by workers from the Northeast of Brazil hired to build the adjacent Maracanã metro station from which the favela takes its name. Situated at the foot of the much larger and well-known Mangueira favela, Metrô was in 2010 home to over 700 families and 126 businesses, mostly auto repairs and mechanics that line the main highway.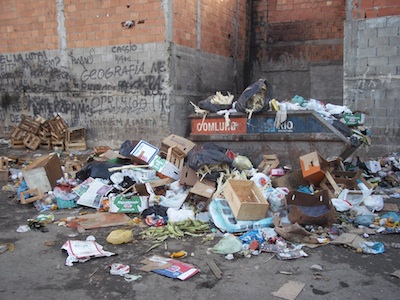 Speaking in the forecourt entrance to the community, in front of a wall marked '[Mayor] Eduardo Pães and [Housing Secretary] Bittar [are] enemies of the people,' Francecleide Costa, president of the Favela do Metrô Resident's Association explains the demoralizing process the community has undergone: "In July 2010 City officials entered the community spraypainting numbers on the houses, making notes and taking photos. We realized we were going to have to leave. We didn't know what to do."
Standing near a reeking, overflowing Comlurb garbage skip, left abandoned by the City which has ceased providing basic municipal services, despite 300 families still on site, Francecleide continues: "People have their whole lives here, their house, school, work, and then someone comes along saying you don't have the right to live here anymore."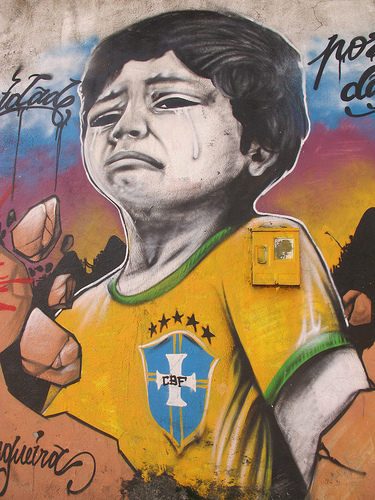 Official announcements and pressure to leave followed, with replacement housing offered under the Minha Casa Minha Vida iniative in the West Zone neighborhood of Cosmos, over 70km from Favela do Metrô. Buckling under pressure, 107 families moved to Cosmos in December 2010.
Community resistance aided by the state's public defenders office, the Catholic church, and international press attention secured replacement housing nearby in the new Mangueira 1 and 2 apartment developments. 248 families moved to Mangueira 1 last year, with remaining residents scheduled to be moved either to Mangueira 2, due for completion in the next couple of months, or at the next metro stop in Triagem.
Whilst residents have fought evictions, the City has gone ahead demolishing houses left behind by residents taken to Cosmos and Mangueira 1. Currently, the skeleton of a once vibrant community lives precariously amidst the rubble.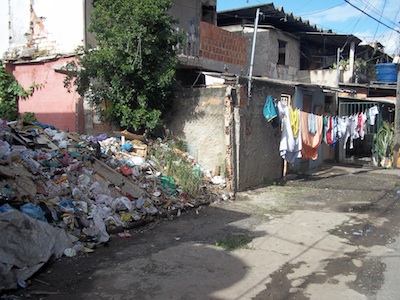 Walking through the community, washing lines hang over the garbage and rubble where neighbor's houses once stood. Francecleide laments the current situation: "Light (the electricity utility) and Comlurb (waste collection) don't come here anymore. We have to call and call to get them to take away the garbage piles. It's very difficult to live with. It's ugly and dirty. There are lots of mosquitos, Dengue and rats. I run through here at night because I'm terrified of the rats."
Abandoned and half demolished houses have attracted homeless people to the community. "A lot of people have come trying to sign up for relocations. It creates a lot of tensions in the community. They don't help with community trash collection. They just make things worse."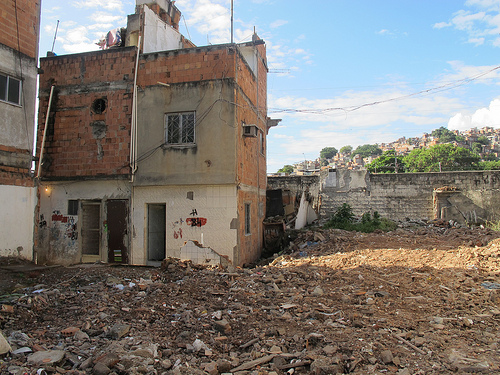 Walking further away from the metro station, the number of houses standing decreases, leaving remaining residents isolated among cleared spaces filled with rubble and semi-demolished structures where drug use, prostitution and robbery have become commonplace at night. 78 year old Sebastiane de Souza was robbed at her home, currently opening out onto a large cleared space. "I'm scared to go out," she says. "We're alone here. We're in God's hands now."
Approximately half the community has already left. Of those that moved to Cosmos, the dislocation from their places of work, as well as friends and schools, has been difficult.
Sebastião had lived in the community for 25 years before moving to Cosmos in 2010. Pointing to the cleared area where his home once stood, he says "Everything I have is here. I work here and now I have to leave at 5am to get here on time." He goes on, "[The authorities] have thrown us to the side."
Following the initial abrupt eviction of 107 families to Cosmos, the 600 or so remaining families resisted, counting on help from the State Public Defenders and the Catholic Church. The international media and human rights organizations also brought attention to their struggle.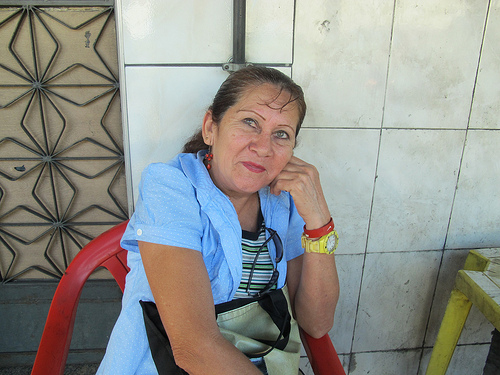 As a result, others have been moved close by, to the 248-unit Mangueira 1 housing complex. Some complain of poor construction. Rosa Silveira, also a resident for 25 years, moved to Mangueira 1 fourteen months ago. She says: "I used to have a good house with a garage. They removed us for nothing. I wanted it to be better. There are cracks in my apartment and when it rains there are leaks. It's difficult. A lot of people are angry."
For those left living in the half-demolished favela, it's a case of waiting for Mangeira 2 and housing in Triagem. Francecleide believes the destruction of houses and subsequent neglect, as well as the removal of community leaders, are part of a strategy to weaken resistance of those that want to stay. It has worked. Francecleide, who exudes dignified strength as she guides us through the community she's fought to save, admits to being overwhelmed by the situation. "I never thought I'd say this but I'm ready to leave," she says. "It's unbearable and it hurts a lot."
The actual plans for the area after the final evictions haven't been made public, however it's believed to become a parking lot in preparation for the 2014 World Cup.
"For me, the World Cup means messing with the poor and taking away people's rights," says Franceleide, going on to cite the evictions in townships in South Africa for the 2010 Cup. She pauses. "But we only really feel it when it's us, right?"