For the original article in Portuguese published in Viva Favela click here.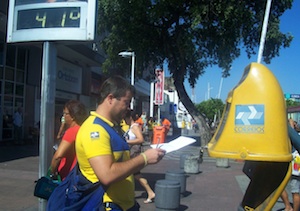 It was January. A hot, sunny Saturday. The thermometer marked 41°C (106°F). Everything suggested that this would be a perfect day at the beach. And it was, except for those who decided to get together in the neighborhood of Rocha Miranda, a Rio suburb, where the 3rd Community Conference on Environmental Health took place. The conference counted with the presence of City Councilman Edson da Creatinina, chairman of Rio+20's Parliamentary Commission, as well as members of the municipal Environment Secretary. At the event, environmental activists, representatives of residents associations from various favela communities across Rio and, most importantly, the residents themselves, all collectively discussed and identified possible procedures and strategies that would improve quality of life in favelas (at least with regard to the environment).
The first Conference, held in 2008, and the 2nd, in 2009, resulted in the creation of the Rio Charter and the Acari Charter, respectively. The documents contained important requests to the government, as well as possible solutions to environmental issues – discussed and decided upon by participants. At this year's event, the Favela Communities Charter was issued, which will be delivered during the Rio+20 People's Summit. With this the 3rd Conference plays a vital role: bringing the voices of the favelas to Rio+20.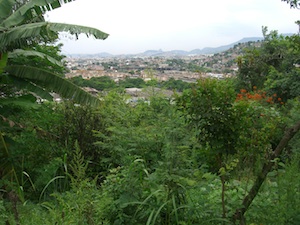 Themes such as waste and where it ends up, community reforestation and temperature rises were debated by all those present. There's a clear goal behind this mobilization, as NEPP (Núcleo Ecológico Pedras Preciosas) President Juscelino Porto explains: "We are here to engage in the Rio+20 Conference. Participants from around the world coming to the conference generally don't look to the movement happening in favelas. We have a special perspective about what goes on in favela communities and the difficulties residents face," he says. Juscelino, also an initiator of the Community Conference, concludes: "We will continue our efforts to expand environmental awareness; we are fighting for the cause to protect our planet and we will not give up."
The event received support and participation of Pan-Americana, a chemical company set up in the region of Honório Gurgel that embraced NEPP's cause. Tião Santos, another supporter representing Viva Rio, called attention to the fact that "Rio+20 is already here, which means twenty years have passed since Rio92. If we reexamine all the agreements made during Rio92 from a social, cultural and governmental point of view, and evaluate what has in fact been accomplished, the outcome is quite unfavorable." Tião further stresses the importance of collectivity in winning the environmental cause. "We are having the Official Summit and the People's Summit; both will count with a range of street mobilizations where social movements, federations, associations and committees will carry out a fundamental purpose in acting effectively and in an organized way to influence the activities of the Official Summit."
From its first edition to this day, the Community Conference has distributed over 36,000 saplings, including those of endangered species such as Brazilwood (pau-brasil). Our goal is that, in ten years, some of these saplings will already be trees helping to alleviate temperature rise.
What favela communities can do – and they are already doing – is to acquire this preoccupation and demand a say in the decisions being made. However, we know how difficult it is for us to be heard or even consulted when it comes to the environment. Regardless of these obstacles, favelas have a voice. And not only that, but we have arms that plow land, hands that plant and collect seeds and legs that walk tirelessly all day long, without polluting a thing.
For more information on community efforts and the environmental question: