The Rio Olympics ended exactly a year ago today. What now? Community journalist Gizele Martins describes life in Maré today as "dictatorship in the midst of democracy."
Militarization has always been a constant presence in favela life. Over more than 100 years of favela existence, the State has treated us as criminal, violent, and marginal.
The state criminalizes us every day. It blames us for our own existence. I remember during my childhood in the Maré favelas in Rio de Janeiro's North Zone, playtime was always interrupted by Military Police (known as Skulls) invading our streets. Shoot-outs disturbed our sleep. Screams and cries for help ring in my ears to this day; I can still hear them.
Democracy never served us in the favela space. Torture, quartering, and curfews are still a part of my life. During the last ten years of mega-events in Rio de Janeiro, Maré became more and more militarized by the day. I remember the 2007 Pan-American Games brought a round of militarization to our favela, in addition to the usual threats of eviction during the period. It is no coincidence that Maré is located close to the major expressways of Avenida Brasil, Linha Vermelha and Linha Amarela, as well as Galeão International Airport on Ilha do Governador.
Just like during the Pan-American Games in 2007, the 2013 Confederations Cup saw Maré once again surrounded by the army and, while the world was enjoying and screaming over goals, we Maré residents suffered slaughter. Thirteen people were murdered by the Special Forces Battalion (BOPE), with the army's support. Troops invaded the favela when residents tried to protest on Avenida Brasil over rising bus fares, favela criminalization, and other themes that were 'stylish' to protest across Brazil at the time. In these moments, don't forget that "in favelas the bullets aren't made of rubber, and they're shot out of rifles."
2014 was no different. The arrival of the World Cup only worsened our reality. At the end of 2013, TV news broadcasters informed us that all of Maré would see the invasion of army pacification forces.
The army occupied Maré for one year and five months and spent R$1.7 million (US$540,000) per day to maintain its troops there. Over one year and five months, more than R$500 million (US$159 million) was spent on the operation. Meanwhile over seven years, the government invested only R$350 million (US$111 million) in other public policies, fueling debate about its investment priorities inside favelas. Remember that we have one soldier for every 55 Maré residents, but have never had one doctor or teacher for every 55 Maré residents.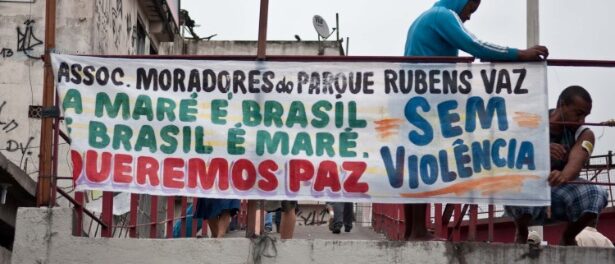 Tanks and more war tanks circulated freely through our streets at all hours of day and night. A tank sat on practically every corner of Maré. We were the targets, the enemies, the dangerous ones, the threats to the great event. All this just for being favela residents, just for that.
During the Olympic Games we suffered much the same. Each week more than five residents were among those wounded and murdered. During this period the government spent even more on militarization—billions were spent on arms, vests, spray, and bombs. And investment in education and health? Once again, we asked ourselves: what services and rights do we deserve in this so-called marvelous city?
We ask ourselves: how many more will die? How many more mothers and friends will see their loved ones turned into victims? How many houses will we lose? How much blood will we have to wash? How many tears will we shed? How many times will we run from the Skulls? How many times will we be censored? How many war tanks will I see from my doorway? We can no longer survive like this. We want the right to live, the right to exist, breathe, be part of the city and not of the margins! Democratic rule of law only works for a white, rich minority who lives in the formal city. The State does not work for the favela, and it never gave us the right to exist.
Gizele Martins is a 32-year-old journalist and community communicator from the Maré favela complex.