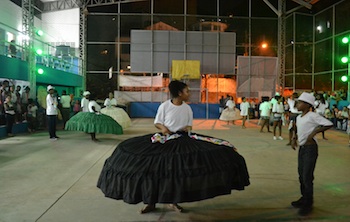 The communities that cradle Ladeira Ary Barroso are only a few shades less prolific than its namesake composer. This is where French director Marcel Camus filmed the modern-day Greek tragedy Black Orpheus, where a hike up a procession of stairs brings a stunning view of the Copacabana coastline, where diplomat Sha-Zukang's words "This is not a slum!" rang across the streets and the pages of O Globo, and where this past weekend, residents and partners from all three sectors have come together to offer the colors and sounds of its culture to the flood of onlookers that Rio+20 brings.
A few twists and turns up the slope of the hill, past the obstacles of construction work that line the path, bring us to the FAETEC (Fundação de Apoio à Escola Técnica) building, a technical school and center for many community events. As the Saturday morning clock approached eleven, a voice boomed from inside and spilled up and down the hill, joyfully announcing the start of the day's activities and directing the crowd of children to dance: they scattered and converged, rose and fell with the music, some more self-conscious than others about the gathering of cameras that accumulated around them.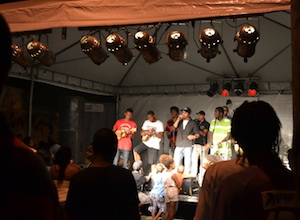 Behind FAETEC, Mulheres Guerreiras da Babilônia (Warrior Women of Babilônia) greeted visitors to their artisan booth, selling bags and lamps of recycled material next to a praça gastronômica (gastronomic plaza) where visitors could treat themselves to a plate of carioquinha from the local Bar do David. Just adjacent to the bar was Regina Tchelly setting up for Favela Orgânica, a new community business which makes brigadeiros and other delicacies out of often-discarded parts of food. With a good dose of enthusiasm, she pointed to the refeitório where her 2pm workshop was taking place.
She was even more ecstatic come nighttime, greeting me with a laugh and a high-five at the mention of her appearance in CatComm's video premiere earlier that afternoon, "Favelas As a Sustainable Model." The scenery had changed a bit by then: a projector screen showing the night's Cineclube feature threw a faint bit of light over the whole scene, and music once again vibrated out of FAETEC, where the Quadrilha Pinga Fogo performed a traditional dance. For a few seconds, the music cut off, and the abrupt pause was followed by a broad smile and a few laughs by the performers, who dove straight back into the rhythm, all grace and energy under the flash of green and purple lights. And up the ladeira (stepped incline), right outside my hostel, was a Samba show to close the night, music that holds within it so much of the hills, the favelas – these communities from which so much of Brazil's cultural identity springs.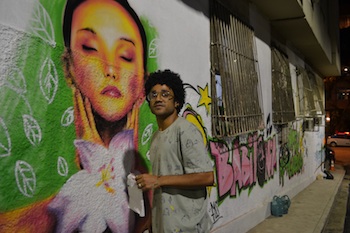 There was a wall of graffiti at the entrance to Ary Barroso that disappeared on Friday morning, painted over in all white. Having gotten accustomed to its designs over my two weeks living in Babilônia, I was disturbed and curious about its absence. That Saturday night, however, I turned the corner of Rua General Ribeiro da Costa to be received by a loud stereo system and bottles of paint lining the other side of the narrow sidewalk, the words "Babilônia" and "Chapéu Mangueira" emblazoned all bright and bold next to some crisp new designs mid-realization. "We're starting this new wall," said one artist, "to display the culture and creativity of our communities to the Rio+20 audience."
The program for the day's events proclaimed its mission to offer "a unique opportunity to interact and exchange experiences from different sociocultural perspectives," and to work toward the question: "How should it be – the community we want?" Though the long-term effects of these presentations are yet to be seen, the series of inter-sector and intra-city partnerships that led to their realization represents a new dynamic unfolding between the different sides of this divided city.