Hundreds of residents from across Rio de Janeiro gathered in City of God on Monday morning, November 13, to march to Mayor Marcelo Crivella's Barra da Tijuca residence in the West Zone in protest of numerous recent eviction threats across the city. Over 77,000 favela residents were evicted under the previous mayor, Eduardo Paes, and in the first year of Crivella's term a combination of old and new forced eviction threats have thousands more residents worrying about their homes and communities. Riding into the mayoral seat on the message that he would care for Rio's citizens, it feels to many that Crivella has made a 180-degree turn.
Most cases are in areas experiencing real estate speculation, begging the question of who the mayor is really caring for. Additionally, two of the threatened communities are situated in Barra, in Crivella's backyard so to speak, where evictions are referred to as a form of "social cleansing." Crivella went so far as calling one of these communities, the regional economic powerhouse of Rio das Pedras, "Barra's latrine," a view residents have been working tirelessly to combat through community clean-up activities (despite waste collection being a responsibility of the City). Despite a City official recently announcing in Rio das Pedras that "there will be no eviction" under this administration, the City's new plans for the favela remain opaque and residents believe the City still aims to remove many from their community. Communities currently facing eviction threats include: Horto, Rio das Pedras, Barrinha, Araçatiba, Maracajás, and Rádio Sonda.
The March Begins
Residents marched several kilometers from the City of God favela to Mayor Crivella's residence, which is located in a large and wealthy condominium in Barra da Tijuca. A Facebook post announcing the protest had explained: "Mayor Crivella prioritizes real estate interests to the detriment of the population… Democracy in Brazil is threatened, let's unite!"
Maracajás Road, Represent!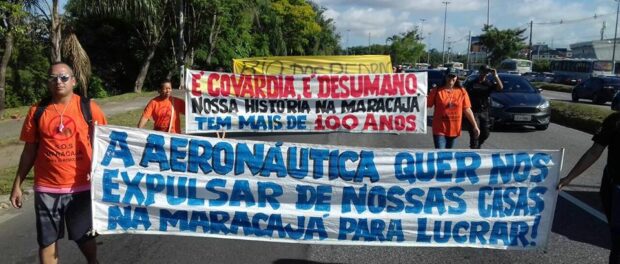 Although the community of Maracajás Road has existed near Rio's international airport on Ilha da Governador for some 100 years, Brazil's Air Force has demanded residents destroy their own houses and leave the area. Maracajás families were joined on Monday by the movement from Rádio Sonda, a neighboring community also facing eviction threats by the Air Force.
Araçatiba, Represent!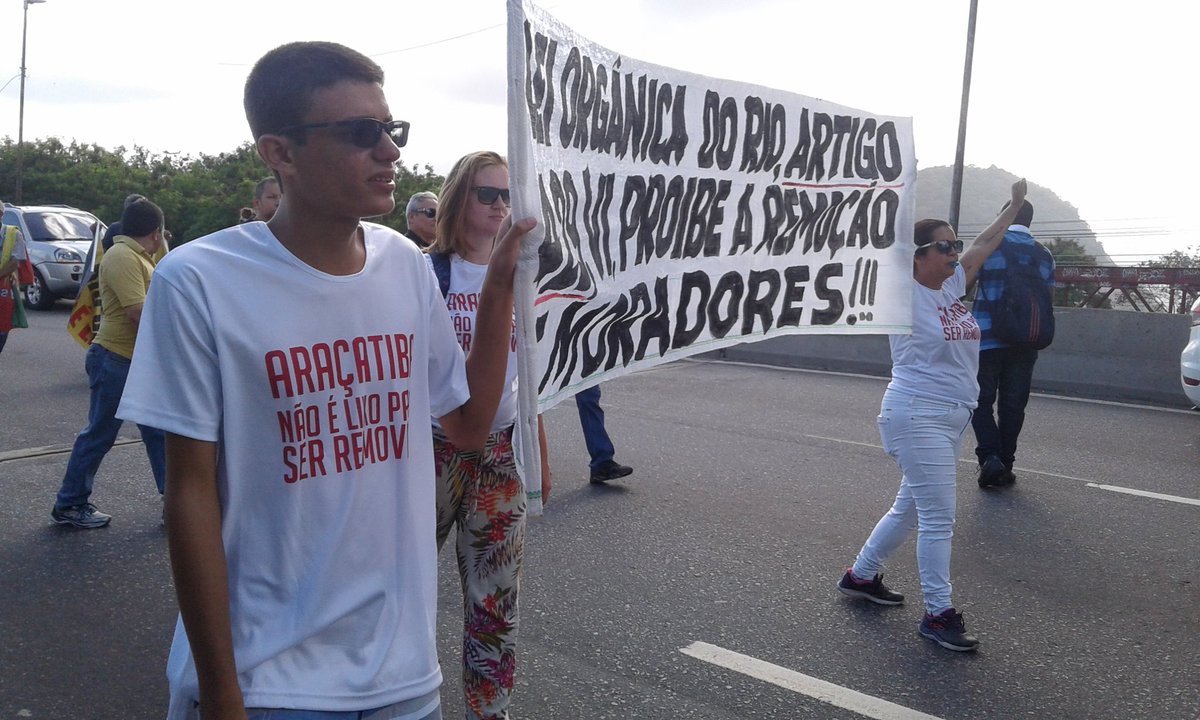 Residents of Araçatiba, a West Zone community in Guaratiba, are being threatened with removal as well. Accused by the government of endangering the local mangrove reserve, Araçatiba residents emphasize their decades of coexistence with and care for their surrounding environment. Some families' houses have already been demolished this year; one house was mistakenly destroyed. Some community members have also reported threats to their houses and families.
Rio das Pedras, Represent!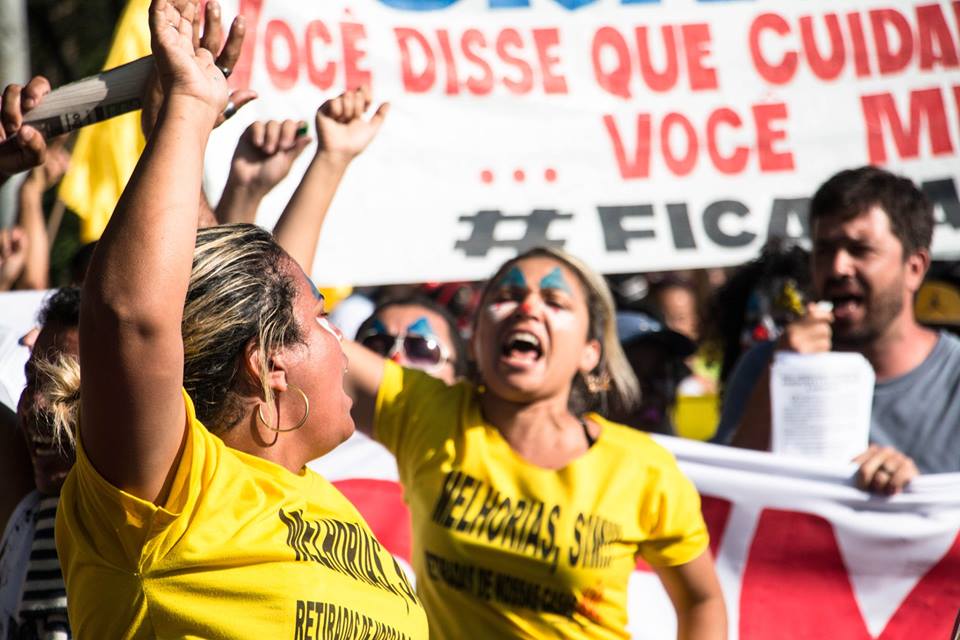 Rio das Pedras, the largest of the communities being threatened, has been very active in resisting Crivella's eviction plans. With over 140,000 residents, it has been a struggle to organize and keep residents informed, especially since many claim that government workers are purposely spreading false information to keep community members confused.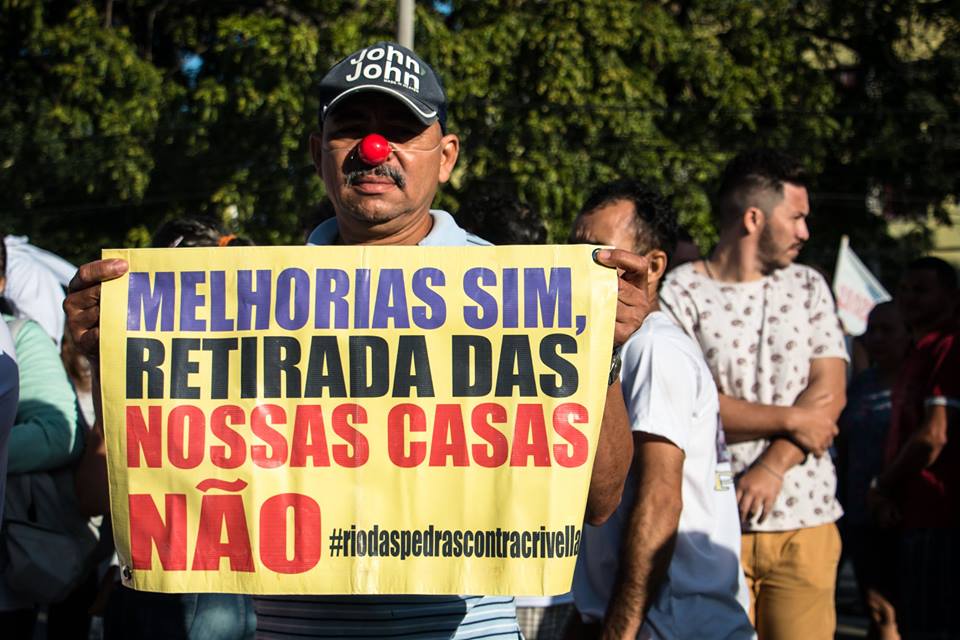 Rio das Pedras is one of the few favelas specifically named in Crivella's Strategic Plan. At Monday's protest residents dressed in clown costumes and makeup to protest what they see as the mayor attempting to "make the people into clowns" by using tactics to disrupt their organizing efforts.
Barrinha, Represent!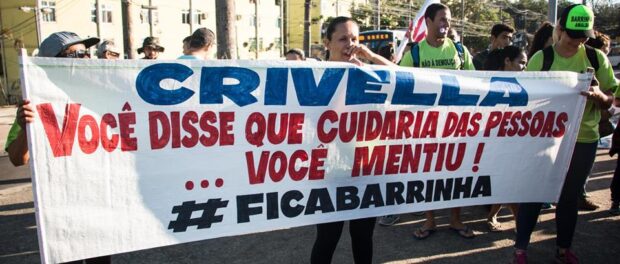 Barrinha is one of the most recent communities to join the fight against eviction. While living on land that their family members were invited to move to decades ago, residents were informed just weeks ago that they could be removed imminently. They suspect a private company has interest in developing the land.
Horto, Represent!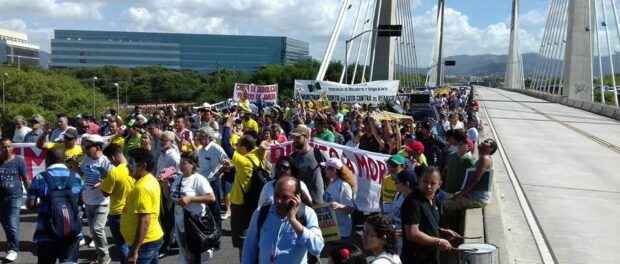 Horto, a centuries-old community on the edge of the Botanical Gardens in the South Zone, has faced eviction threats for decades, but the process has intensified due to new eviction orders from the federal government in the last couple of years. Although the Botanical Gardens claims the community's presence is a threat to the environment, Horto families have taken care of the land for generations, and the same environmental concerns are not being applied to the large wealthy houses in the area.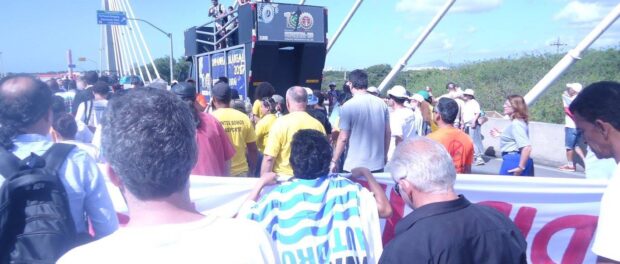 A Growing Movement
Also present at Monday's protest were residents of Vila Autódromo and Vila União de Curicica, two communities that waged resistance campaigns against eviction in the lead-up to the Olympics. NGO and civil society representatives, politicians, and other supporters marched as well, contributing to the strong, united message that this movement is growing and will not stop resisting eviction efforts.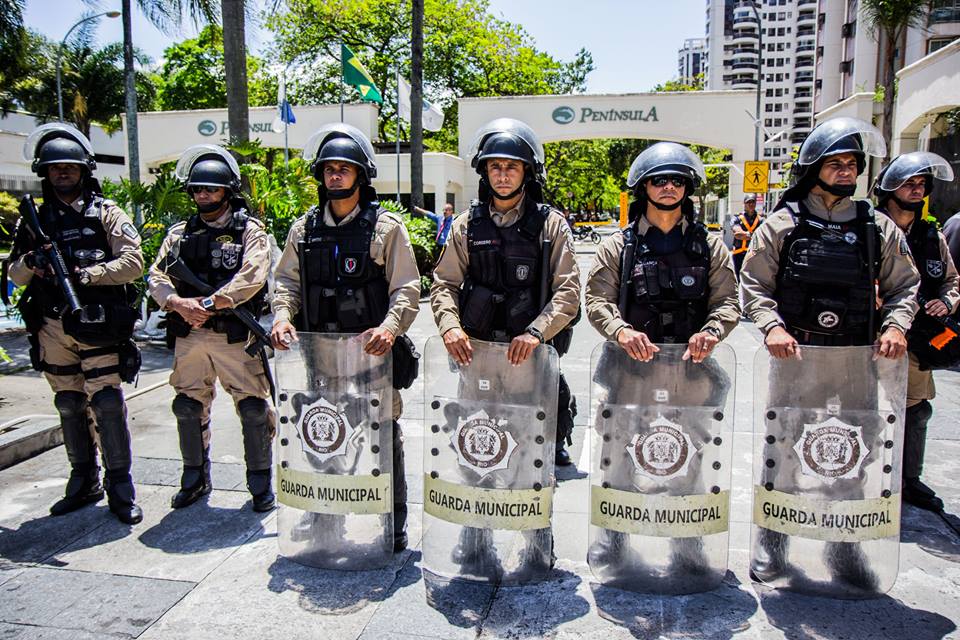 The protesters were met by heavily armed Municipal Guard officers at the gate to Crivella's residence. Although the mayor was not there, leaders met with a government representative to set up a meeting with Crivella to address their concerns.