As the closing of Rio's giant Jardim Gramacho landfill is presented at Rio+20 as an example of substituting an untreated open facility for a modern waste treatment plant, the community that worked there as the city's recycling force for the last three decades face an uncertain future.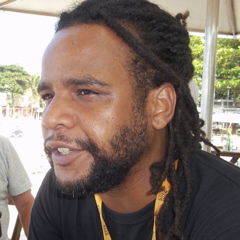 The largest garbage dump in Latin America, the metropolitan landfill of Jardim Gramacho received Rio's daily 9,000 tons of trash up until its closure on June 3rd. Catapulted into the international limelight by the 2010 Oscar-nominated documentary Waste Land, the landfill's 1,700 registered recyclable material collectors – catadores in Portuguese – are receiving a lump sum compensation of R$14,000 following closing.
The greatest challenge in this process, according to Tião Santos, president of the Association of Recycling Pickers of Jardim Gramacho (ACAMJG) which negotiated the compensation and protagonist of the Waste Land documentary, has been getting pickers to register their identity and open a bank account, a requirement of the compensation. He says, "The biggest difficulty is getting people to vindicate their rights. There are families where children, parents, grandparents, great-grandparents and so on aren't registered. We have an open event every Saturday so that people can apply for their documents and start to exist in the system."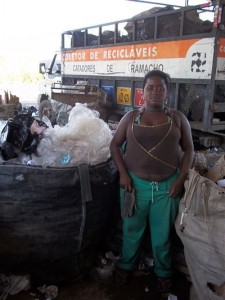 While the compensation is an essential assistance during this turbulent time, the pickers know it's not a permanent solution. Without other skills or qualifications, many fear for their prospects. "I want to find a job with a signed work card but it´s very difficult. I don´t know how to do anything because I´ve always worked with garbage. This was everyone´s job here." says Graciele de Santo Lima, 25, who worked at Jardim Gramacho for 14 years. "If I find myself in need, I'll pick recyclable material in the street. I'm not ashamed."
Addressing the skills shortfall and providing opportunities to generate income is a priority for Tião. "Brazil has grown, but it's not developed," he argues. "There's a shortage of skilled labor. We want to work with that." The association organizes various professional training courses and a new center has opened offering courses such as carpentry, electrician training and IT.
For some, particularly older catadores, illiteracy or injuries sustained working on the landfill present a further obstacle in the search for other opportunities. Marinete Alves da Silva, who worked at Jardim Gramacho for 23 years, first picking and then selling popcicles to pickers onsite, exclaimed "I can't read or write, how am I going to do a course?" Like many who depended on the economic activity of the landfill but weren't registered catadores at the time of closing, she doesn't qualify for the compensation payout.
An estimated 50% of the residents of the neighborhood of Jardim Gramacho made a living from recycling, a higher percentage in the Jardim Gramacho favela which surrounds the landfill site. Seventeen year old picker Ana Carolina Portela da Silva describes how the community is suffering with the closure. "It´s very bad at the moment. A lot of people are having difficulties," she says. "Many are depending on the compensation of one family member and there are very few opportunities."
The Association is working to improve this with plans to grow their co-operative for separated recyclable material. Factories and commercial firms send their plastics, metals and paper to the co-operative at Jardim Gramacho where they are sorted and sold for recycling. The co-op currently employs 118 people including Ana Carolina, and Fatima who's worked at Jardim Gramacho for seven years. She calls for Rio residents to separate material so that the co-op can continue their work: "I'd ask people, for example those that live in big condominiums, to donate recyclable material. With the closing of the landfill there are a lot of people depending on the co-op to survive. People have to have the awareness to separate. If they do we can continue like this without needing to pollute the Guanabara Bay."
Tião, who is speaking at various events throughout Rio+20 and is a representative of the National Movement of Recycling Pickers, demands the awareness and infrastructure for the co-op and recycling in Rio to go forward.
He says, "I hope people break their preconceptions about what they think is garbage and what actually is garbage, and that the state government manages to implement separate collections in the 92 municipalities and that pickers in the 92 municipalities are guaranteed social and economic inclusion." He goes on to show plans for an extensive recycling plant at Jardim Gramacho that will create 500 jobs.
While these plans are promising, they depend on the population changing their habits and government action. These and other major themes are being discussed at the pickers' tent at the Rio+20 People's Summit in front of Hotel Gloria, where international pickers are promoting awareness of their work and the importance of recycling. Circulating the event on Aterro de Flamengo wearing a bright yellow "I'm a picker" t-shirt, Ana Carla who currently works at the co-op and has worked at Jardim Gramacho for 17 years asks, "What's going to happen to us after Rio+20? We don't know if there is going to be enough material for us to work… There's a lot of stuff being sent to be buried that could be recycled. We're here to get people to put recyclable material in the right place. "