For the original article in Portuguese by Flávio Costa and Vinícius Andrade published by UOL Notícias click here. Filmed interviews in Portuguese with Marcinho VP available at the end of the article below.
Arrested 21 years ago, Marcinho VP says prison doesn't rehabilitate and drug trafficking helps finance electoral campaigns.
Inmate 37 is escorted by a prison guard from the courtyard where he was playing soccer with other prisoners on a sunny October afternoon. He's brought to a room divided in the middle with iron bars within the maximum-security prison in Mossoró—a city of 295,000 inhabitants located in the semiarid northeastern Brazilian state of Rio Grande do Norte.
Sentenced to a total of 48 years behind bars for drug trafficking and being the mastermind behind two murders, Márcio dos Santos Nepomuceno, a.k.a. Marcinho VP, knows how the federal penitentiary system works: he's been a part of that system for a continuous 21 years, more than half his life. He turns toward the wall and the guard removes his handcuffs. Then he sits in his chair awaiting questions from UOL, in what will be an exclusive two-hour interview.
The noises of the tight soccer game can be heard from the courtyard. Marcinho VP smiles. His pale blue uniform gleams with sweat. "We have to enjoy what little time we get outside our cells," says the prisoner, whom public security authorities have identified as one of the bosses of the Comando Vermelho (Red Command), the largest criminal gang in Rio de Janeiro, founded in 1979. "That's a myth," he says.
Marcinho VP likes to write. He claims to have been the target of "injustice" and, to defend his claim, he published a book titled "Marcinho Truths and Positions—Criminal Law of the Enemy" (Marcinho Verdades e Posições—Direito Penal do Inimigo) on October 21. The work was coauthored with journalist Renato Homem. The inmate recounts his career in the world of crime, denies the accusations against him, recalls his associates, weighs in on politics and Operation Car Wash's corruption investigations, and attacks former governor of the state of Rio de Janeiro, Sérgio Cabral Filho of the PMDB party, for whom he claims to have given campaign favors in 1996. "He's the head of the biggest criminal organization in Rio de Janeiro."
Police claim Marcinho oversaw drug trafficking in Complexo do Alemão in Rio's North Zone. He denies the accusations.
Marcinho favors the legalization of cannabis. "Drug trafficking doesn't stop because it finances political campaigns in Brazil," he claims. "Trafficking is dangerous and deadly, but corruption is Brazil's most lethal crime."
Enemy of the State
A poor childhood, marked by constant violence.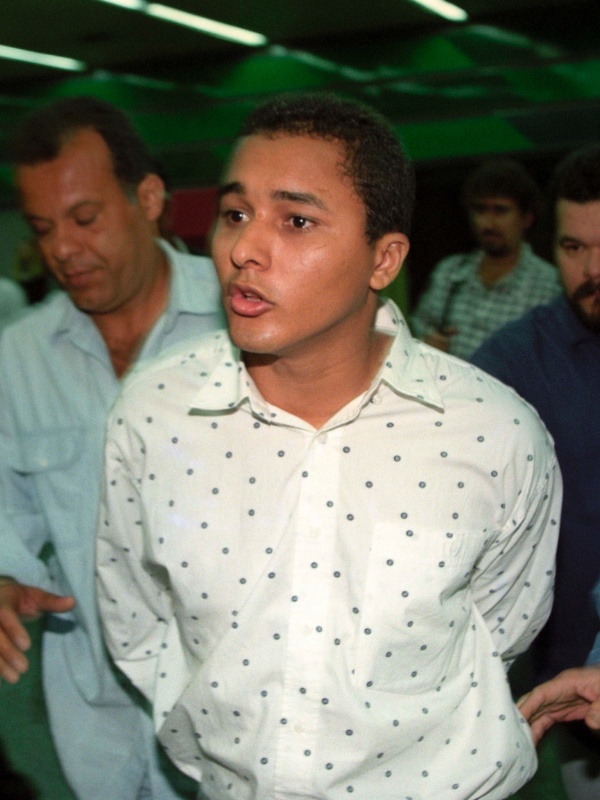 Marcinho VP's father was killed at 26. His mother spent five years as a fugitive when he was a child. After dropping out of school and working various odd jobs, Márcio dos Santos Nepomuceno started on a criminal path in his early teens.
When he was 16, two childhood friends—Rômulo and Jabá—were killed by the Military Police during a raid in Vila Norma, a neighborhood in the city of São João do Meriti, part of the Baixada Fluminense (in Rio de Janeiro's greater metropolitan area). For him, it was a formative moment which determined his path in life, as he relates in his book.
"It led me to embrace the criminal underworld as a profession. Our gang started perpetrating countless robberies in order to arm ourselves since we realized that any one of us could be the next to go. And each time the Military Police entered Vila Norma there was mayhem, bullets flying all over the place."
Marcinho VP claims that the first time he was arrested, also at the age of 16, he bribed police officers to let him go. His rise through the criminal ranks was swift.
"I was in Alemão, Mangueira, Vigário Geral, Jacarezinho. I worked in various communities in Rio de Janeiro. I committed large-scale robberies and bought guns for the communities' drug lords and I gained a certain amount of fame, a certain reputation as a leader, but I was never a boss. I dealt in Vila Norma when I was 17," he says.
That's not what the Rio de Janeiro Civil Police say. When he was arrested in Porto Alegre in August 1996, having just turned 21, he was considered the drug lord of Complexo do Alemão. More than two decades in prison haven't changed that fact, according to intelligence reports from SSP-RJ (Ministry of Public Security of Rio de Janeiro).
"The Comando Vermelho gang has a boss and his name is Marcinho VP," a Civil Police officer of the state of Rio de Janeiro, with over 20 years of experience, said under condition of anonymity. "Nothing is done without his approval."
When he was being arrested, the press would often confuse him with another, more famous Marcinho VP. Márcio Amaro de Oliveira oversaw drug trafficking in Santa Marta in Rio de Janeiro's South Zone, where Michael Jackson shot parts of the music video for "They Don't Care About Us." His career was recounted by journalist Caco Barcellos in the book, "Abusado." In July 2003, two months after the book's launch, Marcinho from Santa Marta was strangled at the Bangu III prison. His body was found inside a dumpster.
Police investigations pointed to Marcinho VP of Complexo do Alemão as one of the possible suspects in ordering his namesake's killing. "That's absurd, that's ridiculous. I didn't have any reason to want him dead. We were friends, comrades."
Marcinho VP from Complexo do Alemão was implicated in the death of another trafficker that also took place inside a prison. On September 11, 2002, Marcinho VP and Fernandinho Beira-Mar were at the head of a riot in the Bangu 1 prison, which resulted in the destruction of the prison unit as well as the deaths of four rivals, including Ernaldo Pinto de Medeiros, a.k.a. "Uê." Beira-Mar has been convicted for his part in the crime. Marcinho VP, however, has yet to face trial in the case.
"They keep piling on trial after trial. Two of them were closed, and they opened three more. I ended one, they gave me another two. It never ends. It's a way to keep me locked up," he claims.
He employs legalese in order to defend himself, citing laws and using a recurrent legal term: "Criminal Law of the Enemy."
"Criminal Law of the Enemy is the antithesis of the rule of law under a democratic state. If human dignity is the structural axis of a democratic legal state, under the Criminal Law of the Enemy we lose the status of citizenship and are treated like a prisoner of war, as an enemy of the State," he claims.
Gang War
The Primeiro Comando da Capital (PCC) gang is at war with the Comando Vermelho and its allies.
Marcinho VP becomes evasive when questioned on this topic. According to him, there are no criminal gangs, only "freedom fighters."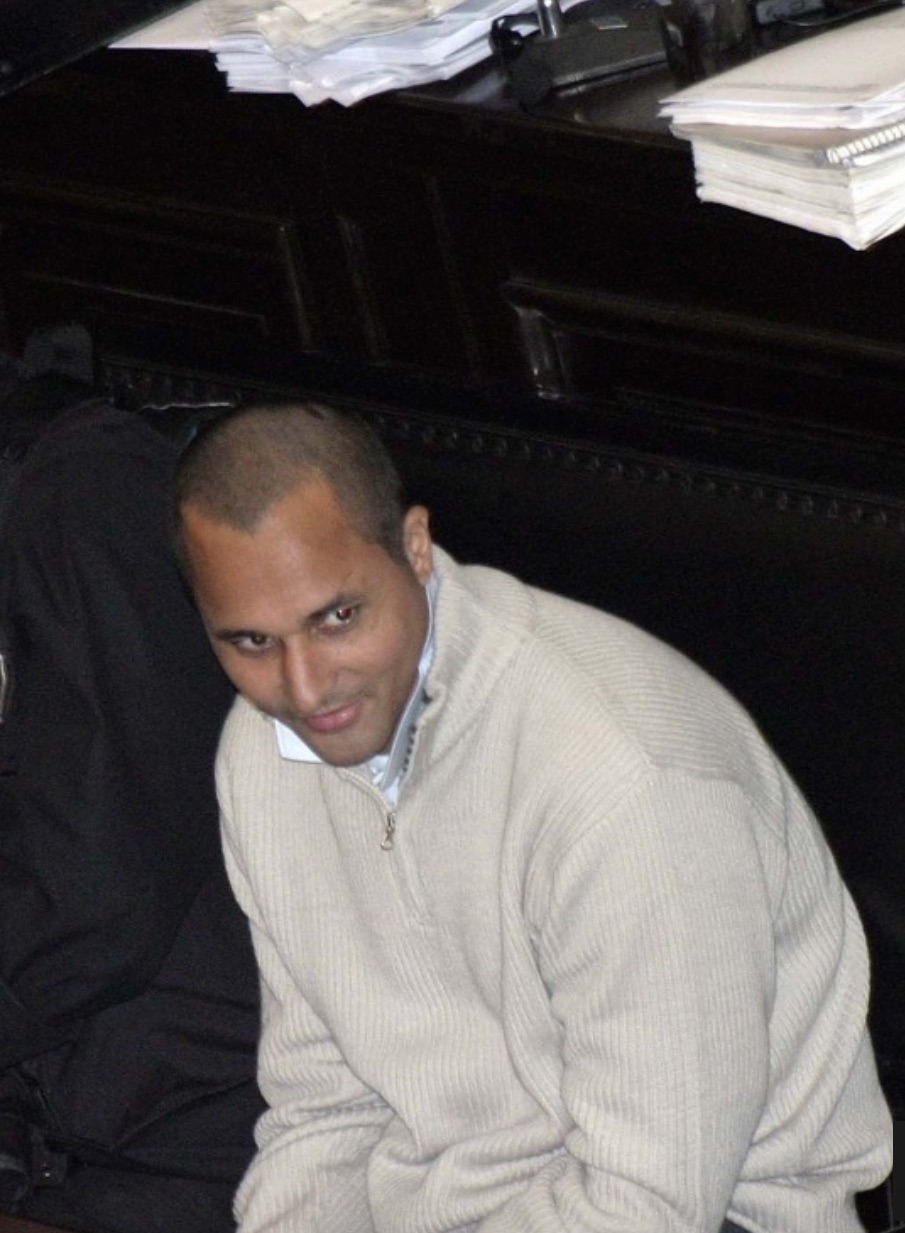 The feud between the two main criminal factions in the country intensified last year. They fight for control of Brazil's prisons and for the main trafficking routes. According to São Paulo prosecutor Lincoln Gakiya, as well as investigations by the Federal Police, the PCC relayed messages to the bosses of the Comando Vermelho offering them a deal to avoid confrontation. Among the lead negotiators was Marcinho VP himself. The talks fell apart.
The massacres at the prisons of Manaus (Amazonas State) and of Alcaçuz (Rio Grande do Norte State) at the beginning of the year, in addition to the increased signs of violence in the area around the border with Paraguay, are a direct result of this conflict.
"If such a war exists, I'm not aware of it." He denies being a leader of the Rio faction. "I'm not a leader; in the past I was an accessory, a child soldier."
"We respect everyone, without exception, regardless of their freedom-fighting organization. We're about peace," he claims. "One of our mottos since the beginning [of the Comando Vermelho] is 'Peace, Justice and Freedom.' If such a rivalry exists, I have no knowledge about it. And it's sad, prisoners turning against one another. Prisoner oppressing prisoner."
In a similar vein, he claims to be unaware of any plans by the PCC to take control of Rio neighborhoods, taking the opportunity instead to talk about the operations of the Pacifying Police Units (UPPs).
"Whether intentional or not, crime plays a huge social role in the favelas. The UPP has simply been an occupying force. Everything that crime has offered these communities, the State will need to replace. For example, basic commodities, medicine, doctors, access to healthcare. All kinds of support. Crime fills a vacuum left by the State."
He continues: "Crime factions are not against what a social occupation on the part of the State might have offered. What's good for the people is what's good for us, we are the people, we are residents of the favela. The people in the community are my neighbors, they saw me grow up, I saw them grow up. The community doesn't see us as criminal. Coexistence is the norm; there is no collusion."
Life in Federal Prison
January 5, 2007. The beginning of the administration of then-governor Sérgio Cabral Filho (PMDB-RJ). Marcinho VP is transferred to the federal prison at Catanduvas (Paraná). He is transferred from one federal prison to another until arriving at Mossoró, where he's been locked up for two and a half years. He's been in the federal prison system for almost 11 years. Of the 24 hours in a day, he spends 22 in solitary confinement.
"If sending an inmate into the federal penitentiary system is already an exceptionality, as according to the first paragraph of Article 10 of Law 11.671/2008, the extension of the sentence must be an exceptionality to the exceptionality," claims Marcinho VP, using the wording of legal texts—the outcome of his readings while in custody.
In 2006 he was thought to be one of the masterminds behind a series of attacks orchestrated by the Comando Vermelho against Military Police bases, offices, and other public buildings, which resulted in the deaths of 19 people. His transfer to a federal facility was a direct result of this case.
Marcinho blames Cabral for his transfer to Mossoró. Currently behind bars thanks to the ongoing Operation Car Wash investigations, the former governor is a constant target of criticism in the book. "He's the biggest Judas I've ever known," writes Marcinho VP, in one excerpt.
In the book, he claims to have given campaign favors to the politician in 1996 during the Rio municipal elections. "He was in my private venue box seated, eating, drinking, complimenting me. I helped him with a team of canvassers. I got nothing out of it," he says. "I won him about 50,000 votes in Complexo do Alemão," he adds.
Cabral's defense lawyer Rodrigo Henrique Roca Pires claims Márcio dos Santos Nepomuceno's story is false. "His life in custody shows that this is just a crude attempt to besmirch the name of the former governor in order to promote his book. Cabral did more to confront the illicit drug trade than any other governor of Rio de Janeiro," the lawyer says. "There was never any meeting between the two."
The deadline for Marcinho VP's latest sentence extension expired on November 29. The National Prison Department (DEPEN) sent a memo to the Rio de Janeiro Court of Criminal Enforcement to determine whether he would receive an extension of his sentence in the federal prison. The Rio de Janeiro Secretariat of Public Security needs to make a request through the greater Rio metropolitan Court of Justice to keep him in Mossoró. Police investigations provide accounts that say he continues to command trafficking schemes, even from behind bars in a federal prison.
Marcinho VP's defense team is trying to win the Comando Vermelho boss' return to his native state of Rio, which could result in his being prison mates with Sérgio Cabral himself. "Let's be clear, the solitary confinement of supposed criminal elements has in no way improved the quality of life index in Rio," claims lawyer and defense attorney for Marcinho VP, Paloma Gurgel. "An indefinite stay of this kind in a federal penitentiary constitutes cruel and unusual punishment."
After two hours, the interview has come to an end. Marcinho VP reiterates that he is not the boss of the Comando Vermelho. "This stigma that they associated with me wasn't true then and it isn't true today." In the end, he offers a sentiment shared by all those behind bars: he wants freedom in order to rebuild his life. He says goodbye and, escorted by a prison guard, returns to his cell where he will read over documents from the different proceedings in which he is defendant and, most likely, more law books.
Below are a series of interviews recorded by UOL with Marcinho VP for this article:
"Drug trafficking finances electoral campaigns."
"On drug legalization…we should take the examples of Uruguay and Holland and see what it made possible in those countries, that would be an intelligent approach by the authorities. But here in Brazil it'll be hard, because it's not interesting to the authorities. Drug trafficking finances political campaigns in Brazil…and for them it's not in their interest."
"Prison doesn't rehabilitate anyone."
"Corrupt politicians make up the largest criminal organization."
"Bangu was the worst place that I've been imprisoned."
"Sérgio Cabral is Rio's biggest criminal."