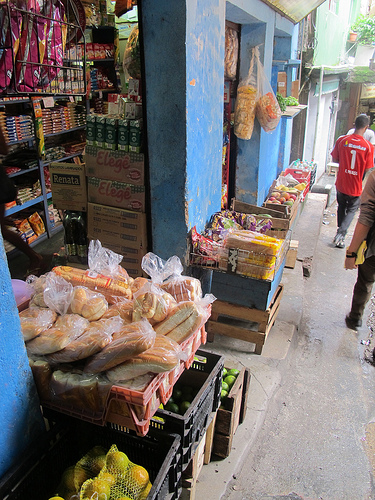 By official count, 102,000 residents animate the streets of Rocinha, Brazil's most populous single favela community. 10,000 mototaxis buzz up and down the uneven landscape. But what called my attention this past Friday was the litter, which had been rendered chaotic by the force of the evening's downpour. Bottles and cans floated at the edges of a large open sewer – just a few minutes' walk from the R$15 million Niemeyer passarela (footbridge) and the 2010 sports complex attached to it.
In Rocinha, as in many favelas, we find government investment rooted not in public need but in political imagery. "Rocinha is Ours," O Globo (the city's main newspaper, known for representing elite interests) announced the morning after the community's November 2011 police occupation. Without intending to, this headline captured some basic impulses that continue to drive government-sanctioned attempts at "integrating" the favelas: power, control, ownership by governing forces and the interests they represent.
In the persisting absence of sanitation services, citizens do what they can to pull wonder out of waste. Guiding our educational community visit that morning was Carlos Augusto of Associação Sorrir e Viver Pragradar, a community organization that coordinates a project teaching more than 200 children to drum with materials found in the trash. That afternoon, he introduced us to three of his students, who led us up stairs, through alleyways, and on rooftops that function as critical and beloved leisure space in so many favelas. "It's even bigger up here," one of the visitors exclaimed. From those heights, the immense scale of Rocinha became all the clearer.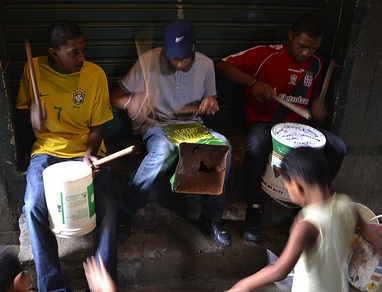 At our descent, we were treated to a demonstration of the fruit of the Associação's work. Each with a discarded bucket or paint can in hand, the trio burst into a composition that pulsed with so much vivid rhythm from such a modest range of instrumentation. Two younger children had entered our circle mostly unnoticed until the music started, at which point they exploded into accompanying dance, their feet beating against the ground a percussion track on their own. The music gave way to applause at its close, and the boys did their best to remain modest. "They're easier than regular drums," said one, "but regular drums are louder."
Such creativity is not rare in communities like Rocinha. Carlos later introduced us to another youth who made small decorations out of wood, wire, bubble gum boxes, and a colorful smattering of paint. But these projects can only do so much to stem the tide of waste that accumulates where government falls short.
Standing on that rooftop, just before their performance, one of the Associação students hesitated before answering the question: "What do you think would be best for Rocinha?" "For the drug traffickers to come back," he replied. It felt safer, he told us, than living under a police force that disrespected the community and treated most like they were marginal. They told stories of police assault, of a grenade being thrown in the street. Keeping in mind the long history of police brutality in Rio and the strength of stigmas attached to favela residents by many Cariocas from the asphalt, such police behavior is maddening but far from surprising.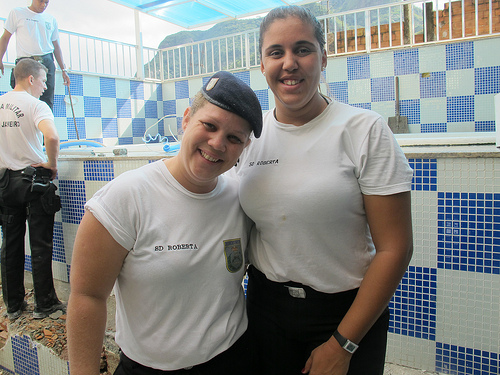 Beyond the more overt displays of force, however, we also witnessed the prioritization and implementation of otherwise constructive interventions. On our way down the hill, we were invited inside by Pacifycing Police Unit (UPP) officers who were fashioning a drug dealer's former house into a mini cultural center with a library and a space for martial arts lessons. "We're opening this up tomorrow for 50 children to get their kimonos," said one officer.
Though this project will undoubtedly do some good – in the words of a library worker, there are few positive spaces for children in the community – a visitor in our group posed some questions worth asking: how much of a voice were the residents afforded in deciding this project? Why was nobody from Rocinha hired to construct the center? And was the particular context of the construction – from drug den to cultural center – chosen more to communicate that message of a new ownership rather than to provide the best possible service to the community?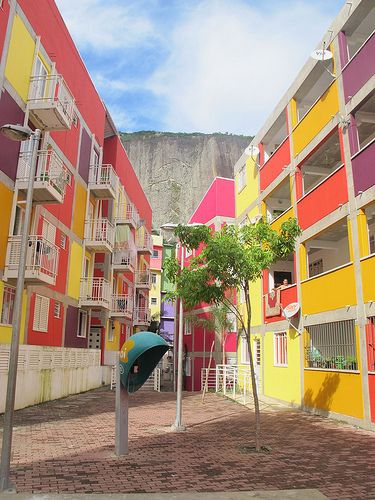 On a hopeful note, a sense of responsibility does seem to be rising on the side of the government. A brand new public library and the public housing units established in Rocinha serve as good examples of the federal government stepping in to serve the needs of the population, though with the unintended side-effects of gentrification. The UPP officer quoted above also announced that 100-200 out of 700 UPP officers arriving in August will be female – encouraging in light of a state study that showed male officers were more likely to dismiss pacification work as unimportant.
Steps are being taken in the right direction, but the stubborn focus on political imagery comes with a disregard for the community's priorities: more foundational fixes that attract less media flash than a new sports center. While money and attention are spent on high-publicity makeovers, the lack of sanitation creates very real health risks that continue to endanger the lives of those who live among Rocinha's stagnant water and littered ground. And the refusal to take the interests of the community into discussion is animated by the same belief that inspires police brutality: "We have power. We know what's best."
The residents of Rocinha have accomplished much for themselves under their various occupiers, achieving some very real middle-class conditions in the absence of public services. But the conditions best coordinated top-down and community-wide are the same conditions that are ignored by authorities in the best position to provide them. It's not a question of whether these interventions will do any good; it's a question of priorities, of better and best.  Until Rocinha's interventions become informed more by the priorities of its population than by displays of power and ownership, this new partnership between governance and favela will fall short of its potential.
A last look at Rocinha revealed the construction of a new gondola system similar to that erected in Alemão last year.  This project embodies both the promises and uncertainties that define the federal government's Growth Acceleration Program (PAC): a great service to a marginalized population if planned according to the needs and activities of the community, and more symbol than substance otherwise.
Check out photos of the visit that produced this piece: