Shootouts echoed throughout Rio de Janeiro's Complexo da Maré on Tuesday, February 6, as state police conducted a massive operation in eight of Maré's favelas. The operations left at least two dead.
13-year-old Jeremias Morães da Silva was shot on his way back from a soccer game in the Nova Holanda favela. He was pronounced dead on arrival at the Souza Aguiar Hospital.
"Every time the kids go back to school, this happens," da Silva's mother told TV Globo. "It's back to school, and the police operations start. It's like they do it on purpose. My 13-year-old son, servant of God, a golden child, he was learning to play guitar. I had five children, now I have four."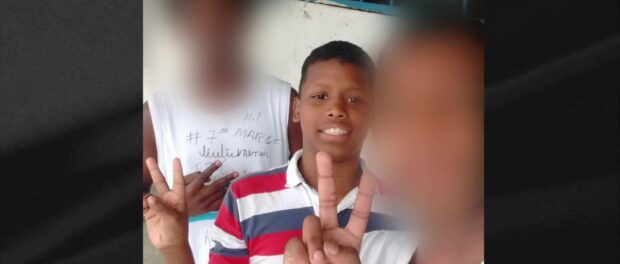 Rio's Special Operations Unit (BOPE), Shock Troops, and canine units all deployed to Maré around 6am, purportedly in revenge response to a false report of a police kidnapping. The day's operations—undertaken the week children return to school from summer break—resulted in the closure of 20 schools, 13 daycare centers, and 7 child development centers, according to Globo. Operations lasted until just after 7pm.
Civil society organizations, activists, and community journalists across Rio immediately took to social media to denounce the day's attacks, and the way the mainstream media initially covered them.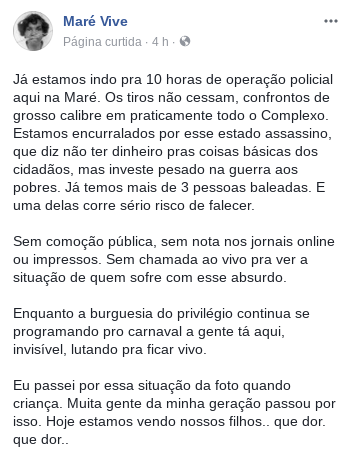 In a post relatively early in the day, the community activist and media collective Maré Vive pointed to the lack of coverage thus far and the disparity between treatment of Maré and the city's middle class neighborhoods: "We're already headed for 10 hours of police operations here in Maré. The bullets won't stop, and shootouts with high caliber rounds are taking place practically all over Maré. We are corralled in by this killer state—which maintains it lacks money for basic public services, yet pours money into a war on the poor. Three people shot already. One runs a serious risk of dying. [Later edit: two people died in the police operation.] No public commotion, no stories in the online or print newspapers. No live coverage for those who suffer this absurdity. While the privileged bourgeoisie get ready for carnival, we're here, invisible, struggling to stay alive."
When journalist Michel Silva from Rocinha pointed to the multiple deaths associated with the operation, one commenter asked: "Is it in the media? Is it going to come out? I want to see all of this in the papers, just like when a tourist gets killed or shot."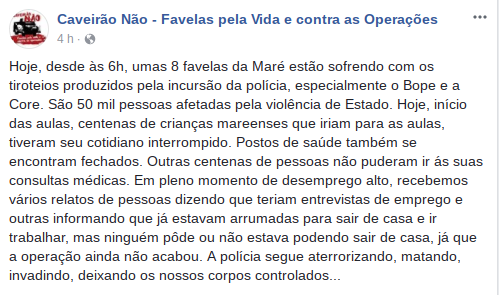 The No Tanks—Favelas for Life and Against Police Operations campaign detailed the wider effects of this sort of police incursion, writing: "Today, the first day of class, hundreds of kids in Maré that would have been headed to school had their routines interrupted. Health posts are closed too. Hundreds of others weren't able to attend medical appointments. In this moment of high unemployment, we've received multiple accounts of people stating they had job interviews or that they were just about to leave home for work—but none were able to leave home, since the police operations are still ongoing. The police continue terrorizing, killing, invading, controlling our bodies."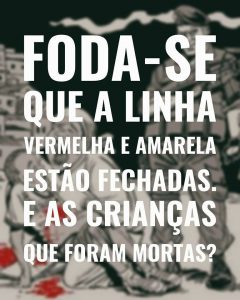 Others called attention to the disproportionate focus on highway closures across the initial headlines and reports of mainstream publications such as Globo and R7, and the apparent concern for traffic over human life, even on international news. Coletivo Papo Reto's Thainã de Medeiros wrote sarcastically: "The city is lucky traffic jams are the only thing that's happened so far!" He and several other activists shared the image on the right, which reads: "F**k the Red and Yellow Highways being closed. What about the children that were killed?"
A three-year-old girl had also been killed in a robbery attempt earlier in the day in the North Zone neighborhood of Anchieta. Yesterday morning, Wednesday, February 7, the two young children killed featured on the front pages of major Brazilian newspapers. Extra labeled Rio "the city of children without a future," while O Dia questioned what happened to the federal security plan for Rio, which had been scheduled to be implemented on Monday.