This is the second article in an ongoing series on the Brazilian electoral political scene in 2018.
In a country in which half the population are women and over half are black or mixed race, who does a Congress with 80% white men represent? Not only are they white men, but Brazil's federal representatives are also predominantly over 50 years old and owners of large fortunes.
In response to this disparity as well as the broader political polarization and power vacuum—caused by widespread corruption accusations and low approval ratings for politicians from all parties—a number of social movements are emerging across the nation with a call for political reform.
Alternative candidacies are on the rise, breaking with the binary left-right logic structure and more representative of voters' diversity. And collective candidacies are forming, which, if elected, will spread decision-making and the formulation of government proposals among a number of individuals and their working groups, rather than consolidating the post's responsibilities under one person. The idea is to break with both the tradition of corrupt politics and the idea that politics should not be discussed. These efforts seek to bring about new ways of engaging in politics that overcome inequalities, strengthen democracy, stimulate participation, and reduce possibilities for corruption.
Although incipient, these movements include registered and unregistered parties, nonpartisan advocacy movements, and political education projects, among others. The constitution does not allow independent candidates without party backing. As such, in the case of non-partisan movements that want to put forward candidates, the candidates will have to join a party that allows them to maintain the original movement's agenda and have a voice in the party's decisions. Some parties have already shown a willingness to welcome civic candidates. The Rede ('Network') Party even allows for such candidates in its statute and encourages them. Some examples of these movements can be found below.
Frente Favela Brasil
Frente Favela Brasil ('Brazil Favela Front') is a still-unregistered political party that draws its inspiration from the struggle for protagonism and for the recognition of the dignity of black people, favela residents, and poor inhabitants of Brazil's rural and peripheral areas. It advocates for a participatory democracy with direct participation of the population in decision-making through plebiscites, referendums, public hearings, and social networks, among other forums. It aims to build the representation of segments of the population that are not represented in traditional politics, and thus move towards less inequality and more social justice. For this reason, it intends to draw candidates not from a group of already active politicians but rather from among black people and favela residents who were previously not involved in politics.
Favela Frente Brasil was founded by Celso Athayde, who also founded the NGO Central Única de Favelas (CUFA) and Favela Holding, a business venture encouraging companies to invest in favelas. The party defines itself as "moderate" and "neither left nor right," but has received some criticism for failing to fully represent the needs of favela residents in their vast diversity. It intends to put forward candidates in the next elections if it can achieve the minimum number of registered voters required to officially form a party, but the identities of the potential candidates have not yet been publicly announced.
"Unlike other movements, which have good objectives but don't dialogue much with people from the peripheries, suburbs, and favelas—people who don't see themselves represented in Congress—from its conception the FFB confronts the current political system. Its official registration is extremely necessary to introduce into the institutional political system agendas that have been urgent for decades, but that are not prioritized because of a lack of representation of people who know what it is to be black and from the periphery," says Luan Ribeiro, a resident of Abolição and teacher in Rio de Janeiro's municipal public school system, who participated in some of the meetings to create the party.
Acredito
Acredito ('I Believe') is a supra-partisan movement founded by a group of youth—mostly from peripheral areas—who won scholarships to study at prestigious American universities. It aims to reconnect citizens to politics and introduce new faces to Congress so that it better reflects the Brazilian population and overcomes inequalities. The group's methodology for accomplishing these goals includes disseminating information, generating educational content and distributing it on the Internet, and organizing debates throughout the country, all in order to combat polarization and promote a higher quality dialogue. The group will also support new political leaders, providing them with training and visibility. The goal is to support 30 candidacies of people who have never held political office, respecting gender parity, and to build a participatory and plural agenda across the executive and legislative branches.
Quero Prévias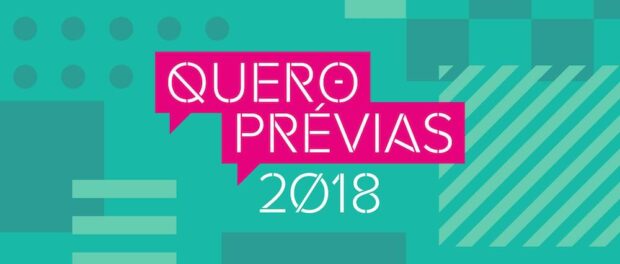 Quero Prévias ('I Want Primaries') is a movement that advocates for the introduction of primaries—an opportunity for parties to vote internally to choose the candidates who will then compete for a seat. The movement views primaries as a way to further engage citizens in politics, involving them for longer and more deeply with the electoral process, and to stimulate the emergence of new leaders that are more representative of the population and have more social relevance than a candidate chosen by the party's bureaucracy.
Agora!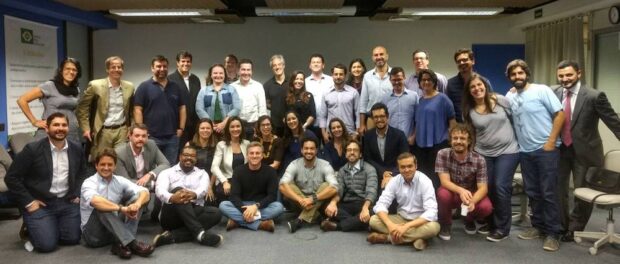 Agora! ('Now!') is a nonpartisan movement comprised of 90 members including technical professionals and academics, mostly "white people who are part of the country's intellectual and economic elite," the most famous of whom is TV presenter Luciano Huck. An exception to the average member of Agora! is the indigenous leader Anapuaka Tupinambá. The group focuses on "listening, thinking, speaking, engaging, and acting," and aims to renew politics and combat inequality by competing for 15 to 20 seats in the legislature. Ilona Szabó, president of the public security think-tank Igarapé Institute and one of the founders of the movement, says that "it is obvious we are part of an elite, but most of our members come from middle or lower class families. There are people coming from lower-income communities. They are people who struggled a lot, had access to education, but because of this imbalance [in opportunities] are now in [upper] classes A and B… We have a few members from rich families, but even they have made their own paths."
Renova Brasil
Renova Brasil ('Renew Brazil') is a civil society project to accelerate the development of new leaders. It aims to allow the "ordinary citizen" access to Congress through political training and mentoring for selected applicants. After an application period open to all Brazilians there was an intense selection process, at the end of which Renova selected 100 applicants "from all over the country with diverse visions, ideologies and causes, following the principle of dialogue, diversity, and the convergence of ideas. The criteria for elimination included extremist thinking or any history of unethical behavior." The group's vision for Brazil includes the prioritization of the individual over the public machine, the sustainable management of resources, the fight against corruption, and respect for individual freedoms.
Rede de Ação Política pela Sustentabilidade
The Political Action Network for Sustainability (RAPS) is a civic business network that connects potential leaders and committed business people and offers political training. Its training is primarily for those who are already politically active (although not in a partisan or institutional way), intend to run for elected posts, and are committed to the movement's principles, such as ethics and sustainability. In the 2016 elections, the network successfully got twenty-three RAPS leaders elected—fourteen council members and nine mayors.
Convergência
The Convergência ('Convergence') movement aims to form a broad political front around a common agenda of issues with widespread support that overcome polarization, such as transparency, efficiency in public spending, and universal basic sanitation. The group proposes a plan for government based on the general direction that citizens desire for Rio and which attracts diverse actors and movements for political reform. The plan is under development, and will be evaluated by specialists with political, technical, social, ideological, and popular points of view. The intention is for these evaluations to guarantee that the proposals are viable, including from the perspectives of leaders of peripheral areas across the state who will ensure the plan is aligned with real needs on the ground. The plan and evaluations will be made available on the Internet to collect suggestions from all who want to participate.
Livres
Livres ('Free') is a start-up that was born within the Social Liberal Party (PSL) and which advocates for politics that value human freedom and dignity. The group's values include overcoming inequality through inclusion in the market, freedom of expression, promoting entrepreneurship, the gradual decriminalization of drugs, the reduction of taxes, the right to property, and, it seems, even the right to bear arms. The group describes itself as liberal and a challenge to populism on both the left and the right. It announced its departure from the PSL after the entry of right-wing representative (and current presidential candidate) Jair Bolsonaro to the party and will now work through its Indigo Foundation for Public Policies, stimulating projects that test public policies and propose political reforms. Its members, who are predominantly white men, will contest elections under different parties of their choice.
Muitas and Bancada Ativista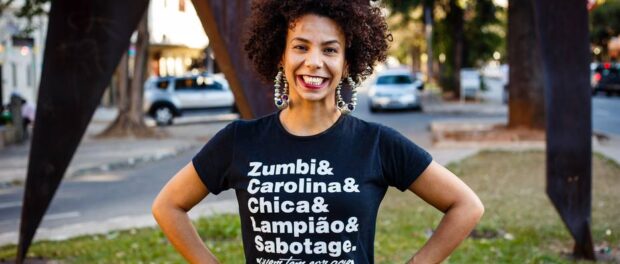 Muitas ('Many Women') and the Bancada Ativista ('Activist Bench') are two political projects that developed in the cities of Belo Horizonte and São Paulo, respectively, to promote the participatory occupation of spaces of power by those who are usually excluded from them, bringing new life and diversity to those spaces. Acting within the Socialism and Freedom Party (PSOL) and the Sustainability Network (Rede) party—the two parties most sparsely implicated in the recent corruption scandals that have plagued Brazil—the groups formed collective candidacies of women, black people, indigenous people, and members of the LGBTQI community, among others, to contest city councilor positions. They campaigned on a range of causes across social, political, economic, and environmental issues, all with a focus on combating inequality. They were able to elect one councilor in São Paulo and two in Belo Horizonte (where the Bancada Ativista's candidate even received the most votes), and they may put forward candidates for the federal legislature in the next elections.
Todo Jovem É Rio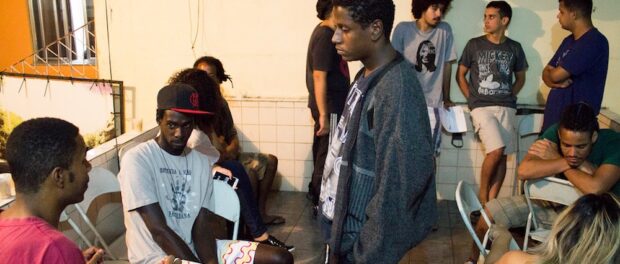 Finally, Todo Jovem É Rio ('Every Youth is Rio') is a Networks for Youth Agency project that, unlike the others, focuses on municipal and not national politics, and has a timeframe extending far beyond this year's elections. The project invites young people from the outskirts of the city of Rio to imagine themselves as mayors of Rio in 20 years, as a way to think about the future of the city from the point of view of the periphery. The program seeks to form young leaders from low-income communities and to create a network of houses as political spaces, that are reference points in their communities for rights and opportunities. The political training covers how to act politically on a day-to-day basis, from how to contact the city government with demands to how to occupy a public space.
Conclusion
Reflecting the population and civil society's desires for dramatic changes in politics, these movements represent a shift in Brazil's political winds that may bring about profound changes. However, especially at this early stage, it is important to assess such groups critically regarding their internal compliance with the proposals they call for in politics, including around diversity and the fight against corruption. "One question is who makes the decisions, another is who funds and influences the decisions, another is who is the movement's propaganda boy, and another is who will emerge to tell their story. You have to separate things well. That's why it is important to analyze where the funding comes from, what criteria are in place for spending money, for the selection of people who will comprise the initiatives, and what form the governance of internal decision-making processes takes, for example," says Paulo Loiola, Master of Public Administration and member of the public policy consultancy Humana Sustentável. "These groups still need to advance in internal processes to demonstrate that they are effectively bringing about reform. Although they have a lot of goodwill, transparency on the financial and governance side of things is essential to reduce the likelihood of cooptation," he added.
This is the second article in an ongoing series on the Brazilian electoral political scene in 2018.