This article is part of RioOnWatch's #VoicesFromSocialMedia series which compiles perspectives posted on social media by favela residents and activists about events and societal themes that arise. It is the first in our special series on social media reactions to the federal military intervention in Rio de Janeiro.
On Friday, February 16, President Michel Temer decreed a federal intervention in the state of Rio de Janeiro, handing over all of the state's public security matters to Army General Walter Braga Netto. Recalling the military's extended occupation of Complexo da Maré from 2014 to 2015, as well as its role in operations in favelas like Rocinha and Complexo do Salgueiro since, favela residents and activists across Rio responded immediately, launching forums, panels, and debates focused on how to protect human rights in favelas during the impending intervention.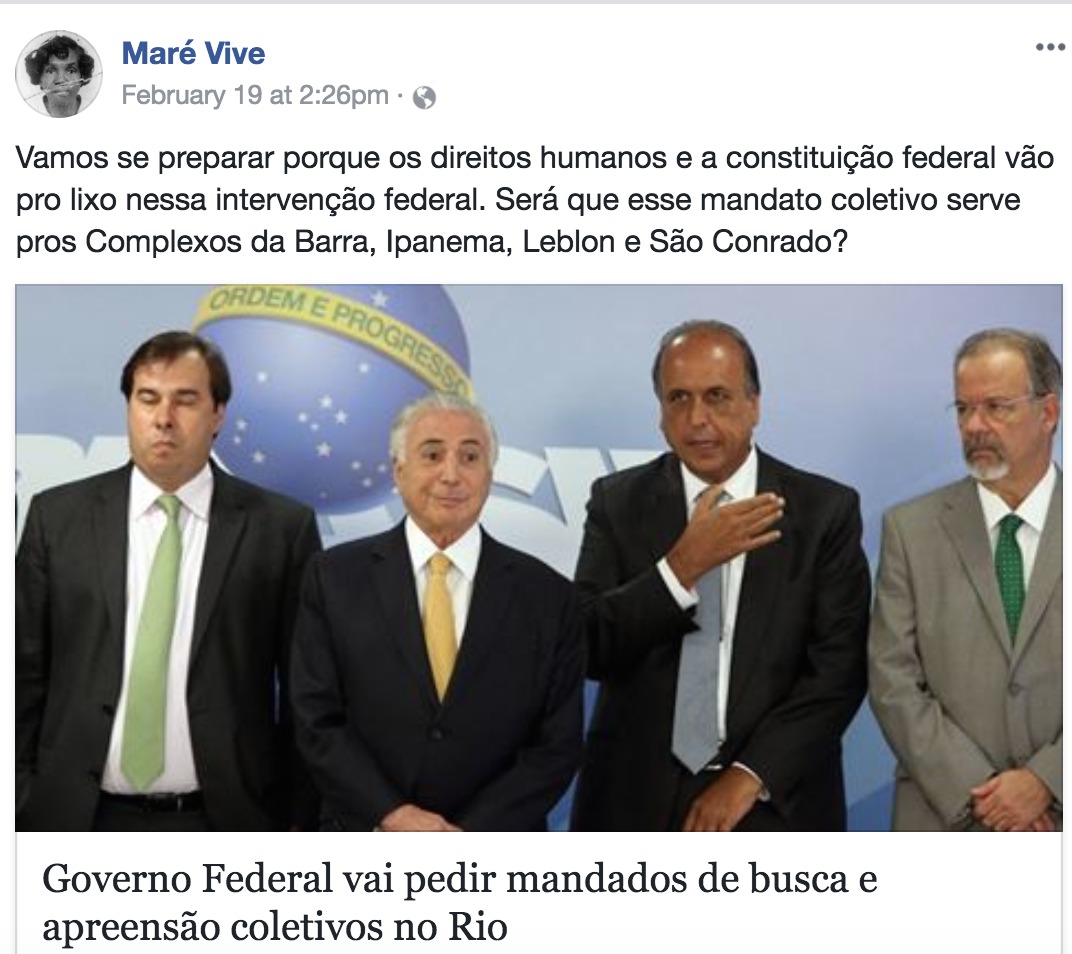 Determined to prevent, document, and denounce abuses, Rio's favela residents and allies have been vigilant on social media. Complexo da Maré collective Maré Vive was one of several voices sounding the alarm as government officials explored the idea of seeking collective search and seizure warrants: "Let's get ready because human rights and the federal constitution are getting trashed by this federal intervention. Would collective warrants be possible in the neighborhoods of Barra, Ipanema, Leblon, and São Conrado?"
Following civil society pressure from groups like Maré Vive and general public outrage, the federal government dropped the proposal for collective arrest warrants and adopted a more cautious rhetoric on collective search warrants, while leaving open the option that the latter could be used on a case-by-case basis. Egregious searches have already occurred, however. On February 20, the armed forces searched children's backpacks as part of an operation into the Kelson's favela in Rio's North Zone. Folha de São Paulo's cover photo (below) by AP photographer Leo Correa went viral the following day.
Complexo do Alémão resident and Favela Art founder Mariluce Mariá de Souza shared the cartoon titled "Unconstitutional" below which features the dialogue: "Did you find anything dangerous, soldier?!" "Yes commander!! I found BOOKS!"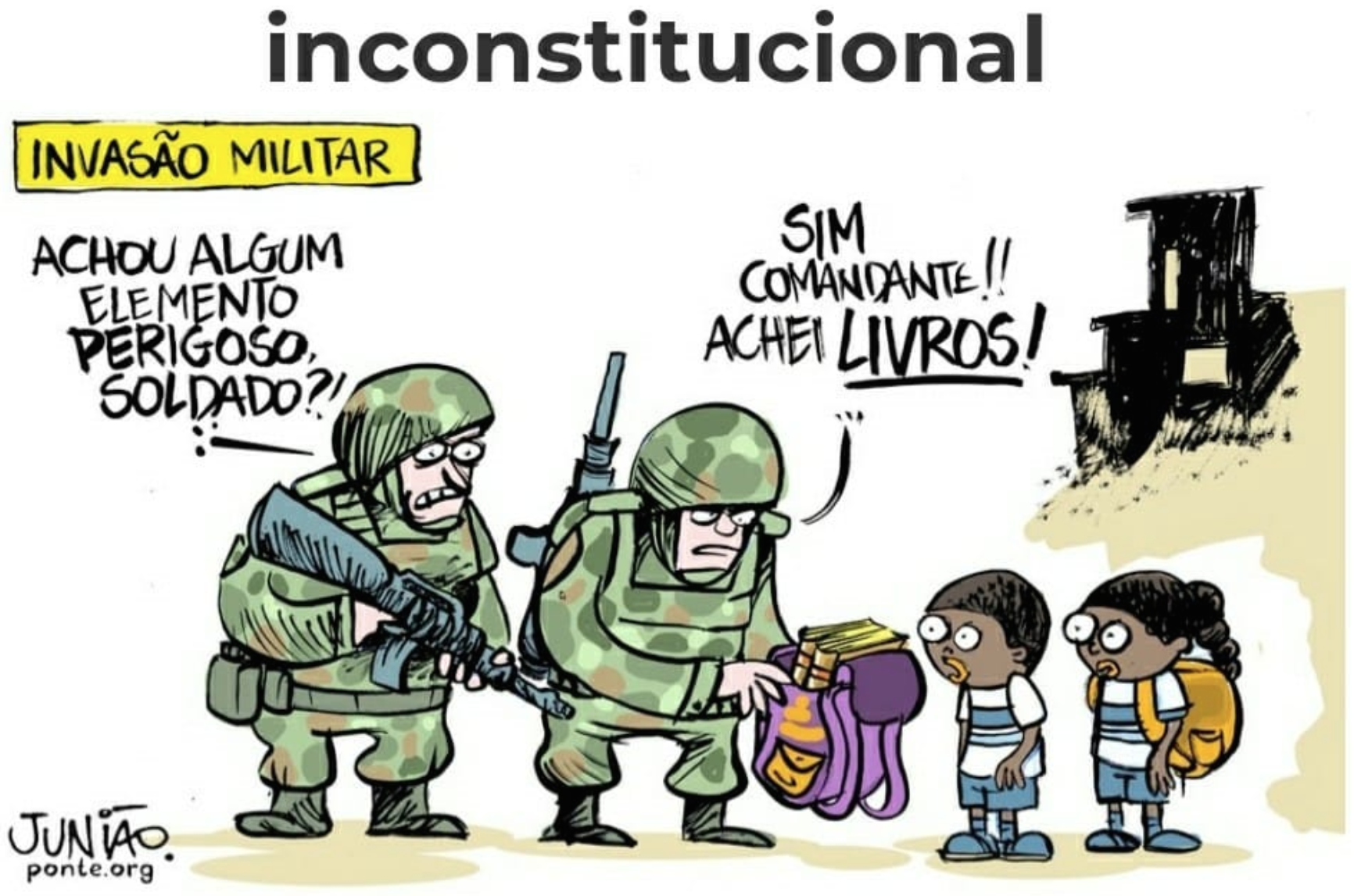 The military then began photographing and registering favela residents as part of an operation in the favelas of Vila Kennedy, Coreia, and Vila Aliança, in Rio's West Zone, on February 23. News of the extraordinary process—a measure declared unconstitutional by both Rio's Bar Association (OAB-RJ) and the state Public Defenders Office—and images of the military photographing favela residents flooded social media: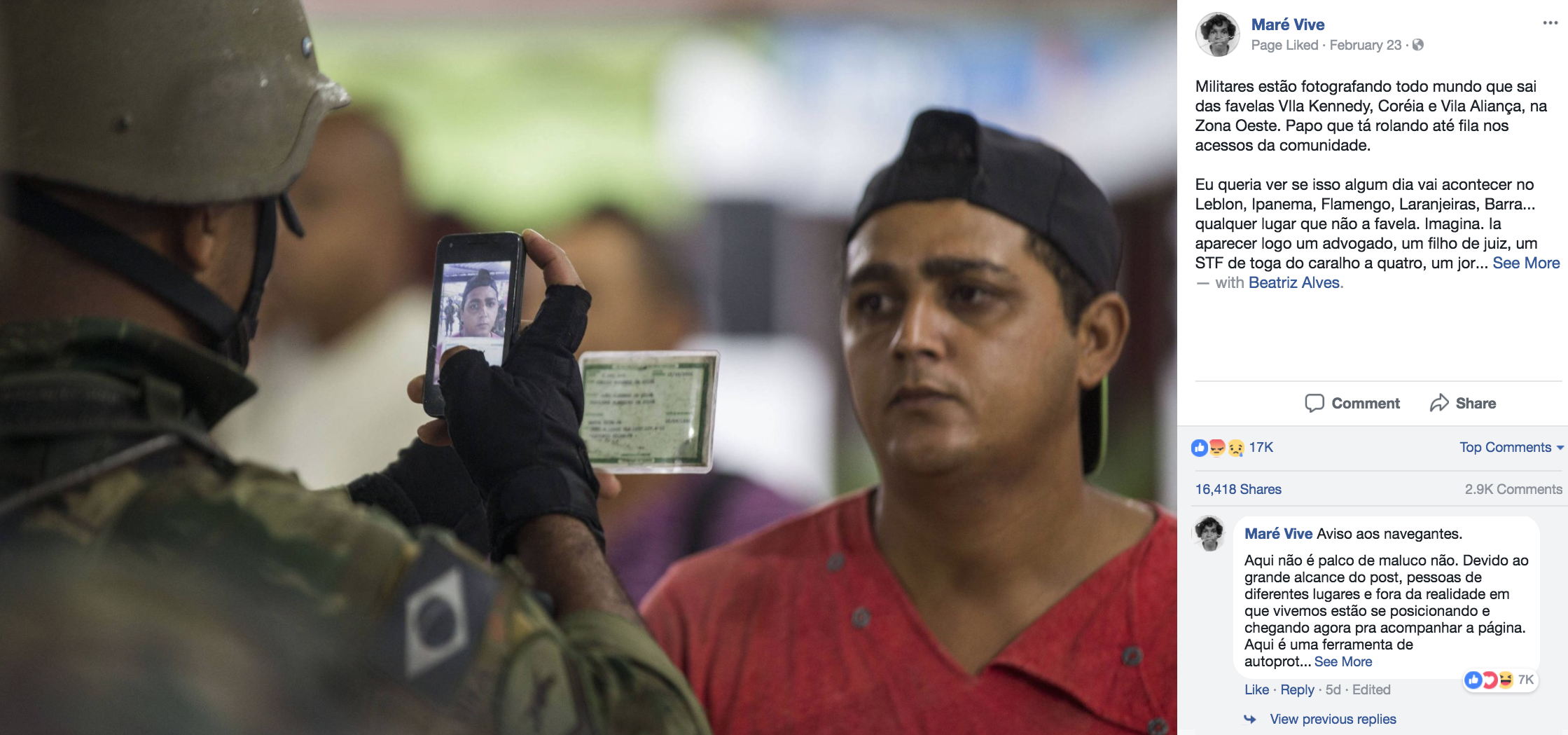 Community Facebook page VOZ da Vila Kennedy tagged the Brazilian army's page and reported: "Multiple people were stopped in the middle of the street and photographed with their IDs, including men, women, and even the elderly. We'd like to ask the Brazilian Army: is using soldiers' private cell phones to take photos of citizens and their IDs a common practice? If you wanted to identify residents you should have brought the army's own identification system. [Taking] photos with private cell phones is against the law. We aren't against the Military Operation, we are against excesses committed."
Historian and activist Fransérgio Goulart, from Manguinhos, imagined the public outrage that would result if something similar were to happen in Rio's wealthier South Zone, writing on Facebook: "And if this image and action of military intervention were to happen to residents of a condominium down in the South Zone or in Barra da Tijuca?"
Others pointed to disproportionate government funding for military operations over social spending. Sharing a report that the costs of the 15 month-long military occupation of Maré were nearly double the city government's social spending in Maré over six years, Manguinhos resident and Networks Against Violence representative Ana Paula Oliveira asked: "They don't want to invest in HEALTH and EDUCATION because ?? It's clear that it isn't because of a lack of money, right?"
In a televised debate on Globo Comunidade, shared on Facebook by Alemão media collective Voz das Comunidades, community photographer Betinho Casas Novas echoed Oliveira, saying: "Rio's favelas have already suffered through security interventions for a long time. Before security interventions, the government could have intervened in health, education, culture, and in this way, this federal intervention wouldn't have been necessary now…"
In resisting the first federal intervention in state security since Brazil's dictatorship, Rio's favelas face no small task. If the intervention's first two weeks are any indication, however, favela residents' vibrant and active social media presence will be a powerful force against human rights abuses. Emboldened by such unprecedented unity among activists, Maré community journalist Gizele Martins wrote on Facebook: "It is the first time in my life that I've seen the most diverse social movements speaking—all at once—and uniting to fight against militarization in the favelas. We always talked about it, but today we are all joining forces! Onward together! Long live favelas! Enough militarization!"