On Monday, June 11, at 6:30am residents of Complexo da Maré awoke to thunderous high caliber rounds. A police helicopter strafed low over rooftops in the favelas of Nova Holanda, Parque União, and Rubens Vaz, raining bullets onto houses and into alleyways. Armored trucks—known locally as caveirões, or big skulls—tore down the street.
Some took cover in the relative safety of their homes, while others had already set off to work or to school and were forced to find shelter in local businesses. One resident reported she took cover in a nearby bar: "I had almost gotten to my car when the shots started. I hid inside a bar and they shot up my whole car. That is, in one more second I would have been inside my car. I can't take any more of this nonsense."
Many took to social media, reporting firefights and chopper sightings to local activist and media collective Maré Vive, which in turn warned its network: "Bullets flying in various areas, helicopter raining bullets from above, armored trucks on the ground doing the same."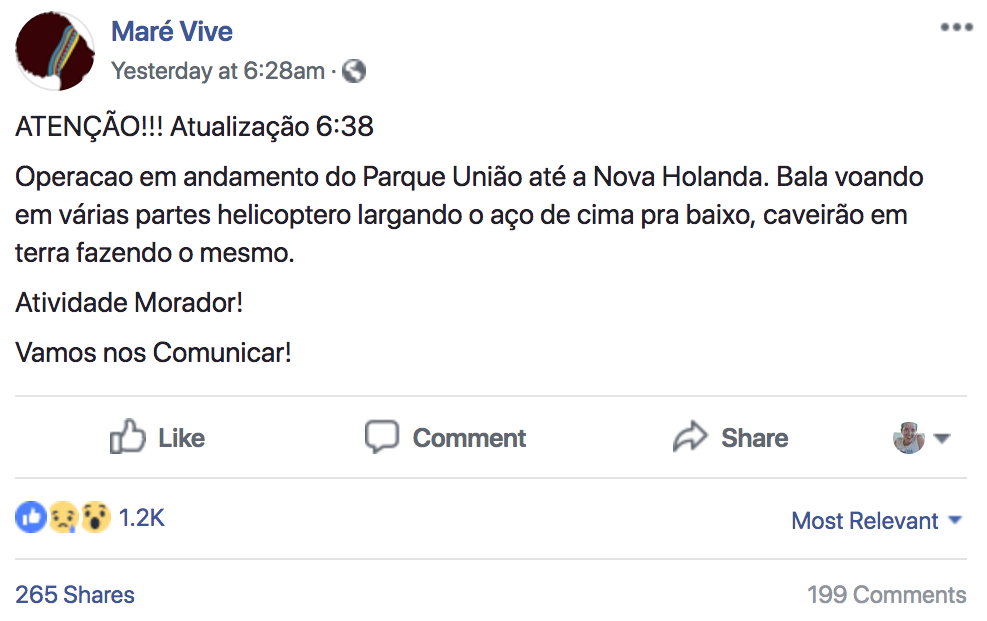 It was the first police operation in this part of Maré in around seven months, as the most recent operation anywhere in Maré took place in February in Baixa do Sapateiro, several kilometers south. That incursion resulted in the death of 13-year-old Jeremias Moraes da Silva.
Except that this time, there was no police operation. At least, that is, according to Rio's Military Police. Maré's 22nd Military Police Battalion instead attributed the morning's shootouts to a confrontation between rival gangs.
If overwhelming citizen consensus wasn't enough, video evidence soon began to circulate. Huddled among commuters on the opposite side of the Avenida Brasil highway, one bus rider snapped a video of a police helicopter firing as it crossed the highway. Another resident caught footage of what reporters deemed to be a Civil Police CORE helicopter circling the favelas and trading shots.
As of Tuesday morning, authorities still had not acknowledged that a police operation had taken place. Maré Vive shared video footage of a helicopter flying over Maré with what appears to be gunshots ringing out, quipping sarcastically: "It really wasn't an operation. That helicopter over there shooting over one of Maré's busiest roads, Teixeira Ribeiro, is an optical illusion. Everyone's delirious, everyone's high out of their minds."
Even as local civil society groups sought answers, police offered no clarification. Local NGO Redes da Maré posted a resident's photo of a bullet-pocked sidewalk and wrote: "In response to Redes da Maré, the Military Police Communications Office said it had no information about the operation in Maré. The 22nd Military Police Battalion, located in the area, did not claim the operation, but reported that a confrontation was taking place between armed civil groups."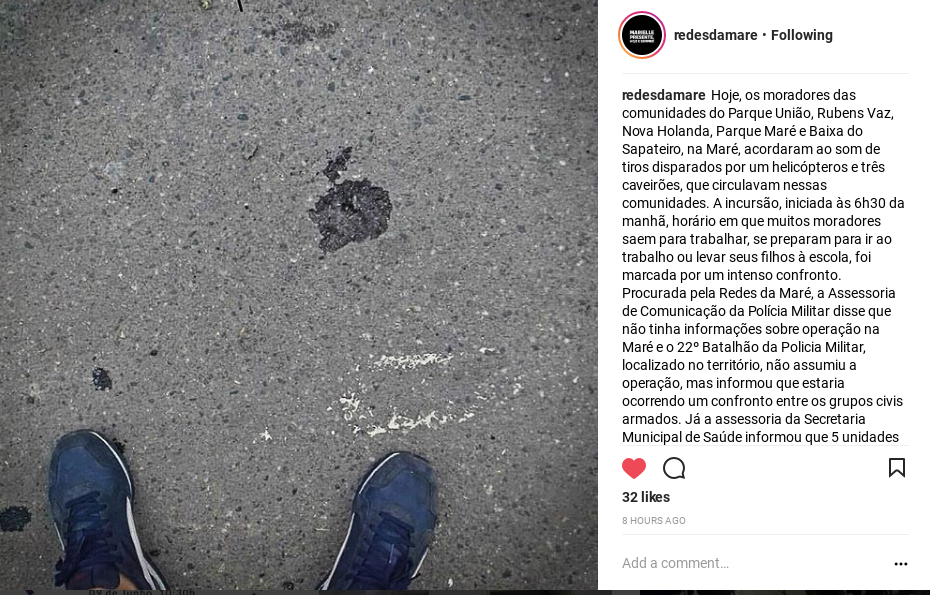 It wasn't until Tuesday afternoon that the Civil Police CORE unit buckled under media pressure, telling Globo News that their team had entered Parque União "to check for information" when their armored trucks and helicopter came under fire.
Pressed for further information by Redes da Maré, the Civil Police's Communication Office remained unresponsive to emails and phone calls.
Redes director Alberto Aleixo strongly denounced the operation, pointing to the war-like tactics used by the Civil Police: "It is totally prohibited for a helicopter to shoot from above like that. It is totally irregular. It's illegal. The law does not allow it–only in cases of war, which is not the situation we are in right now. The Civil Police are not the Armed Forces… The Civil Police in Brazil, which is the administrative and judiciary police, are supposed to fulfill judicial warrants."
"We are worried that this will become a recurring activity," said Aleixo. "There are bullet marks all over Rua Teixeira Ribeiro, Rua Principal, in Parque União and Rubens Vaz."