On Wednesday, February 6, a year and a day after the 2018 summer rains began, another storm devastated the city of Rio de Janeiro. The traditional and intensifying summer rains were "unexpected" and consisted of "a surprisingly…large amount of water," for Rio's mayor, Marcelo Crivella.
Last year, the mayor responded to the situation from afar while on a controversial trip to Europe. He went so far as to make jokes at the expense of welfare recipients who were the most affected by the storm, saying they would receive "Balsa Familia" (balsa is Portuguese for "raft" and the term "Balsa Família" is a play on words with "Bolsa Família," Brazil's federal welfare program). This year, he quickly arrived at Avenida Niemeyer, which connects the South Zone to the West Zone, where a landslide had struck a bus, killing two people, and parts of the Tim Maia bike path—personally inspected by Crivella less than two weeks prior—collapsed.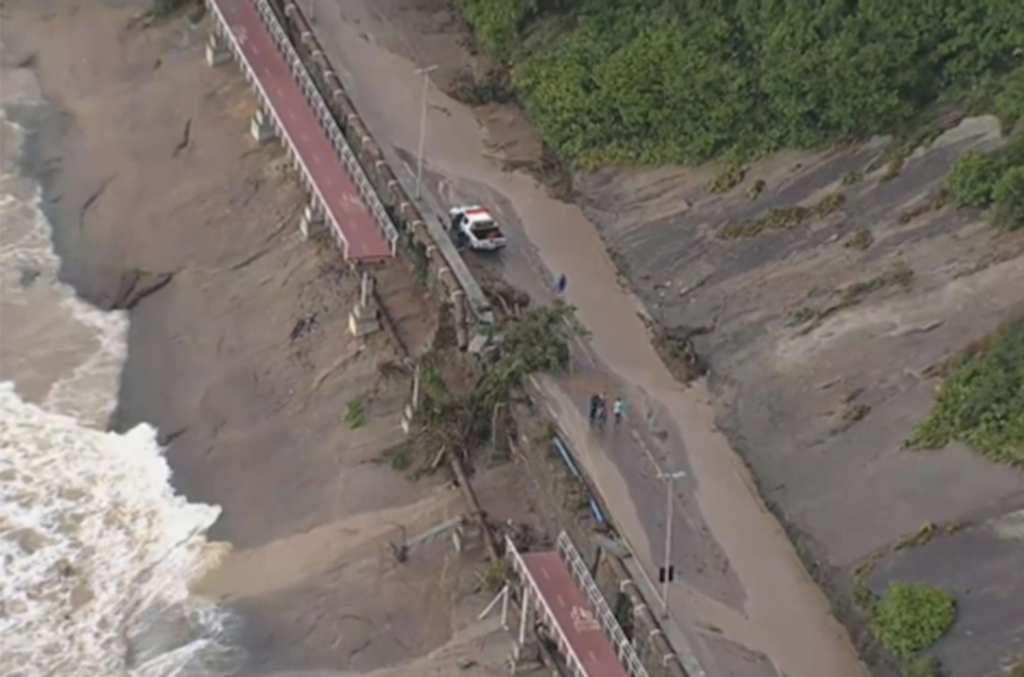 In response, Crivella blamed environmental regulations: "If we had come here to Niemeyer with engineers from Geo-Rio [Rio's municipal entity for conducting geological assessments] three days ago and they had said that it's necessary to remove a tree, environmental concerns would certainly have been raised." Beyond this false blame, Crivella must be unaware that trees are nature's first defense against landslides.

Meanwhile, Wilson Witzel, Rio's new governor, blamed the City of Rio (Mayor Crivella's administration) and the disorderly occupation of the city's hillsides. The former was certainly at fault: merely R$14.5 million (US$3.5 million) was spent on flood control in 2017 (when Crivella's mayoral term began), and only R$66 million (US$16.5 million) was spent in 2018—nearly 80% less than the amounts spent in 2014 by the previous administration (see table below). Furthermore, in 2018, the City only spent R$35 million (US$8.75 million) of the R$265 million (US$66 million) allocated for the containment of hillsides, a budget that was reduced to R$72 million (US$18 million) in 2019. These are part of an overall, troubling trend: public spending on favelas has decreased 69% since 2013.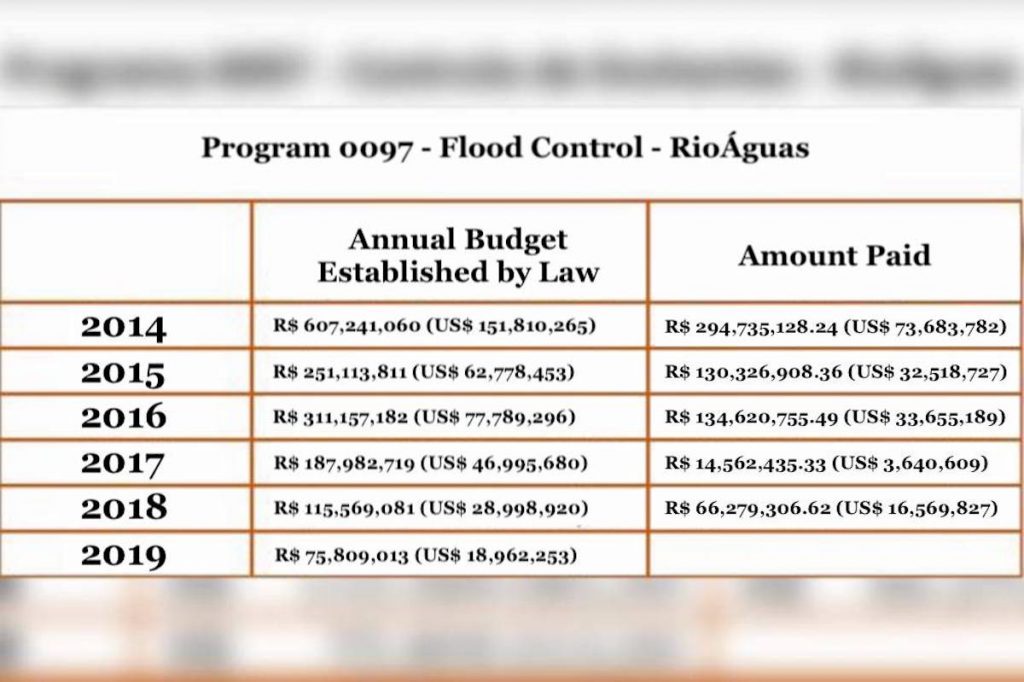 Laying blame on the "disorderly occupation" of Rio's hillsides is an age-old tradition—one that is clearly misplaced. This line of thought consists of treating favelas as a problem and not a solution to issues such as Rio's housing deficit and urban mobility challenges. Instead of identifying a century of government neglect and the inadequate provision of public services as the problem and finally addressing the risks that threaten people's homes, the governor insists on the need to "remove people from high-risk areas," in line with the position already signaled by Crivella. Conveniently, he ignores the fact that the rain caused damage in low-lying areas like Barra de Guaratiba, and in upscale neighborhoods like Jardim Botânico. Additionally, he fails to acknowledge that favela residents are not the only people who occupy the hillsides. In the São Conrado region, for example, landslides affected wealthy residents living in luxury homes, as shown in the photo below.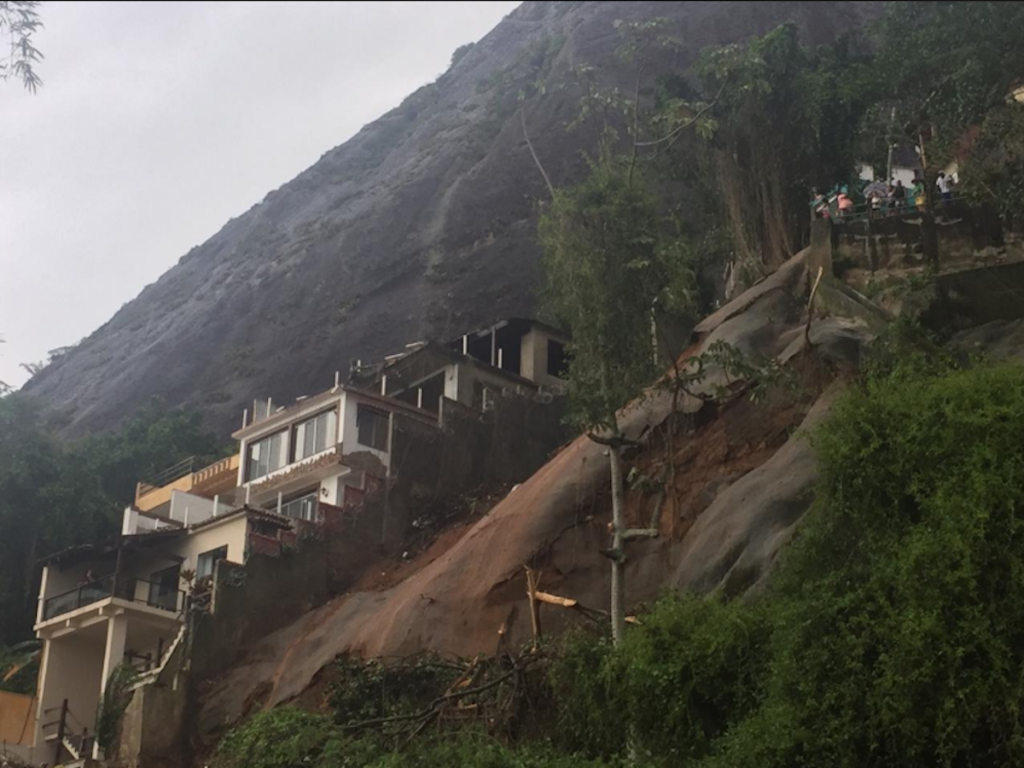 Witzel promised to address the favelas most affected by the rains, namely Vidigal and Rocinha, through a program called Comunidade Cidade ("Community City"). "The State Water and Sewerage Utility (CEDAE) will allocate R$500 million (US$125 million) in funding so we can open the roads and have basic sanitation in the region, clear the most critical areas, and collaborate with community members to construct buildings throughout Rocinha," the governor said to Agência Brasil. Additionally, he announced that the Metropolitan Chamber will meet this month, convening mayors from 22 municipalities in the state of Rio. The purpose of the meeting is to "identify areas where housing can be built for low-income families that live in areas of risk," rather than joining forces and coordinating the municipalities' urban planning efforts in order to reduce the impact of recurrent floods and provide dignified housing for local populations.
Far from blameworthy, favelas are victims of the floods. The greatest damages were experienced in the hillside communities of Rocinha—where a woman died due to a landslide—and in Vidigal, where a containment wall broke, harming a woman, and where six people who were injured by collapsed houses were rescued by firemen via helicopter. In low-lying Complexo de Manguinhos, the overflow of the Cunha Canal impeded transportation, and in Acari, Military Police tanks continued to patrol the area despite tire-high water, as documented by Coletivo Fala Akari.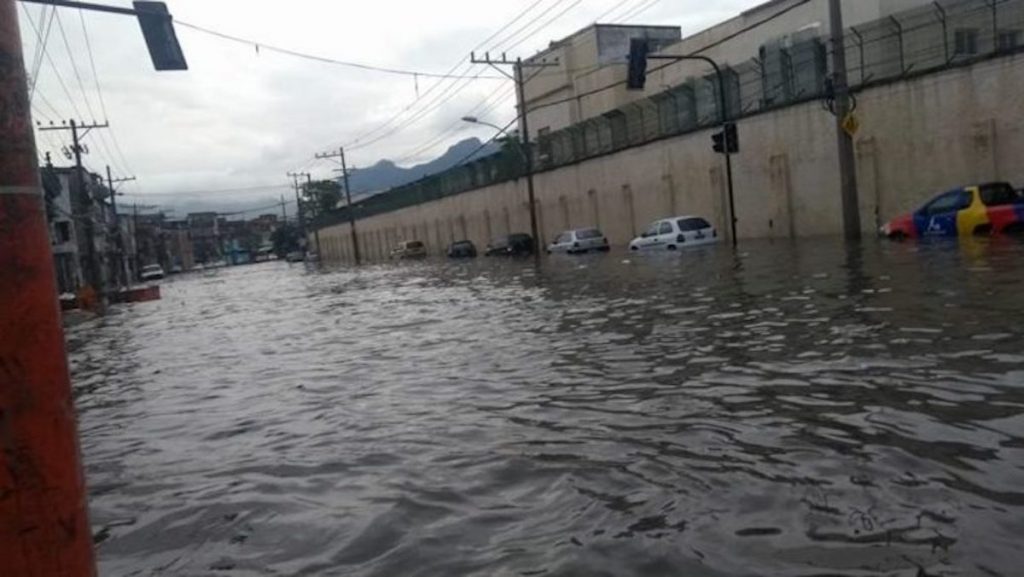 In the North Zone, in Complexo do Alemão's Morro do Adeus, a cable from the electric-powered cable car (which has been out of service since 2016) broke for the second time (the first was in 2013, while the system was still functioning) due to strong winds that reached over 100km per hour, leaving a resident injured. Several communities are experiencing power outages—in Alemão, the storm fell on residents' sixth day without power and Vila Autódromo in Rio's West Zone is still without electricity today, six days after the storm. Two more deaths occurred in Barra de Guaratiba, in the West Zone of the city, where trees collapsed on a house, killing a mother and her son.
Rescue in Vidigal
One of the people rescued by firemen via helicopter in Vidigal was Thalita, 21, who was with her three-month-old son Bernardo when water began to seep through the window of her house. Wellington Ferreira, Bernardo's father, recounts that when the water started to rise, Thalita wrapped Bernardo in a blanket and took him to a house located on higher ground. "A few minutes after they went up, followed by Thalita's grandmother, a boulder rolled down the hill—landing between them in the middle of the living room and pressing everyone up against the wall. There were many broken wires and bricks. Thalita, her younger sister, and her grandmother were injured. Through the opening made by the rock, our neighbor inserted a ladder to help rescue everyone. Thalita and the others who were most severely injured were taken to the hospital via helicopter."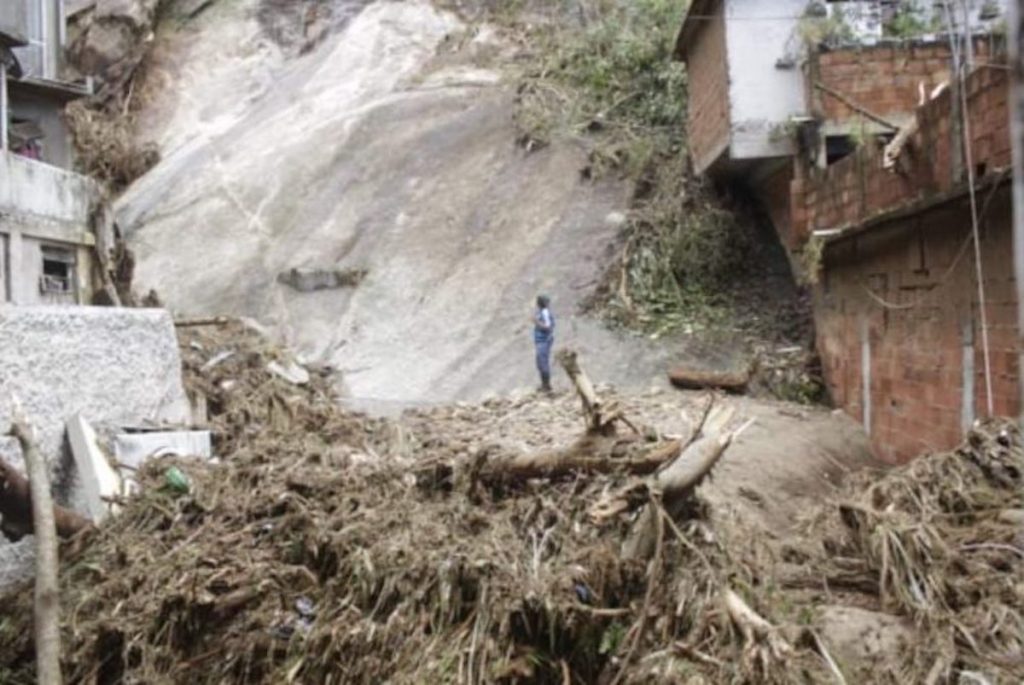 At the time of the incident Ferreira was at the flower shop where he works. His friend said that some houses had collapsed in an area of Vidigal known as Jaqueira. Due to the closure of access roads leading to Vidigal and because of the landslides, he couldn't get to Thalita's house. "It was pitch-dark. No one could see very well. If I had been there, I would have been another fatality in this disaster because I wouldn't have been able to ignore a neighbor crying out for help."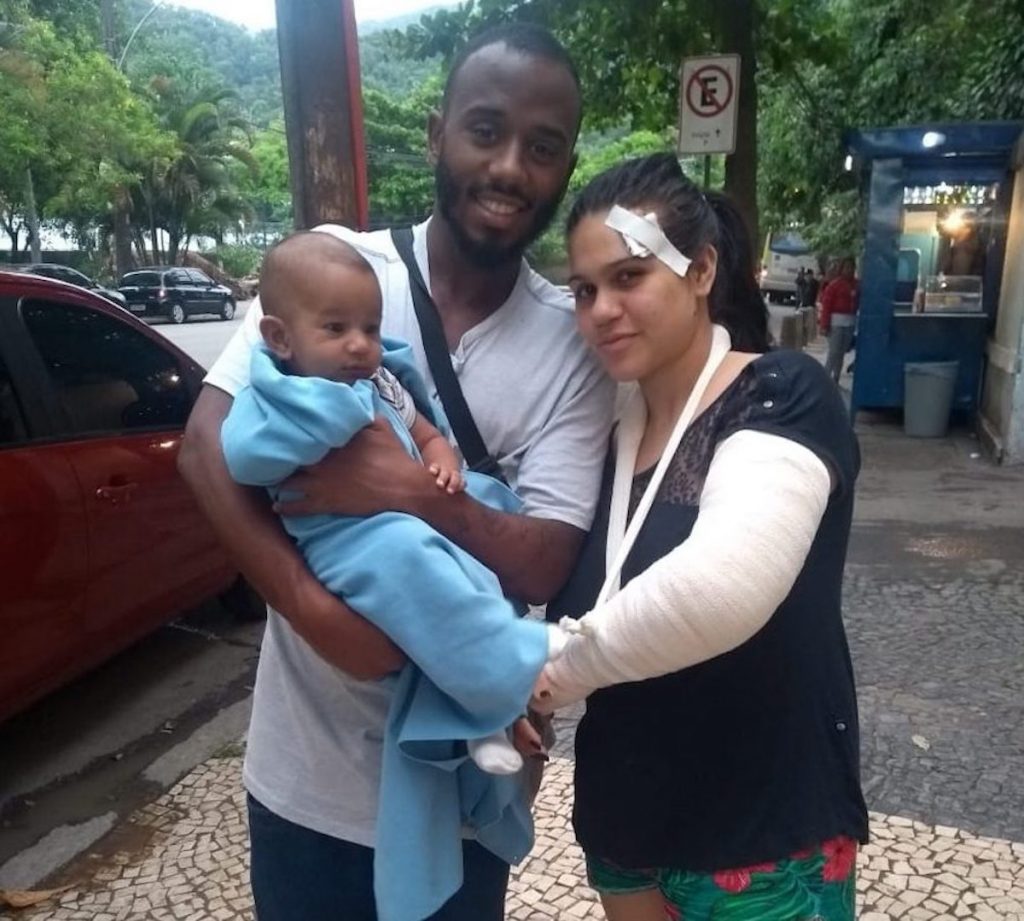 With no word of Thalita and their son, Ferreira tried to remain calm and prepared himself to search for them the following day. The next morning, he set out for Vidigal but was barred from proceeding by the Civil Defense. "I climbed down over the rocks until gaining access to the exit [to the community] on the beach," he recounts, showing how he managed to reach the favela. "Now I feel that it is my obligation to help the whole family rebuild," said the 23-year-old man. Ferreira recently won second place in the first edition of Desafio Seu Amanhã ("Your Tomorrow Challenge"), a competition designed to share knowledge and opportunities with youth from favelas. Ferreira created an online crowdfunding campaign to raise support in order to rebuild.
He intends to help not only through his work at the flower shop but also through his dream of owning a company that helps youth create art and culture. "During my childhood, I couldn't be an actor. My father said that it was almost impossible in the Baixada Fluminense," says Ferreira, who grew up in Jardim Metrópoles in São João de Meriti. "So I don't want other children to give up on their dreams because they don't have money for bus fares—I don't want new MCs to miss out on participating in cultural events because they don't have money for transportation and food."
Alternative Media Coverage in Rocinha
Rocinha community journalist Michel Silva shared a series of updates on the situation in the community. At 2:36am, he posted:
I'm walking in Rocinha right now. Many residents lost furniture. Business owners are cleaning up their shops. There are many trails of destruction in the alleyways. A young woman died, trapped in the upper part of the favela. The man who was swept away by the water survived. There are still other locations that are at risk of landslides.
The following morning, he assessed the damage:
I've been in the streets since 5am. There are landslides in at least four places in Rocinha. The most serious one was in Dioneia, in the upper part of Rocinha, where a house was swallowed by the mud. Residents escaped with water up to their chests. Some wooden shacks were impacted near Morro Dois Irmãos, with no reported injuries. There is a trail of destruction along Estrada da Gávea. Hundreds of houses are without power; there is no estimated restoration time. There are reports that many houses were flooded.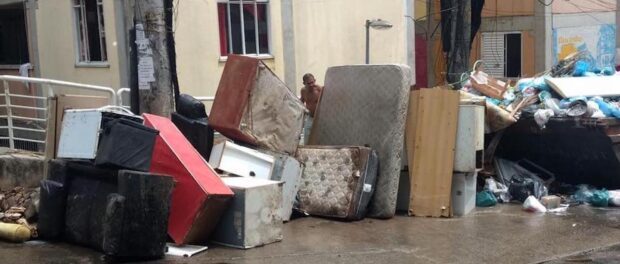 The following morning, Silva continued to denounce:
The Civil Defense has only one team working in Rocinha. It's the favela that was most severely impacted by the storm, with landslides in several locations. The next storm that comes will worsen the situation on the hillsides. There's a lot of mud. Many trees need to be trimmed. Many families are being neglected by public aid agencies. If nothing is done, it will be an announced tragedy.

Residents reported that they were not able to leave to go to work or take their children to school. Many spent the day removing mud, trash, and debris from houses, as well as appliances, motorcycles, and cars that had been swept up by the storm. One resident reported that she had to break a hole in a wall in her house so that the water inside could drain. Trash collectors and environmental workers from the De Olho no Lixo project reinforced residents' efforts.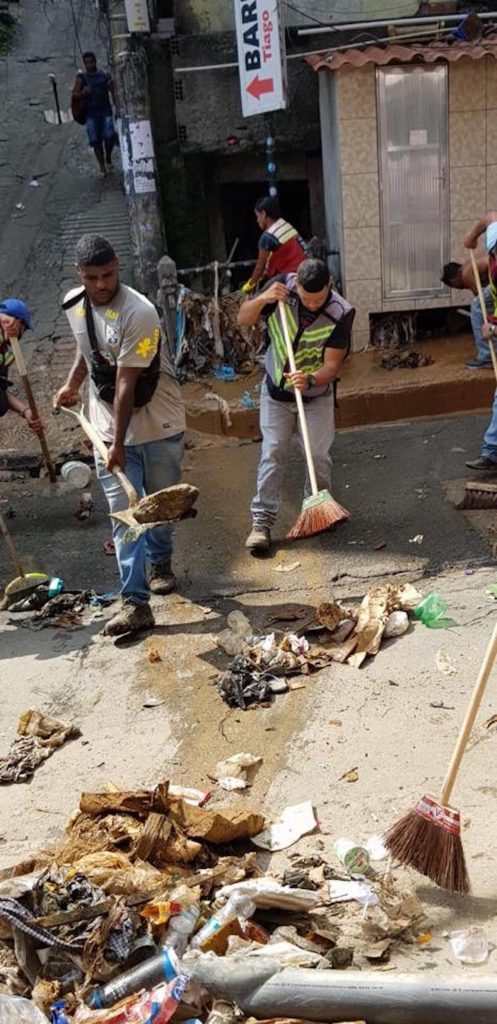 In response to photos of trash-filled streets following the storm, many residents spoke out about the practices of neighbors who do not properly dispose of waste. On the Rocinha em Foco Facebook page, one resident stated her opinion:
Guys, it's the government's fault insofar as there isn't waste treatment, basic sanitation, or a decent sewage system. The community doesn't have anywhere to throw away trash. We have to be conscious of the fact that without educating people, no one will know what to do. The mayor abandoned this city. If they were interested in resolving [the issue], they would have implemented a trash collection system. But for Crivella, poor people are only good for paying taxes.
Another resident expressed:
But guys?! So, where do you throw out your trash??? On my street, there are NO adequate places. If not on the street, am I supposed to wait for COMLURB [the municipal waste collection utility] to come by and hand deliver it to the trash collectors—I have to work, don't I?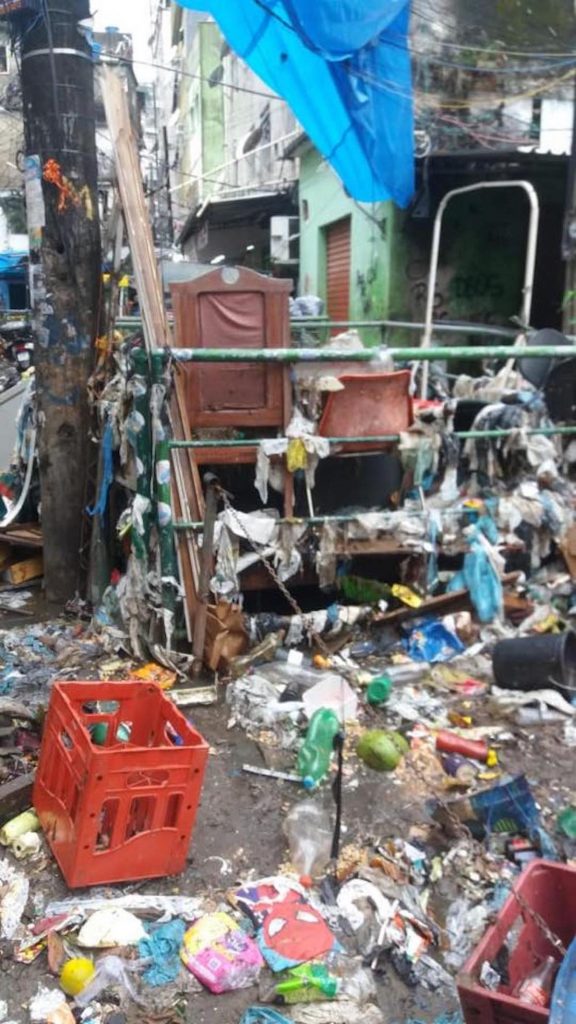 In light of the situation, a reporter from Voz das Comunidades made an appeal to social media users:
JOURNALIST FRIENDS IN RIO DE JANEIRO!

Let's cover and share everything that's happening in Rocinha and Vidigal, holding authorities responsible and helping the residents of these favelas. People lost their homes, some died, there's lots of debris and mud in the streets…AND THERE'S EVEN THE RISK OF TWO LARGE BOULDERS FALLING ON RESIDENTS' HOMES IN VIDIGAL.

Social media accounts of people who you can contact and follow to find out what is happening in the two favelas: Edu Carvalho, Michele Silva, Michel Silva, and Roberta Rodrigues.
If you live outside of Rio de Janeiro and want to support victims, you can donate to Catalytic Communities, the Brazilian NGO and USA 501[c][3] nonprofit that publishes RioOnWatch, here, and 100% of your contribution will be passed on to community groups organizing donations below. Please write "2019 Rains" in the "earmark" category. Or simply message donate@catcomm.org informing us that your contribution is earmarked for "2019 Rains."
FORM TO DONATE FURNITURE AND HOUSEHOLD ITEMS
Fill out this form and the organizers will do their best to connect you with someone who would love to receive your donation.
DONATION DROP-OFF LOCATIONS IN ROCINHA
📍 Baptist Church
Estrada da Gávea, 436. Phone: +55 (21) 2420-4743
Located in front of the Growth Acceleration Program (PAC) buildings. Accepting donations of water, non-perishable foods, personal hygiene items, and cleaning supplies for affected residents—in addition to volunteers to personally help clean up houses.
No set hours.
📍 Pizza Lit
Located on the "S" Curve
Opens at 5pm
📍 Viniciu's Beverage Supply
Located in Roupa Suja
Opens at 12pm
DONATION DROP-OFF LOCATION IN VIDIGAL
📍 Donations at the Residents' Association: Avenida Presidente João Goulart, 737 – Motorcycle taxi drivers are also providing assistance.
DONATION DROP-OFF LOCATION OUTSIDE OF ROCINHA
So far we have confirmed four places that are accepting donations OUTSIDE of the community for residents of Rocinha. See below:
📍 Oi Kabum Lab – located in downtown Rio
Rua Benedito Hipólito, 125
3rd Floor – in front of Terreirão do Samba
📍 Cultura Inglesa – located in Jardim Botânico
Rua Saturnino de Brito, 74
📍 Pontifical Catholic University Association of Employees – located in Gávea
Rua Marquês de São Vicente, 225
📍 São Conrado Driving School
Estrada da Gávea, 847 – Store C