On May 4, the 5th Politilaje Political-Cultural Soirée took place in Vidigal, in Rio's South Zone. The theme of this edition was "The Favela Says 'NO' to the Pension Reform."
The debate over the pension reform is not new; it began with attempted changes proposed by former President Michel Temer and was revived at the beginning of the year with a new proposal introduced by the administration of President Jair Bolsonaro. The pension reform is currently one of the most widely covered and controversial issues in Brazil. As any change to the social security system affects the majority of Brazilians, Politilaje organizers considered it an opportune moment to publicly debate this issue of widespread concern.
Politilaje: A Space for Dialogue in the Favela, with the Favela, and for the Favela
The Politilaje collective was born in Vidigal as an alternative to the brand of politics that "makes promises but fails to deliver," in the words of William de Paula (known as Ninho), of one of its founding members. Politilaje is the result of fatigue with a "totally Cartesian manner of politics with difficult words." In this sense, Politilaje takes the form of an interactive dialogue with the aim of promoting political debate in communities, stimulating public engagement on the part of residents, and giving a leading role to youth and women, who are frequently not involved in—and even excluded from—these debates. Their soirées are political-artistic events, during which current issues such as gentrification and public policies that could negatively impact the community are discussed. These events are unique in that they prominently feature artistic, literary, and musical performances and activities.
The intention of the 5th soirée was to debate the pension reform with the favela at the forefront of the discussion. Participants included Brazilian Popular Music (MPB) artists, spoken word poets, MCs, journalists, and residents and political figures from Santa Marta, Jacarezinho, Babilônia, Vidigal, and Rocinha favelas. Each brought their own knowledge and experiences, generating discussion on the reform. Ninho affirmed that "we want to understand the reasons for [the pension reform]; the reasons provided thus far have not convinced any of our residents." André Constantine—former president of the Babilônia Residents' Association, community activist, and member of the Favela Não Se Cala movement—said that "the reform cannot take place without a wide-ranging discussion with society. What Vidigal has taken the initiative to do should be a precondition in order for the government to dare to propose a pension reform in Congress."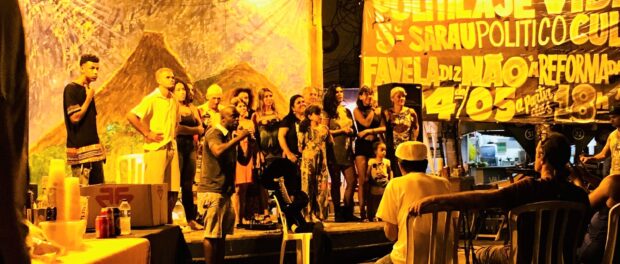 Who Is Affected by the Pension Reform?
Social Security (Previdência Social in Portuguese) is a public welfare system that protects workers with the objective of guaranteeing their livelihoods when they retire or if they become disabled. As Constantine said: "It is the largest social protection program that exists in Brazilian society, and it exists to guarantee a right that protects people's lives and dignity." Article 195 of the Brazilian Constitution provides that "Social Security will be funded by society as a whole, directly and indirectly." It functions according to the logic of solidarity—that is, workers today contribute to support the livelihoods of those who have already made their contributions. As former president of the Vidigal Residents' Association Sebastião Aleluia affirmed, "Social security means 'planning ahead'—I contribute today so that I'll have support when I stop working."
The proposed constitutional amendment calls for various changes, including the establishment of a minimum retirement age (62 for women and 65 for men, provided that the individual has contributed for twenty years). Currently, the minimum retirement age is 60 and 65, respectively, with a minimum contribution period of fifteen years. The problem, according to Flávio Serafini—state representative for the Socialism and Liberty Party (PSOL)—who participated in the debate, is that "there are places in Brazil, including here in Rio de Janeiro, where life expectancy is less than 65 years. This means that in places with poorer populations—where people have to take on more difficult types of work, where there is no basic sanitation, where nutrition is not ideal—people are no longer going to be able to retire." Data from the Brazilian Institute of Geography and Statistics (IBGE) show that the life expectancy of residents of large favelas in Rio is low: in 2000, a child born in Complexo do Alemão had a life expectancy of 64 years. In Maré and Jacarezinho, this figure reached 66. Furthermore, government data show that the poorer population tends to retire at the minimum legal age due to the difficulty of maintaining formal employment over long periods of time. Informality also plays an important role in this process. Consequently, raising the minimum retirement age impacts a large population.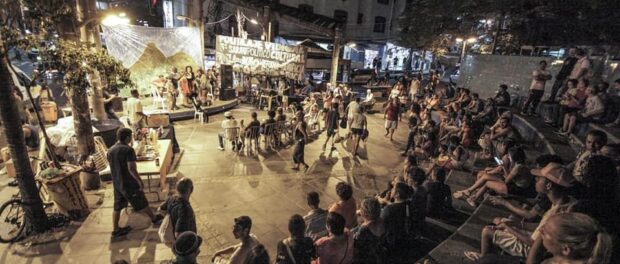 The personal testimony of Sebastião Aleluia, who is currently 58 years old, also illustrates the problem with the contribution period and age requirements: he started working as a tennis ballboy when he was ten years old. Then he worked as a baker, Globo newspaper deliveryman, and at a sanitation company. "Adding up all of this time spent working, not including my job as a kid, I have religiously made social security contributions for nearly 36 years. Now, I'm worried because due to this reform, many processes are being delayed," he said. João Vitor Nascimento, a poet from Vidigal, observed that "the pension reform is a form of violence… when the executioners attack in the light of day with the stroke of a pen and the victims often don't even realize that this blue ink is more deadly than gunpowder."
Ninho stated that "the elderly will be the most harmed [by the reform]," as the Continuous Cash Benefit (BPC) social assistance program is what guarantees a monthly minimum wage for disabled individuals and senior citizens over the age of 65. With the reform, elderly people in extreme poverty will instead only have the right to R$400 (US$100) per month and will only have the right to a monthly minimum wage upon turning 70. In a country like Brazil, where average wages are low and pensions are sometimes the only source of income for entire families, the dismantling of the BPC is problematic.
Another point highlighted during the debate was that women will be significantly affected by the changes that the government seeks to make. The proposal to raise the minimum retirement age fails to take into account the fact that women often work double or even triple shifts. As Aleluia stated, "everyone's day-to-day will be affected," and therefore talking about the proposal is very important because "many people don't even know exactly what this pension reform—which has been kept a secret—will entail."
Additionally, the possibility of implementing a system to capitalize the pension system was also discussed during the debate. In this system, each employee would make individual contributions to a savings account that would fund their own future pension. "Social security would cease to be a right and would become an individual enterprise," Serafini explained."Who would oversee it? The banks and financial actors." Waldeck Carneiro, a state representative for the Workers' Party (PT), said that this system undermines solidarity, absolves employers of responsibility, and leaves it to private entities to regulate people's funds without any security. "What is in the interest of businesspeople is not in the interest of workers—they are conflicting interests," Aleluia added. Constantine is concerned about the implementation of a social security system "inspired by the Chilean model during Pinochet's dictatorship, one of financialization and mercantilization" that currently finds itself in crisis.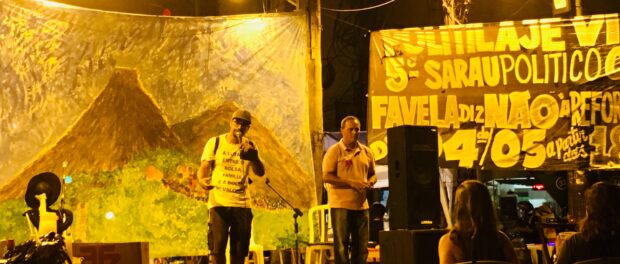 The Importance of the Media: Debunking Myths
Bolsonaro and members of his administration, such as Finance Minister Paulo Guedes and several other representatives, have emphatically defended the reform since it was proposed. Their discourse has even been accompanied by threats: "Another alternative if Brazil continues to have a federal deficit from year to year is to print more currency, right Paulo Guedes? If we print currency, I think you know what will happen—there will be inflation. Another is to get a foreign loan. Think they'll want to lend to us? At what interest rate? We have no other alternative; the pension reform is the first major step for us to achieve economic freedom," stated Bolsonaro. With regard to these threats, Aleluia observed that "the argument of businesspeople and the mainstream media that 'it will be the end of the world unless the pension reform is enacted' is enough to make us a wary."
The reform's proponents have paraded the idea that the Brazilian Social Security administration has been in deficit since 1997, accounting for 59% of federal spending. However, during the debate, Constantine affirmed that these facts are distorted and serve to perpetuate ill-intentioned arguments. According to Constantine, there are truly several reasons for the deficit, including the fact that "large companies evade social security taxes," "the government fails to collect taxes that are owed," and "social security funds are diverted and spent on other things, typically interest and debts." This is done by way of the De-Earmarking of Federal Government Revenue (DRU), a mechanism that allows the federal government to freely utilize 20% of federal taxes otherwise legally bound to specific funds or expenditures. Pension contributions are the main source of this funding.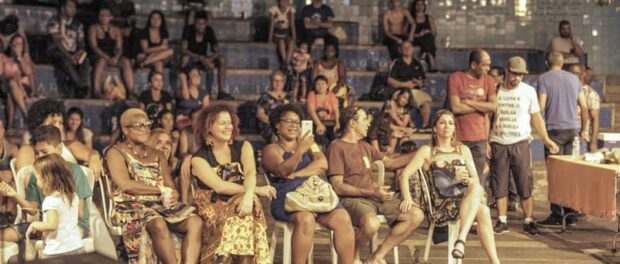 Finally, the high unemployment rate significantly influences the budget deficit because fewer people are contributing to the National Social Security Institute (INSS). Indeed, there were 13.1 million unemployed people in Brazil in February. Furthermore, companies, states, and municipalities owe R$488.4 billion (US$120.9 billion) to the public pension fund, with a good amount of this debt owed by failed companies (including VARIG Airline, Vasp Airline, Transbrasil Airline, Manchete Television Network, the Yellow Pages Publishing House…). As such, it is difficult to collect.
Thus, Serafini proposes that a solution to this deficit could be in the creation of "a tax on large fortunes, a corporate tax, and a tax on luxury goods." He added: "Let's do this instead of taking from workers who live on a single income, who depend on their pensions."
André Balocco—a journalist, communications assistant, and social media manager at RioFilme—brought up the relevance of journalism and media in spreading misinformation on social media. He stated that mass media seeks to convey a singular idea—that of the most powerful segment of society. He argued that with the media's power to reproduce and repeat the same argument, people internalize this idea. He stated that "we can't take any more of these lies and hateful campaigns that we see on social media and receive on WhatsApp." According to Balocco, "[We, as journalists,] need to reinvent and reestablish ourselves, admitting our errors." Finally, he recommended "being careful with what we see on social media."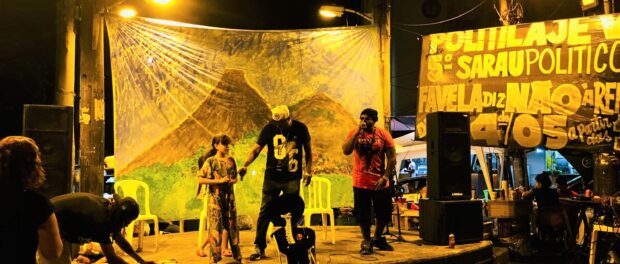 Other Issues Raised During the Conversation: Violence and Resistance
"When we speak of the pension reform, there are many interconnected issues," said Aleluia. "This reform will bring misery to a large portion of the Brazilian population—and I'm not exaggerating. Misery begets violence because 'in the home where even bread is lacking, everyone screams but there is no reason,'" he stated, citing a familiar proverb. These words speak to the context of violence taking place in Vidigal, materialized by the death of William de Mendoça Santos, a trash collector from the community, during a recent shootout. Freddy, a local tour guide, said that "it's important for the community to unite to commemorate his spirit… a person who had every reason to complain but who was grateful for his life." For Constantine, the death of innocent people is the result of an "absurd and failed policy in Rio de Janeiro" that "only produces the death of black youth by the government."
casa que falta pão todos gritam mas ninguém tem razão
The pension reform is currently under analysis by a special committee and the debate remains ongoing. To the beats of MCs Leonardo, Pato Roco, and Fiel, a well-known verse of the song "Eu Só Quero É Ser Feliz" was sung several times: "I just want to be happy / To walk peacefully in the favela where I was born / And be able to take pride / Knowing that the poor have their place." The event is a good example of how politics can play a part in the art of collective living.
The words of Antonio Carlos Ferreira Gabriel (known as Rumba Gabriel)—a composer at the Mangueira Samba School—summed up Vidigal's 5th Political-Cultural Soirée well: "The pension reform needs to really be discussed, door to door… We have to be attentive, to ensure that our community can exercise citizenship. It's necessary to make our population aware… [In order for] favela residents to believe that we have the right leaders, we need to work towards raising awareness and sharing information."