Nearly two months after Rio de Janeiro's storms of April 8—the most intense in 22 years—residents of the city's largest single favela, Rocinha, are still dealing with the aftermath of a landslide in Laboriaux, located in the upper part of the community. According to locals, the area where the landslide took place is still at risk.
During the storm on April 10, two days after the initial rainfall, another house verging on collapse caved in. Currently, residents report that they still don't feel safe in their homes despite the clearance of some areas by the Civil Defense. "They have said that there is no danger here. But it's not possible to relax—if the house in front of mine collapses, it will knock out this whole area, including my house," said Helena Lopes, a 58-year-old manicurist.
Rio's Municipal Secretary of Infrastructure and Housing (SMIH) reports that municipal geological assessment agency Geo-Rio has been carrying out surveys and containment works in Rocinha since dawn on February 7. Additionally, according to SMIH, hillsides in the community are constantly monitored and have already undergone engineering interventions.
However, according to residents, the area has been in danger since 2010, when a storm killed two people. At the time, the site was declared unsafe and some people were relocated. However, the public works required to secure the area were never carried out. The home of Paula Santos, who has lived there for 28 years, was condemned due to the rain. She will now stay with her son, whose house is located further back. "I can't afford to leave this place and pay rent. This house is mine and I built it—and having to leave it in this way is very sad. At the same time, I need to get out because if my neighbor's house, which is on the brink of collapse, goes down, it will take mine with it," said Santos, who is unable to sleep due to the stress. "We're all scared. Any sound gives us reason to be afraid."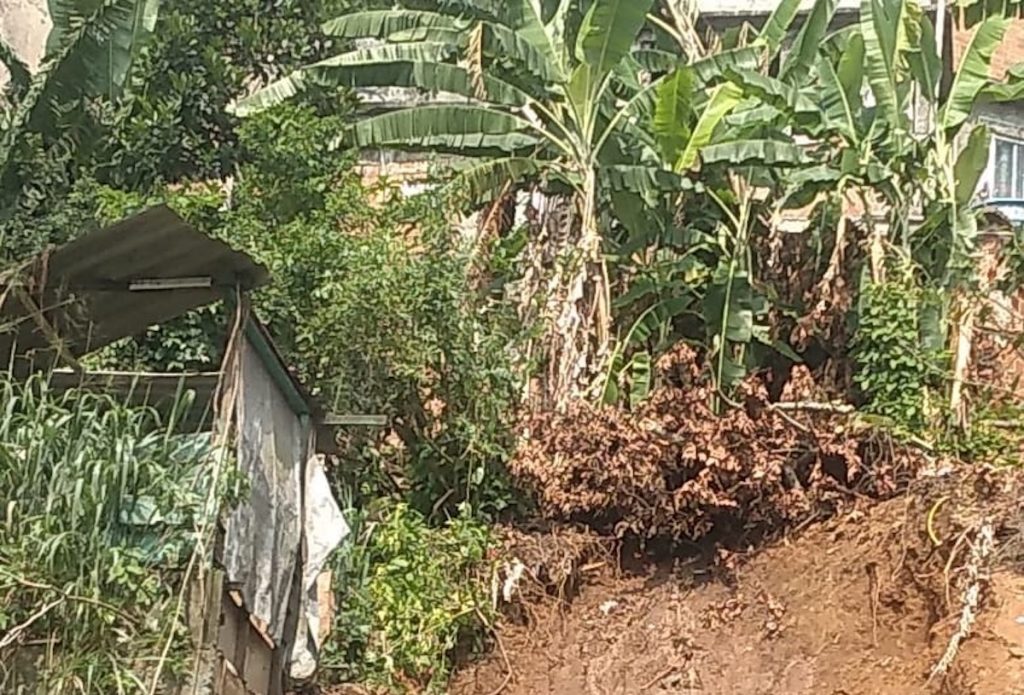 Residents also complain about the lack of information on the part of the City. They explain that families are in a vulnerable situation and Civil Defense technicians have stated that they will only inspect and declare the area unsafe if they are directly contacted by residents. "They are transferring the responsibility to us. We shouldn't have to call them. The landslide risk is clearly visible due to the lack of containment works. The most critical site in Laboriaux, where a landslide occurred and two houses collapsed, is exactly where residents have been demanding public works since the heavy rains of April 2010. So far, Geo-Rio has yet to visit Laboriaux to present a hillside containment project," said a resident who did not wish to be identified.
Damage to Estrada da Gávea
Estrada da Gávea, Rocinha's main road, also suffered from the consequences of the most recent storms. Preexisting challenges—such as garbage, large dumpsters placed on the street, irregular sidewalks, potholes, cars, and the lack of traffic signs—worsened after the rains. In addition to impeding pedestrians trying to use the sidewalks, the lack of road maintenance and repairs has elicited complaints from drivers.
A year ago, RioOnWatch published an article about the road's main problems and not much has changed since. Space is constantly disputed along Estrada da Gávea—from people dodging vehicles, to bus drivers dodging cars that are parked on the street. Another concern is the lack of signage, resulting in traffic jams and delaying commute times.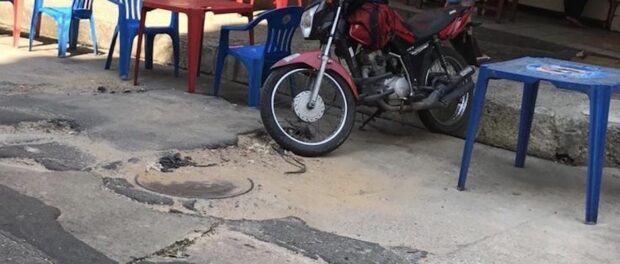 With heavy traffic, especially at peak times, the road has several problems—including the lack of space to accommodate a high flow of people and vehicles, the lack of traffic signs, and potholes. Luana Santos drives every day and points out that the route could benefit from traffic guards. "This is a two-way street where there are a lot of potholes that make our lives difficult, in addition to many improperly parked cars. I think that there should be traffic guards to provide support where it's needed because there are times when it's complete chaos. The population is growing and services that could alleviate peak-hour traffic are rarely seen."
In an interview with FavelaDaRocinha.com on May 22, 2018, representatives of Rocinha's XXVII Administrative Region stated that plans to carry out road maintenance were already in place. "There is great demand in Rocinha and I understand that there are complaints—but there are other places that need work too, which is why there has been a delay. Road maintenance has already been requested and will begin this week. Traffic signs have also already been requested."
However, during this one-year period, very few public works were implemented, mainly traffic signs and the repair of potholes aggravated by the rains. Rio's Municipal Conservation Secretariat (SECONSERVA) and Traffic Control Agency (CET-Rio), which are respectively responsible for repairs and traffic signage, have not responded to inquiries on the matter.