On the day that marks the two-year anniversary of the brutal assassination of Rio de Janeiro councilwoman Marielle Franco, born and raised in the favelas of Maré, RioOnWatch pays homage to the iconic councillor, gathering some of her most emblematic quotations. The selection below demonstrates her unshakeable dedication to the favelas, to social justice, and to the fight against racism and misogyny. To this day, the crime remains unsolved.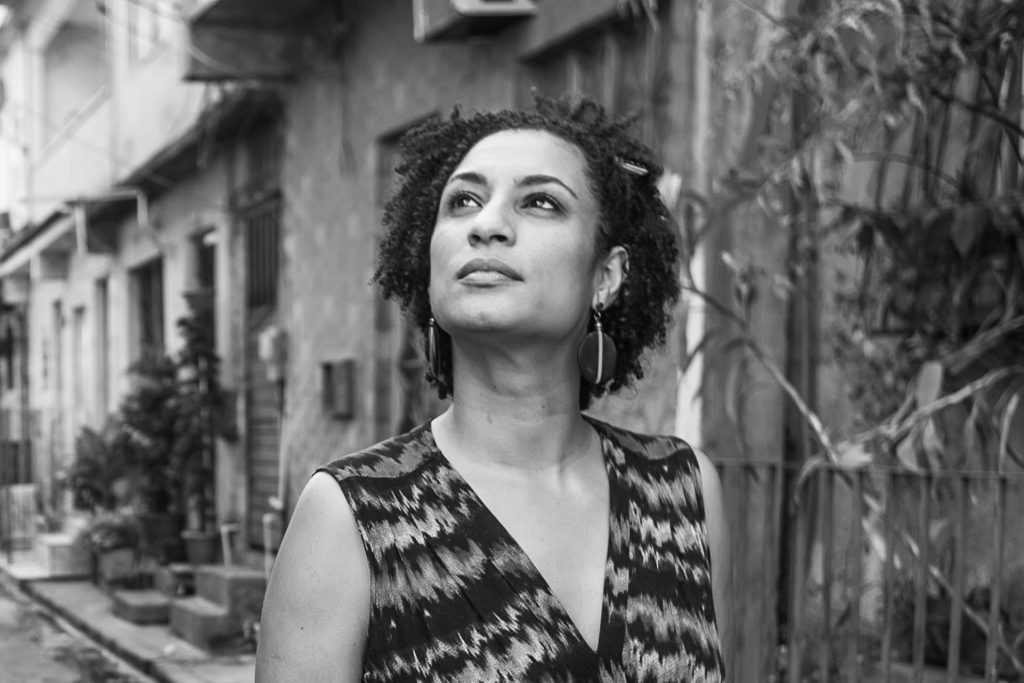 "The favela is not the problem. The favela is the city. The favela is the solution."
— on the Cidade Partida (Divided City) program on Canal Brasil. Franco argued that the favela was an essential and constituent part of the city, just as she fought for equal services and treatment in the favelas in comparison to the rest of the city.
"Maré is a place that should be treated and developed not as the periphery, but as a neighborhood of the city, [one that] has access to transportation, circulation, organization, economic processes, and entrepreneurs."
"We don't want social rights only after the war on drugs ends or drug trafficking ends. As citizens of the city and citizens of the favela, we want them today."
— from a series of debates at the Museu da Maré, March 2017

"Federal interventeur General Braga Netto declared that 'Rio de Janeiro is a laboratory for Brazil.' And what we see is that in this 'laboratory,' the guinea pigs are black, from the periphery, from the favelas, workers. People's lives cannot serve as an experiment for security models."
"[The] characterization of the favelas, as places of danger, of fear, that spreads through the city, evokes the myth of dangerous classes […] placing the favela as object and public enemy number one."
— a selection from her thesis: "UPP – the Reduction of the Favela to Three Letters: An Analysis of Public Security Policy in the State of Rio de Janeiro," September 2014, Fluminense Federal University (UFF)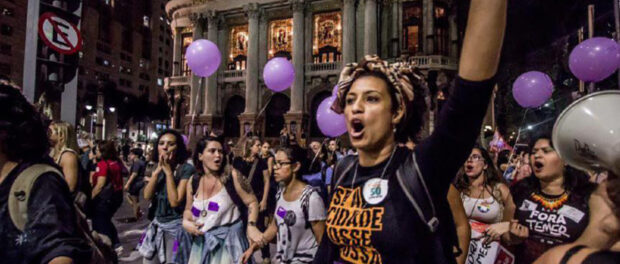 "The cycle of a racist society: while another poor black youth is arrested for merely existing, another poor black mother suffers in solitude."
— Twitter, April 2017
"To be a black woman is to resist and survive at every moment… [they] look at our bodies and diminish us, checking to see if there are drugs or lice beneath our headwraps; they deny our existence."
— in an interview with Brasil de Fato as part of the Global Women's Journey in March 2017

"The black body is a central element in the reproduction of inequalities. It's in the overfilled prisons, in the favelas and peripheries designated as shelter."
— in an op-ed for O Globo in December 2017

"It is necessary to break with the normalization of sexual assault during carnival."
— in an op-ed piece for O Globo in February 2018. Franco also proposed an anti-sexual assault bill (PL 417/2017) to create a permanent awareness-raising and confrontation campaign against assault and sexual violence in public transport and public spaces in Rio.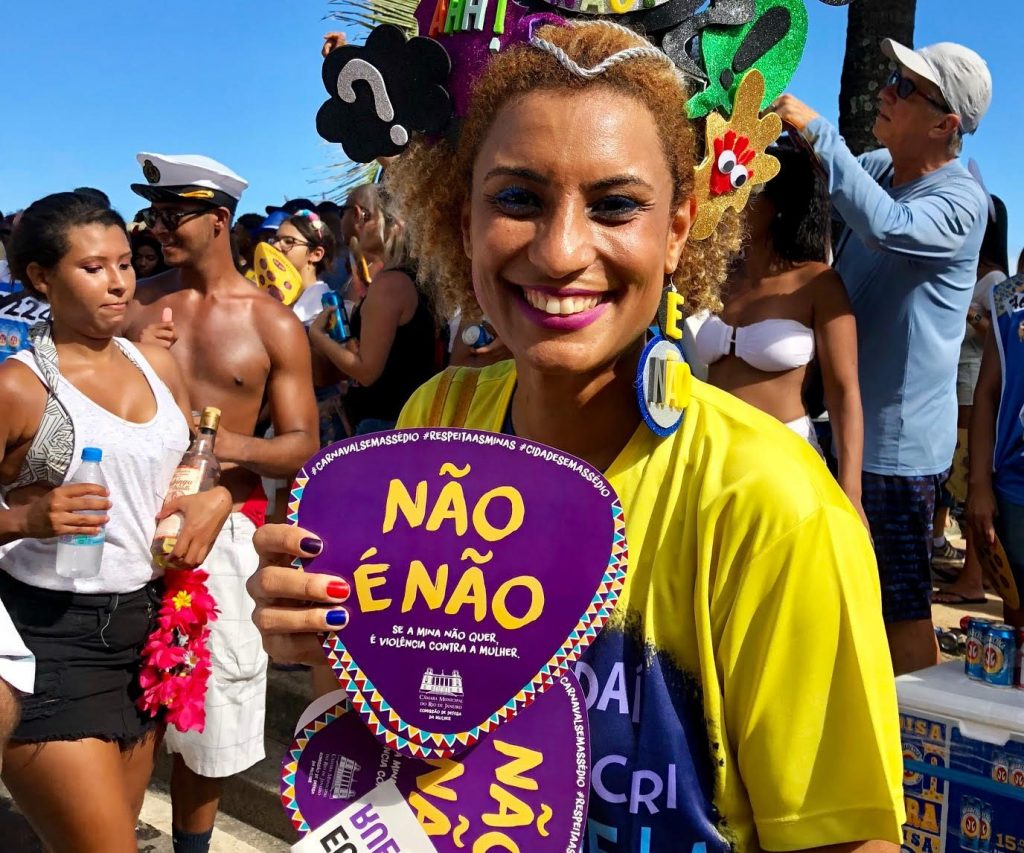 "The roses of resistance are born in the asphalt. We receive roses, but we will be with our fists clenched speaking of our existence against the push and pull that affects our lives."
— spoken at a pronouncement for International Women's Day on the floor of Rio City Council, in March 2018. This was her last public pronouncement in March 2018. Franco reflected constantly on strategies to combat misogyny, surrounding herself with women to support their increasingly occupying spaces of political power.
"How many more must die for this war to end?"
— on Twitter, one day before her death in March 2018. This social media post reflected on the killing of Matheus Melo de Castro, age 23, shot by the Military Police on his way home in the favela of Manguinhos in Rio's North Zone. In her tweet, Franco questioned the purpose of "this war" on drugs, a war against the poor and against blacks. The question is echoed in protests to this day, in the common chant: "Marielle asked/I will ask too/how many more must die/for this war to end?"

"The [political] mandate of a peripheral, black, favela woman, must join together with social movements, together with organized civil society, together with those who are taking action to strengthen us in that space where we do not objectively recognize ourselves, where we do not find ourselves, where we do not see ourselves."
"We cannot wait another ten years [to have black women elected]."
— at the Jovens Negras Movendo as Estruturas (Young Black Women Moving Structures) event, hours before her murder. Franco was the fifth most voted city councillor in her first-ever election, and her mandate was conducted in a collective manner, promoting not only broad participation in politics, but specifically bringing blacks, women, and LGTBQ+ people, among others, into spaces that had been denied to them historically. She was one of six women (out of 51 city councillors) during her mandate. While Franco occupied a position of political power, she constantly reflected that she should not be the only one, nor should she be used as a justification by the system as an example of representation.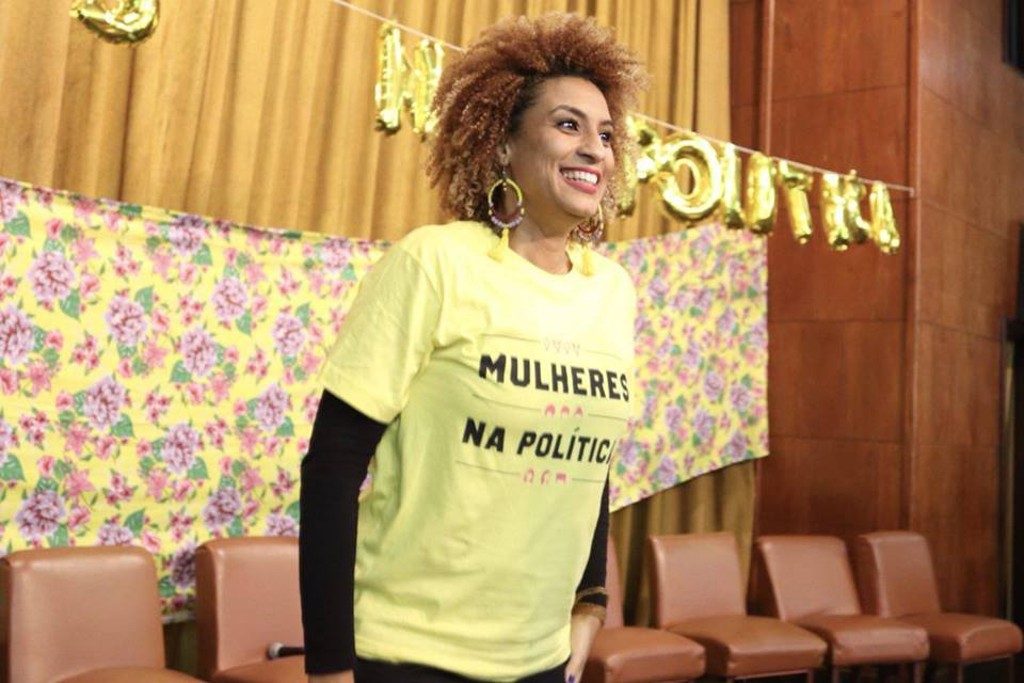 "Though we may earn lower salaries, be relegated to lower positions, work triple workdays, be judged for our clothing, be subjected to sexual, physical, psychological violence, killed daily by our partners, we will not be silenced: our lives matter!"
— from a speech that Franco did not have the opportunity to give, as part of a vote on the Municipal Education Plan. The vote would only take place days after her murder, and her speech, below, would be read by councillor Tarcísio Motta. As councilwoman and president of the Women's Commission, Franco stood in opposition to amendments 67, 68, 69, 137, and 139, which aimed to remove the words "gender," "sexuality," and "generation" from the Municipal Education Plan.
Read her full speech below:
Good afternoon everyone,

Brazil is ranked fifth for the country that most kills women.

The numbers are frightening: in 2016, an act of violence against a woman was registered every five hours in the state of Rio de Janeiro.

But we also know that these numbers are just a portion of the women that were able to, in some way, seek support and denounce the violence.

And I ask you: will we continue to abstain from speaking about gender equality? Until when?

The discussion over our inequality is urgent in the world, in Brazil, and in the municipality of Rio de Janeiro!

Confronting this discussion means dedicating ourselves to democracy and to our advancements as a civilization.

To speak of equality between women and men, girls and boys, is to speak of the lives of those who are still unable to defend themselves from violence. And this is much more than the 50,377 cases registered in 2016, here, in Rio.

Different from what is spoken, or, unfortunately, of what we are used to seeing in the legislative houses, we are not the minority. We form the majority of the population, though we are underrepresented in politics.

Though we may earn lower salaries, be relegated to lower positions, work triple workdays, be judged for our clothing, be subjected to sexual, physical, psychological violence, killed daily by our partners, we will not be silenced: our lives matter!

In Brazil, according to the [Institute of Applied Economic Research] IPEA (2016), black Brazilian women haven't even reached 40% of the total income received by white men. And it is us, black women, that most suffer violence daily.

The only ones that think that this is normal are those who have not suffered the effects of structural misogyny and racism on their bodies. Those who think that this doesn't deserve discussion in our education [believe so] because they benefit from these inequalities.

For this reason, I want to register here that this House, removing the terms 'gender,' 'sexuality,' and 'generation,' strengthens the continuity of the most diverse inequalities and forms of violence.

Today we are talking about the principal plan for social development in our municipality: the Municipal Education Plan. This plan deserves our commitment and responsibility.

The term 'gender' came to be used as a category of analysis starting in 1970, with the goal of giving visibility to the inequalities between men and women. Thus, just as much in the origin of its creation as in its regular use in discussions on the overcoming of inequality, speaking of 'gender' seeks to promote the appropriate attention to and critique of the discrimination suffered by women, and aims to find paths by which we may all confront this scenario together.

Since when does speaking about a [form of] oppression, which generates so many deaths, constitute speaking about an indoctrination?

You say that you are in favor of life, well then you should be in favor of gender equality. And equality is only promoted through conscious education and discussion with our children, so that they become better adults.

For this reason, as parliamentarians responsible for the citizens of this city, we must defend this discussion in education!

If it is in schools that the public space that we want is born, then yes, it is indispensable that we speak of gender equality! That we speak about sexuality, respect, secularity, racism, of LGBTphobia, of misogyny. To speak of these themes is to dedicate oneself to life in its multiple manifestations. It is to dedicate oneself to combating violence and inequality!

It is beyond urgent that this House does not remain silent about the lives that are interrupted every day in this municipality.

To speak of gender equality is to defend life!"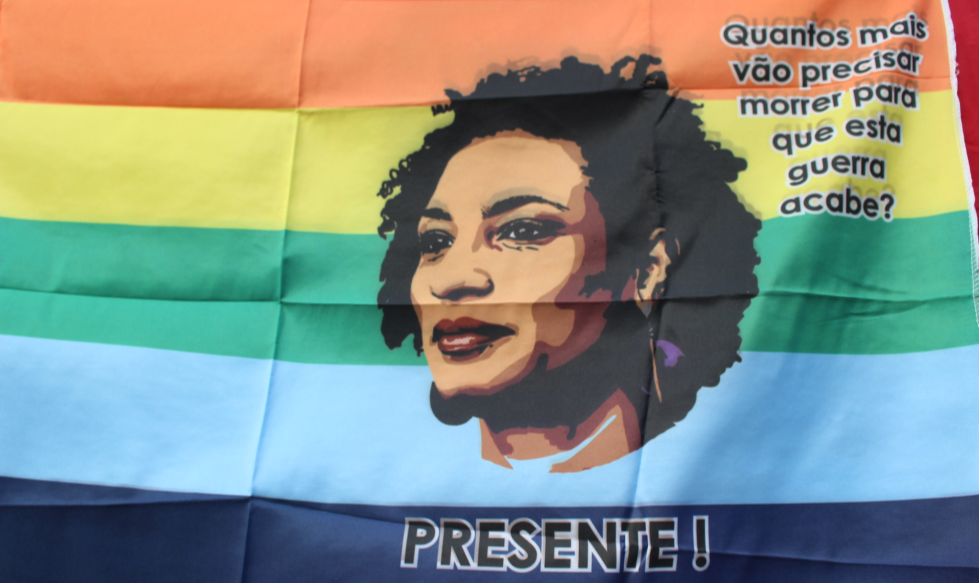 ---
Support RioOnWatch's tireless, critical and cutting-edge hyperlocal journalism. #FundFavelaReporting: bit.ly/DonateToRioOnWatch